10 Best Toothbrushes For Braces (2023) – Reviews And Buying Guide
Clean up between tight gaps and hard-to-reach spots with these ergonomically designed brushes.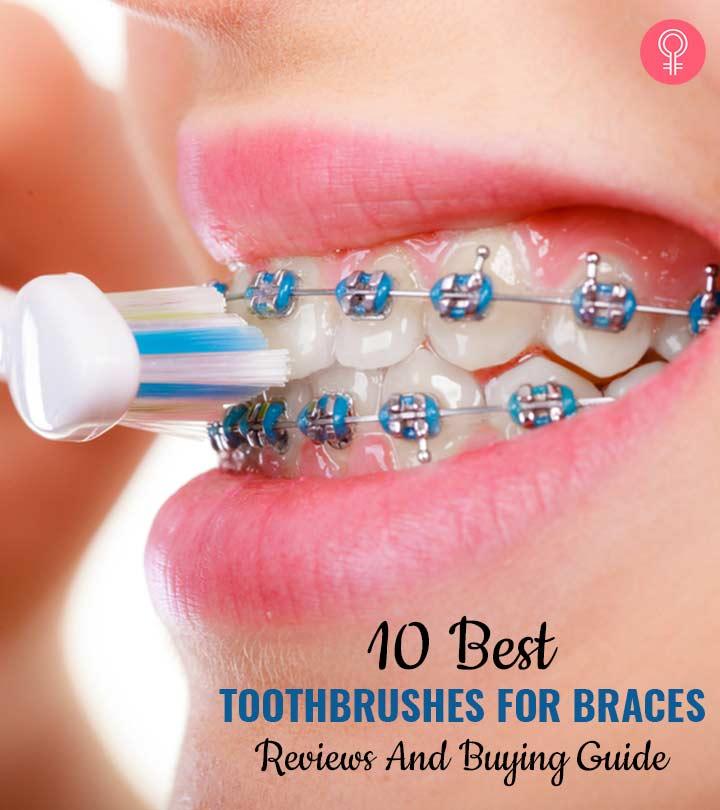 Whether you are a teenager or a young adult struggling to clean your braces properly and get the residue out, you came to the right article. You need the best toothbrush for braces designed for keeping your teeth and brackets as well as wires clean and shiny. Not cleaning the teeth properly leads to stinking breath and plaque build-up, which is not only a risk to your dental health but can also cause unaesthetic white spots on your teeth when braces are eventually removed. This collection of the 10 best braces-friendly toothbrushes, complete with a buying guide along with reviews, can help you find the one for you.
Top Picks
10 Best Toothbrushes For Braces Available Right Now
Pros
Rechargeable
Durable
14-day battery life
Automatic timer
Pressure sensor
Cons
Price at the time of publication: $49.99
Pros
Rechargeable
Durable
Deep cleaning
360-degree swivel head
10 floss settings
2-year warranty
Easy to use
Effective results
Cons
Price at the time of publication: $119.97
Pros
Convenient shape
Silicone grip
Short inner bristles
Easy to use
Cons
None
Price at the time of publication: $7.99
Pros
Pressure sensor
On-handle timer
Easy to hold
Ergonomic design
Cons
Short battery life
Slightly rough bristles
Price at the time of publication: $39.95
Pros
Convenient design
Travel-friendly
Rinse-free
Sugar-free
Gluten-free
Cons
None

Price at the time of publication: $15.28
Pros
Easy to hold
Long-lasting
Super-soft bristles
Ergonomic neck design
Non-slip thumb grip
Cons
Price at the time of publication: $8.97
Pros
Dual-layered flossing bristles
Removes odor-causing bacteria from the tongue
Gentle on the enamel
Comfort-grip handle
Soft and gentle bristles
Cons
Price at the time of publication: $9.9
Pros
Angled head
Extra-long and flat handle
Durable
Easy to use
Cleans the interdental spaces
Cons
Price at the time of publication: $6.99
Pros
High-quality food-grade material
Ergonomic grip
Sturdy
Easy to use
Cons
None
Price at the time of publication: $14.47
Pros
Easy to use
V-trim brush head
Set of 4 toothbrushes
Easy to use
Soft bristles
Cons
None
Price at the time of publication: $7.19
Now, let's answer some important questions regarding braces. 
Is It Better To Use An Electric Toothbrush On Braces?
Electric toothbrushes have some advantages over manual toothbrushes when it comes to braces. They might be more efficient at cleaning their teeth. If used properly, electric toothbrushes might help with plaque removal more effectively than manual models, and might even outperform manual brushes during and after orthodontic procedures for various reasons.
Why Are Brushing And Flossing So Important For Braces?
Nearly 35-40% of the surface of your teeth is missed while regular brushing, even when you don't wear braces. Flossing or interdental cleaning reaches into those tight gaps between the teeth and cleans those hard-to-reach areas. Generally, most fixed brace-wearers should brush and floss at least one more time each day than they would before getting braces to maintain good oral health.
Now that you know everything about toothbrushes for braces, check out the desirable features listed below to pick the best one for your needs.
Desirable Features Of An Electric Toothbrush For Braces
It is one of the most important features of an electric toothbrush. The timer may sometimes be referred to as a quad pacer. Some electric toothbrushes have timers run for a 2-minute cycle for the recommended brushing time, while others alert you every 30 seconds to move to a different part of your mouth. It ensures you brush for the right amount of time and evenly.
Damage to your teeth and gums is likely a consequence of brushing too hard. The added pressure can also break or dislodge a fitting. Therefore, the bristles of the toothbrush need to be gentle on the surface of the teeth. Brushes with built-in pressure sensors detect when excessive pressure is being applied, alert you, and prevent you from causing more damage.
More frequent brushing means your toothbrush has to accompany you at times when normally it would have been left at home. A travel case keeps your brush handle and head together and away from damage. It is easy to store, and it protects the bristles from damage and the brush from being switched on accidentally.
Many branded toothbrushes have a battery life of 2 weeks. You may brush your teeth more regularly or for longer when you have braces. Thus, you need to check the advertised battery life because increased use means less time between charges.
Bluetooth connectivity is one of the latest innovations in toothbrushes. It generally works to ensure you are cleaning your teeth and looking after your mouth as best as you can. The supporting apps allow you to set targets, help you track your brushing time, and encourage better cleaning procedures and brushing habits.
When you have braces, you need to take extra care of your teeth. So, you should consider some important parameters while choosing a toothbrush for your braces. 
How To Choose The Best Toothbrush For Braces
There are several toothbrushes available at different price points in the market. You will notice a huge variation in the prices of electric and manual toothbrushes. The more advanced the features, the more expensive the toothbrush will be. So, choose one that is suitable for your needs and within your budget.
The toothbrush should be easy to hold. Some people prefer manual toothbrushes over electric brushes because of their vibration feature. Furthermore, toothbrushes are available in different colors and sizes. So, always look for an ergonomic design when choosing a toothbrush for braces.
Electric toothbrushes have different cleaning modes. So, the one you are considering buying should be easy to operate and have a wide range of settings.
Manual toothbrushes don't require charging. But, electric brushes need to be charged in order to work. Some electric toothbrushes take a lot of time to get charged, while others may require charging only for a few hours. So, check the battery life of the electric toothbrush when buying.
When it comes to toothbrushes, one of the most important things to consider is the bristles. The bristles should be soft and thin because sharp and hard bristles can damage your gums.
If you have just gotten your braces and don't know how to brush them, check out the next section.
How To Brush Teeth With Braces
It is always better to use an electric or sonic-powered toothbrush if you have braces. You should use the right amount of pressure and rotate your head while brushing. This will provide more effective cleaning and save you time.
This is the front side of your teeth. Don't forget to remove the plaque along the part of your teeth closest to the gum line.
When you have braces, the inner side of your teeth is usually the easiest to brush because it is not crowded with braces. Move the toothbrush back and forth, up and down, and then in circular motions on the inside of your top and bottom teeth.
Turn your toothbrush perpendicular to the spaces between your teeth. This helps you get to the hard-to-reach crevices that can harbor plaque and food particles.
You need to brush and massage your gums, cheeks, and tongue with the use of tongue cleaner as well because your mouth is full of germs and plaque that feed gingivitis.
Why Trust StyleCraze?
The author of this article, Aditi Naskar, has a health and wellness diploma. Her thorough understanding of various health devices helps bring the best compilations for the readers. This list of best toothbrushes for braces is curated after extensive research and sifting many user reviews on trusted online forums. The shortlisted products effectively clean the teeth and braces. They are also easy to use and are long-lasting.
Frequently Asked Questions
Which toothbrush is the best for getting rid of plaque and bacteria in my braces?
The Philips Sonicare 4100 ProtectiveClean Power Toothbrush is 7x times more effective in getting rid of plaque. It is also suitable for use with various dental tools and modifications.
How often should I brush my teeth with braces?
Ideally, if you are wearing braces, you should brush after every meal to remove the food particles stuck to them or the teeth.
How often should replace the head of the toothbrush for braces?
Replacing your toothbrush heads after every three months is ideal if you are wearing braces.
Can I use a normal toothbrush while wearing braces?
Yes, you can use a normal toothbrush for your braces. But, it is better to use specially designed brushes with soft, flexible bristles and ergonomic brush heads to clean around the braces.