13 Best Top Coat Nail Polishes Of 2023 For A New & Fresh Look
Protect your nails and let the nail art last longer for a well-manicured pair of hands.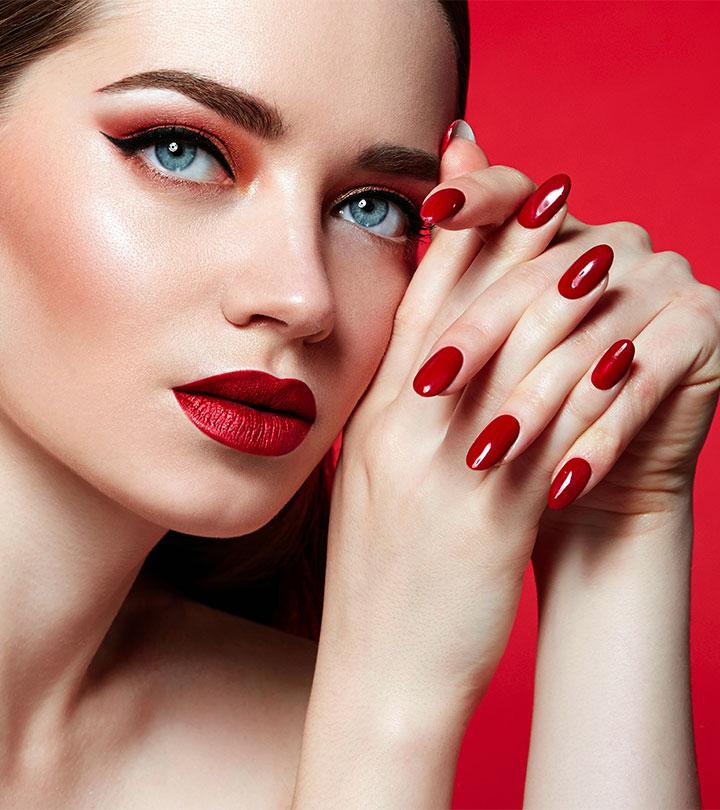 The best top coats for nails prolong the life of your manicure. They add a layer of shine and make your nails appear glamorous. These top coats also protect your nails by sealing your nail color with a covering layer. These are available in transparent plain or glittery finishes. A good quality top coat guards your nails against the harsh UV rays and keeps them looking fresh and new giving exceptional results.
Who does not like well-manicured nails with a great nail polish color? There are a variety of nail colors and treatments available now to adorn our nails. The market is also full of brands offering the best expertly crafted top coats for nails that professionals use for manicures. To help you select the best one for yourself, we have curated an expert-recommended list of our favorites that are tried and tested by women worldwide. Keep scrolling to check them out and find the ones you like best!
What Does A Top Coat Do?
A top coat is a transparent liquid — sometimes plain and other times glittery, and here are a few things that they do.
Better finish – When you apply a layer of the best clear top coat, your nails get a smooth and faultless finish with enhanced beauty.
Quicker drying – Waiting for your nails to dry after applying nail paint can put you in a restless situation. To avoid this, you can get the best quick dry top coat and apply it to the nail paints to have them dried in no time.
Long-wear – Nail paints can get chipped and worn out within a few days of your manicure. You can find some of the best tested top coats to prevent chipping of the nail paints to make them last for a long time on your nails.
Nail plumping – Nails looking thin and lifeless? A plumping top coat can steal the limelight and make your nails look attractive, plump, and statement-making.
Shine/matte finish – You can get a normal gel paint and experiment with the gel or the matte look by applying the shiny top coat or the matte one.
UV protection – Just like your skin, the nails are prone to UV damage too. The UV inhibitor top coat can prevent damage and keep your nails looking fresh.
13 Best Top Coats For Nails That Love To Dazzle And Shine
Need to keep your favorite nail color on your nails for a week or  more? Get this expertly crafted long-lasting and chip-resistant top coat nail polish. Apply flawlessly using its thick and broad brush, and watch it dry on your nails in less than a minute. Use it over and again without worrying about your nails turning yellow. Formulated with skin-friendly ingredients and absolutely no carbon, this top coat for nails can be safe and ideal for a glossy finish.
Pros
Leaping bunny certified (cruelty-free)
Carbon and camphor-free
Paraben-free
Quick-dry coat
Thick brush
Glossy finish
Cons
The nail paint might dry out the nails.
Deck up your nails with your favorite nail lacquer and give it an ultra-finish shine with Seche Vite Fast Dry Top Coat. It dazzles and shines without any UV or HD light. Do not waste time waiting for your nails to go dry as this high-shine top coat can dry the nail paint in seconds. It smoothes your nail and keeps your nail color from fading for up to 2 weeks. Made with a nail-friendly formula, your nails do not get stained nor turn yellow when you put this on. This video offers a detailed review and the reviewer's experience of using the product.
Pros
Top-rated top coat nail polish
No stain and harm
Cruelty-free
100% vegan
Ultra-shine formula
Cons
May offer a gummy texture.
Did you make a blunder while applying your nail paint? Hide the flaws and stroke patterns with OPI High Shine Top Coat. It spreads evenly and smoothly on your nails to give them a high-end shine and glossy appearance. This can be the best matte top coat for nail art as it prevents smudging and staining of nail paints. Use it regularly and yet find no yellow discoloration of your nails.
Pros
High shine
Scratch-proof
Stainless
Flawless coverage
No smudging
Cons
The top coat might not be suitable for
A high gloss top coat nail polish in your buying list? Essie Gel Couture Top Coat is one of the glossy professional top coat nail polishes used in many salons. This gel-like top coat adheres to gel nail paint and enriches the shine and glossy appearance. You get an even spread with its broad and flexible applicator brush. The coat dries quickly and keeps the nail paint looking new for more than a week. Get flawless finish and pretty nails in no time and keep your nails looking amazing.
Pros
Gel-like glossy finish
Long-lasting nail polish top coat
Dries quickly
Chip and fade resistant
Stainless lacquer
Cons
The top coat may not look good on matte nail paints.
Nails, nail paints, and even artificial nails, add that extra glossy finish and prevent the gel nail polish from fading using Beetels No Wipe Gel Top Coat. It is called no wipe because of its smudge-proof coating that covers wet and sticky residue of nail paint. You can call it the best long-lasting top coat as it keeps the nail paint intact and free from fading for up to  21 days. The nail coat is free from toxins and has a low odor to keep your nails safe from stains.
Pros
No chip top coat
For real and artificial nails
Paraben-free
Low odor
Quick-dry coat
Cons
Might cause skin allergies, in rare circumstances
Nail paints do not last long? Keep your favorite nail color for weeks by applying only a layer of CND Vinylux Long Wear Top Coat. Formulated with Cellulose Acetate Butyrate, this nail coat protects your nails from turning yellow. Its Pro-light Technology makes your nails durable and strong in the presence of natural light. Do you need something better than this? This expertly crafted shiny top coat glides smoothly and covers your entire nail flawlessly — thanks to its flat and wide applicator brush. Get this top coat and flaunt your nails as they turn healthy and strong. You may check this video to know about the reviewer's experience with this product for a better understanding.
Pros
Makes nails durable
Prevents yellow stains
Long-wearing
Long-lasting
No-chip formula
Easy to apply
Cons
Might take a pretty long time to wipe off/remove.
Late for a party and your nail polish hasn't dried yet? INM Out The Door Top Coat Nail Polish can be your savior. Its super dry technology can dry the base coat and nail color in less than 45 seconds. You heard it right! This is the best quick dry top coat nail polish according to most nail polish top coat reviews, and is safe for multiple uses. Your nails are protected and do not turn yellow, and you can use it to dry nail art too.
Pros
Super-dry lacquer
Smudge-proof
Stainless
Glossy finish
Safe for all
Cons
The glass-like finish of ILNP Glass Candy Ultra Glossy Top Coat not only looks stunning but also provides strength to the nails, making your manicure last way longer. The long-lasting coverage of this top coat offers chip-free durability. It is made from high-quality and best-performing ingredients for the best experience. It is also extremely easy to remove and can be done by using a polish remover.
Pros
Long-lasting
No peeling
Easy-to-remove
Vegan
Cruelty-free
Suitable for natural and artificial nails
Cons
None
A thick coat of nail polish taking time to dry? Sally Hansen Big Kwik Dry Top Coat is the best top coat nail polish that dries the thickest nail polish in no time. The smudge-proof formula of this top coat glides smoothly over the thick nail paint or even the most layered nail art, and covers them neatly without smudging. It adds extra shine and gives a polished look to the nail. You can use it without worry as it does not stain your nail, but makes it stronger and more durable. This video review featuring the reviewer's experience will help you learn more about the product.
Pros
Strong nails
Smudge-free
Super-fast drying
No-stain
Cons
The Nail Tek Quicken Top Coat is the best nail top coat formulated for natural nails. Formulated to give the ultimate care for your nails, they make your nails durable and keep them free from developing a yellow stain. Its adhesive property makes it smoothly spread on the nail paint coat to give a sheer finish. Your nail paint stays longer on your nails without chipping and fading when you use this to uniquely define your nails.
Pros
No chipping and peeling
Protection from yellow stains
Formulated for natural nails
Smooth and flawless finish
Cons
Does not accelerate drying time
For days when you have no time or patience waiting for your nail paint to dry, the Ella+Mila Nail Care Fast-Drying Top Coat will come to your rescue. It can dry up to 4 coats of nail polish in less than 3 minutes. The smudge-proof formula can dry the nail art quickly and prevent the art and paint from peeling and chipping off. Formulated with UV inhibitors, this is the best nail polish top coat that protects your nails from turning yellow.
Pros
UV Inhibitors to prevent yellow staining
Smudge-proof
No peeling and chipping
Dries quickly
Cons
Not recommended for pregnant women.
Apply your favorite nail paint and layer it with Poshe Super-Fast Drying Top Coat and let it dry quickly without smudging. Not only this, but it also  enhances the color of the nail paint, making  it look more appealing. Now, have nails that shine and capture the limelight with only 1 stroke of this high-quality top coat. Your nails are safe from getting stained, and the formulation prevents it from cracking and breaking. Apply this no-peel top coat and have nails that look the best.
Pros
Nail protection
No-staining
No peeling and chipping
Enhances color
Smudge-proof
Cons
Get that salon-like shine and finish with the NAIL-AID Gel Xtreme Shine Top Coat that stays for about 2 weeks. The top coat not only protects your nail paint but also your nails. It is great for people with brittle and fragile nails as it provides extra protection. It gives a super-hardening gel-like finish that is mark- and scratch-resistant. It dries quickly, however, after applying your nail paint, you should wait till it is completely dry before you apply the shine top coat for the best results.
Pros
Cruelty-free
Salon-quality
Scratch-resistant
Glossy finish
Quick-drying
Vegan
Cons
May pick up the nail paint color
Requires reapplication every 3 days
These are good top coats for nails that you can try. How do you choose the best one? Here is your buying guide to choose the perfect top coat.
What To Look For In A Top Coat Nail Polish

Smudging
The first thing you need to see when you choose a top coat is if it is smudge-proof. There are a few top coats that quickly adhere to the wet nail paint without smudging the nail art on the nails. The other kind of top coat needs to be applied on a dried nail paint coat as it could blend with the nail color and smudge it. The best choice would be the smudge-proof ones.
Drying time
Not all the top coats are made to dry the nail paints quickly. There are a few of the nail top coats that are only for shine and shimmer. If you need a top coat that dries your nail paint soon, there are many such polishes available. There are top coats that are tested to dry the nails in seconds, and some take a few minutes. Choose the best one according to your needs.
Finish Type
Top coats are generally purchased to give a sheer glossy finish on the nail and the nail paint. However, you can get a glittery finish and a matte finish too. While the ultra-glossy ones make your nails look plump, the matte finish ones define your nails in a unique way and are the new trend.
Endurance
Sometimes, well-manicured nails and even the ones that have the most beautiful nail art look faded and ugly as the nail paints get peeled and chipped. A good nail paint top coat can hold the nail paint and design on the nail for the longest time. Some good top coats last for 2 weeks and even more, and this can be a great pick for you.
How To Apply Top Coat For Nails

Step 1 – Always start with a base coat. The base coat is a transparent lacquer that evens your nails and provides a good surface for the nail paint to easily spread on.
Step 2 – Start applying the nail enamel or paint of your choice. Spread it evenly on your nails and wait for 2 minutes. Apply the second coat again.
Step 3 – Apply the top coat over the nail paint. Start from the middle and then apply on the sides with broad strokes. Wait for 2 minutes and apply the second coat of the transparent top coat for better shine.
Why Trust StyleCraze?
The author, Srijita De, is a beauty and makeup enthusiast who loves trying products that take your makeup and beauty routine a notch higher. While she knows that most of you may like just a regular change of nail paint to match your outfit, she is here to urge you to apply a top coat to make your manicure last longer. After considerable research and trying out a few for herself, she has specially curated this list of the top 13 top coats for your nails. These not only make your nail polish last longer but protect and strengthen your nails as well.
Frequently Asked Questions
When do I apply a top coat for nails?
You can apply a top coat nail polish on well-manicured nails that are painted with your favorite nail color. Use the top coat to add an extra sheer glossy effect and to make the nail paint dry quickly.
Can we use a top coat as a base coat for nails?
Base coat and top coat nail polish are two different lacquers. The base coat is generally formulated to give a smooth and even finish to the nails before they get painted with nail colors. The top coat on the other hand dries the nail paint soon and gives a glossy finish to the nails.
Is it good to use a gel top coat over regular nail polish?
Yes, of course. The gel top coat adds the much-needed plumping effect on the nails and makes them look glossy. A gel top coat can hold regular nail paints without getting chipped and peeled for a long time.
Does a top coat strengthen nails?
Apart from keeping the nail color on for the longest time, the top coat protects the nails from weather conditions. It keeps them hydrated and protected from UV rays and other chemicals, thereby making them strong and durable.
Does a top coat help nails grow?
Some top coats make the nails durable and strong and prevent breakage and cracking. In this way, the nails grow long and strong.
Recommended Articles: