12 Best Tower Fans (2021) – Reviews And Buying Guide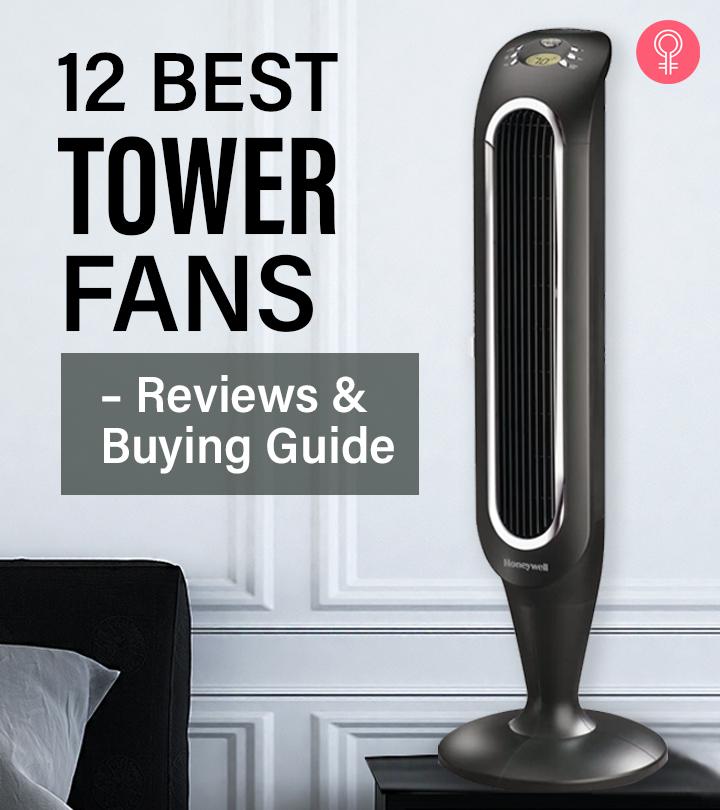 Just as the weather starts getting warmer, we instantly turn on air conditioning. But, what if you only want to cool a certain area where you are relaxing rather than the entire room? This is where the extremely efficient tower fans come into play. Unlike other tabletop fans or coolers, a tower fan is compact and takes up little space. Tower fans have air impellers that move air through a vertical shaft and deliver it in several directions. This works well for offices, basements, study rooms, and confined workspaces. They not only look stylish but also help in circulating the air in a specific spot, thus cooling it down. The modern tower fans in the market are designed with features of both air-coolers and air-conditioners. So if you are planning to buy a tower fan, we are here to help you out with our list of the 12 best tower fans that we shortlisted just for you. Check them out!
12 Best Tower Fans – Reviews
Taotronics LED Display Oscillating Tower Fan has a compact design that fits in any room without taking up too much space. This tower fan is perfect for the office, bedroom, or study room as it offers 3 fan speeds to customize the cooling effect – low, medium, and high. Also, it has 3 cooling modes – normal, natural, and sleep. This tower fan has a wide and even oscillation that circulates ample cool air and oscillates at around a 65° wide angle and 20ft/s velocity. It is easy to use as it comes with a LED display to track ambient temperature, speed, mode, timer, and oscillation. You can control this tower fan with a remote to adjust its settings.
Features
3 cooling modes and 3 fan speeds.
Even and wide 65° oscillation.
Comes with remote control and LED display.
ETL certificate ensures it's safe for kids and pets.
2-year warranty and lifetime customer service.
Fan Size: 36 inches
Product Dimensions: 11.81 x 11.81 x 35.43 inches
Weight: 8.78 pounds
Oscillation: 65 degrees
Pros
Space-saving and compact
Powerful
Durable
Easy to operate
Quiet functioning
Safe for kids and pets
Cons
Lasko's portable tower fan is sleek and stylish and perfect to beat the heat with its widespread oscillation and powerful speed. It comes with a built-in carry handle and a remote for convenient  use. This tower fan has an in-built ionizer that disperses negative ions to combat and dispel air pollution, dust, bacteria, pollen, and smoke. This renews and naturally refreshes the air. It also has 3 speed settings – low, medium, and high – and creates a powerful breeze without making any noise.
Features
Naturally fresh air ionizer.
3 fan speeds with a quiet system.
ETL approved
Fan Size: 42.5 inches
Product Dimensions: 13 x 13 x 42.5 inches
Weight: 12 pounds
Oscillation: Widespread oscillation
Pros
Stylish and compact
Purifies the air
Remote control for convenience
Powerful yet quiet functioning
Safe for kids and pets
Cons
Uses excessive power
Narrow oscillation
No warranty
This mini tower fan is a 13-inch table fan that provides a personal cooling effect while you work. Place this mini tower fan on your table as it operates quietly and also has an auto shut-off timer. It comes with 4 levels of sound and power settings that let you pick the best cooling effect. This fan increases the air circulation around you and your work station. It is also energy-saving and can be carried easily to any other place or room.
Features
4 levels of sound and power adjustments.
To be placed on a table.
Easy-touch display.
Fan Size: 13 inch
Product Dimensions: 10 x 10 x 32.83 inches
Weight: 2 pounds
Oscillation:Optional oscillation
Pros:
Compact
Easy to set up anywhere
Lightweight
Energy-efficient
Quiet functioning
Cons
Not very sturdy
Insufficient cooling effect
Honeywell Fresh Breeze Tower Fan is equipped with an ionizer that gets ridof the pollutants in the air. It has a programmable thermostat, an auto-shutoff function, an LCD display, and easy-to-use controls. The tower fan's oscillation and movement deliver powerful air despite being quiet throughout. It also comes with a remote control that has an in-built flashlight to make it convenient to use. The height of the tower fan can be adjusted from 32 inches to 40 inches as per your requirement. The wide oscillation ensures that the cooling effect reaches you.
Features
Washable air filter to remove dust.
Comes with an ionizer.
Remote control with a built-in flashlight.
Pre-programmable control panel to customize the settings.
Fan Size: 32 to 40 inches
Product Dimensions: 8.4 x 10.9 x 33.1 inches
Weight: 12.38 pounds
Oscillation: 90 degrees
Pros
Adjustable height
Compact and stylish
Quiet oscillation
Easy to clean
Cons
Not very sturdy.
Remote control might stop working
AmazonBasics Oscillating 3 Speed Tower Fan offers powerful circulation that tends to cool down even a large room with its wide oscillation power. It has a built-in control panel with soft-touch buttons that enable you to customize the settings as per your choice. A handy remote with the ability to change modes, speed, and other settings also offers convenience. This tower fan has 3 modes – normal, natural, and sleep – which can be adjusted as per preference. This tower fancan be easily installed in a study, library, or workplace.
Features
Powerful and wide oscillation.
Built-in soft-touch buttons to customize settings.
3 speeds and 3 modes.
Remote control for convenience.
Fan Size: 40 inches
Product Dimensions: 11.77 x 11.77 x 40.67 inches
Weight: 9.48 pounds
Oscillation: Widespread oscillation
Pros
Noise-free motion
Strong and powerful oscillation
Convenient remote
Stylish and compact
Cons
Sometimes makes a squeaky noise
Low speed might be disappointing
Dyson Cool AM07 Air Multiplier Tower Fan is the latest combination of technology and style. This powerful tower fan creates an uninterrupted stream of air without fast-spinning blades, which makes it extremely safe for kids and pets and even for cleaning purposes. It is completely noise-free and can be cleaned any time without any hassle. Its features include sleep timer, which can be customized to turn-off after pre-set programmed intervals that range from 15 minutes to 9 hours. Also, the airflow can be directed around a room with just one touch for a smooth and even oscillation. The remote has 10 precise airflow settings to adjust as per your requirement.
Features
Consumes 10% less power.
Air Multiplier technology creates a powerful airflow.
No blades – safe and easy to clean.
Oscillation control with just one touch.
Curved and magnetic remote to store on the machine.
2-year parts and labor warranty.
Fan Size: 39 inches
Product Dimensions: 4.4 x 7.5 x 39.6 inches
Weight: 9 pounds
Oscillation: Wide and Adjustable
Pros
Energy-efficient
Easy to operate
Smooth and uninterrupted airflow
Equipped with a sleep timer
Hassle-free cleaning and maintenance
Safe for kids and pets
Cons
Remote is tricky to operate
Makes sharp noises once in a while
ComfyHome's Bladeless Tower Fan has an energy-efficient all-copper motor that circulates air smoothly around the room without making any noise. Since it is bladeless, it is safe to use around children or pets. This tower fan has a wide oscillation that ranges from 45° to 70° and circulates cool air within minutes. It offers 3 speeds, 3 modes, and optional oscillation that is adjustable and can be used all year round. It also has an intelligent remote that works from up to 20 feet away to make your life easier.
Features
Built-in control panel and 20 feet-range remote control.
3 speeds, 3 modes, optional oscillation, and auto-shutoff timer for up to 7.5.hours.
Fan Size: 43 inches
Product Dimensions: 44.5 x 11 x 7.7 inches
Weight: 10.98 pounds
Oscillation: 45 to 70 degrees
Pros
Fast cooling
Energy-efficient
Can be used all year round
Safe for kids and pets
Adjustable oscillation
Various features and modes for convenience
Easy cleaning and maintenance
Cons
Not powerful enough
Not durable
Ozeri Ultra 42" Wind Adjustable Oscillating Noise Reduction Tower Fan does exactly what it claims. It also looks stylish and sleek and does not take up much space in the room. It is built to generate more air velocity with less sound, which makes it a noiseless airflow machine. It includes 3 pre-programmed airflow patterns to cool the room and 3 whisper-quiet speed settings with adjustable oscillation for maximum air circulation. This tower fan features a 12-hour timer that can be adjusted to 1-hour intervals with an easy push button.
Features
Adjustable oscillation, speed, and airflow modes.
Adjustable height panels.
LED screen with a light dimming night mode.
Screen also displays room temperature and other settings.
Fan Size: 42 inches
Product Dimensions: 13 x 13 x 43 inches
Weight: 10 pounds
Oscillation: 90 degrees
Pros
Sleek and stylish design
Easy to use
Convenient night mode with dim lights
Completely noise-free functioning
Cons
Flimsy remote
Initially has a slight chemical odor
Seville Classics' pack of two ultra-slim tower fans is no less than a jackpot! This amazing combo pack consists of two tower fans – a big 40-inch one and a small 17-inch one. They have multiple fan speed settings, ranging from low to high, that can be adjusted as per your preference. They have a power cord as long as 6.25 feet, which is convenient for placing them anywhere in the room. They oscillate up to 75° and cool the space efficiently. They feature easy-to-read control panels and a remote to ensure hassle-free customization. You can place the big one in the corner of the room and the small one on your desk.
Features
Comes in a combo pack of two tower fans – 40 inches and 17 inches.
Adjustable speed settings.
Chic black design goes well with the décor.
Easy-to-read control panel and remote.
Fan Size: 40 inches
Product Dimensions: 11.6 x 11.15 x 40.1 inches
Weight: 10.7 pounds
Oscillation: 75 degrees
Pros
Long cord
Efficient cooling
Adjustable speed settings
Convenient remote
Cons
Smells like burnt plastic after repetitive use
Makes squeaky noise
Lasko 2535 Space-Saving Pedestal Tower Fan is a classy fan that is perfect for the living room, bedroom, or study room. It is quite powerful and provides a cool breeze all through the room and confined spaces. It offers 3 energy-saving and quiet speeds that make it even more appealing. Its oscillation is widespread, but it can also be switched off to direct the breeze to a precise spot. It comes with a wireless remote and LED display that shows the speed, timer, oscillation, and sleep mode.
Features
3 energy-saving speeds.
Direction louvers and widespread oscillation.
Auto shut-off timer range from ½ hour to 7.5 hours with ½ hour increments.
Built-in 6-hour timer.
Wireless remote control.
Fan Size: 52 inches
Product Dimensions: 14 x 14 x 52.7 inches
Weight: 12.4 pounds
Oscillation: Widespread
Pros:
Adjustable height
Easy to assemble and set up
Energy-saving
Stylish and compact
Oscillation can be switched off
Cons
Forty4 Small Oscillating Desk Tower Fan is a handy, compact, and portable fan that you can set up anywhere. It has in-built turbine technology that offers 2 adjustable speeds. It also has a turbine duct system that generates only 50 decibels of noise to create a calm ambiance. This stylish and compact tower fan can also be used as a tabletop fan in your study or workspace. Its oscillation is widespread and ensures the area around you is appropriately cooled.
Features
Built-in handle for portability.
Robust oscillation ensures a cooling effect.
Small and compact – can be used as a tabletop fan.
Seller can be contacted if there is any issue regarding oscillation noise.
Fan Size: 13 inches
Product Dimensions: 5.4 x 5.8 x 13 inches
Weight: 2.2 pounds
Oscillation: 60 degrees
Pros
Noise-free functioning
Compact
Portable
Can be used as a tabletop fan
Cons
PELONIS PFT40A4AGB Oscillating Tower Fan offers 3 speed modes – strong, natural, and sleep modes. It has a user-friendly top-mounted control panel with an indicator to display the speed settings, modes, oscillation, and auto-timer settings. Its handy and efficient remote works from as far as 16 feet away to adjust the fan settings and turn it on/off. This tower fan has a 15-hour programmable timer and a silent cooling effect.
Features
3 sleep modes – strong, natural, and sleep
Fused safety plug to prevent damage from overvoltage and power surges.
Indicator displays speed settings, modes, oscillation, and auto-timer settings.
1-year manufacturing
Fan Size: 40 inches
Product Dimensions: 11.8 x 11.8 x 39.88 inches
Weight: 10.53 pounds
Oscillation: 90 degrees
Pros
Rear handle makes it easier to move.
Compact
Easy to move
Energy-saving
Quiet oscillation.
1-year manufacturing warranty
Cons
Not enough cooling effect
Oscillation issues
A tower fan can be an  invaluable addition to your room during the summer. However, there are some things that you need to keep in mind to make sure that you buy the best one for your needs. Check them out below!
How To Choose A Tower Fan –Buying Guide
Size: Tower fans should not be bulky and huge as they may take up a lot of space and end up hindering your daily space.
Material: The material with which the tower fan is built should not be flimsy. It should be of high quality to ensure durability and longevity.
Energy-Saving: Most electronics these days are energy-saving or energy-efficient. It is necessary to keep a check on your utility bill, which makes it even more essential to check if the tower fan you are buying works on energy-saving mode.
Speed And Settings: The tower fan should have various speed settings to ensure that it caters to your needs in every season.
Style: Apart from having a powerful cooling effect, the tower fan should be stylish and sleek to blend with your room's decor and not look like an eyesore.
Air Blowing Capacity: The tower fan should be powerful enough to cool the surrounding area. Thus, check out its air blowing capacity when making your purchase.
Oscillation: When it comes to oscillation, the higher the degrees, the better its coverage. Pick a fan that has an oscillation swing that ranges between 60 to 90 degrees.
Noise Range: Most fans produce noise while functioning, but the noise made by a tower fan is comparatively higher than a ceiling fan. So, make sure a noise-free or quiet function feature is included in the tower fan.
Remote: Most tower fans come with a remote, but make sure that it contains all the necessary features and is of good quality.
Bladed Or Bladeless: Both bladed and bladeless fans are available in the market and are equally effective. However, bladeless tower fans are a boon as they are easy to clean and maintain and safe to use around children and pets.
Cooling And Coverage: Ensure that the fan has a variation option that enables you to adjust and change the cooling modes and speeds to customize the cooling coverage as per your desire.
Efficiency And Quality: A tower fan should be handy and easy to set up, but make sure it checks all your requirement boxes and is of good quality.
Extra Features: Most have many in-built features, but make sure they have some added features just for your convenience, like a remote, an LCD display, an indicator light, sleep mode, and timer.
Warranty: It is always better to own a product that comes with a warranty ensure that even if the product breaks or stops working, it is taken care of.
Besides these factors, you must also consider the type of tower fan that you want to buy. Check out the next section to find out more!
Types Of Tower Fans
There are basically 3 types of tower fans"
Bladeless: Despite their name, bladeless fans actually have blades at their bases, which is why you don't see them directly. The only difference is that the airflow circulates through the valve and exits through the circular opening.
Centrifugal: Centrifugal fans have a perpendicular blade that creates a strong force to rotate the fan faster and offer higher cooling capacity.
Axial: Axial fan's cooling totally depends on the number of blades, their length, angle, and rotation speed. The higher the number of blades, the higher the cooling effect.
Tower fans are convenient and efficient options to cool a confined space during the summer. They are pocket-friendly, energy-saving, and easy to carry and set up. The 12 tower fans listed above have the best reviews on the internet. See which one of these best suits your requirements and buy it without any hesitation!
Frequently Asked Questions
Are tower fans good?
Yes, tower fans are a great option for smaller rooms, workplaces, and study rooms.
Pedestal fan vs. tower fan – which one is better?
Pedestal fans have bigger blades and a more powerful cooling effect. The bigger blades create more airflow, which makes them great for larger rooms. Tower fans have a comparatively lower cooling effect and are ideal for smaller rooms and confined spaces.
Do tower fans cool a room?
Depending on the power and speed, tower fans may cool an entire room if placed in the corner with maximum oscillation.
How to clean a tower fan?
Follow these simple steps to clean a tower fan:
Wear eye protection gear and a mask.
Unplug the tower fan and detach the panel by removing its screws.
Use a brush to scrub both the rear and front sides of the blades. You can also use a vacuum cleaner.
With a clean semi-wet cloth, wipe the blades and reattach them. Clean the panels and external body and screw back the panel tightly.
Do not use direct water or any harsh chemicals to clean the fan or blades.
Where should a tower fan be placed in a room?
If you want to cool the entire room, place the tower fan in a corner of the room on maximum speed and oscillation.
Are tower fans easy to clean?
Yes, they are easy to clean.
Do tower fans use a lot of electricity?
No, most tower fans run on energy-saving modes. Also, they anyway use less electricity.
Are bladeless fans better?
When compared to other fans, bladeless fans are better as they are convenient to use, provide powerful airflow, easy to maintain, and safe to use around kids and pets.
What does an oscillating fan mean?
Oscillation is the side-to-side swinging of the blades. It distributes the airflow in all directions evenly.
Should I open my tower fan to clean it?
Yes, you can open your tower fan to clean it. Please check and follow the aforementioned cleaning steps to easily clean your tower fan.
Recommended Articles
The following two tabs change content below.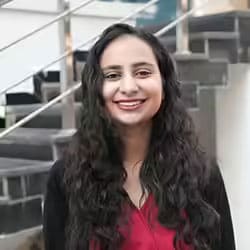 Arshiya Syeda is an editor at StyleCraze. Prior to that, she was a content writer and combined her writing and...
more