15 Best Travel Coffee Mugs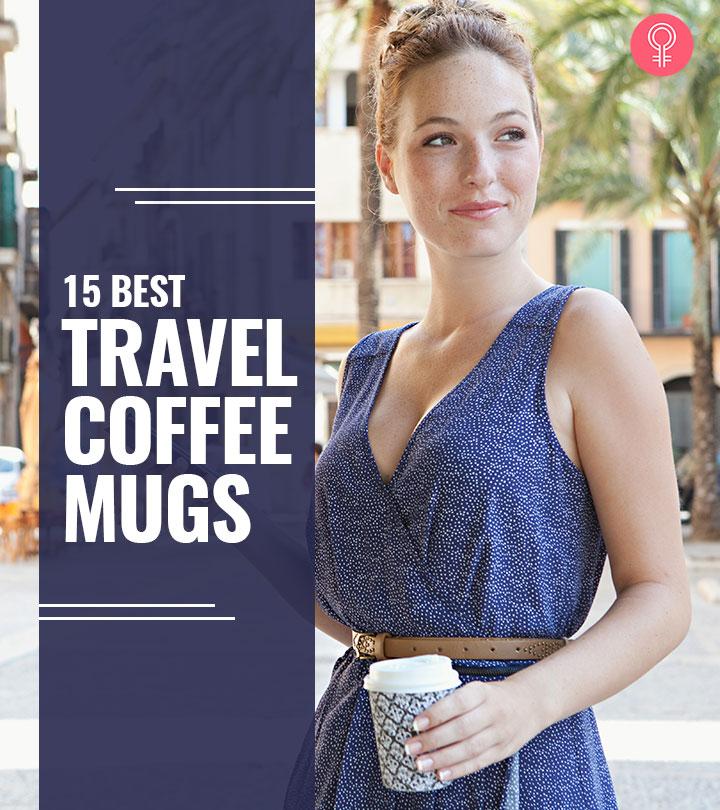 Nothing works like a cup of piping hot coffee to kickstart your day. If you are a frequent traveler or your office is far away from home, investing in a travel coffee mug is a brilliant idea. The best quality travel coffee mugs should be double-wall insulated with a supreme grade interior to keep your favorite beverage hot or cold for as long as you want.
But with so many options available on the market, you might wonder which one to pick. Below, we have listed 15 best travel coffee mugs to make your task easy. Go through our list and pick the right one.
15 Best Travel Coffee Mugs
The Zojirushi Stainless Steel Coffee Mug is one of the best travel coffee mugs that keep your beverage hot or cold as per your requirement. The vacuum insulated stainless steel inside and a copper or aluminum layer on the outside help keep your coffee piping hot without any leakage or spills. The ultra-lightweight coffee mug has a capacity of 20 oz and comes with a flip-open lid. This 2-step lid allows condensation on the lid gasket to fall back easily without any mess. The air vent on the mouthpiece and 1-⅝" wide opening allows the beverage to pour out smoothly without overflowing. The safety lock prevents the lid from opening accidentally. The lid disassembles easily, and the nonstick coated interior makes cleaning easy and comfortable without any hassle.
Pros
Compact
Vacuum insulated stainless steel
Lightweight
Has a safety lock
Easy to clean
5-year warranty
BPA-free plastic
Available in 3 sizes and different colors
Cons
The Contigo Vacuum-Insulated Travel Mug with a stainless steel heat-check body is intelligently designed to keep your beverage hot for 7 hours and cold up to 12 hours. The signature auto-seal technology is spill-proof. The button-lock is travel-friendly to prevent unintended pressing of the autoseal button. The slim design is easy to fit in any car cup holder. The detachable mouthpiece is easy to clean.
Pros
Leakproof
Spill-proof Autoseal technology
Durable
Single push-button for one-handed drinking
Easy lid-lock
Easy to clean
Fits into any cup holder
Dishwasher safe
Available in different sizes and colors
Cons
The Yeti Rambler Steel Mug is a 14 oz travel mug made with 18/8 kitchen-grade stainless steel with a puncture-resistant and rust-resistant property. The durable wall vacuum insulation keeps your coffee hot or cold as per your wish. The full-loop triple grid handle is comfortable to hold and carry. The Duracoat color is scratch, peeling, and fading resistant. It has a no-sweat design and is easy to hold for a long time.
Pros
Durable
Sturdy handle
Puncture-resistant
Rust-resistant
Shatter-resistant
Dishwasher-safe
BPA-free
Double-wall vacuum for insulation
Available in a variety of colors
Cons
The powder coating may be chipped.
If you prefer to drink from a handle mug, the Thermos Stainless King Travel Mug is an excellent pick. The double vacuum insulation technology keeps the beverage hot or cold for hours. This highly functional and beautifully designed stainless steel travel mug is made of drink lock sealing lids that prevent splattering and keep the beverage secured when closed. The built-in tea hook holds tea or coffee bags and most loose leaf infusers.
Pros
Durable
Built-in tea hook
Double stainless steel body
Leakproof
Easy to hold
Dishwasher safe
Available in different colors
Cons
The Bubba Classic Insulated Desk Mug is a great choice for big drinkers as it can hold 52 oz of hot or cold beverage. The dual-wall polyurethane foam insulation with a stainless steel exterior keeps the liquid hot for 3 hours and cold for 12 hours to relish your drink for a long time. This BPA-free, iconic, patented keg shape travel mug is built with an ergonomically designed handle and soft grip. The exterior is strong and durable enough to withstand shattering.
Pros
Dual wall insulation
Shatter-resistant exterior
Stainless steel build
Soft grip handle
Leakproof
Has a bottle opener at the base.
Cons
The Copco Acadia is a durable 16 oz travel mug that is BPA-free and has plastic construction with double-walled insulation to keep brewed coffee hot or cold for long. The lid has a quarter-turn sealing mechanism that is spill-resistant and prevents mess. The textured, non-slip sleeve not only guards against excessive hot or burning sensation but adds a colorful pop of color.
Pros
BPA-free
Double-walled insulation
Non-slip sleeve
Leakproof
Spill-resistant
Vibrant sleeve colors
Microwave and dishwasher safe
Cons
No stainless steel interior.
Not durable and sturdy.
No control over liquid flow.
The Lenox Chirp Thermal Travel Mug is made of porcelain with a silicone lid and double-walled insulation for keeping your brewed coffee hot for a long time. The image of two birds perched on a branch on this ceramic mug stands out and makes for an excellent piece for gifting.
Pros
Double insulated mug
Engraved design
Durable ceramic porcelain mug
Microwave-safe
Chip-resistant
Silicone lid
Cons
Too hot to hold
Not spill-resistant
The Stojo On The Go Coffee Cup is a collapsible coffee cup ergonomically designed to be carried anytime, anywhere, without any hassle. The 12 oz travel coffee mug is reusable with a compact, leakproof design and an LFGB certified silicone lid that prevents spillage. The temperature-resistant sleeve is convenient to hold or carry. It is easy to clean, and the BPA-free material makes it safe for usage.
Pros
BPA-free
Reusable travel cup
Dishwasher safe
Compact
Phthalates-free
Lead-free
Glue-free
Expandable height
Leakproof
Available in a variety of colors
Cons
The Zyliss Hot Mug Travel Cup with double-walled insulation keeps your coffee hot for long. The simple and ergonomic design is easy to hold and carry during travel. It has a clip-in coffee press for brewing coffee beans. Simply put in the ground coffee, add hot water, and press the fine mesh filter to brew fresh coffee. This BPA-free, dishwasher-safe travel coffee mug is suitable for all kinds of beverages.
Pros
BPA-free
Easy to brew coffee beans
Ergonomic design
Dishwasher safe
Suitable for all beverages
Easy to hold
Cons
No stainless steel interior
The Ello Ceramic Travel Mug will keep drinks hot for long hours with its ceramic warmth. The interior and exterior are made of ceramic that will not leach or smell, keeping your favorite beverage piping hot. It is made with a friction-resistant, splash-proof slider lid that lets you drink directly from the ceramic pot without any hassle. The silicone boot acts as a built-in coaster for placing the hot ceramic pot anywhere without damage. The handle is comfortable to hold and travel-friendly.
Pros
BPA/BPS-free
Dishwasher safe
Microwave safe
Splash-resistant
Easy to clean
Available in different coaster colors
Cons
Not completely leakproof
Poor design
The Klean Kanteen Insulated Coffee Mug has a double-wall vacuum insulator to keep your beverage hot for 14 hours and cold up to 40 hours. It is made of 18/8 stainless steel and food-grade silicone to give it a sturdy and durable design. It is leakproof with an easy cleaning facility. The large mouthpiece with a diameter of 54 millimeters helps fit ice and is easy to refill and pour. It is compatible with all Klean Kanteen Wide caps.
Pros
Double-walled vacuum insulator
Made of high-grade stainless steel
Sturdy design
Easy to pour and refill
Spill-proof
Leakproof
BPA-free
Available in a variety of colors
Cons
The caps are too tough to open and close.
The Joco Reusable Glass Coffee Cup is one of the best glass mugs with a colorful silicone lid and matching thermal sleeve. It is made of an original, reusable, artisan blown borosilicate glass with a thermal shock-resistant facility. The coffee cup has an anti-splash ergonomic design and a 100% plastic-free thermal silicone sleeve to keep your beverage hot for long hours. The sleeve is non-porous, antibacterial, and easy to hold.
Pros
Eco-friendly
100% plastic-free
BPA-free
Reusable
Easy to hold
Anti-splash ergonomic design
Barista certified sizing
Non-toxic
Available in different sizes and sleeve colors
Cons
This affordable travel mug might seem like any other mug on the market, but its top button is leakproof. It has three silicone seals to prevent any splashing and spillage. The body is made of premium quality, durable, sturdy stainless steel. The double-walled insulated interior keeps the beverage hot or cold for a long time. The easily detachable lid is easy to clean and available in a range of sizes.
Pros
Leakproof
Splash-resistant
BPA-free
Durable and sturdy
Fits into standard cup holders
Available in a variety of sizes
Easy to hold
Cons
The Zoku Iced Coffee Maker makes iced coffee or tea in just 5 minutes without any ice. It is made with stainless steel core with 11 oz of capacity to keep brewed coffee or tea chilled for long. The single-cup machine contains one protective insulating sleeve for easy holding. The detachable lead makes it easy to pour and clean. You can sip your cold coffee with a colored straw attached to it.
Pros
BPA-free
Phthalate-free
Safe to hold
Insulated sleeve
Spill-resistant
Easy to use
Easy to clean
Available in different colors
Cons
The Ember Temperature Control Travel Coffee Mug is one of the most popular and world's advanced temperature control mugs for enjoying your beverage either hot or cold. It regulates temperature between 120 degrees Fahrenheit to 145 degrees Fahrenheit. The Ember Mug uses seven temperature sensors, a rapid cooling system, and a microprocessor-controlled heating system. You can pair your mobile with the Ember app to set the temperature. It has a 2-hour battery life on a single charge, or it can be charged the entire day by placing on the charging coaster.
Pros
Rapid cooling system
Controlled heating system
Smartphone control
Safe to handwash
Leakproof lid
Easy to carry
Durable
Cons
Expensive
Short battery life
These are our top 15 travel coffee mugs you can buy online. Now, let us look at a few important features to consider before buying.
What To Look For In A Travel Mug
Insulation: Check the material, whether stainless steel, ceramic, or plastic. Doubled-walled insulation ensures your beverage is hot or cold for a long time.
Size: Picking a size perfect for travel is very important. If you are a single-serve coffee drinker, choose a small size. But if you want it for office purposes, a medium-sized coffee mug will be perfect.
Lid: The lid should be leak or spill-proof if you want to sip directly from the coffee mug.
Washability: It should be easy to handwash.
Pick the best quality coffee mugs from our list to enjoy sipping while traveling. And do not forget to check the quality criteria before buying one.
Recommended Articles
The following two tabs change content below.

Latest posts by Priyanka S (see all)