15 Best Travel Eyeshadow Palettes To Add Extra Joy To Your Journeys
Take your eye makeup a notch higher with these highly-pigmented eyeshadow palettes.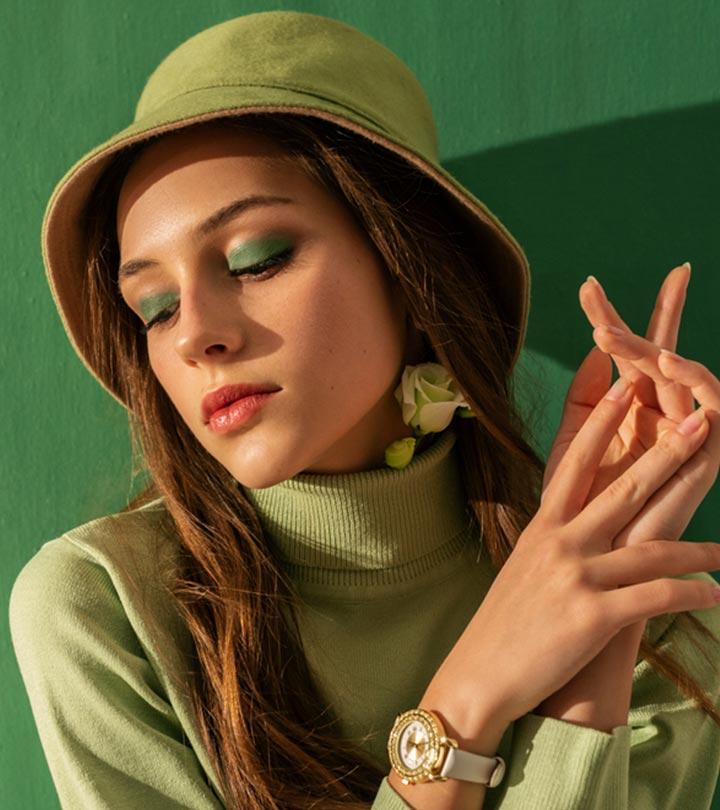 You need the best travel eyeshadow palette if you love to travel as much as you love makeup. As any travel enthusiast would confirm, packing light without leaving out essentials is one of the biggest challenges yet an essential part of traveling successfully. Lipsticks and liners hardly take any space, but eyeshadow palettes along with all the brushes can make packing a real nightmare. That's where travel eyeshadow palettes come into the picture!
Stuffed in small and smooth cases, eyeshadow palettes designed to be travel-friendly can squeeze into any cosmetics pack, and some can even fit in your palm! But don't be put off by their size. Even though they are tiny compared to the regular ones, they contain all the shades to style your eyes, whether you need a fun and striking look or a neutral and nude one. Presently, if you are moving around with a big and hefty one and compromising on your travel space, you need to check out our list of the best travel-friendly eyeshadow palettes the industry has to offer!
15 Best Travel Eyeshadow Palettes For All Makeup Enthusiasts
Running out of luggage space to make room for your bulky but essential eyeshadow palette? Don't be disheartened! We got you covered with this compact Lamora Au Naturel Nudes Eyeshadow Palette. With a lightweight and portable design, this sleek palette comes with 16 richly-pigmented formulas. Packed with matte, metallic, and shimmery colors that deliver refined eye makeup and a smooth velvet finish, this palette contains an outstanding range of shades, from rose gold and soft beige to dark and chocolatey browns. Now, get ready to sport a smokey eye or don a neutral look using this travel-friendly palette that is equipped with a magnetic lid, making the product even more hassle-free. If you want a detailed review of the product, make sure to take a look at this video.
Pros
Vegan
Cruelty-free
Ultra-blendable
Long-lasting shadows
Can be used both wet and dry
Cons
There might be a little bit of fallout
Price at the time of publication: $12.95
Whether you're traveling to a hot, humid destination, or to a place that only sees snow, this eyeshadow palette from Revlon will keep your eyes looking like a dream for up to 16 hours. With an intense long-wearing power, you can rest assured that your eyeshadow will stay put all day and it won't smudge or crease. Whether you desire subtle eye makeup or a bold one, this palette is your best companion that includes colors like soft beige to dark brown. Although a powder formula, it glides smoothly onto your eyelids and delivers a pigmented hue and a velvety finish. To help you with flawless makeup, this product comes with a dual-ended applicator. Its narrow tip defines your crease and the rounded tip gives your eyes an all-over wash of color. You can also check this YouTuber's detailed review to know more about the results after using this product.
Pros
Cruelty-free
For daily use
Value for money
Ophthalmologist-tested
Does not contain phthalates and formaldehyde
Cons
Some may find it to be a bit too subtle
Price at the time of publication: $9.99
The Maybelline New York The City Mini Palette is one of the ultimate travel-friendly eyeshadow palettes that can fit into any small bag. With richly-pigmented shades, the Chill Brunch Neutrals palette helps define your eyes with its grey and taupe hues. The creamy formula glides smoothly onto your eyelids for easy application. If you wish to achieve a matte and shimmery finish, this neutral palette is here to fulfill your desires. Whether it's a sultry or shimmery look you're experimenting with, you are free to mix and match and create a host of looks with these 6 dramatic colors. For a thorough review of the product, have a look at this YouTuber's video.
Pros
Buildable
Long-wearing
Good blendability
Value for money
Cons
Colors might crease for oily skin types
Price at the time of publication: $7.16
What more can you ask for when you have a mini eyeshadow palette with 12 soft and sultry shades? This palette houses smoky velvet mattes and cool iridescent neutral metallics, leaving you with an ocean of options to create custom eye makeup looks. Whatever life throws at you, this product has got your back with its range of different shades. You can wear these shades alone or layer it on top of each other to achieve subtle or dramatic looks with ease and precision.
Pros
Easy to blend
Highly pigmented
Great staying power
Not tested on animals
Cons
Price at the time of publication: $39.99
Want to bring your A-Game on wherever you're traveling but don't want to carry a bulky eyeshadow palette? Try the Sheerly Nudes eyeshadow palette from COVERGIRL that delivers a silky yet sheer finish. With ultra-blendable powers, the powder shades glide smoothly onto your eyelids, leaving you with flawless eye makeup. Ideal for a barely there makeup look, the pearly, matte, and sparkly hues of this small eyeshadow palette will enhance your eyes beautifully. To help you in a smooth application, this product comes with a double-ended brush for buildable coverage to deliver dramatic and intense eye makeup.
Pros
Affordable
Rich color
Long-wearing
Does not crease
Cruelty-free formula
Cons
Price at the time of publication: $4.39
If you're looking for versatility, this palette is something that you need to invest in right away! The REVLON ColorStay Maverick Eyeshadow Palette offers matte, shimmer, and metallic finishes with 8 dusky shades ranging from gold to mauve, so you can try multiple combinations to match your mood or occasion. Its smooth and silky texture helps the product to glide flawlessly onto your eyelids, leaving you with a smooth and crease-free finish. This can ideally be your go-to palette when you are on a vacation as its slim and compact design makes the product fit in any small bag, clutch, or even your pocket.
Pros
Blendable
Vibrant colors
For daily use
High pigmented
Lasts up to 24 hours
Cons
One may need to apply primer before applying the nude shades
Price at the time of publication: $7.45
The e.l.f Bite Size Eyeshadow Palette is for those who can't imagine life without some ultra-pigmented shadows. Although this mini palette comes with only 4 colors, they are highly impactful shades that can deliver both subtle and dramatic looks. You can expect a smooth application process owing to its creamy texture that will help you achieve a flawless look that lasts from day to night. With 2 matte and 2 shimmer shades, this travel-friendly case is the best example of a perfectly-balanced palette, making it a great product to pursue. What makes it better for sensitive skin is that this product does not contain ethoxylates, phthalates, triclocarban, nonylphenol, triclosan, and hydroquinone.
Pros
Vegan
Cruelty-free
Easy to apply
Highly blendable
No sulfate and paraben
Cons
Some may find it slightly powdery
Price at the time of publication: $3
If you love bright colors, this palette will make you jump up and down in glee! YMH BEAUTE brings bright neon shades to deliver bold and fun eye makeup looks. With 9 highly-pigmented colors, you get to experiment with countless combinations to get ready for parties, Halloween, cosplays, or even something casual. Designed like a painting palette, all these color-pressed pigments have unique shade names – Sunlight, Heavy Rain, Reflection, Colorful Bridge, Water Droplets, Refraction, Mirage, Twilight, and Peaceful Lake. This mini palette comes with a mirror so that you can go electric whenever you want.
Pros
Vegan
Cruelty-free
Long-lasting
Waterproof
Suitable for all skin tones
Cons
It might have an odd smell
Price at the time of publication: $11.99
If you are a matte queen, you should look at this mini Naked palette! Its 6 neutral taupe-hued nude shades enable a quick natural look for your trip and will make you fall in love with the results — a soft velvety matte finish with a bit of sheen. Suitable for almost all skin tones, this palette is incredibly pigmented and blends smoothly on your eyelids. With full-size shadow pans, you're spoiled for choice with nudes and taupes. So, if you want smokey eyes or a soft look, this palette has got your back to deliver custom eye makeup.
Pros
Cruelty-free
Long-lasting
Buildable formula
It does not crease or fade
No paraben, phthalate, and sulfate
Cons
Price at the time of publication: $26.18
A true eye makeup fanatic will tell you that as long as you have some matte shades, the world is your oyster. This everyday eyeshadow palette has 8 such matte colors that deliver a velvety smooth texture for a flawless look. Ultra-pigmentation is not the only feature of this palette, but it is also enriched with soothing botanicals like calendula and cucumber. From variations of beige and brown to cool mauve, deep burgundy, and deepest black, you get almost all the matte shades in this palette. Thanks to its portable small size, this product can be always with you to show off your eye makeup skills.
Pros
Cruelty-free
Easy to blend
Good staying power
Can be used both wet or dry
Cons
Price at the time of publication: $25
When one thinks of ethereal, perhaps this palette is what they think of. CATKIN's Morandi eyeshadow palette is all about shimmer, shine, and pastels that one can't get enough of. With 9 other-wordly shades, this palette adds glitter to your eye makeup routine yet the shimmer is not overpowering. The shades are buildable if you are up for more dramatic looks and are easily blendable for flawless results. Suitable for all skin tones, this palette offers a velvety smooth texture and the lighter colors deliver a matte finish with a hint of sheen. Coming to the design, you can see how sleek and portable the design is along with a creative front side and a full-size mirror inside for convenient use.
Pros
Vegan
Cruelty-free
Waterproof
Long-lasting
Richly pigmented
Cons
Some may find the smell slightly odd
Price at the time of publication: $20.99
With 3 larger pans for base colors, this compact matte palette is all you need when you are traveling the world. The creamy texture of these 9 shades offer crease-free and smooth application that stays put.. And the best part about this compact eyeshadow palette is that all the colors are infused with coconut butter, making them ultra-moisturizing and aromatic. With maximum color payoff, you can explore makeup styles with these pigmented shades that blend seamlessly, leaving you with an airbrushed effect. To achieve the right impact, you just need to blend the shades well while applying in the crease and working through the outer corner of your eyelids.
Pros
Gluten-free
Cruelty-free
Buildable colors
Comes with mirror
Does not contain paraben
Cons
Price at the time of publication: $34.99
The Brown Purple eyeshadow palette is what makes you ready for every occasion and mood. With matte, glitter, and metallic finishes, you can explore various looks and combinations with these highly-pigmented colors. This palette includes 6 shades, out of which Glow and Dusk are matte colors and Glim, Luster, Sparkle, and Glitz deliver a satin texture with a shimmery finish. And you do not have to be a pro to use this palette as the formula is creamy and smooth, even a beginner can achieve pristine results in one sweep.
Pros
Cruelty-free
Value for money
Comfortable wear
Blends like a dream
Cons
It may not be long-wearing
Price at the time of publication: $16.79
One palette for all things makeup? Yes! You read that right! It's a dream come true, isn't it? The sleek BYS palette includes a brow wax, 2 brow powders, 4 highlighting and contouring powders, and 9 matte and shimmer eyeshadows. The palette also comes with a mirror and a dual-ended applicator. All the shades are richly pigmented and ultra blendable, leaving you with smooth and gorgeous results. Whether you want to pull off that cat eye with a pop of color and try something subdued, this product comes with a variety of shimmers and mattes to achieve the best outcome.
Pros
Vegan
Buildable
Cruelty-free
Easy to apply
Suitable for all skin tones and types
Cons
Some may not appreciate that the black shade in shimmery
Price at the time of publication: $12.99
What makes this travel eyeshadow palette one of the best eye makeup products is that it is infused with natural ingredients like vanilla extract and mineral pigments. Vanilla extract is rich in antioxidants and also offers anti-aging properties. Mineral pigments help soften, soothe, and not to irritate your skin. Out of 6 beautiful shades, 4 of them are infused with Amazonian clay, making the colors safe and comfortable for your skin. The rest 2 shades are iridescent lusters that are made of a micro-shimmer duochrome formula to give you the perfect eye makeup with shine. With safe ingredients and good pigmentation, this palette is worth the money, and adding to the features, it does not contain mineral oil, paraben, phthalate, sulfate, and gluten.
Pros
Cruelty-free
Long-wearing
Flake-resistant
Blends smoothly
Offers both matte and metallic finishes
Cons
Some may find the shades too intense for everyday wear
Price at the time of publication: $25.99
If you are having difficulty in making the right decision, go through our buying guide that will help you pick your favorite travel eyeshadow palette.
How Do I Choose The Right Eyeshadow Palette For Travel?
Size
Choose eyeshadow palettes that are compact and sleek. They perfectly fit into any tiny bag or purse, making the palettes travel-friendly. Although the big ones come with more shades, they also take up a lot of space in a makeup bag.
Range of useful colors
No one needs hundreds of shadows for any occasion. So, pick shades that you use quite often, and accordingly, go for a portable palette that includes those useful shades.
Brush and mirror
If you need a quick touch-up or instant eye makeup, a palette with an in-built mirror and a shadow brush can be bliss. This way, you do not have to go around looking for a mirror for touch-ups.
Quality
Go for a high quality eyeshadow palette, especially if you are planning to carry one to your vacation. Low quality palettes can break and create a mess during your travel.
Safe ingredients
Check the ingredients are listed and if you are allergic to any of them, pick a different eyeshadow case. You do not want to ruin your trip looking for doctors if an allergic reaction takes place.
Why Trust Stylecraze?
The author, Chaitra Krishnan, is a makeup enthusiast and writes well-researched product reviews for StyleCraze. For this article, she has extensively researched travel-friendly eyeshadow palettes that do not consume much space and come with as many shades that large palettes contain. The palettes shortlisted in this article are also endorsed by users through online reviews. These long-wearing products blend easily and are good value for money.
Frequently Asked Questions
How do I protect my eyeshadow palettes while traveling?
To protect your eyeshadow palettes while traveling, you can place cotton pads between the mirror and the shadows. The layer of cotton will work as a cushion to prevent your palette from breaking.
Can I carry eyeshadow palettes on a plane?
Yes, you can carry eyeshadow palettes on a plane in your hand luggage. A travel-friendly palette will make the trip more comfortable.
Recommended Articles: