11 Best Travel Fanny Packs Of 2022 – Reviews & Buying Guide
Trendy, long-lasting fanny packs that can easily add some flare to your travel days.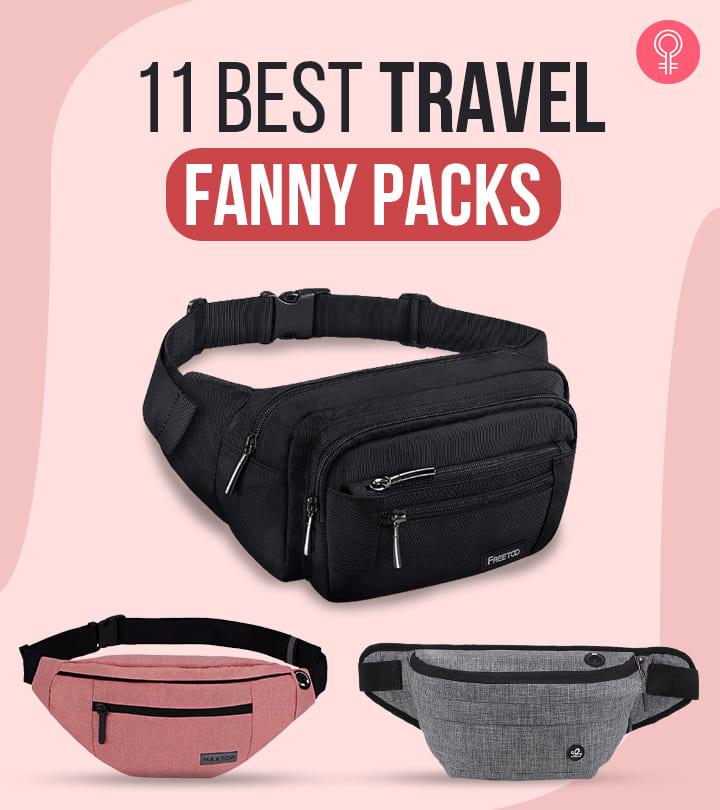 The rage of the 80s is now a trendy add-on in every Hollywood red carpet – the fanny packs are back with a bang. The best travel fanny packs mentioned in our list are going to transform your travel fashion statement from fav to drab instantly. These multi-purpose packs are convenient and elegant enough to enhance your appearance. Also, they allow you to carry your essential s in a hassle-free manner during hikes and adventures. So, swipe up to grab one from our list today!
11 Best Travel Fanny Packs
The Maxtop Large Cross body Fanny Pack is water-resistant and stylish. It features four zippered pockets to carry all your essentials. The fanny pack is made using high quality, lightweight, and durable fabric, and its long strap is widely adjustable (from 20 to 50-inch waist). You can wear it in many different ways – around the waist, across the chest, or over your shoulder.
This travel fanny pack comes with a reflective loop that is ideal for night time and low visibility weather. It also has an earphone hole, so you can walk while listening to music without having to hold your phone in your hand. The creative key hook ensures that your phone stays scratch-free while the theft-proof zippered pocket on the back helps keep your valuables from being stolen.
Specifications
Material: Acrylic
Dimensions: 3 x 3.5 x 5.9 inches
Strap Length: 20– 50 inches
Best For: Large storage
Color/Design Options: More than 15
Pros
Waterproof
Has a safety reflective loop
Comes with an earphone hole
Lightweight
Adjustable strap
Theft-proof pocket
Sturdy
Stylish
Cons
None
This fanny pack by Waterfly is designed to organise most of your larger necessities, from iPad mini and iPhone X plus to wallets, umbrellas, and water bottle. It comes with a convenient earphone hole on the front right side to give you access to your earphones while keeping your phone secure. The adjustable waist belt makes it suitable for everyone from kids to adults.
The fanny pack is made using premium nylon material that provides water-resistant benefits to secure your essentials from rain, sweat, and moisture. It also has a reflective strap and durable buckle closure. The breathable mesh back pad ensures absolute comfort by wicking away sweat and makes the pack lightweight enough to be carried around all day.
Specifications
Material: Nylon
Dimensions: 5 x 5.5 x 4 inches
Strap Length: 20– 50 inches
Best For: Wider waistlines
Color/Design Options: 15
Pros
Waterproof
Sweat-proof
Large capacity
Sturdy
Durable
Earphone hole
Reflective strap
Anti-abrasion
Padded mesh back
Affordable
Cons
None
If you are looking for a fanny pack with ample room for your essentials while hiking or biking, look no further than the Freetoo Waist Pack. It comes with five separate zippered compartments of varying sizes, with the largest one having the capacity to hold up to a standard water bottle of 16 oz.
This waist pack is made using fine quality 1000D polyester with a seamless look and sturdy build that will last a long time. The strap is adjustable from 15.7 to 27.6 inches and can be used by people of all ages. This fanny pack can be worn in different styles, whether on your waist, over the shoulder, or on your hips.
Specifications
Material: Polyester
Dimensions: 87 x 3.94 x 5.11 inches
Strap Length: 7 – 27.6 inches
Best For: Hiking/Biking
Color/Design Options: 9
Pros
Lightweight
Five pockets
Durable
Large storage capacity
Sturdy
Waterproof
Cons
None
Whether you are running on the track or going at it at the gym, try the Maxtop Running Belt Fanny Pack to secure your essentials. It is designed using lightweight and breathable fine quality fabric that stays put without bouncing while you are performing your workouts. The reflective belt helps you stay safe and relaxed during nighttime or bad weather.
This running belt can fit most smartphones, and the adjustable strap can fit most waist sizes from 24 to 48 inches. It can also be used as a money belt during your travels to keep your essentials close to your body. While it provides ample space to store money, passport, keys, phones, and cards, it is also sleek enough to be easily worn around your waist.
Specifications
Material: Not specified
Dimensions: 2 x 4.3 inches
Strap Length: 23 – 53 inches
Best For: Running
Color/Design Options: 13
Pros
Splash-resistant
Soft fabric
Lightweight
Key hook
Earphone hole
Durable
Wide strap
Value for money
Compact design
Cons
The Yunghe Waist Pack is designed with a fabric blend of nylon and polyester that is lightweight, sturdy, and durable. It comes with three separate compartments – two in the front and a flat pocket at the back. These compartments are spacious enough for securing your mini purse, passport, smartphone, and other essentials. The waist pack is also splash-proof to keep your things safe and dry during rains or when you are relaxing by the pool.
Specifications
Material: Nylon and Polyester
Dimensions: 02 x 5.11 x 3.15 inches
Strap Length: 8– 45.3 inches
Best For: Walking / Running
Color/Design Options: 41
Pros
Lightweight
Sturdy
Durable
Stylish
Splash-proof
Large storage capacity
Affordable
Cons
Have your things close to your body while you are running errands or going for a walk with this adjustable fanny pack on your waist or over your shoulder. The pack is designed using 100% polyester body with a 100% recycled polyester lining that gives it durability. It has a small front pocket with a key fob and the webbing belt comes with a clip-lock closure.
Specifications
Material: Polyester
Dimensions: 5 x 3.5 x 5.5 inches
Strap Length: Not specified
Best For: Walking
Color/Design Options: 5
Pros
Durable
Great storage capacity
Water resistant
Lightweight
Value for money
Cons
If you want a sleek-looking fanny pack with a high storage capacity, go for the Entchin Fanny Pack. It provides spacious compartments – the main compartment can store smartphones and larger items, the back pocket helps secure your valuables, and the front pocket where you can keep smaller items like keys.
The belt is adjustable up to 44 inches and double stitched to ensure no additional hanging belts. It is designed using durable, lightweight, and scratch-resistant fine quality polyester. This fanny pack is highly versatile and can worn on the waist, back, across your chest, or over your shoulder without feeling bulky.
Specifications
Material: Polyester
Dimensions: 3 x 2.6 x 6.1 inches
Strap Length: 32– 44 inches
Best For: Runs, Travel, and Outdoor activities
Color/Design Options: 13
Pros
Lightweight
Scratch-resistant
Durable
Sturdy
Spacious
Sleek look
Large storage
Cons
None
The Daitet Money Belt is a unique and secure travel fanny pack that comes with RFID blockers to keep your personal credit card information secure from electronic pick pocketing. It uses premium 210D rip-stop nylon fabric that is exceptionally sturdy and lasts a long time. It is compact and can hold your credit cards, passport, currency, keys, and ID. The elastic waist belt is adjustable and can be expanded up to 46 inches. The mesh back pocket is sweat-resistant and feels soft against your skin.
Specifications
Material: 210D Nylon
Dimensions: 3 x 3.5 x 5.9 inches
Strap Length: 26– 46 inches
Best For: Backpackers/Solo travelers
Color/Design Options: 2
Pros
User-friendly design
Includes a key buckle
Sweat-resistant
Breathable
Waterproof
Quick-release buckle
Lightweight
Sturdy
Cons
The CXWMZY Fanny Pack can be used while performing a number of outdoor activities – like cycling, running, training, hunting, and fishing. It features excellent stitching, fine quality zippers, and a zinc alloy electroplated nickel zipper head that gives it a strong and durable finish. This water repellent waist pack not only protects your valuables but also provides a stylish look.
Specifications
Material:Nylon and Polyester
Dimensions: 87 x 5.11 x 3.94 inches
Strap Length: 6 – 47 inches
Best For: Cycling/Biking and Outdoor activities
Color/Design Options: 11
Pros
Stylish
High storage capacity
Durable
Water-resistant
Sturdy
Cons
None
The traveling fanny pack by Hopedas offers four separate compartments and ample space to store all your valuables and keep them secure during your travels. It is made using high quality polyester fabric that is lightweight and durable and feels comfortable. The fanny pack is also water-resistant so it can effectively protect your mobile phones and other essentials from any possible splashes. The belt comes with an extension belt that is highly adjustable from 19.68 to 31.49 inches. You can slide it across your chest, put it over your shoulder, or wear it around your waist.
Specifications
Material: Polyester
Dimensions: 87 x 5.9 x 3.14 inches
Strap Length: 68– 31.49 inches
Best For: Running
Color/Design Options: 4
Pros
Durable
Versatile
Scratch-resistant
Large storage capacity
Sturdy
Value for money
Cons
None
The MOCE Waist Bag is your go-to for a casual walk or running errands. It features three separate compartments, where the front zipper holds smaller objects, the back one can be used to secure your money and valuables, while the main compartment can be used for holding your cables, earphones, and mobile phone. This fanny pack is designed with water-resistant nylon that is highly durable and scratch-resistant.
The adjustable waist belt can fit waist sizes from 20 to 51.2 inches, suiting people of all ages. It also contains an earphone hole that is ideal for listening to music and attending calls hands-free. This versatile fanny pack can be worn as a waist or hip pack, slanted across your chest as a crossbody bag, or worn over your shoulder like a sling bag.
Specifications
Material: 1200D Nylon
Dimensions: 2 x 5.12 x 4.72 inches
Strap Length: 20–2 inches
Best For: Wider waistlines
Color/Design Options: 39
Pros
Sleek look
Large storage capacity
Contains earphone holes
Splash-resistant
Scratch-resistant
Cons
Fanny packs offer many benefits. Keep scrolling to know what they are.
The Benefits Of Using A Travel Fanny Pack
Multi-functional: Whether you are going for a solo backpack trip, to buy groceries, or just a day out, a fanny pack comes in handy, no matter what activity you choose to do.
Convenience:Don't you hate it when you are looking for a key in your purse in a hurry, but you dig up an old candy instead? Well, a small fanny pack is all you need to avoid this chaos. With tons of mini compartments and zippers, you can store things in an organized manner and save a lot of time.
Safe Storage: When you are traveling, especially in a foreign country, a waist fanny pack will help you in way you can't even imagine! From your passport and hotel keys to money, you can keep them all close to your body at all times.
Here are some things that you should look for before buying a fanny pack.
Things To Consider When Buying A Travel Fanny Pack – Buying Guide
The type of the fanny pack you need will depend on the usage you are looking for. If you want one just for your essentials like phone, ID, keys, and credit cards, a small fanny pack should be enough. If you are heading down to the beach and need a protective fanny pack that can secure all your belongings like phone, sunscreen, or sunglasses, you will need a larger pack. All travelers have different needs, so determine the purpose before you look for your ideal fanny pack.
This is related to the purpose of your fanny pack. Once you have decided the purpose, it will be easy to determine the size and storage capacity you need. You would not want it to get overstuffed or go half empty either, so choose one that is just the right size, depending on what you are planning to use it for.
This important aspect gets overlooked most often. Whether you are at the beach or go for a surprise swim, it is imperative that your belongings stay protected at all times instead of getting splashed on and wet. There are a lot of water-resistant fanny packs that work even when you are underwater, so if you choose to use your fanny packs around water a lot, go for the waterproof ones.
While the traditional fanny packs generally have a single strap that goes around your waist, they have now evolved to offer more versatility. You can wear them on the front or back and even as crossbody sling bags. Ensure the length of the strap fits perfectly if you are planning to use it as a crossbody or shoulder bag.
Why Trust StyleCraze?
The author, Baishali Bhattacharya is a certified image consultant and fashion expert. She went through hundreds of online reviews to compile a list of the best travel fanny packs. She checked online reviews and user feedback on multiple forums to pick the best products for the list. The shortlisted product are versatile, portable and most importantly, keep your hands free.
Recommended Articles