30 Best Travel Gifts For Her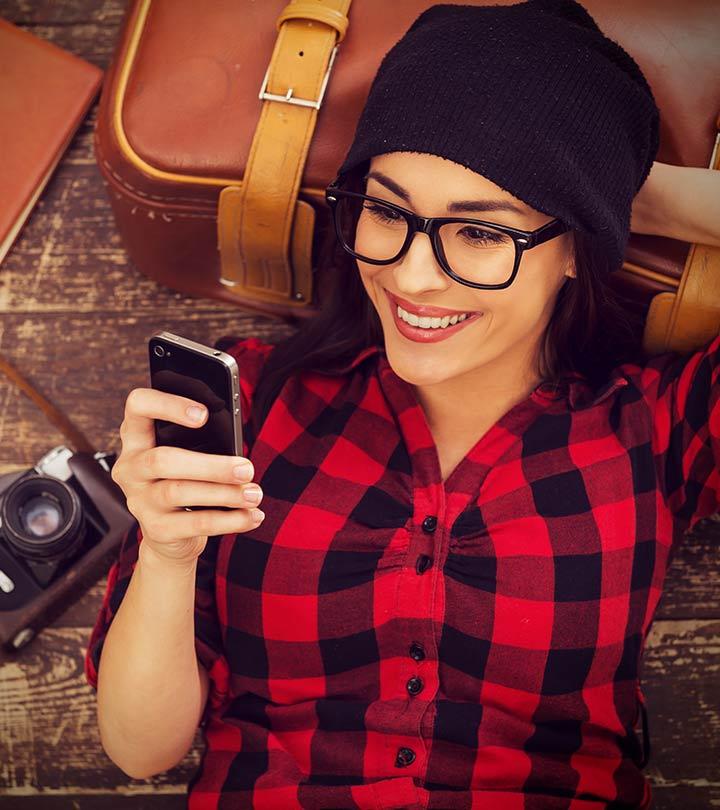 While you may not have a magic carpet, you can still show the lady in your life a whole new world. It could be a short business trip, a long overdue vacation, a birthday trip,  or an annual family outing – travel doesn't have to be boring or stressful. And small gifts can ease the journey.
If they like to travel, and you'd like to give them a little something to either remember you by or help them in their journey – we've got a list of ideas to help you. Scroll down for the best travel gift ideas.
30 Best Travel Gift Ideas Dor Her
The pop fashion scarf with a pocket makes for a pretty trendy accessory. Use it on a flight or a stroll around town, all while you snuggle into its soft warmth. It comes with a hidden zipper that can help safeguard essential items, like your phone, passport, credit cards, ID, keys, and passport. The scarf is available in different colors you can choose from to match any outfit.
Key Features
Made of polyester
Lightweight
Hidden zipper
Quatrefoil design
Travelsox compression socks are made especially to keep the feet from swelling or developing other travel-related issues. This is a great gift idea for travelers who are prone to cramps and aches. The socks' graduated compression design allows regular blood flow through the legs. The socks are also engineered to keep feet, comfortable, and dry.
Key Features
Made from individual fibers and a high elastic content
Come with toe-to-heel padding that helps cushion the feet.
For the traveler who likes to keep in touch, a portable smartphone charger is a great gift. The powerful pocket-sized power bank charges any smartphone fast, and the power capacity allows one to charge their phone twice a day.
Key Features
2 USB ports to charge two phones simultaneously
10000 mAh capacity
Can be charged from empty to full within 3 hours
A travel adaptor is useful when traveling to foreign countries. It works with various power connections used in several countries, including the USA, European countries, and Australia. The fuse protection feature of this product allows it to protect your device from power surges.
Key Features
Dual USB port
Should only be used for appliances, such as smartphones, laptops, and other mini devices. Heavy-duty appliances can cause the adaptor to short circuit.
The Zoppen multipurpose travel wallet is designed to help you organize your papers, neatly and safely. This passport wallet is made from eco-friendly material and also comes with an RFID blocking shield. This helps a traveler keep their ID card and credit/debit card information safe while keeping passports and cash safely tucked away.
Key Features
Comes with three foldable compartments
Made from leather
Range of colors to choose from
Bose QuietComfort wireless Bluetooth headphones are one of the best choices for travelers. The noise cancellation effect gets rid of all disturbances during travel. This accessory is designed with three levels of noise cancellation for a better listening experience, even in loud surroundings. These headphones are ideal for long flights or noisy surroundings.
Key Features
Balanced audio performance
Easy-to-use Bluetooth pairing via the Bose Connect app
Dual-microphone system delivers crisp sound and voice pick up.
The Fidus mini travel umbrella is a compact, lightweight umbrella – perfect for people who want to stash safely away in small handbags or hand luggage. It is designed to block at least 95% UV rays and is built sturdily enough to withstand heavy rainfall and strong winds.
Key Features
Compact and easily foldable
Convenient and easy-to-use
Comes in many colors
Do you or your friends like to journal? If yes, this lovely Old World Travel journal can make for a gorgeous gift. It has an age of exploration map drawn over, making you daydream of being an intrepid explorer in days gone by.
Key Features
Mulberry pulp paper
Foldable panel that closes using a magnet
This beauty from Daniel Wellington is a classic addition to your outfit. The wristwatch is small, beautifully designed, and durable. This wristwatch comes in black and has an easily readable watch face. The coating is made of stainless steel, which means you do not need to worry about corrosion.
Key Features
Analog display
Water-resistant
The strap is reasonably expandable.
A Hydro Flask standard water bottle can hold liquid of about 24 oz and is perfect for storing both hot and cold drinks. This product can keep beverages cold for about 24 hours and can store hot drinks for up to 12 hours. It is made for rough handling and is suitable for use during camping.
Key Features
Made from food-grade stainless steel
Small and fits easily into a bag
If limited packing space is the problem, Gonex Extensible Storage Mesh Bag Organizers are the solution. These compression packing cubes from Gonex come in six different sizes. This includes large, medium, small, micro, slim, and a laundry bag. Each of these bags is made from nylon and cotton, which allows for expansion or easy compression.
Key Features
Easy to handle and pack
Fancy design and a wide array of colors
A picture is worth a thousand words – especially when you have to spend a thousand words convincing all and sundry that you did actually go on a trip. Save your breath and get the Fujifilm Instax Mini Instant Film camera. This camera is made for outdoor shooting. It is easy to use and has an electronic programmed shutter release, which can capture two images on a film.
Key Features
Adjusts the settings of the camera based on the brightness of the scene.
Has a bulb mode in which the shutter release is open for about 10 seconds.
Comes with two components and two elements.
Kindle Paperwhite is the perfect travel companion for any reader – even the ones who cling to the idea that a book is not a book unless it's made of paper. It is easy to handle and has a flush-front design, which is thin and light. The casing is waterproof, which means you are good to go for use at the beach. With in-built 8-gigabyte storage, your bookish friend will thank you when they realize they don't have to lug 10 physical books around and can instead carry a small library around on their Kindle.
Key Features
Adjustable light
Long-lasting battery
Bluetooth compatible
This lightweight waterproof jacket can be easily packed in your luggage, without consuming much space. The jacket comes with two pockets, zip closure, and a drawstring hood. It is perfect for hiking journeys, camping retreats, and other outdoor excursions. It can be easily folded into a handbag and carried around.
Key Features
Lightweight waterproof fabric
Adjustable drawstring
Various color options
The MLVOC travel pillow is a comfortable travel pillow that allows you to take a quick nap without worrying about how much your neck will ache. This pillow is adjustable, and the fabric is sweat-resistant, preventing odor and stains. This pillow is both easily portable and durable.
Key Features
Adjustable rope lock for adjusting pillow size
Breathable soft therapy cloth padded with microbeads
Indulge your inner Narcissus with the Camkix Selfie Stick. TheCamKix has a Bluetooth remote, connects to both Android and iPhones, and the stick head is expandable up to 3.25 inches. If you like looking at your reflection too, here's what you need – just don't fall into the nearest pool!
Key Features
Lightweight and easy to carry
Adjustable arm and phone holder
Selfie stick head is adjustable up to 180 degrees.
This cable organizer can help safeguard electronic accessories like USB cords, SD cards, power banks, flash drives, chargers, earbuds, and so on. This product not only serves as a pouch for organizing cords but can also double up as a makeup pouch or an all-purpose pouch. The cover is made to last, which makes it suitable for travel.
Key Features
Made of water-resistant nylon
Environmentally friendly and anti-dust
Fits into pockets
Control your coif with the Revlon Compact Ionic Hair Dryer. This lightweight dryer is compact and easy-to-use and is perfect for busy trips. This portable device helps reduce hair frizz and static, making your hair look well-conditioned and shiny.
Key Features
2 heat and speed settings
Available in different colors
Cold shot button
The BAGSMART travel jewelry organizer is a product for people who love jewelry and travel often. This jewelry organizer is lightweight and has enough compartments to house various pieces of jewelry.
Key Features
Different sizes of compartments for small and large pieces of jewelry
Comes in a variety of colors.
The Southwest Airlines gift card is the perfect gift for your traveling friend. It is can be used at any Southwest Airlines terminal point and can take her to over 85 different destinations. Get the gift card for yourself or your friend – adventure beckons.
Key Features
Does not expire
No additional fees for redeeming
This towel from InfuseZen is made of soft cotton and can be used to add a pop of color in a monochrome bathroom. It can also be used at the beach as a beach towel. The material absorbs water fast and dries out quickly.
Key Features
Made of 100% cotton
Lightweight
Available in various patterns and colors
These flip flops are very comfortable and provide an excellent cushion for the soles. Wear these around the house, the pool, the lounge, or take a walk in these, and your feet will still be happy and comfortable at the end of a long day.
Key Features
Comfy rubber sole
Supporting arch helps fit the feet properly
Available in various sizes
This vintage travel scrapbook is excellent for keeping your favorite pictures from the most memorable trips. Get this for your scrapbooking friend, so they can start accumulating those great memories for future reference. The scrapbook is supported with ten heavy inserts and vinyl page protectors.
Key Features
Designed to last through archiving
Expandable volume
No products found.
For your friend who loves reading late into the night or forgets to notice how dark the room is, the LuminoLite rechargeable LED clip light is perfect. It is designed for reading and won't hurt the user's eyes. The lamp has a battery capacity of 1000 mAh, which can last up to 60 hours of use after a full charge. The light can be powered via four modes: USB ports connected to a laptop, power bank, and/or a phone charger.
Key Features
6 bright LED lights
3 brightness levels
Flexible neck
If your friend likes being outdoors, this t-shirt could make for a thoughtful gift. The fabric is designed for the outdoors and is made of UV ray protective material. It comes with a comfy flat-seam design. The fabric is also soft on the skin and has great wicking capacity.
Key Features
Breathable
Tag-less collar
Lightweight and smooth on the skin
The inscription on the t-shirt perfectly sums up the travelers' desire. The cloth is comfortable and soft on the skin and is available in various colors. It can be easily worn with jeans, skirts, or shorts.
Key Features
Made of cotton blend
Soft and comfortable
Available in different sizes
LOTR made this particular saying quite popular. The traveler would agree that this perfectly encapsulates what they feel – even if they are lost and have to ask for directions on their trip! This cloth is expandable and well-fitting. The compass design is bold, and the shirt is available in varying sizes.
Key Features
Made from a combination of cotton, polyester, and rayon
Short-sleeved
Round neck
This foldable jewelry organizer has compartments in dynamic sizes to fit different pieces of jewelry. It is portable and can be carried around easily. It has also been designed in sections to help extract a particular piece at a time.
Key Features
Lightweight
Made from quilted cotton and polyester
Comes in various designs and colors
A fun charm bracelet for the traveler in your life. It is designed with miniature charms of the globe, an airplane, a passport, and an inscribed plate. This bracelet adds a touch of playfulness to any outfit. It is sturdy and comfortable to wear.
Key Features
Made from stainless steel
Furnished with zinc alloy
Encased in a glowing abalone shell, this sterling silver Compass pendant and necklace is a fabulous gift for the bold voyager. It is a distinctive addition to any outfit. The pendant is minimally sized, with a width of 22.4 mm and a height of about 30.9 mm.
Key Features
Made from sterling silver
18 inches long
Choosing a gift for travelers can be a little daunting since we would like our gift to be a combination of form and function. Most of the items listed here cover that, but as always, the best gift you give is one that is presented with love. We hope you have found something here for the traveler in your life to remember you fondly.