10 Best Travel Pillows Of 2020 To Help You Manage Your Travel Blues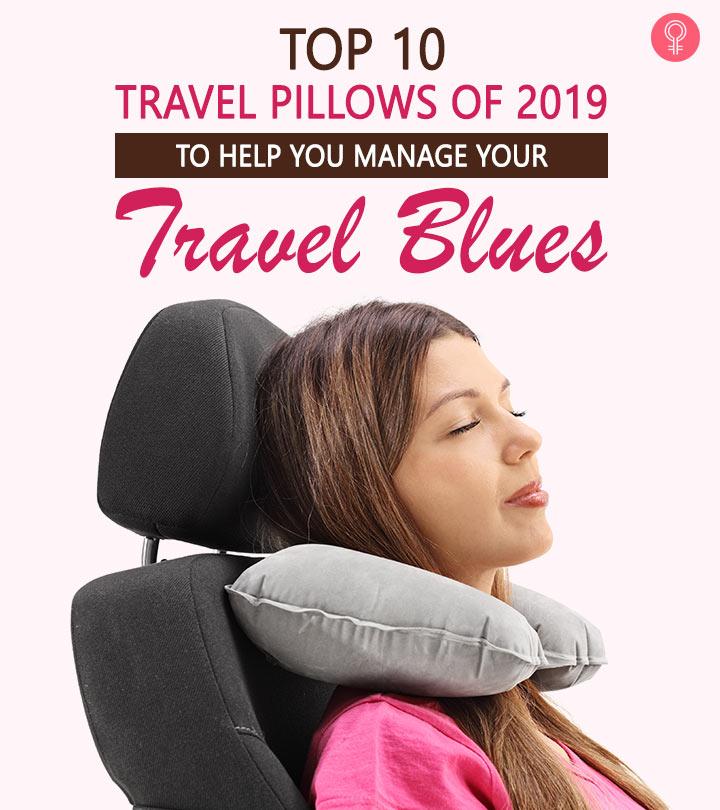 Long journeys are a pain in the neck. Whether you are a wanderlust or a corporate jet-setter, if you have ever nodded off in your seat while traveling, you can attest to the aches, pains, and pressure points that develop because of sleeping in an upright position. Long journeys, be it by car, train, or flight, can be quite exhausting and stressful. The only possible way to make time fly is to sleep through it. Snatched sleep, coupled with a sore neck, is the worst kind of nightmare.
What is the solution? Is there anything you can do to snuggle up a tad bit easier during long journeys? Well, yes! Travel pillows or neck pillows can be your rescue. This article will take you through the 10 best neck pillows available on the market.
First, let us understand why we need travel pillows.
Why Use Travel Pillows?
Travel pillows can make your traveling experience less stressful and less painful. Your body is used to sleeping in a lying position. These pillows help you to adjust your body to the unnatural sleeping position while in transit.
If you nod off in a sitting position during transit without proper neck support, you might end up waking up to a strained neck or headache.
People often seek help from chiropractors or doctors to get rid of this pain. But you can prevent this kind of pain by using a suitable neck pillow during your long haul flights.
Medical practitioners and chiropractors highly recommend the use of neck pillows. People with chronic neck pain are also advised to use a neck pillow as a part of their treatment (1).
Though waking up to a sore neck is more likely to happen while in transit, sometimes, this can also occur while waking up in your bed at home. A neck pillow can help you with an ideal sleeping position.
Let's explore a few benefits of travel pillows and why they are a must-buy for you if you are a frequent flier.
Benefits Of Travel Pillows
Your quest for the right kind of travel pillow ends here! We have compiled a list of top 10 travel pillows available on the market for your convenience. Check them out!
Top 10 Neck Pillows Of 2019
MLVOC memory foam travel pillow is your perfect travel partner. It provides ultimate support to your neck during transit. Its perfect curves shape design prevents your neck from falling forward and relieves neck pain during travel.
The adjustable rope lock helps you to adjust the angle and size of the pillow randomly, meeting different neck size requirements. The breathable and super soft magnetic therapy cloth used in this pillow provides you maximum comfort on your journeys. The self-developed sweat-resistant fabric and the millions of tiny premium microbeads inside the pillow add to your experience.
This pillow is designed, keeping portability and comfort in mind. It comes with a travel bag, which allows the pillow to compress to half of its actual size. The snap strap on the travel bag can be attached to your luggage without occupying any extra space. This memory foam travel pillow is also ideal for use at home while reading or watching television. It is a perfect gift for your family, friends, and colleagues.
Pros
Breathable and super soft magnetic therapy cloth
Sweat-resistant fabric
Adjustable rope lock
Lightweight and portable
Machine washable
Cons
None
This unique travel pillow is designed to provide you maximum comfort while you nap in an upright position. The super comfy 100% PVC flocking encased in soft surface material caresses your face and gives you the ultimate napping experience.
It takes care of your waist, neck, head, and shoulders and is hence a full-body pillow. This inflatable travel pillow is ultralight and easy to lug around. This pillow is inflatable with a few breaths of air and releases the air just by pressing one button.
This multi-functional pillow comes with a free eye mask and earplugs, which helps you sleep faster and enjoy your sleep. It is ideal for aircraft or jet engines.
Pros 
Full-body pillow
PVC flocking reduces allergies and irritations
Best suited for aircraft and private jets
Free eye mask and earplugs for further comfort
Pocket-friendly carryback for easier handling and portability
Cons 
PVC material not breathable.
The Twist Memory Foam Travel Pillow comes with flexible joints, which can be bent into many shapes. This feature makes the pillow versatile, and it can be used for your neck, head, back, and legs.
It is made of soft and sturdy material that makes it last longer. The memory foam inner core of the pillow conforms to your body contours and gives firm support. It is encased in a breathable cotton cover for maximum comfort. The pillow cover can be easily removed and washed.
The button snaps on the bolsters curl it into a "U" shape, which makes it perfect for using as a neck pillow or carrying it around. Both adults and kids can use this pillow.
 Pros
Bendable into many shapes
Easy to clean
Easy to carry
30 days money-back guarantee
Cons 
None
The Purefly Inflatable Travel Pillow is a fantastic neck gear that offers the right kind of support to your neck while traveling. To inflate the pillow, keep pressing on the lower profile until you reach your required expected inflation. Push the double sealed black air valve to release the air. Inflatable pillows help you adjust the firmness according to your comfort level.
The "Raised Neck Support" scientific design helps to hold your neck upright and maintain proper neck alignment. The smushy soft velvet material is lightweight and of intrinsic robust quality. The pillow cover is removable and washable.
This pillow is ergonomically designed and provides 360° support to your head and neck. After using, you can deflate the pillow and store it in the beautiful packsack. This pillow is ideal for long haul flights. It is a comfortable wear and keeps sore neck at bay while watching movies at home or napping in the office.
Pros
Long-lasting stable support
Skin-friendly
Easy to clean and store
Free attractive packsack provided
Versatile multipurpose product
Cons 
None
Say goodbye to bobbing heads with this adjustable chin support travel neck pillow. Turbulence in flights is the litmus test for any good neck pillow, and this one passes it with flying colors.
With its flat back, side boosters, and chin support, this pillow provides complete protection around your neck. BCOZZY Neck Pillow is available in different sizes for the best fit. It can be used by children and adults.
It is as versatile as your sitting sleeping positions, which means you can conform and twist it to suit your sleeping positions. This lightweight pillow is fully machine washable.
 Pros
Provides complete circular support
Suitable for adults and children
Fully machine washable
Versatile
Highly durable
Cons 
Material not hypoallergenic
Cabeau is an industry leader in travel accessories and creator of award-winning products. The Cabeau Evolution Memory Foam Travel pillow is perfect for in-flight napping. The pillow provides full support to the back of your head and makes you feel fully relaxed even in the bumpiest of rides.
This pillow is the ideal product for people with pre-existing neck pain as it corrects your posture.  Its patented ergonomic design provides 360-degree support to your head and neck. The all-round coverage saves you from the bobble troubles.
The pillow comes with an adjustable drawstring at the front for added customization and stability. Though the pillow looks bulky, it can be compressed to 25% of its full size. The plush memory foam material is soft yet supportive. This pillow is a standout because of its thick frame and raised back. If you have been looking for a large travel pillow, this pillow is meant for you.
Pros
360-degree head and neck support
Removable and washable cover
Quick and convenient packing
Made with high-quality material
Cons 
Though the Sky Siesta Snug Travel Pillow looks like a  traditional U-shaped pillow at heart, it has a unique design. It has two L-shaped ends filled with soft, non-clumping fiber. The L-shaped supports keep the pillow snug.
The two L-shaped sides of the pillow are connected with a fabric, and when you lay your head on it, the bottom of the two ends close inward to provide support to your chin. This pillow comes with snaps that you can fasten in front so that it does not shift and remains in place, helping you avoid the hassle of adjusting it time and again.
It is washable and comes with a stuff bag and an eye mask. This pillow comes with soft padding, which helps you sleep in different positions.
Pros
L-shaped support keeps the pillow snug
Soft foam cushions
Blocks out noise
Removable, washable cover
Lightweight
Cons 
J-Pillow is an ingenious product crafted to provide the ultimate support to your neck, head, and chin while you snooze. The unique shape of this pillow fills the gap between your head and shoulders. The J-Shape allows you to conform and twist the pillow in different positions as needed. The pillow is customizable to fit your head and neck perfectly.
The J-Pillow comes with high-quality 3D polyester fiber fillings, which are encased in a mushy and lush cover that feels cuddly against the skin. It weighs just 7.5 ounces and is easy to carry. The snap loop fastener can be attached to your luggage, which makes it easy to lug around.
The J-Pillow is machine washable and offers excellent hygiene. The entire pillow can be rinsed and not just the cover. The pillow is heavy-duty and lasts longer than the average pillows and is sweat resistant.
 Pros 
More flexible than standard memory foam travel pillows
Handy snap loop fastener
Durable
Machine washable
Perfect anatomical support for napping upright
Waterproof
Cons
Does not provide contoured support
Is the conventional donut pillow your fashion spoiler, and have you been looking for a chic and sassy travel pillow that goes well with your style? Well, your search ends here. The Trtl Travel Neck Pillow is comfortable and stylish. It wraps around your neck like a scarf.
This neck pillow revolutionizes the way you sleep during your journeys. It combines super-soft hypoallergenic fleece with hidden internal neck support to hold your neck in the best position for sleeping. It has been strategically designed to prevent stiff necks and sore shoulders, and the scientific design of the pillow proves it to be better than a U-shaped travel pillow.
The super-soft fleece and foam are stretched to create a comforting hammock effect. The patented design of the pick is perfect to fit any neck shape, jaw, and shoulder. All you have to do is loop, wrap, and nap.
Pros
Soft and plush
Machine washable
Fits any neck shape, jaw, and shoulder
Provides all-around support
Less hefty than other pillows
Easy to travel
Cons 
Fleece material can be suffocating for hot places.
Less padding as compared to other neck pillows.
The Travelrest Inflatable Travel Pillow is a must-buy for frequent long haul travels. Its patented ergonomic design provides maximum support to prevent tension and neck strain. This airplane neck pillow can be attached to the wings of an airline seat, the headrest of a car, or can be worn "messenger bag style."
It provides full lateral support to the upper body, making it easier to relax and fall asleep. This pillow is a must-buy for side sleepers. It inflates quickly with 3 to 4 easy puffs and deflates instantly.
It is portable, adjustable, and machine washable. This is the best airplane pillow even for older adults that need to have support for their weak skeletal system,
Pros 
Provides full upper body support
Versatile
Machine washable
Easy to carry
Cons 
It only supports one angle of your neck drop.
If you are a frequent flier or a road tripper, a travel pillow can be an indispensable sleep accessory for you. Picking one on the run at the airport market aisle might sound convenient but will not yield good results in the long term. We prepared the above list of 10 best travel pillows available on the market after a thorough and extensive screening of the products. You must consider the products listed above if you are planning on buying one.
The shape of a travel pillow is an important factor that should never be neglected as it defines your comfort and takes care of your neck alignment. The most common types are listed below.
Travel Pillow Shape 
The U-shape pillow is the most common type of travel pillow that you will find on the aisle of stores at the airport. Most people love this pillow for its simple support. However, some people complain that this shape does not provide enough neck support.
J-Shape pillows were designed to overcome the shortcomings of U-shaped pillows. J-shaped pillows are a more versatile and best neck pillow for travel as it provides support to the chin. The only drawback of J-shape pillows is that they are less portable as compared to some of their peers.
The best thing about hourglass neck pillows is that they are highly versatile. You can use these pillows for your neck, head, back, knees, or even while sleeping in the bed. However, if you are looking purely for neck support, some other shape might be ideal for you.
The wrap style travel pillow is ideal for people whose head tilts a lot while they are asleep. If you are someone who feels awkward to use the big clunky travel pillows, wrap style pillows are your thing. They wrap around your neck like a scarf and are easy to pack and lug around.
The rectangular travel pillow is similar to the regular pillow that we use while sleeping in bed. The only difference is that this pillow is more compact and meant for travel spaces. This pillow is ideal for you if your neck holds itself easily while sleeping. Unfortunately, it is a rare phenomenon, and hence, rectangular pillows are not very popular among travelers.
Inflatable And Non-Inflatable Travel Pillows
Inflatable or non-inflatable – the choice is yours. You will get a lot of input about the two options, but the final pick should be based on variables that matter to you. Inflatable travel pillows are portable and easy to pack and slip in your bag. They are also an ideal choice for people who look for loft customization.
Non-inflatable pillows offer great overall comfort. They are made of a variety of materials, ranging from memory foam to plush latex. The material used in the non-inflatable pillows is inherently more comfortable than air. Some non-bulky options like the wrap-style pillow are portable as well.
Travel pillows are here to transform your traveling experience and hence are a must-buy. But any travel pillow will not do. It is essential to choose the right pillow for yourself that does the perfect job and is lightweight and easy to store and lug between destinations. The market is oversaturated and brimming with travel pillows, making it extremely difficult to choose one from the plethora of options available. Here are a few factors that you need to bear in mind while shopping for a travel pillow.
Buying Guide
 – What Should You Look For While Buying A Travel Pillow
Cost: Most travel pillows will cost you around $40 or less. Inflatable pillows are generally cheaper than the non-inflatable ones.
Easy To Wash: Another critical feature to look up for a while buying a travel pillow is the washing instructions. After all, who does not love a clean, fresh pillow on every trip? Travel pillows mostly come with a removable, washable cover or are machine washable. Washing a travel pillow is important as bacteria and oil accumulate on the pillow's sleeping surface.
Size: Size matters, especially when you are buying a travel pillow. Your comfort is directly proportional to the size of your travel pillow. A pillow that is too big or bulky is not a good option unless you travel in business class. For small, cramped aircraft, it is a bad choice. Moreover, it is an ordeal to lug bulky pillows around. On the other hand, a small pillow will not provide you enough cushion to support your neck. Choose a pillow that is just perfect for your head and is easy to carry around.
Your Sleep Position: Your sleep position is the determining factor of the shape of the pillow you should buy. A U-shape pillow offers more comfort and support for those who sleep on their backs. For side-sleepers, a J-shaped pillow or other types of pillows will be a good option.
Easy To Carry: No matter how short our trip is, our bags are always packed to capacity. On top of that, big bulky pillows add to our traveling woes. It is important to find a pillow that is portable and easy to carry.
Choose a travel pillow best suited to your needs from the above list and share your experience with us in the comments section below.
Recommended Articles
"Neck support pillows: a comparative study." Journal of Manipulative and Physiological Therapeutics, US National Library of Medicine, National Institutes of Health.