10 Best Travel-Size Dry Shampoos For All Hair Types – 2023
Handy shampoos to help you manage, clean, and style your hair even while traveling.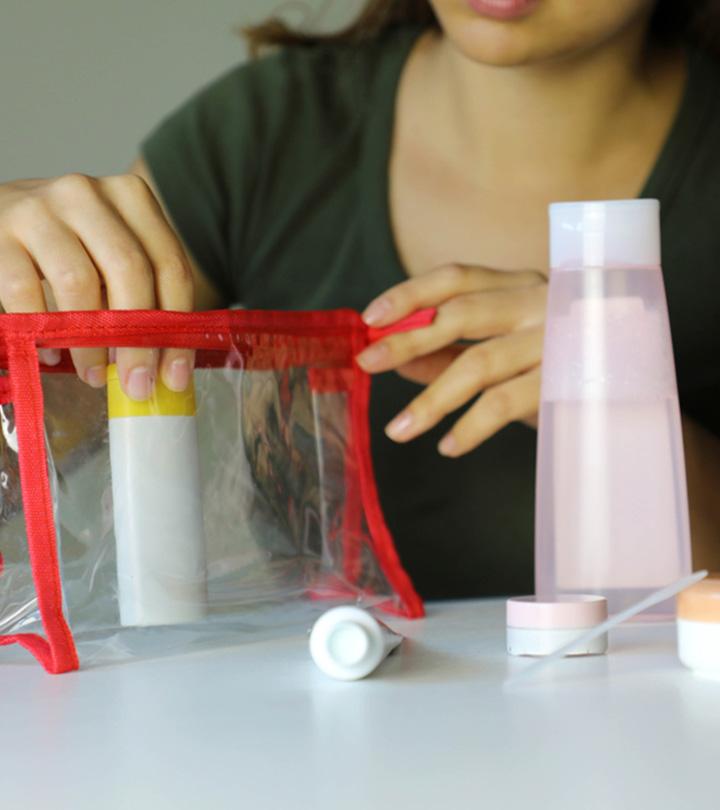 While traveling is undoubtedly fun, lugging baggage, especially cosmetics and toiletries, can become cumbersome. Therefore a travel-sized dry shampoo can be pretty handy to care for your hair during your adventures. Not only will this dry shampoo help you with a quick wash, but it will also help make your hair oil-free and give it instant volume and bounce. They contain quality ingredients that instantly draw out excess oil and grease, giving your hair the feel of being washed. It also leaves your tresses looking silky smooth and shiny.
While there are many options to choose from, you might need a little help to narrow your searh to the perfect one. To help you out, we've put together a list of travel-sized shampoos that you can choose for your long-haul adventures in this article. So, what are you waiting for? Go check them out now!
Top 10 Travel-Size Dry Shampoos That Works For All Hair Types
Get rid of sweaty and oily hair with this travel-size dry shampoo that comes in powder form, making oil absorption faster and easier from your hair. Its triple-action cleaning technology lets you achieve tidy tresses that feel, look, and smell clean. Also, this product is suitable for all hair types, including chemically-treated hair. This dry shampoo delivers fresh fragrance while leaving your hair smooth, polished, voluminous, healthy, and nourished. Shake the bottle before spraying it on the oily areas of your hair. Leave it for 30 seconds for the powder to activate and then, shake it off by massaging with your fingers or hair brush. Check out this review for a detailed understanding about the product.
Pros
Cruelty-free
Ideal for everyday use
Value for money
Does not weigh hair down
Free of parabens, silicones, and phthalates
Cons
Price at the time of publication: $41.0
Try this award-winning travel-size dry shampoo that cleanses your hair instantly, leaving no white residue. This talc-free dry shampoo is formulated with natural rice starch that absorbs dirt, build-up, sweat, odor, and excess oil while adding texture and volume to your hair. Suitable for chemically-treated hair, this product is excellent for achieving that perfect blowout that lasts for days without making your hair greasy. To achieve a salon-worthy look, spray the shampoo on your hair from 8 inches away in a sweeping motion. This video review will help you understand more about the product.
Pros
Affordable
Cools scalp
Smells great
Easy to use
Cons
The scent may not last long.
Price at the time of publication: $10.0
Do you like the scent of Moroccan oil? Then you will love this travel-size dry shampoo that delivers an irresistible fragrance of Moroccan oil along with musk, sweet floral, and spicy amber notes. Specially formulated for black and brunette hair, this dry shampoo releases ultra-fine rice starches when sprayed on the desired area and breaks down instantly after being shaken or massaged into the scalp. It helps clean the excess oil and dirt in your hair. You will achieve soft and strong strands in no time without washing your hair.
Pros
Easy-application
Rich in antioxidants
Provides UV protection
Leaves no white residue
Cons
It might weigh down hair.
Price at the time of publication: $26.0
Are you looking for ultra-gentle dry shampoo? Then get this travel-size powder shampoo that will give you clean, smooth, and voluminous hair instantly reviving limp hair. Formulated with oat milk, corn, and rice starch, this dry shampoo not only gets rid of oil, grease, and dirt from your hair but also nourishes and conditions your tresses. After spraying this gentle-on-the-scalp shampoo at the roots, you can shake or massage it with your fingers or brush to detangle the knots effortlessly. Plus, it will deliver an invisible finish to all hair types without leaving a white residue.
Pros
Vegan
Soothes scalp
Dermatologist-tested
Safe for sensitive hair and scalp
Free of paraben, sulfate, silicone, and sodium chloride
Cons
Price at the time of publication: $10.0
Searching for a dry shampoo that is color and chemical treatment-safe? Then you should opt for this travel-size dry shampoo that is suitable for all hair types, including keratin or color-treated hair. You will instantly get clean tresses that will lengthen the time between hair wash or blowouts. This translucent powder will absorb all the extra oil, build-up, and dirt from your scalp and hair, leaving you with a weightless and healthy mane. It contains extracts of lychee, watermelon, Edelweiss flower, celery seed, lavender, myrrh, chamomile, bamboo, and rice silks. It also comes with fragrance-retention technology that will let the scent stay intact all day long. Using this dry shampoo will nourish your dry, damaged hair, help maintain color vibrancy, and lend smooth, silky tresses.
Pros
Vegan
Dermatologist-tested
Provides UV protection
Not tested on animals
Free of gluten, sulfate, paraben, and sodium chloride
Cons
Price at the time of publication: $48.0
Retain moisture and essential nutrients in your hair with this easy-to-carry dry shampoo that preserves your hair's natural oils and gives it a healthy look. It is made from organic and natural ingredients that add volume and texture to all hair types, especially for brunettes. Now, you do not have to spend a lot of time blow-drying or heat styling to achieve voluminous tresses, as this texture-enhancing dry shampoo will lend you luscious, long, and fuller locks in no time. This hair-refreshing powder spray will deeply clean your scalp and remove oil and dirt from your strands — all without water.
Pros
Non-GMO
Cruelty-free
Gluten-free
Convenient to use
No paraben and sulfate
Cons
The applicator might clog sometimes, making it slightly difficult to apply evenly.
Price at the time of publication: $14.99
Protect your color-treated hair against fading with this mini dry shampoo that nourishes your hair and gives it a refreshed look. It is formulated with rice starch that helps absorb excess oil that secretes from your hair. So when you have no time to wash your tresses, this dry shampoo saves you time and provides your hair with great texture, and protects color vibrancy. You get to keep your blowouts for a longer time, thanks to this product. To achieve better results, you should spray this hair-protecting product at the roots of your hair, on the second and third days of hair wash.
Pros
Vegan
Sulfate-free
Long-lasting
Value for money
Protection from UV damage
Cons
May not have a pleasant smell
Price at the time of publication: $9.5
Soothe your dry or itchy scalp with this dry shampoo mist that contains micellar formula along with suspended cleansing powder to remove dirt and excess oil from your hair without leaving behind any powder residue. It deeply cleans your scalp and cools it down, which is excellent for sensitive skin. This residue-free dry shampoo is formulated with silica, glycerin, and castor oil that help restore health, retain moisture, improve strength, and deeply condition your hair. It does not contain sulfate, paraben, mineral oil, and petrolatum, as these ingredients can damage your scalp and hair.
Pros
Vegan
Pleasant smell
Gluten-free
Eliminates frizz
Not tested on animals
Cons
May not have a long-lasting effect
Price at the time of publication: $14.0
Invigorate your hair and scalp with this dry shampoo that is perfect for your travels! This odor-neutralizing hair product will let you lose all the tiredness, sweat, odor, and oil build-up, leaving you with a refreshed, clean, and scented hair. With each use, you will notice an improvement in your scalp health. This on-the-go dry shampoo is infused with tapioca starch and kaolin clay that remove impurities and absorb excess oil from your hair. You will experience long-lasting freshness because of its uplifting blend of essential oils, lemon, frangipani, and cedar leaf that deliver a soothing scent all day. Shake well before spraying it evenly on your hair's roots, holding the bottle 6-8 inches away from hair. Then, use your fingers or a hair brush to massage your hair and scalp slowly.
Pros
Non-GMO
Color-safe
Cruelty-free
Lightweight
Free of paraben, sulfate, gluten, and phthalate
Cons
Price at the time of publication: $16.0
Add volume to your hair with this mini dry shampoo, which is a waterless formula that also helps get rid of grease, dirt, and oil from your hair roots. Infused with the essence of bergamot, orange, lily, rose, powdery musk, and lavender, this dry shampoo offers a lovely citrusy fragrance and lends you fresh-looking hair. This revitalizing hair product is the perfect go-to shampoo for travel when you want your hairstyle to last another day without washing your tresses with water. Just shake it well and apply it to achieve smooth, clean, and strong hair.
Pros
Vegan
Affordable
Sulfate-free
Easy to use
No white residue
Cons
May not be suitable for sensitive scalp
Price at the time of publication: $18.0
To know how to wisely choose the best dry shampoo for travel, check out the below points.
How To Choose The Best Dry Shampoo For Travel
Long-lasting: The best dry shampoo should last long as you might not get time to wash your hair while traveling, and long-lasting dry shampoo will keep your hair manageable.
Packing: No matter whether your dry shampoo is in the form of powder, mist, or cream, put the bottle in a zipper bag of its size and then place it in your kit. This will prevent a mess if the bottle explodes or leaks.
Protection: Choose a dry shampoo that would not damage your tresses. Some of the products may not be suitable for you or the climate of the city you are traveling to. So pick the product wisely as per your hair type and texture. The best option is to get a shampoo that is ideal for all hair types.
Ingredients: Read the ingredients of a product very carefully before choosing a dry shampoo for travel. If you are allergic to any of the ingredients, it will be difficult to control the reaction during your stay in a foreign land. So, be prepared before packing your luggage.
Why Trust StyleCraze?
Kirtana Divakar, the author of this article, is a hair care enthusiast. She went through hundreds of reviews of all the best travel-size dry shampoos out there to bring you a list of the best of the best. Traveling can be hectic and unpredictable. At times, when routines are not your best friend, dry shampoos can be. They clean your hair in a jiffy, even if you don't have access to water. Travel-size dry shampoos are definitely a must-have in your handbag for emergencies.
Frequently Asked Questions
Can you bring travel-size dry shampoo on the plane?
Travel-size dry shampoo is allowed on the plane if packed in your carry-on bag. However, the bottle should not exceed the 100 ml/3.4 oz. limit.
How long can you go with dry shampoo?
You can go for 3-4 days with dry shampoo, without washing your hair.
Does dry shampoo have to be travel size?
Dry shampoos are meant for days when you don't have any time to wash your hair. They are generally travel-sized so that you can carry them on your vacation or a one-day trip. They are meant to be used in an emergency situation. Travel-size bottles are also handy to use even if you're at home.
How many washes can you get from one travel-size dry shampoo?
If you use the product all over the hair, it might last for around 10 uses. In this case, it depends on the length of your hair as well. If you use it on certain areas on the scalp, then you can use it for more washes.
When should I use dry shampoo?
Dry shampoo is used for times when you cannot wash your hair and they are greasy, oily, and shiny. You can use a dry shampoo to soak up the excess oil from the scalp any time whether it is after an intense workout or you want to extend your blowdry.
Is dry shampoo good for box braids?
Yes, you can use a dry shampoo on box braids. As they are in constant need of moisture, make sure to use a hydrating dry shampoo.
Is dry shampoo OK to use everyday?
No, it is not. Despite the term 'shampoo' in it, we do not recommend using it everyday as it doesn't actually cleanse your scalp like a normal shampoo. It is meant to absorb the excess moisture and oil and should only be used when you cannot wash your hair.
Recommended Articles
Best Travel-Size Shampoos And Conditioners For Your Upcoming Trip
Best Travel-Friendly Hair Products Of All Time
Best Powder Dry Shampoos That You Must Try
Best Selling Cruelty-Free Dry Shampoos