11 Best Travel Hair Dryers That Will Fit Into Any Suitcase
Now you can take your trusty and useful blow dryer everywhere, and anywhere you go.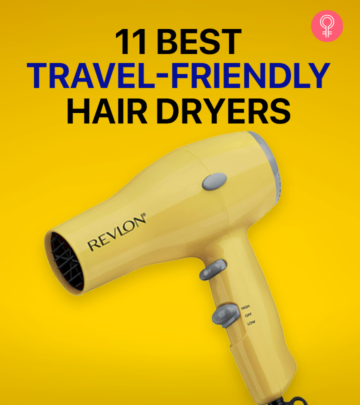 Name a hair care product that you can't miss while traveling. While you would think of a comb or hairband, how useful are they if you don't have a hairdryer to dry your wet hair after a shower? If you have been looking for the best travel-size hair dryer online, we are here to make your choice effortless. Thanks to the upgrade in technology, hairdryers are no longer bulky and challenging to carry. Multiple brands are working on energy-efficient hair dryers that are portable and lightweight to fit in your travel bag easily. Scroll through our list of travel-friendly hairdryers to choose the ideal one for yourself.
11 Best Travel-Friendly Hair Dryers
This hair dryer from Conair is your perfect travel buddy for 24/7 stylish hair. Its advanced technology helps in uniform hair drying without damage. The two heat and speed settings make the dryer suitable for all hair types. The travel-friendly hair dryer has a foldable ergonomic design, making it easy to carry along wherever you go. It works on a 1600 W motor and has a dual voltage system to deliver quick performance. The device comes with a 5 feet cord makes it convenient to handle.
Specifications
Power: 1600 W
Weight: 0.07 lbs
Heat/Speed Settings: 2
Color: Blue
Pros
Dual voltage
Foldable handle
Lightweight
Ergonomic design
Long cord
Dual voltage
Cons
Drying, conditioning, and styling your hair is a lot easier with the Andis hair dryer. It uses ceramic and tourmaline ionic technology that reduces the drying time and gives you smooth, silky hair. The ions help in conditioning the hair and strengthening its roots. The dryer has three heat settings to suit your hair type and desired style and a cool shot button to lock in the hairstyle. It also includes an attachment that helps concentrate the airflow towards the targeted area for quick results. The cord is retractable and foldable for easy storage. If you are still unsure, check out this honest review.
Specifications
Power: 1875 W
Weight: 1.20 lbs
Heat/Speed Settings: 3
Color: Black and Gray
Pros
Durable
Lightweight
Foldable handle
Retractable cord
Cons
With dual heat and speed settings, the Revlon hair dryer delivers a power-packed performance. The compact design is extremely lightweight and travel-friendly. The dryer uses ionic technology, which leaves your hair smoother and less prone to tangles. It reduces frizz and dullness and leaves your hair bright and shiny. The device has additional features like a cold shot button, which locks in the desired style, and a hanging ring for easy storage. Click this video to learn more about the product.
Specifications
Power: 1875 W
Weight: 0.90 lbs
Heat/Speed Settings: 2
Color: Yellow
Pros
Ergonomic handle
Quick-drying
Comes with a hanging ring
Value for money
Cons
The Nano Titanium dryer by BaByliss ultra-light and strong in performance and the perfect hair care accessory for your travel. It comes with dual heat settings, making it safely functional worldwide. The device uses titanium ionic technology for smooth and frizz-free hair drying. The 1000-watt motor delivers high performance and long-lasting results for all hair types. This travel-friendly hair dryer has a foldable handle and includes an attachment for concentrated drying. It is durable and a user's delight for its powerful performance and easy operability. Learn more about the product in this video.
Specifications
Power: 1000 W
Weight: 0.6 lbs
Heat/Speed Settings: 2
Color: Blue
Pros
Lightweight
Removable filter
Durable
Dual voltage
Long cord
Good drying power
Cons
Dry your hair quickly with the Dan Mini Travel Hair Dryer. The device is ergonomically designed with a foldable handle for convenient storage. It has different speed settings that allow drying thick and fine hair. This hair dryer comes with two attachments – a concentrator and a diffuser. A concentrator helps to straighten your hair, and a diffuser enhances curly hair. In addition, it comes with an ALCI safety plug that protects your hair from heat damage and electric shock.
Specifications
Power: 1200 W
Weight: 1. 26 pounds
Color: Black
Heat settings: 2
Pros
Compact
Lightweight
Dual voltage
Folding handle
Quick drying
Easy to clean
Hanging loop
Removable air filter
Cons
None
The Yiiho Hair Dryer is ideal for short and medium hair types. The 800-watt motor provides quick and effective styling of your hair. The lightweight hair dryer has a compact, travel-friendly design. The even heat distribution and controlled airflow ensure to give you bouncy hair. This device has high and low switchable gears and a 6.6-feet cord for convenient handling.
Specifications
Power: 800 W
Weight: 1.65 lbs
Heat/Speed Settings: 2
Color: Baby Pink
Pros
Easy to use
Ideal for short hair
Lightweight
Ergonomic handle
Dual voltage
Cons
The Stylecraft Peewee hair dryer comes with Tri-Plex technology, which induces shine and hydrates the hair. It gives your hair a triple treatment of keratin, ceramic, and tourmaline, ensuring healthy roots, reduced frizz, and smoother hair. The dryer comes with a diffuser and a nozzle. It gives your hair adequate shine, the desired volume, and a healthy bounce. It comes with a built-in stand, removable filter, and a mini travel bag and can easily fit in your luggage bag. The 7-foot power cord folds up easily and has a velcro strap, which makes it ideal for securing it.
Specifications
Power: 1200 W
Weight: 1.1 lbs
Heat/Speed Settings: 2
Color: Black
Pros
Removable filter
Foldable
Lightweight
Comes with a mini travel bag
Dual voltage
1-year limited warranty
Cons
The Hot Tools Hair Dryer has a power motor and works on dual voltage technology. It features direct ionic technology that removes frizz and gives bouncy hair. The powerful airflow ensures quick drying and styling. This hair dryer has a lightweight ceramic body, two heat and speed adjustment options, and a cold shot function to lock in the hairstyle. It comes with concentrator and diffuser attachments that enhance blowouts and give you natural curls. The dual voltage feature and travel-friendly design make this hair dryer functional anywhere in the world.
Specifications
Power: 1875 W
Weight: 2.45 lbs
Heat/Speed Settings: 2
Color: Black
Pros
Lightweight
Dual voltage
Foldable handle
Durable
Cons
This portable hair dryer from Confu is equipped with an APCI safety plug, which keeps you safe from shocks. It uses tourmaline ceramic technology that releases negative ions to smoothen your cuticles and add shine and sparkle to your hair. This lightweight device has three temperature adjustment modes – hot, warm, and natural wind. The powerful 1600-watt motor gives quick drying results. The machine comes with 12 months warranty and accessories like an anti-scald nozzle and a velvet bag.
Specifications
Power: 1875 W
Weight: 0.87 lbs
Heat/Speed Settings: 3
Color: Dark Pink
Pros
Lightweight
Foldable
Ergonomic handle
Low noise
Dual voltage
APCI plug
Cons
Unsuitable for coarse hair.
This foldable hair dryer from Ribivaul is compact and works well on all types of hair. Its air outlet grill is made from premium quality ceramic tourmaline that releases negative ions to reduce frizz and split ends and make your hair healthy and bouncy. The 1800-watt motor is powerful and dries the hair quickly. It has three heat and two speed settings to give you fast and effective results. The device also has an overheat protection feature that shuts it down when overheated.
Specifications
Power: 1800 W
Weight: 1.48 lbs
Heat/Speed Settings: 3/2
Color: Black and Dark Pink
Pros
Lightweight
Flexible handle
Overheat protection
Low noise
Dual voltage
Value for money
Cons
None
The Gleenfit Hair Dryer is hammer-shaped and has a U-shaped heating wire that distributes heat evenly and gives professional salon-like results. The ionic technology of the dryer prevents frizz and split ends to give you shiny, bouncy hair. The multiple heat settings in this tool, along with alternate hot and cold modes, help you achieve your favorite hairstyles with ease. The 3D airflow multiplication technology and intelligent temperature control prevent overheating of the gadget. The dryer is lightweight, easy to carry, and perfect for on-the-go styling during trips and vacations.
Specifications
Power: 1850 W
Weight: 0.055 lbs
Heat/Speed Settings: 3/2
Color: White
Pros
Smart temperature control
Powerful motor
Foldable
Portable
Lightweight
Overheat protection
Low noise
Cons
Takes time to restart after overheating.
Why Trust StyleCraze?
The author, Shiboli Chakraborti, is a hair care enthusiast. She has a good understanding of different hair care products, including hair dryers. For this article, she has extensively studied travel-size, compact hairdryers and reviewed loads of online feedback to come up with this list of the best products. These dryers are lightweight and energy efficient and help you do your hair even while on the go.
Frequently Asked Questions
Can you take a hair dryer through airport security?
Yes, hair dryers are permitted by airport security and allowed on aircrafts. You can carry them in your carry luggage or cabin baggage with no security issues.
Recommended Articles