11 Best Travel Size Lotions You'll Want To Keep In Your Carry-On – 2023
Nourishing and moisturizing formulas in compact, travel-friendly packaging.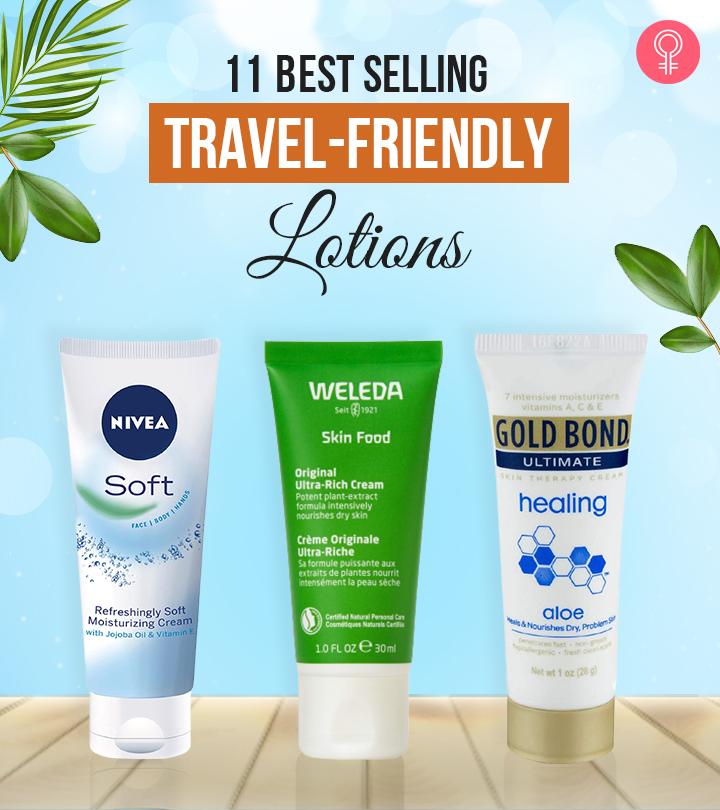 When you find that body lotion or moisturizer that suits you best, you want to carry it anywhere you go. But, most regular-size cosmetics are not allowed on flights. That's when you need to get your hands on the best travel-friendly lotions! You can simply slip them into your handbag, and you are good to go as they come in small quantities in leakproof containers that make them convenient to carry along. To get one for your next trip, have a look at the 11 best travel-friendly lotions enlisted below!
11 Best Selling Travel-Friendly Lotions – 2023 Update
This clinically proven Daily Moisturizing Lotion from Aveeno is designed to nourish skin and make it look healthier from the first use. The main ingredient in this lotion is dimethicone that acts as a skin protectant, shielding it from damage against harmful sunrays and environmental aggressors. The lotion is enriched with oats and rich emollients that soften dry, rough, and flakey skin. The colloidal oatmeal restores your skin's normal pH levels and maintains the skin's moisture barrier. This innovative blend with kernel flour makes skin softer and smoother and prevents it from becoming chapped.
Key Ingredients: Dimethicone, Oats, Glycerin, and Kernel flour
Pros
Long-lasting moisturization
Fast-absorbing
Non-greasy
Non-comedogenic
Dermatologist-tested
Fragrance-free
Cons
Price at the time of publication: $9.48
The Ultra-HealingBody Lotion from Jergens is specially formulated to repair extra dry and damaged skin. It is enriched with vitamin C and hydralucence blend that help lightens dark spots, blemishes, and hyperpigmentation, and smoothen wrinkles. Vitamin E infused in this formula boosts collagen, reduces itchiness, targets eczema and psoriasis, and moisturizes the skin. It also contains vitamin B5 that enhances skin tone, texture, and luminosity. Vitamin B5 is also known to have anti-inflammatory properties that soothe the skin in harsh weather conditions. This product seals moisture for up to 48 hours and leaves you with a light fragrance of cherry almonds.
Key Ingredients: Vitamins B5, E, and C
Pros
Long-lasting moisturization
Mild fragrance
Non-greasy
Anti-aging benefits
Cons
Price at the time of publication: $8.07
The Weleda Ultra-Rich Crème is prepared with rich plant extracts that are highly nourishing. It is infused with fresh pansy blooms rich in nutrients to thoroughly hydrate the skin. The beeswax blended into the cream gives your skin a protective layer and seals moisture. Beeswax also has anti-inflammatory and non-comedogenic properties. Calendula effectively heals wounds, soothes sunburns, eczema, and rashes with its antifungal, antibacterial, and anti-inflammatory properties. Chamomile, on the other hand, reduces irritation and the effect of allergens on the skin by neutralizing free radicals. This product is ideal for sensitive skin.
Key Ingredients: Pansy, Beeswax, Sunflower oil, Calendula, and Chamomile
Pros
Long-lasting moisturization
Synthetic ingredient-free
Artificial fragrance-free
Cruelty-free
Paraben-free
Phthalate-free
Suits sensitive skin
Cons
Strong smell
Feels sticky
Price at the time of publication: $21.96
The Refreshingly Soft Moisturizing Cream by Nivea is an all-in-one cream that you can use for your body, face, and hands. It is filled with the goodness of jojoba oil and vitamin E that leave you with incredibly soft skin. Jojoba oil has antibacterial properties that prevent acne and premature aging signs. It ensures long-lasting moisture and younger-looking skin. Vitamin E improves the overall health and appearance of the skin, supports cell function, and wards off free radicals. Its anti-inflammatory properties reduce puffiness, redness, rashes, and skin inflammation. Glycerin pulls and traps the moisture deeper into the layers of the skin, ensuring maximum hydration effects.
Key Ingredients: Jojoba oil, Vitamin E, and Glycerin
Pros
Fast-absorbing
Non-greasy
Lightweight
Dermatologically-tested
Cruelty-free
Cons
Price at the time of publication: $13.35
The Triple Moisture Herbal Whipped Body Crème by Hempz is prepared with pure herbal extracts that provide long-lasting moisturization. The 100% pure natural hemp seed and Yangu oil retain the skin's natural moisture, and improve its firmness and elasticity. This potent blend is rich in antioxidants and fatty acids that kill fungi, bacteria, and other microbes that cause eczema, atopic dermatitis, psoriasis, and other skin problems. Apple extracts make your skin feel renewed, revived, and healthy. Cogon grass extract infused in this crème delivers essential vitamins and minerals into your skin. The formula also contains peach and grapefruit extracts that calm and relax the senses with their sweet fragrance. Shea butter forms a protective shield against the sun, naturally healing the skin with phytosterols, fatty acids, and vitamins. Cucumber is infused in the lotion to condition the skin with its cooling effects.
Key Ingredients: Hemp seed oil, Cogon grass extract, Apple fruit extract, Yangu oil, Peach and Grapefruit, Shea butter, and Cucumber
Pros
Lightweight
Mild fragrance
Non-greasy
Vegan
Cruelty-free
THC-free
Paraben-free
Phthalate-free
Gluten-free
Cons
None
Price at the time of publication: $5.3
The Ultimate Skin Therapy Cream by Gold Bond is infused with 7 intensive moisturizers that ensure complete nourishment of your skin. The cream is enriched with aloe vera gel that provides hydration and soothes dry, sensitive, and inflamed skin. It is perfect for applying to the calloused parts of the body such as the hands, palms, cuticles, feet, elbows, and knees. This formula delivers 24-hour moisturization. Vitamin A in the lotion improves collagen production and skin elasticity. Vitamin C gives your skin the benefits and protection of antioxidants that make it look softer, healthier, and younger. The Hydralast layer added to the lotion is formulated with a combination of humectants and emollients that attract moisture from the environment and retain it all day long. This product is a perfect choice for super dry skin.
Key Ingredients: Aloe vera and Vitamins A, C, and E
Pros
Fast-absorbing
Non-greasy
Hypoallergenic
Non-comedogenic
Mild fragrance
Cons
None
Price at the time of publication: $6.64
This Body Lotion from Eco Amenities is designed to make your skin healthy and younger-looking with green tea extracts. Its potent formula is gentle on the skin and effectively controls excess oil and residue. It promotes blood circulation and nourishes the skin with essential vitamins, minerals, and antioxidants for faster repair and healing. When the lotion is massaged topically into the skin, it unclogs pores and kills even the tiniest microbes in the layers. It leaves your skin feeling clean and fresh with a soothing fragrance of green tea that adds a touch of nature to your daily life.
Key Ingredients: Green Tea extracts
Pros
Non-comedogenic
Eco-friendly
No harsh chemicals
Cruelty-free
Paraben-free
Cons
None
Price at the time of publication: $37.98
These natural moisturizing body lotions from Xikezan are offered in 8 different fragrances – lavender, rose, strawberry, sweet orange, tea tree, shea butter, blueberry, and lemon. This mini lotion set is offered in squeeze tubes, making them convenient to use during travel. Each tube is formulated with natural and sustainably sourced extracts that are highly beneficial for your skin. Shea butter has long-lasting moisturizing properties that prevent skin from becoming dry and flaky during travel. Cocoa butter is loaded with phytochemicals and antioxidants that block out UV rays, smoothen wrinkled skin, even out skin tone, prevent premature aging. Rosehip and jojoba oils reduce hyperpigmentation, and exfoliate and soften the skin texture. Argan oil heals various skin conditions and infections, both antibacterial and antifungal, improves skin elasticity, and reduces the visibility of stretch marks.
Key Ingredients: Shea butter, Cocoa butter, Rosehip oil, Jojoba oil, and Argan oil
Pros
Fast-absorbing
Lightweight
Non-greasy
Long-lasting hydration
Leaves no residue
Cons
Fragrances are too subtle
Price at the time of publication: $9.91
This product from St. Ives boosts collagen production and promotes skin elasticity, leaving you with a younger-looking appearance. This hand and body lotion formula helps restore skin moisture while rejuvenating your skin's natural health. It is infused with soybean and coconut oils that work in tandem to retain moisture and hydrate chaffed, irritated, and dry skin. Moreover, the product possesses antibacterial and antifungal properties that prevent various skin infections and keep skin supple and soft.
Key Ingredients: Soybean oil and Coconut oil
Pros
Lightweight
Dermatologist-tested
Suitable for sensitive skin
Paraben-free
Phthalate-free
Cons
Moisture doesn't last long
Price at the time of publication: $6.7
This nourishing Body Lotion from Bergman Kelly is rich in antioxidants. It is infused with white tea that reduces oxidative stress and combats early signs of aging while protecting the skin from further damage. It also restores lost moisture and replenishes the skin's firmness. The lotion contains glycerin that tones the skin and tightens the pores to smoothen its texture. The tube is foil-sealed and does not leak or spill – making it ideal for travel.
Key Ingredients: White tea and Glycerin
Pros
Fast-absorbing
Cruelty-free
Paraben-free
Cons
None
Price at the time of publication: $21.99
The Daily Healing Original Lotion by Curel is infused with an advanced ceramide complex that repairs and restores the skin's lost moisture. This formula is specially designed for dry skin and seals hydration for more than 24 hours. It is enriched with shea butter that soothes and moisturizes the skin deeply to prevent chafing and cracking in the cold and dry winters. The eucalyptus leaf extracts in this lotion naturally enhance ceramide production, trap water, and reduce inflammation, redness, itchiness, and dryness.
Key Ingredients: Shea butter, Eucalyptus leaf extract, and Ceramide complex
Pros
Non-greasy
Fast-absorbing
Non-irritating
Dermatologically-tested
Suits sensitive skin
Cons
None
Price at the time of publication: $8.9
Why Trust Stylecraze?
Shiboli Chakraborti is a certified skin care coach who specializes in writing product reviews that can help her readers. Her review process involves researching and comparing multiple products in any category based on their quality, features, and benefits. In this article, she writes about the best travel-friendly lotions that can keep your skin happy, healthy, and hydrated even while on the go. Consumers have also endorsed these options across a host of e-commerce websites.
Frequently Asked Questions
Do you have to put travel-size lotions in plastic bags?
Yes, you have to put travel-size lotions in clear plastic bags so prevent soiling your clothes in case they leak.
Recommended Articles