7 Best Travel Size Shampoos And Conditioners For Your Upcoming Trip
Enjoy good hair days daily while you travel with these nutritious hair care products.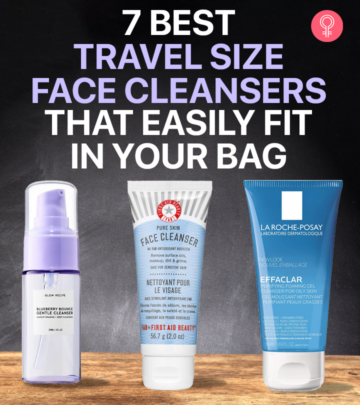 You cannot let environmental factors like humidity, temperature changes, and the like wreak havoc on your tresses when you are on vacation. Moreover, hotels' complimentary bottles of shampoo and conditioner may not be suitable for hair types. You need the best travel-size shampoo and conditioner that can get into your bags easily. These products are super easy to carry. Plus, you don't have to worry about using products that are not right for your hair either. To help you find your pick, below, we have listed the 7 best ones that you need to carry for the next trip. Let's check!
7 Best Travel Size Shampoos And Conditioners
This shampoo and conditioner set from TRESemme delivers vibrancy and lasting shine to your hair while restoring and replenishing its texture. These products are suitable for dry hair and offer gentle cleansing. They help lock in moisture without weighing the hair down or making it look greasy. The advanced formula is enriched with vitamin E that softens your hair. The shampoo and conditioner set is suitable for daily use and helps restore the health and shine of your hair.
Pros
Gentle
Lightweight
Non-greasy
Suitable for daily use
Cons
None
This 2-in-1 shampoo and conditioner from Pert Plus is made for daily use and gently rids the hair of impurities and buildup. It gently cleanses your hair while infusing conditioning elements into it to keep it soft and nourished. This product helps you streamline your hair care routine by saving your time. This travel-sized shampoo and conditioner is meant for normal to oily hair types. You can check this YouTube video for more information about the product.
Pros
Two-in-one formula
Smells good
Paraben-free
Aluminum-free
Cons
The Sun Bum Hair Tripper is a travel size kit consisting of a revitalizing shampoo, a conditioner, a leave-in conditioner, a dry shampoo, and a coconut oil-infused conditioning comb to nourish and strengthen the hair. The nutrient-rich formula of the shampoo and conditioner is enriched with coconut oil, banana, hemp seed oil, quinoa protein, and sunflower seed oil to manage frizz and offer smoothening effects. The dry shampoo boosts volume and keeps your hair smelling fresh while on the go. The conditioner spray detangles the hair and prevents frizz and split ends. products also detangle the hair and prevent scalp irritation.
Pros
Smells good
Non-irritating
Color-safe
UV protectant
Sulfate-free
Paraben-free
Cruelty-free
Cons
None
The Bergman Kelly 2-in-1 shampoo and conditioner has a luxurious formula that revitalizes and renews the strands while leaving behind a refreshing white tea scent to invigorate the senses. The scientifically proven formula eliminates buildup, dullness, and impurities to make the scalp and hair healthy without stripping them of their natural oils. This product is suitable for all hair types.
Pros
Pleasant fragrance
For all hair types
Paraben-free
Cruelty-free
Cons
Does not lather well.
May dry the hair out.
The shampoo and conditioner from OGX are infused with high-quality Moroccan argan oil that deeply penetrates the hair shafts to strengthen them from within. It also restores shine and softness and protects your hair from heat and UV ray damage. If you are still unsure about purchasing, you can check out a review of this product on YouTube.
Pros
Smells good
Color-safe
Suitable for chemically treated hair
Sulfate-free
Cruelty-free
Cons
The amenities bundle from Oasis Bliss includes 25 mini shampoos, conditioners, bath bars, and body lotions. The enriching and hydrating formula of the shampoo and conditioner is made from aloe vera and olive oil that gently cleanses the hair. These products rejuvenate the hair and protect it from the harsh UV rays.
Pros
Gentle
Pleasant scent
Paraben-free
Cruelty-free
Cons
The shampoo and conditioner from Free & Clear are non-medicated and perfect for sensitive skin. These products remove scaling, flaking, and excess oiliness from the scalp. They also moisturize and soften the strands and eliminate buildup to make the hair manageable. You can check out this YouTuber's review of the product if you require more convincing.
Pros
Unscented
Balances pH levels
Dye-free
Paraben-free
Sulfate-free
Cons
Why Trust StyleCraze?
The author, Shiboli Chakraborti, is a certified haircare and skincare coach who loves trying different hair care products. She read hundreds of online reviews and user feedback to compile a list of the best travel-size shampoos and conditioners for her reader's business trips and holidays. Shiboli researched these products thoroughly to ensure that they fit your travel bag and keep your hair bouncy, voluminous, and ready even on the go!
Recommended Articles