The 10 Best Treadmill Lubricants, According to Reviews
Maintain your treadmills with only the best lubricants to stay fit and healthy.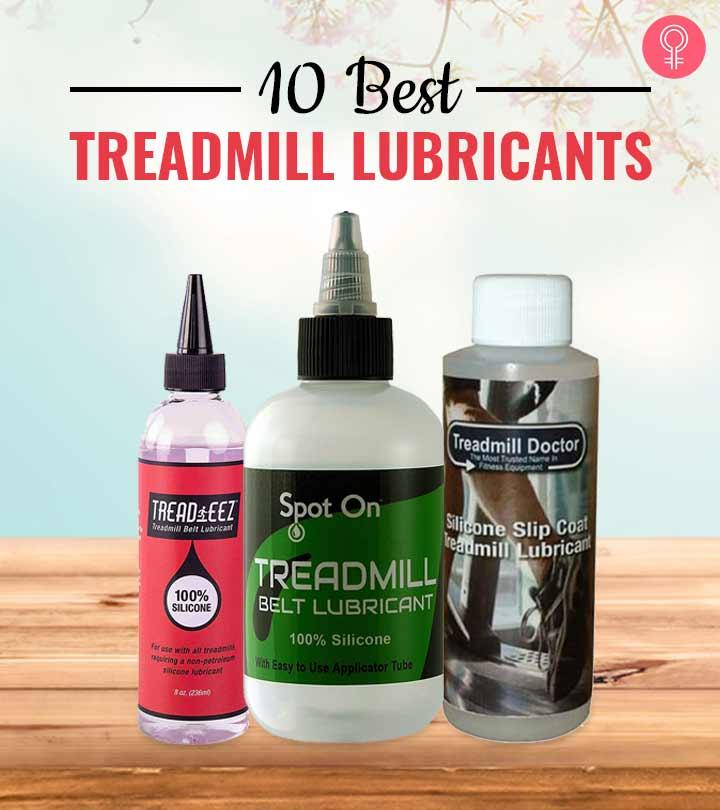 Just like every piece of exercise equipment, a treadmill requires constant care and repair. This is where the best treadmill lubricants can be put to use. Being one of the most heavily used exercise equipment at home, the upkeep behind it is also equally important. These wonder liquids are useful when it comes to greasing the treadmill belts that prolong their track life and reduce treadmill belt tension. Practical and cost-effective, here's a list of the top-quality treadmill lubricants you can look at before purchasing the one most suitable for you!
The 10 Best Treadmill Lubricants
Pros
Odorless
Precision twist top for ease of use
Works well with all treadmill brands
Reduces noise of the belt
Cons
None

Pros
Easy to apply
Dries quickly
Suitable for all types of treadmills
No harmful solvents
Cons
None
Pros
Odorless
Toxin-free
Easy to use
Reduces friction between belt and deck
Cons
None

Pros
Versatile
Non-greasy
Easy to use
Long-lasting protection
Cons
None
Pros
Easy to apply
Suitable for all ICON treadmills
No bad odor
Value for money
Cons
None
Pros
Odorless
Easy to use
Non-toxic
Suitable for a wide range of treadmills
Cons
None
Pros
Works on most treadmill machines
Odorless
Easy to use
Long lasting
Reduces wear and tear
Cons
None
Pros
Suitable for a variety of equipment
Long-lasting protection
Set of 3 tubes
Value for money
Cons
None
Pros
Reduces friction
Easy to apply
Prevents rust and corrosion
Long-lasting protection
Non-toxic
Non-hazardous
Cons
None
Pros
Easy to use
One application gives 40-160 hours of treadmill use
Suitable for most treadmills
Reduces friction from normal running
Cons
Less amount for the price.
*The prices provided in this article are based on the latest available information. However, they may vary due to changes in pricing by the seller and/or promotional offers.
If you are looking for a treadmill that is going to provide years of faithful service, your best bet is to invest in one that has been lubricated regularly. There are various lubricant application methods to keep your machine running smoothly and help reduce the risk of wear and tear on its parts. All these treadmill lubricants are selected after a careful consideration of their unbiased online reviews.Here are some factors to look at before investing in a treadmill lubricant.
Things To Look For In A Treadmill Lubricant
Types Of Treadmill Lubricants: There are two types of treadmill lubricants: wet and dry. Wet treadmill lubricants are applied directly to the machine's moving parts, such as the belt or motor, while dry treadmill lubricants are applied to the floor or padding beneath the machine.
Dry treadmill lubricants are more effective because they do not attract dirt and dust like water-based lubricants. They also last longer since there is no need to apply them frequently. However, wet treadmill lubricants are easier to apply and less messy.
Compatibility: Make sure to check the lubricant compatibility of your treadmill. Many lubricants are designed for certain brands or models, so read the label before buying. If you are unsure about the type of treadmill you have, check with the manufacturer. Most machines come with a manual that lists the types of lubricants compatible with their model.
Consistency And Viscosity: When choosing a lubricant, consider its consistency and viscosity. Consistency refers to how thick or thin the lubricant is, and viscosity refers to its resistance when moved across surfaces. Thick and viscous lubricants will stay on the surface longer, while thinner products will evaporate faster and need to be reapplied more often. You may also consider the lubricant drying time.
Safe For Use: Finally, choose a lubricant that is safe for use on your treadmill. Several harsh oils and solvents are used in manufacturing varnishes and paints, so it is important to research any potential health hazards and treadmill safety precautions before using any lubricant on your machine. You should also pay attention to lubricant quantity required or test the lubricant on a small area of the treadmill belt before using it. Also, read through storage instructions, lubrication frequency, and techniques as mentioned in the user manual. Chandel Stallworth, a nationally certified pilates instructor says, " Make sure that if you use a wet lubricant, after application, you fully clean the treadmill before using it. You don't want to have a slip or fall because you failed to properly clean excess lubricant."
Why Trust Stylecraze
Aditi Naskar, the author of this article, has a diploma in health and wellness and is a fitness enthusiast. After thorough research on various online platforms and reading through multiple user reviews, she listed these best treadmill lubricants for the readers. These have been selected based on their non-toxicity, odorless formulation, ability to work on a variety of treadmills, and more.
Frequently Asked Questions
What type of lubricant is best for treadmills?
Many treadmill manufacturers recommend using 100% silicone lubricants for treadmills. These usually work the best.
Where do you put the lubricant on the treadmill?
The lubricant must be applied beneath the treadmill belt. Change the treadmill belt alignment or pull the belt away and apply the lubricant towards the center of the belt.
How often should I apply the lubricant?
Lubricate your treadmill belt for every 200 miles of use or as instructed in the manual for belt care to avoid frequent treadmill belt replacement and enhance its performance and speed consistency.
How much lubricant should I use on a treadmill?
Proper treadmill incline lubrication is required to keep it running smoothly. Lubricate your treadmill every three months with 1 ounce of lube per application for proper treadmill maintenance. The usage also depends on how often you use your treadmill, your workout intensity, and its size.
Do treadmills need maintenance?
Yes, all treadmills (and all exercise machines) need regular maintenance to extend their life.
Can I use WD 40 silicone lubricant on my treadmill?
Avoid using any WD 40 silicone lubricant on your treadmill. These lubricants are not 100% silicone-based. They may cause serious damage to the equipment as they are not reliable.