15 Best Treadmill Running Shoes For Women To Stay Fit In 2020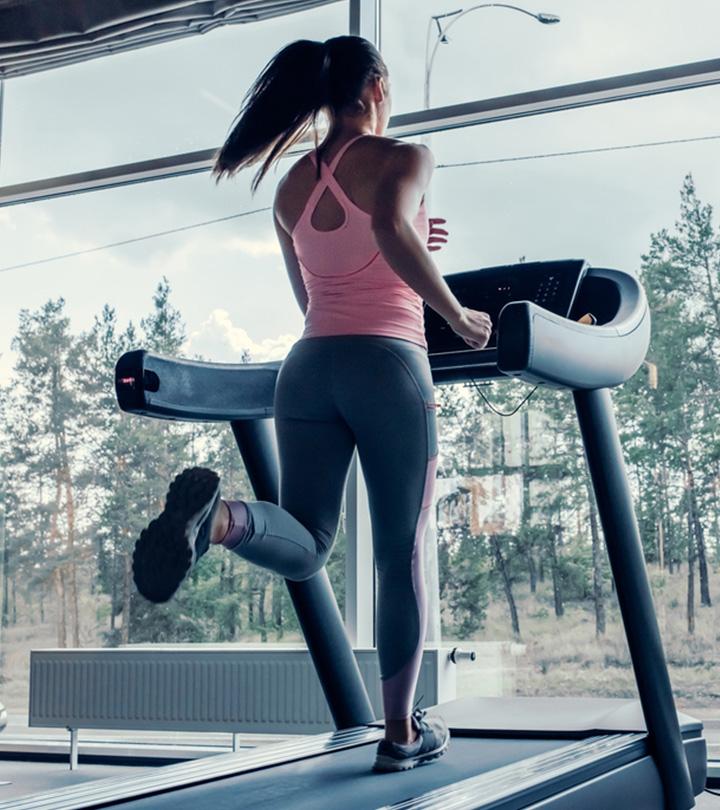 Many people have started replacing their morning jogging regime with treadmill running. And why not? Whether it's bone-chilling winters or super sultry summers, you can always make the workout easier by running from the comfort of your home. Since treadmill running is a lot faster and is always 'running' no matter what, you need tougher, grippier, and comfortable shoes. Investing in the right shoes can keep you running for long enough without leaving your feet bruised or giving up within a few months.
We bring you a list of 15 best treadmill running shoes with the right features for running on a treadmill. Pick the best-looking and feature-packed shoes and get ready to get in shape without your feet developing blisters.
Top 15 Treadmill Running Shoes For An Effortless Running Routine
The Adidas Women's QT Racer treadmill running shoes are lightweight and allow air to flow through them so that your feet don't feel suffocated. They fit like a glove by stretching to accommodate your feet without being too tight nor too loose. They're both comfortable and cute, so you can also wear them when you're off the treadmill. You'll find a range of pristine colors to run on the treadmill in style. If your gym is a few kilometers away, you can hit the street in these Adidas treadmill shoes and take a comfortable walk before starting your workout.
Pros
Lightweight
100% knit textile
Cloudfoam insole
Mesh upper
Cons
Some may feel that it doesn't provide adequate support in the footbed.
The ASICS gel-venture 7 trail shoes are designed to ensure a combination of balance, comfort, and durability. It's a real disappointment when your feet get sweaty from running and ruin the insoles of the shoes. The Ortholite sock-liner of these shoes helps in moisture management so that you don't have to wash them too often. These shoes can handle an intense treadmill running session without spraining your feet. The rearfoot gel technology attenuates shock and lowers impact when you're running too fast. These are one of the best women's treadmill running shoes that you can also wear on patchy terrains for better balance.
Pros
Ortholite sockliner for moisture management
Rearfoot gel-technology cushion system
Additional layer of cushioning underfoot
High abrasion rubber outsole offers durability
Cons
It may not provide adequate arch support.
These treadmill sneakers are made from synthetic fabric and feature an EVA sole. The mesh upper allows your feet to breathe, and the foam midsoles bounce back so that you can run without exhausting your feet. These sneakers feature a comfort system that helps absorb shock for an effortless stride on the belt. While they let you take on the treadmill, you can also count on this elegant design for a lunch date with your friends.
Pros
Breathable mesh upper
Lightweight
Comfortable
Bounce-back midsole
Cons
Some may find the soles too hard. 
If you're not a big fan of heavy-duty running shoes that make your feet feel trapped, the Troadlop air-knitted running shoes are ideal for you. Made from an ultra-lightweight mesh upper, these women's treadmill running shoes will give you a smooth-running experience on your treadmill. Though they have a featherlight design, the non-slip rubber soles make running a cakewalk by offering a fair share of support. They can be bent freely, making them a fantastic pick for trekking or hiking. They feature removable sock-liners so that you can give them a quick wash after a few days of running.
Pros
Light and breathable
Non-slip
Abrasion-resistant
Features removable sock-liner
Cons
Too cushiony at the heels
The Joomra Women's barefoot shoes are the best trainers for treadmills that every minimalistic woman would dream of. If you're a fan of all things minimal, these shoes offer just that, making you feel like you're barefooted without risking bruises from running. They feature reflective strips on the heel so you can avoid night-time related accidents. When you wear these shoes for hiking, you don't have to worry about constantly tying the shoelaces or tripping on them because they feature a lace-locking system. They have a responsive design and offer great traction, making them versatile, minimalist shoes to be worn just about anywhere.
Pros 
Rubber outsoles offer durability
Removable insoles
Easy to wash
Highly-flexible shoes
Available in different colors and patterns
Cons
If you're looking for good-quality indoor running shoes on a treadmill that keep your feet sweat-free, these running shoes are worth considering. They're flexible and boast an ergonomic design, which makes walking and running easy without tiring your feet. The soft lining ensures that your feet don't choke when you tighten the shoelaces. They offer an excellent grip and are skid-resistant. If your priority is a sturdy grip on the belt, these shoes won't disappoint you.
Pros
Flexible
Elastic
Skid-resistant
Breathable
Cons
Some may find it slightly heavy.
If you're looking for the best shoes for treadmill jogging that are made to last without breaking the bank, you can consider investing in this pair. The sole is made from MD rubber, and the hydro-grip outsole adds a great deal of traction to help you walk or run on any terrain. They're lightweight and incredibly comfortable, which makes running on a treadmill a piece of cake. The sole is thick; however, it flexes with the feet to make movement easier.
Pros
Lightweight
Offers plenty of toe room
Anti-slip
Highly-flexible
Cons
Not available in many color variants
ASICS is one of the most preferred brands for serious athletes or anyone who wears sneakers to all places on almost every occasion. If treadmill running is a part of the other intensive exercises you perform that can be hard on your feet, the ASICS energetic foam formulation helps the insoles bounce back to withstand such impact. The ASICS high-abrasion rubber is strategically placed in areas where you exert a lot of pressure. This helps save your shoes from constant wear and tear. The heel clutching system technology keeps your heels in place and offers the support you need for fast running.
Pros
Durable
Shock-absorbing
Offers great heel support
Offers good arch support
Helps relieve Achilles tendon
Cons
Slightly expensive
Some may find it slightly heavy.
These breathable treadmill shoes for women are made from textile and synthetic, which makes them featherlight. The rubber outsole adds durability, ensuring the soles don't start coming off too soon when you run miles regularly. The Cohesion 11 running shoes feature grid supportive cushioning and upper overlays for added comfort. You can take these shoes along on a trip when you're on your feet for most of the day.
Pros
Durable
Breathable
Feature removable insoles
Affordable
Cons
It may not offer as much support as expected.
Brooks Adrenaline GTS 20 is arguably one of the best treadmill shoes for women, engineered to offer balance and support. It features a streamlined design to look and feel light for people who don't like bulky or chunky shoes. The balanced, soft cushioning with the BioMoGo DNA technology helps lower impact if you're sprinting. When your options narrow down to shoes that don't cause knee pain, the guide-rails holistic support system of these shoes can aid in running or walking while keeping knee pain at bay.
Pros
Durable
Knee support
Soft cushioning
Lowers impact
Cons
The fit may be too narrow for some. 
These running shoes for women are crafted to offer comfort and allow your feet to breathe. Thanks to the tennis fabric material and fly knit mesh vamp design — the shoes keep your feet secure. The air cushion design offers an added cushioning effect. The midsole is made from tough rubber, which adds durability to this pair. If you're looking for the best women's shoes for treadmill running, these shoes can be your solemates.
Pros
Lightweight
Breathable
Thick around heels for impact resistance
Soft insoles
Cons
These Nike treadmill shoes are one of the best sneakers for running on a treadmill. While you can run on your treadmill with this pair of shoes, you can wear them outside for walking, jogging, or a marathon. Popularly known as the Nike Flex Experience shoes, the knit fabric in these shoes helps add flexibility. They feature rounded heels for an improved fitting and natural range of motion. The midsole doubles up as the outsole for durability without adding more weight to the shoes.
Pros
Lightweight
Soft on the heels
Suitable for high arches
Offer good support
Cons
Saucony Women's Guide 10 is one of the best sneakers for treadmills during hot days. The 100% engineered mesh gives these shoes the right amount of permeability to ensure airflow so that you can sweat without worrying about your shoes getting musty. To make it an even more convenient wear on sweatier days, the insoles are removable so you can replace them. They also feel light on the feet, which helps you stick to your workout routine without complaining of aches.
Pros
Made from 100% engineered mesh
Removable insoles
Suitable for mild to moderate pronation
Offers great support
Cons
The Whitin running shoes for treadmills are a good combination of durability and affordability if you're looking for shoes that are made to last forever at a budget-friendly price. The high-rebound EVA midsoles offer impressive traction and support, absorbing shock efficiently for a smooth run. The open-weave upper mesh layer and the no-sew overlays add more comfort and breathability. These shoes have a low heel-to-toe drop, which is a welcome feature for many people who don't like high-heeled treadmill running shoes.
Pros
Absorbs shock
Lower heel-to-toe drop for natural running
Flexes with the foot
Breathable
Comfortable
Cons
Comfortable cushioning is everything for some people who get on the treadmill almost every day, and these shoes are blessed with responsive REVlite cushioning. The New Balance running shoes will help you strike a balance and support you need for an intense training session. These high-performance running shoes are made from 100% synthetic material to withstand wear and tear. Additionally, the synthetic upper and rubber soles are featherweight so that they don't bog down your stride.
Pros
Responsive cushioning
Suitable for high arches
Comfortable for wide feet
Excellent support
Cons
Now that you have gone through our list of the 15 best treadmill running shoes, here's a useful buying guide that'll help you find the kind of shoes that can make running relatively effortless and make an excellent choice. And if you're not yet convinced about buying shoes for treadmill running, here are the benefits of wearing shoes on a treadmill that give you enough reasons to invest in the best treadmill running shoes. Let's dive in.
What Are The Benefits Of Wearing Shoes On A Treadmill?
Wearing shoes on a treadmill can offer you a better grip to stay on the treadmill for prolonged periods without exhausting your feet.
When you pick the right pair of shoes, you can avoid sprains and aches. When you encounter frequent knee pain, ankle sprains, or aching soles and heels, you might have to skip running now and then.
Running on the treadmill means exerting pressure on your feet. Running shoes offer soft cushioning, which helps resist the impact and absorbs shocks, giving you a smooth running experience.
How To Choose The Best Shoes For A Treadmill According To Your Feet Type?
When you run on a treadmill, sweating is inevitable. However, when you wear a pair of shoes made from breathable materials, the airflow helps eliminate moisture. Additionally, your feet will feel less stuffy even as you wear a pair of well-fitted shoes.
Treadmill running requires much more support than outdoor running because you're repetitively running on a belt. Wearing shoes that offer good support helps increase motion control and avoid repetition stress.
Since you don't have a lot of room for free movement on a treadmill, your heels and toes might land on the belt with a certain amount of impact. This impact can cause pain over time. Shoes with cushioned insoles help ease the impact. However, if you've mastered running on treadmills with softer steps, you might not need extra cushioning and can settle for less-cushioned shoes.
Although a treadmill's surface is soft, wearing shoes that offer a decent grip can prevent accidents. Grippier shoes make for the best shoes for treadmill jogging and even interval training; however, you can also wear them outdoors, especially at your workplace or malls with slippery floors.
Durability is something we look for in almost anything that we buy. If you use a treadmill regularly, you need the best trainers for treadmill running that don't give up too soon. Look for running shoes made from durable materials if you want to make the most out of your investment.
We hope you found all the information you need to make the right choice and get a pair of the best treadmill running shoes that are comfortable and durable. It is crucial to know your feet and what design would suit them best before deciding. When you buy a pair of good shoes, they can serve many purposes. Weigh the pros and cons and take your time to zero in on shoes that make you want to stay on your feet without dreading aches and discomfort.
Expert's Answers for Readers Questions
Can I use regular running shoes for the treadmill?
Most running shoes are designed to offer comfort and support when you're covering miles. You can use regular running shoes as long as they offer you maximum comfort and make it possible for you to run on the treadmill without causing sprains or foot pain. Furthermore, good running shoes for the treadmill, no matter what kind, should also help in a smooth transition in speed on a treadmill.
How long do running shoes last on a treadmill?
This depends on whether you use your running shoes exclusively for treadmill running or wear them outdoors as well. If they're used only on the treadmill, a pair of good quality running shoes can last approximately 400 to 500 miles.
Are trail running shoes good for treadmills?
While trail running shoes are a good option for treadmills, some people may find them less desirable as they might feel different on a soft running surface. Trail running shoes may also start tearing at the lugs sooner as this part of the trail shoes come in contact with the treadmill belt every time your feet land on the surface.
Why do I feel unbalanced when I run on the treadmill?
Barring medical reasons like feeling dizzy, leg length discrepancies, and motion sickness, you may also feel unbalanced on a treadmill when your shoes don't provide a snug fit or when you choose to run barefoot.
How do I care for my new shoes?
If you're concerned about your shoes getting out of shape over time, you should use shoe trees and toe shapers to retain their shape. These products also help eliminate moisture and odor.
How does treadmill running affect your shoes?
Unlike roads that are concrete and are hard-surfaced, treadmill belts are quite soft. This means you're gentler on your shoes when you choose to run on a treadmill. This helps ensure the outsoles are more durable, and if your shoes are cushioned, it helps even more to stretch their durability.