10 Best Treadmills Under $1000 (2023), According To Reviews
You don't need big bucks or a gym subscription to keep your cardio game strong.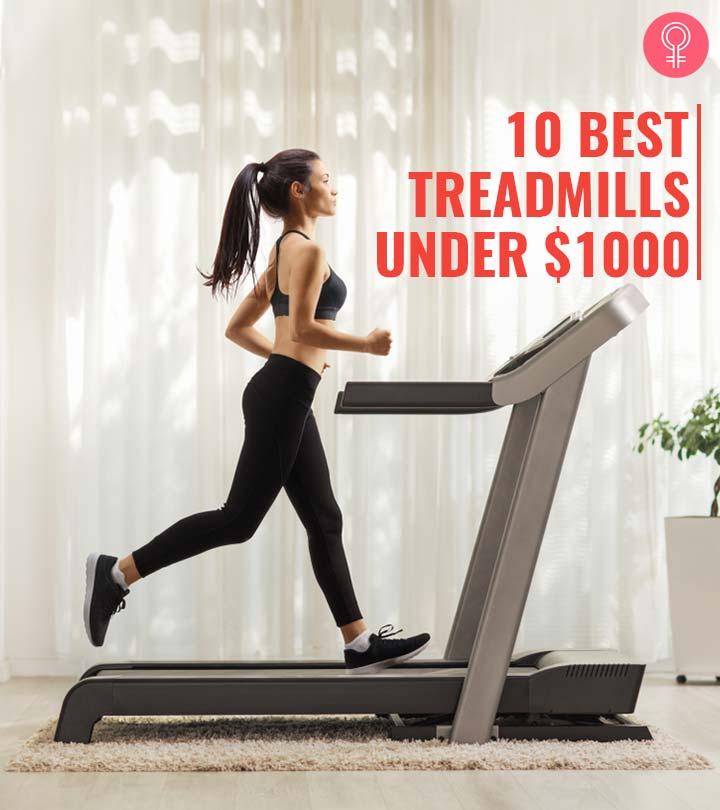 From vertical climbers to exercise bikes, there are many cardio workouts out there for you. But if you are truly looking forward to breaking some sweat, nothing beats a good old treadmill. While there are so many options out there, can you find one of the best treadmills under 1000 $? Indeed you can. Here, we have curated a list of treadmills that will keep you fit and help you burn those calories. Scroll down to know more.
10 Best Treadmills Under $1000
Pros
Easy to store
Contains integrated wheels
Installation-free
Non-slip
LED display
Cons
None
Price at the time of publication: $299.99
Pros
Easy to use
Low maintenance
Foldable design
Ideal for indoor walking
LED display
Cons
None
Price at the time of publication: $299.99
Pros
Includes free online training membership
Quick-touch controls
Easy to fold up
Compact
Sturdy
Durable
Cons
Expensive
Suitable for people with 6'2" height and below
Pros
Includes iFit that offers an interactive personal coaching experience
Compact
Easy to use
Auxiliary music port with speakers
Cons
Price at the time of publication: $649.0
Pros
Soft drop hydraulic mechanism
Easy to fold and store
Handrail pulse sensors
Digital monitor that helps keep track of your workout
Cons
None
Price at the time of publication: $319.49
The Weslo Cadence G 5.9i Folding Treadmill is equipped with Bluetooth technology that helps connect you to the thrilling world of iFit personal training. It offers 50" of belt space that gives you enough space to run comfortably. The treadmill comes with comfort cell cushioning that offers support to your joints and gives you a comfortable workout experience. It can be folded and stored away easily.
Specifications
Motor: 25 HP
Incline: 2 levels of inclination
Belt Size: 16 x 50 inches
Pros
Equipped with Bluetooth connectivity
Wide belt space
Comfort cell cushioning that supports your joints
Cons
None
Price at the time of publication: $384.78
Pros
Easy-to-read display
16 preset workout programs
Emergency stop button
Cons
Price at the time of publication: $389.99
Pros
LCD display
16 workout programs
Easy to store
Cons
The Bluetooth setting might not be of great quality
Price at the time of publication: $899.99
Pros
Big LCD console
Direct access speed keys to control the speed
Multiple points of cushioning
Cons
None
Price at the time of publication: $384.99
Pros
Easy-to-read LCD display
Large desk space
Foldable design
Low maintenance
Cons
None
Price at the time of publication: $419.97
If you are tight on budget, you can get some reasonable treadmills that do the job just fine. Simply remember to look for the correct features and specifications in a good quality treadmill. We have put together some points for you to consider while buying treadmills below $1000.
Things To Consider While Buying Best Treadmills Under $1000
Space and size
Measure the space you are willing to dedicate to the treadmill and pick the size of the machine accordingly. Treadmills can be space-consuming so make sure you calculate the length, breadth, and height properly. Also, look for a folding machine which is easy to store when not in use. Generally the recommended length of the belt is 50-60 inches.
Portability
The treadmill should be sturdy yet lightweight or designed with wheels. This helps to maneuver the machine easily. You can use it in your home gym or place it in your garden, as per your convenience.
Quality
Your workouts on the treadmill can be light or intense. Make sure the material of the machine is sturdy and durable. Steadiness of the machine is of utmost importance. The belt should also be made of good quality rubber which can withstand wear and tear. The rollers at the bottom of the belt must be smooth and strong. Avoid noisy belts, wobbly frames, less programs, small exercise areas, and flickering screens. The track cushioning is also something to look out for as it affects knee health.
Features
Whatever the price, some features must be mandatory to your workout plan. Check out the features beforehand. Some essentials are pre-set workout programs, bluetooth connectivity and speakers, auto-incline, pulse monitors, speed and time monitors, and alarms for excessive heart rate.
Safety
An auto-stop feature is the important safety feature to look for. This is controlled by a key attached to the body of the user with a lanyard. In case you slip, the key disengages and the machine comes to a halt, protecting you from nasty falls and accidents.
Weight
Choose treadmills as per your weight requirements. Treadmills mention a weight capacity which you must consider. This generally ranges from 250 to 400 pounds.
Warranty
Since you are looking for an economically viable machine, do make sure it comes with a warranty of at least five to seven years. Warranties for separate parts of the machine could vary. Motor, belt, and monitors need to be under warranty and can be repaired if they break down or are faulty.
Why Trust StyleCraze?
Aditi Naskar, the author of this article, has a diploma in health and wellness. She loves to write about fitness tools and review products for her readers. She conducted in-depth research of the product specifications and browsed various online forums to check the user feedback before recommending the best treadmill under 1000 dollars. These treadmills have a goal-tracking function and numerous features to ease up your workout sessions.
Frequently Asked Questions
How much does a good-quality treadmill cost?
A good-quality and long-lasting treadmill costs between $500 to $3000. These treadmills offer more stability, better motors, and more workout options. The premium ones can go as high as $10000.
How long do treadmills last?
Treadmills last up to 7-12 years.
Can I plug my treadmill into a regular outlet?
You can plug your treadmill into a 20 amp regular outlet.
Should I do the treadmill every day?
Yes, you can use a treadmill to exercise daily. 30 to 60 minutes of brisk walking on a treadmill works best.
Is a treadmill good for losing weight?
Yes. Using a treadmill as a cardio exercise is a great way to burn calories and lose weight.