14 Must-Have Tree Hut Products For 2023
Get all your skincare essentials in place with this brand that has stirred up a storm in the world of skin care.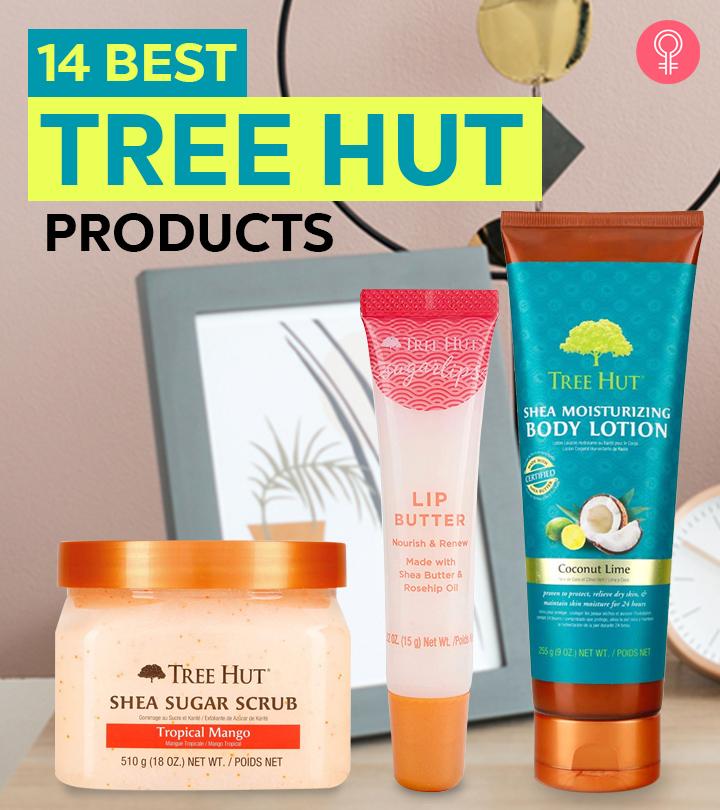 If you plan to find the best nature-inspired skin care regimen for your skin, you have come to the right place. This article discusses the much sought-after and popular natural skin care brand, Tree Hut. To help you kickstart your journey with the brand, we have also compiled the best Tree Hut skincare products available online.
Tree Hut specializes in personal skin care products. Shea body butter was the brand's initial product, available in a variety of tastes when they launched it in 2002. They later expanded into a range of shea-based skin care. All Tree Hut products are formulated with certified natural shea butter and natural extracts. In addition, their products are paraben-free and have never been tested on animals.
So, what are you waiting for? Dig into our list of the best Tree Hut products for you to try. Scroll down!
14 Best Tree Hut Products To Try
Pros
No-slip formula
Long-lasting fragrance
Allergen-free
Hydrates
Cons
None
Pros
Absorbs easily
Non-greasy
Allergen-free
Vegan
Cons
None
Pros
Improves skin texture
Evens out the complexion
Protects skin from sun damage
Cons
Price at the time of publication: $32.47
Pros
Creamy formula
Softens the lips
Offers lasting moisturization
Cons
Price at the time of publication: $5.99
Enjoy the aromatic fragrance of Moroccan Rose while pampering your body with the Tree Hut Shea Moisturizing Body Wash. It is a sulfate-free body wash infused with certified shea butter that offers intense moisturization to your skin. The formula creates a creamy lather that glides smoothly on your body without stripping away your skin's natural moisture, while the beautiful, lush scent revitalizes your senses.
Pros
Sulfate-free
Offers deep moisturization
Has a creamy formula
Pleasant fragrance
Cons
Price at the time of publication: $6.99
Pros
Soothing
Long-lasting fragrance
Moisturizing
Allergen-free
Cons
Excessive amounts may leave stains in the bathtub
Price at the time of publication: $7.19
Pros
Refreshing
Adds glow
Allergen-free
Vegan
Cons
Not suitable for sensitive skin
Price at the time of publication: $10.99
Pros
Vegan
No-slip formula
Refreshing scent
Value for money
Cons
May not suit sensitive skin
Price at the time of publication: $7.94
Pros
Moisturizing
Long-lasting tropical fragrance
Easy to apply
Cons
May turn sticky on drying
Price at the time of publication: $9.96
Pros
Moisturizing
Gentle exfoliation
Minty fragrance
Value for money
Cons
None
Price at the time of publication: $15.89
The Tree Hut Purifying Cleansing Gel is a non-drying, sulfate-free cleanser enriched with rosewater that cleanses your pores and refreshes and soothes your skin. It also contains salicylic acid that prevents acne and deeply cleanses your skin. This cleanser's rich, smooth texture creates a foamy lather and helps maintain the skin's natural moisture balance.
Pros
Deep cleansing
Non-drying
Creamy formula
Combats acne
Cons
None
Price at the time of publication: $8.71
The Tree Hut Exfoliating Mud Mask gently exfoliates the skin to smoothen and brighten it. It has some fantastic skin-friendly ingredients like kaolin clay to remove impurities, dead skin cells, and residue and regulate excess oil production. The black sand exfoliates the skin, bentonite clay brightens it, and activated charcoal clears the pores and rejuvenates dull skin.
Pros
Brightens the skin
Rejuvenates the skin
Minimizes pores
Improves skin texture
Cons
None
Price at the time of publication: $6.99
Pros
Long-lasting moisturization
Gentle exfoliation
Refreshing fragrance
Vegan
Cons
None
Price at the time of publication: $16.5
The Tree Hut Moroccan Rose Bath Bomb refreshes and softens your skin. It offers a blast of floral scent, festive fizz, and intense moisture for a relaxing bath. It is infused with rosehip oil that refines the skin texture, argan oil that eases skin inflammation, and shea butter that promotes skin elasticity. The bath bomb also contains Epsom salt that soothes aches and relieves stress.
Pros
Soothing, floral fragrance
Offers moisturization
Refines the skin texture
Heals inflamed skin
Cons
None
Price at the time of publication: $22.5
Choosing skin care products that would suit your skin type and needs might be tough. Here are a few things to keep in mind before purchasing from Tree Hut.
Things To Consider Before Buying Tree Hut Products
Preference: Skin care products may alter as your needs change. So, first and foremost, choose what you want to attain with your skin care products. It may be used to remove tan and blemishes, combat acne, or provide an immediate glow, among other things.
Ingredients: Tree Hut offers a variety of products. You should also take into account the amount and type of ingredients involved. This information is available on the product's box or label. All tree hut products are made with certified natural shea butter and other natural ingredients. Look for ingredients like argan oil, rose flower oil, rosehip extract, jojoba oil, almond oil, aloe vera, bergamot, tea rose, amber, avocado, coconut, and safflower seed oil to keep your skin nourished and allergy-free.
Always analyze the ingredients in your skincare. Ingredients like parabens, phthalates, formaldehyde, triclosan, sodium laureth sulfate, toluene, mineral oil, oxybenzone, and petroleum derivatives should not be found in your skincare products. This might not only injure your skin but also cause inside damage.
Consistency: Choose lightweight and oily Tree Hut skin care products if your skin is oily. Similarly, go for products with thicker consistencies if your skin is rough and dry, and in need of gentle yet heavy moisturization. Speak to your dermatologist about the consistency of the products if your skin is sensitive.
Why Trust StyleCraze?
The author, Oyendrila Kanjilal, is a certified skin care coach and loves experimenting with different skincare products. For this article, she has prepared a list of the best Tree Hut products. She checked the brand website, product specifications, and browsed multiple online forums to check user feedback and compiled this list of the best products. The brand manufactures products with organic and natural extracts.
Frequently Asked Questions
Is Tree Hut a cruelty-free brand?
Yes, Tree Hut products are 100% cruelty-free.
Are Tree Hut products natural?
Yes, Tree Hut products are natural. They are formulated with certified organic shea butter and other natural ingredients.
Are Tree Hut exfoliators good?
Yes, Tree Hut exfoliators are amazing. They have excellent smell and texture and make your skin soft and supple.
Can you use Tree Hut scrub every day?
No. Using scrub every day can cause moisture loss and make your skin dry. Use scrubs not more than twice or thrice a week.
Does Tree Hut have harmful chemicals?
No, Tree Hut does not contain harmful chemicals. Their products are also devoid of parabens and formaldehyde.
Who owns Tree Hut products?
Tree Hut products are owned by their parent company Naterra International Inc.
What is the most popular tree hut product?
The most popular Tree Hut product is the Tree Hut Shea Sugar Scrub. It is enriched with minerals and antioxidants that nourish your skin while improving its texture.
Is Tree Hut good for sensitive skin?
Yes, most Tree Hut products are good for sensitive skin. They do not make your skin feel dry or irritated. However, consult a dermatologist before committing to a product from the brand.
Where are Tree Hut products made?
Tree Hut products are made in the United States.