14 Must-Have Tree Hut Products For 2022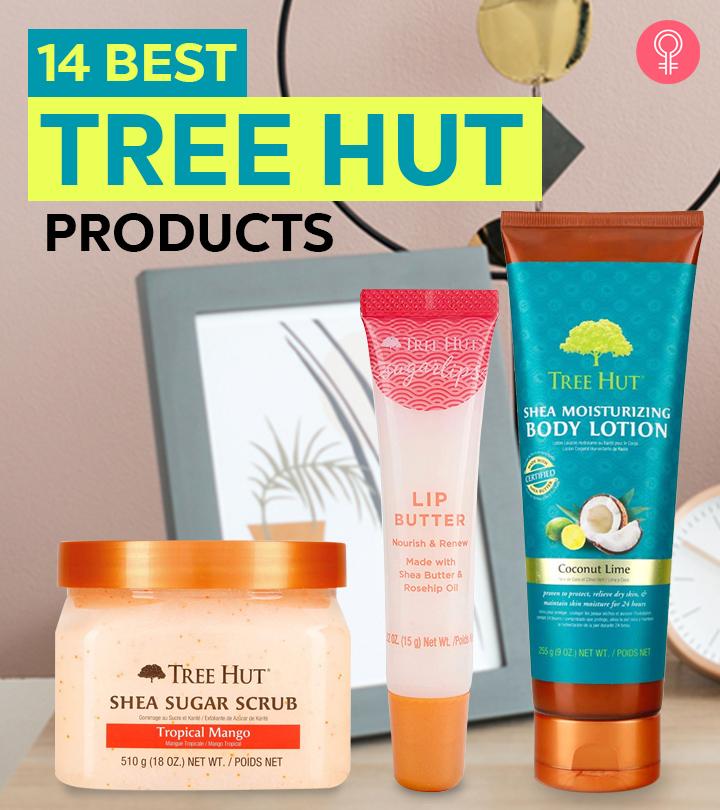 If you plan to find the best nature-inspired skin care regimen for your skin, you have come to the right place. This article discusses the much sought-after and popular natural skin care brand, Tree Hut. To help you kickstart your journey with the brand, we have also compiled the best Tree Hut skincare products available online.
Tree Hut specializes in personal skin care products. Shea body butter was the brand's initial product, available in a variety of tastes when they launched it in 2002. They later expanded into a range of shea-based skin care. All Tree Hut products are formulated with certified natural shea butter and natural extracts. In addition, their products are paraben-free and have never been tested on animals.
So, what are you waiting for? Dig into our list of the best Tree Hut products for you to try. Scroll down!
14 Best Tree Hut Products To Try
The Tree Hut Shea Sugar Scrub is a gentle, exfoliating scrub that heals cracked skin. It is enriched with vitamin C and shea butter, mango puree, and a blend of nourishing oils like evening primrose, safflower seed, sweet almond, avocado, and orange oils.
Mango puree is packed with minerals and antioxidants that prevent dryness, evening primrose oil acts as an anti-aging agent, sweet almond oil improves skin health, and orange oil stimulates collagen production and prevents sun damage. This blend of moisturizing ingredients offers intense hydration, exfoliates, and removes dead skin cells while leaving your skin smooth and hydrated.
Pros
Gentle
Offers intense moisturization
Has a pleasant fragrance
Cons
The Tree Hut Shea Body Butter With Kukui Extracts is made with 100% pure natural shea butter and offers intense moisturization that softens and smooths cracked skin. Kukui nut oil heals cracked skin, and its warm scent refreshes your senses.
This body butter contains a rich blend of shea butter, cocoa butter, and safflower seed oil to help soften rough skin. Safflower seed oil provides further moisturization, and cocoa butter relieves dry and flaky skin.
Pros
24-hour intense moisturization
Keeps the skin soft
Heals cracked skin
Cons
The Tree Hut Shea Sugar Scrub in the flavor Coconut Lime provides intense exfoliation and has a pleasant tropical scent of coconut and lime. It contains certified organic shea butter that repairs and moisturizes the skin, has anti-aging properties, and boosts skin elasticity.
The sugar granules and ground coconut shells in the scrub remove dead skin cells and leave you with polished, smooth skin. The natural coconut and lime extract in the formula offers deep conditioning. This scrub is also infused with an array of hydrating oils like evening primrose and orange essential oils, safflower seed, sweet almond, avocado, and macadamia seed oils.
Pros
Improves skin texture
Evens out the complexion
Protects skin from sun damage
Cons
If your lips are dry and chapped, try the Tree Hut Sugarlips Lip Butter. This lip butter is crafted with a unique, luxurious formula that contains certified shea butter, rosehip oil, and chinaberry extracts. Rosehip oil makes your lips soft and supple, and chinaberry extract offers long-lasting moisturization. You can apply this product after using a lip scrub for better absorption and plumping the lips.
Pros
Creamy formula
Softens the lips
Offers lasting moisturization
Cons
Enjoy the aromatic fragrance of Moroccan Rose while pampering your body with the Tree Hut Shea Moisturizing Body Wash. It is a sulfate-free body wash infused with certified shea butter that offers intense moisturization to your skin. The formula creates a creamy lather that glides smoothly on your body without stripping away your skin's natural moisture, while the beautiful, lush scent revitalizes your senses.
Pros
Sulfate-free
Offers deep moisturization
Has a creamy formula
Pleasant fragrance
Cons
Pamper your skin with the Tree Hut Shea Moisturizing Body Lotion. Its rich and creamy formula is enriched with certified shea butter and has a soothing fragrance of coconut and lime essence. This non-greasy body lotion maintains the natural moisture barrier of your skin. The coconut extract in the formula conditions your skin, lime extract polishes and smoothens it, and safflower seed oil offers intense moisturization. It is ideal for daily use.
Pros
Non-greasy
Offers 24 hours moisturization
Soothing fragrance
Suitable for daily use
Cons
None
The Tree Hut Shea Sunkissed Sands Sugar Scrub is a gentle, exfoliating scrub with a mesmerizing scent of sun-kissed sands. This scrub is enriched with certified organic shea butter and an array of oils, including evening primrose, safflower seed, sweet almond, avocado, and orange oil, that keep your skin moisturized and healthy from within. It also contains white clay that gently exfoliates the skin and seaberry oil that provides hydration.
Pros
Improves skin texture
Has a pleasant fragrance
Softens your skin
Offers hydration
Cons
None
The Tree Hut Moisturizing Coconut Lime Hand Cream has a refreshing fragrance of coconut and lime. This hand cream contains shea butter, argan, avocado, safflower seed oils that help maintain the skin's natural moisture barrier. It also contains chamomile, coconut, and lime extracts that refine and soften the skin on your hands and give it a healthy glow.
Pros
Refreshing fragrance
Suitable for daily use
Cons
If your feet feel tired and worn out, they are in desperate need of some exfoliation. The Tree Hut Exfoliating Foot Scrub is a 100% pure sugar scrub that gently exfoliates dry and thick skin to silk-like perfection. It contains ingredients like certified organic shea butter that promote elasticity and cooling peppermint oil that moisturizes and revitalizes your feet with a cooling sensation and alleviates strain.
Pros
Exfoliates dry and thick skin
Smoothens the skin
Promotes skin elasticity
Relieves foot strain
Cons
None
The Tree Hut Refining Rose Polishing Facial Scrub cleanses your skin and makes it soft and supple. This super creamy and moisturizing scrub with a coconut oil base makes your skin feel silky smooth. The formula is enriched with vitamins, cocoa butter, shea butter, jojoba esters, and rosewater. Jojoba esters exfoliate the skin, rosewater has anti-inflammatory properties to calm your skin, and aloe extracts reduce redness and irritation.
Pros
Exfoliates the skin
Reduces redness and irritation
Softens the skin
Cons
The Tree Hut Purifying Cleansing Gel is a non-drying, sulfate-free cleanser enriched with rosewater that cleanses your pores and refreshes and soothes your skin. It also contains salicylic acid that prevents acne and deeply cleanses your skin. This cleanser's rich, smooth texture creates a foamy lather and helps maintain the skin's natural moisture balance.
Pros
Deep cleansing
Non-drying
Creamy formula
Combats acne
Cons
None
The Tree Hut Exfoliating Mud Mask gently exfoliates the skin to smoothen and brighten it. It has some fantastic skin-friendly ingredients like kaolin clay to remove impurities, dead skin cells, and residue and regulate excess oil production. The black sand exfoliates the skin, bentonite clay brightens it, and activated charcoal clears the pores and rejuvenates dull skin.
Pros
Brightens the skin
Rejuvenates the skin
Minimizes pores
Improves skin texture
Cons
None
Wake up to radiant and glowing skin every morning after using the Tree Hut Skincare Renewing Night Cream. The lightweight, creamy, non-greasy formula gets absorbed quickly into your skin and reduces the visible signs of aging. It contains rosehip seed oil that diminishes fine lines and wrinkles, sea buckthorn extract that improves skin texture, and carrot seed oil that hydrates dry skin. The chamomile in this formula has natural anti-inflammatory benefits and soothes your skin.
Pros
Non-greasy
Gets absorbed quickly
Reduces fine lines and wrinkles
Calms the skin
Improves skin texture
Cons
None
The Tree Hut Moroccan Rose Bath Bomb refreshes and softens your skin. It offers a blast of floral scent, festive fizz, and intense moisture for a relaxing bath. It is infused with rosehip oil that refines the skin texture, argan oil that eases skin inflammation, and shea butter that promotes skin elasticity. The bath bomb also contains Epsom salt that soothes aches and relieves stress.
Pros
Soothing, floral fragrance
Offers moisturization
Refines the skin texture
Heals inflamed skin
Cons
None
Tree Hut celebrates natural beauty and believes in offering natural products to protect your skin and keep it healthy. The ultimate goal of this brand is to redefine beauty. If you connect with their philosophy, scroll up, and grab your favorite Tree Hut products now!
Why Trust StyleCraze?
The author, Oyendrila Kanjilal, is a certified skin care coach and loves experimenting with different skincare products. For this article, she has prepared a list of the best Tree Hut products. She checked the brand website, product specifications, and browsed multiple online forums to check user feedback and compiled this list of the best products. The brand manufactures products with organic and natural extracts.
Frequently Asked Questions
Is Tree Hut a cruelty-free brand?
Yes, Tree Hut products are 100% cruelty-free.
Are Tree Hut products natural?
Yes, Tree Hut products are natural. They are formulated with certified organic shea butter and other natural ingredients.
Are Tree Hut exfoliators good?
Yes, Tree Hut exfoliators are amazing. They have excellent smell and texture and make your skin soft and supple.
Can you use Tree Hut scrub every day?
No. Using scrub every day can cause moisture loss and make your skin dry. Use scrubs not more than twice or thrice a week.
Recommended Articles