12 Best Trekking Poles Of 2022 For Adventure Junkies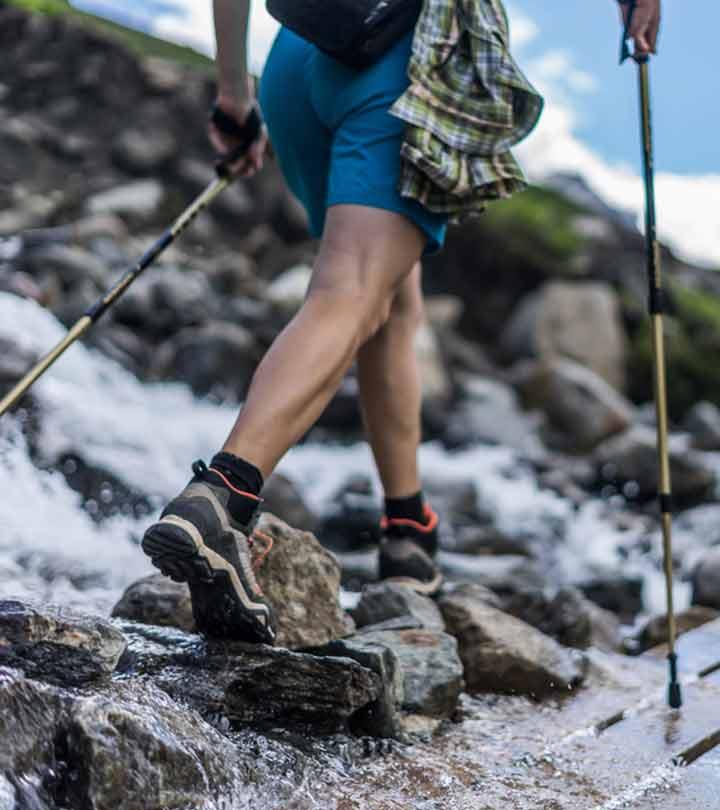 If your next big vacation is taking you to the peak of scenic hills on foot, it's time to start searching for the best trekking poles available in the market. Providing you with adequate support without forcing you to rely on loose and jagged rocks, these poles will help you attain your maximum potential during ascents and descents. They are great for improving balance and taking the pressure off your knees, especially on tricky trails. You can use them to climb downhill, cross water bodies, or reach across uneven surfaces safely, without losing your footing.
Choosing the right pole can be overwhelming with so many options on the market. That's why we have handpicked 12 top-rated products that serious trekkers recommend and listed their features right here. Before getting into the list, let's understand how having a trekking pole in your toolkit can enhance your outdoor experience.
Benefits Of Trekking Poles
1. Improve Balance
It is common to lose your balance while hiking, especially when you are carrying heavy baggage. By using another point of contact (trekking poles), you will be able to maintain much more stability and balance. Trekking poles enhance mobility. Apart from improving your posture, they also help strengthen your muscles.
2. Provide Safety
While trekking in difficult terrains, using a trekking pole can reduce the risk of losing your balance or straining your knees. They can help you prevent injuries by providing extra strength and control.
3. Reduce Impact
Trekking poles help alleviate the pressure on your knees. By providing equal force at the point of contact with the ground, your upper body remains straight without slouching.
4. Multipurpose
Trekking poles can be used for adventurous activities like hiking downhill, climbing mountains, walking on snow-capped mountains, and river crossing and simple day-to-day activities like walking crossing the street and strolling in the garden.
5. Fending Off Animals
If you are hiking in places where there are lots of animals, bugs, rodents, and snakes, you can use your trekking poles as a weapon to fend them off.
Now that you know all the ways that trekking poles can improve your treks and hikes, let's check out the best ones available in the market.
12 Best Trekking Poles – 2022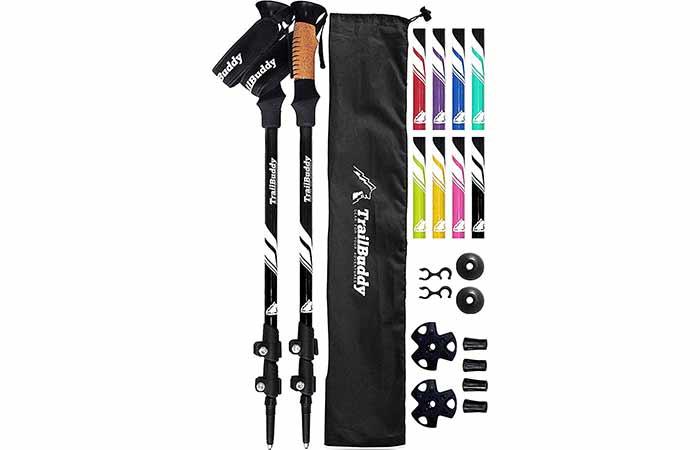 TrailBuddy Trekking Poles are made from strong aluminum that can endure pressure and impact better than other carbon fiber trekking poles. They provide support on rocky terrains by improving your balance.
Their lightweight design is a huge advantage as you will be lifting the poles several times while trekking. You can also change the height of these telescoping poles from 24.5 inches to 54 inches in a second.
The cork handles provide a firm grip during both hot and cold weather. These poles are available in a range of beautiful colors. They come with a carry bag, 2 pairs of rubber tips, 1 pair of mud baskets, snow baskets, and connectors. This video gives you more information about the product. 
Features:
Weight per pair:7 oz
Type: Telescoping (lever lock)
Shaft Material: Aluminum
Grip: Cork 
Pros
Easy to use
Durable and sturdy
High-quality material
Interchangeable pole accessories
Padded straps to prevent chafing
The handle absorbs sweat 
Cons
None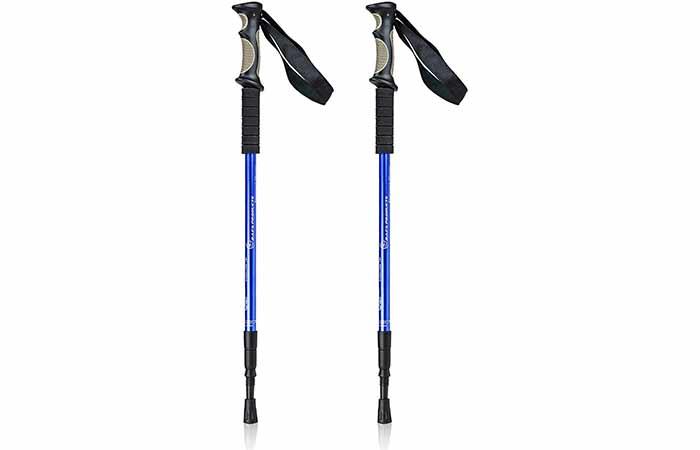 These trekking poles are great for beginners, including teens and children. They come with ergonomic grips, extra-wide and padded wrist straps, and an anti-shock feature that helps you navigate tricky surfaces. Each pole has two rubber tips (with two spares), a carbide tip that is built into each pole, and mud baskets. They are made of durable and lightweight aluminum. The poles expand from 26.5 inches to 53.25 inches. They come with a twist-lock mechanism for increased safety. Have a look at this video to learn more about the product.  
Features:
Weight per pair: 4 oz
Shaft Material: Aluminum
Grip: Cork 
Pros
Includes 3 types of tips
Reduces sharp jolts
Suitable for all people of all heights
High-quality grip
Provides extra support
Long-lasting 
Cons
None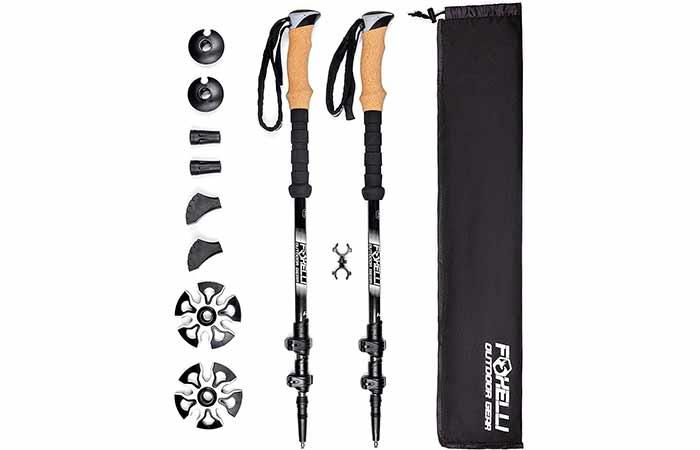 Foxelli Trekking Poles are made of 100% carbon fiber. They are incredibly light and allow you to move quickly without exerting too much energy. They are built with a shock-absorbing that minimizes the impact on joints significantly. Their sturdy and durable design helps you trek on the most challenging surfaces. They are designed with quick-lock technology that helps adjust the height of the poles in seconds.
The anti-slip cork grips absorb sweat and moisture, keeping your hands cool and dry during those long hikes. The extra-padded wrist straps ensure that you don't drop the poles.
These poles are suitable for challenging mountain climbing, strolling, and river crossing. They are equipped with heavy-duty carbide tips, thermoplastic rubber tips, and baskets. They are retractable from 24 inches to 55 inches. Foxelli Trekking Poles work perfectly for a wide range of heights, including kids.
They come with a carrying case for convenient storage. Here is an informative video that tells you more about the product.  
Features:
Weight per pair: 6 oz
Shaft Material: Carbon fiber
Grip: Cork 
Pros
Ultra-lightweight
Improve your posture
Shock- and noise-absorbent
Reduce the impact on your knees
Cons
None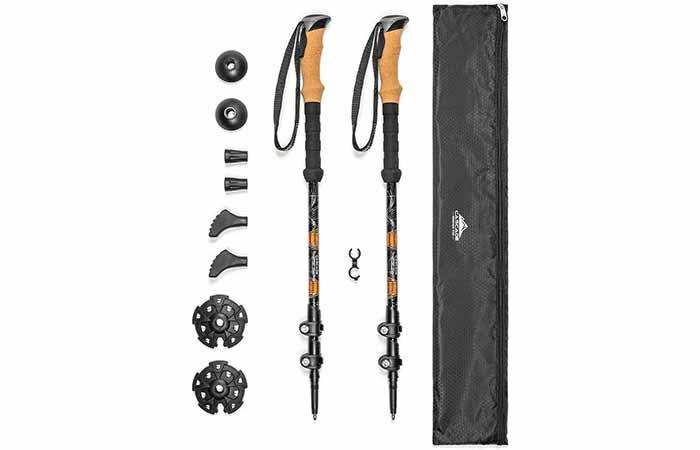 Cascade Mountain Tech Trekking Poles are built with aircraft-grade aluminum. They are perfect for hikers, walkers, backpackers, and campers. Their height can be adjusted easily with the help of the quick-lock feature that enables you to extend the poles from 26″ to 54″ inches. Therefore, they are suitable for people of all heights.
The cork grips provide incredible comfort and wick away sweat and moisture.
The poles include boot tips, mud baskets, and snow baskets that help you trek in all seasons. 
Features:
Weight per pair: 4 oz
Shaft Material: Aluminum
Grip: Cork 
Pros
Durable construction
Reduce the impact on your knees
Provide quick adjustment
Extra-cushioned hand grip
Cons
None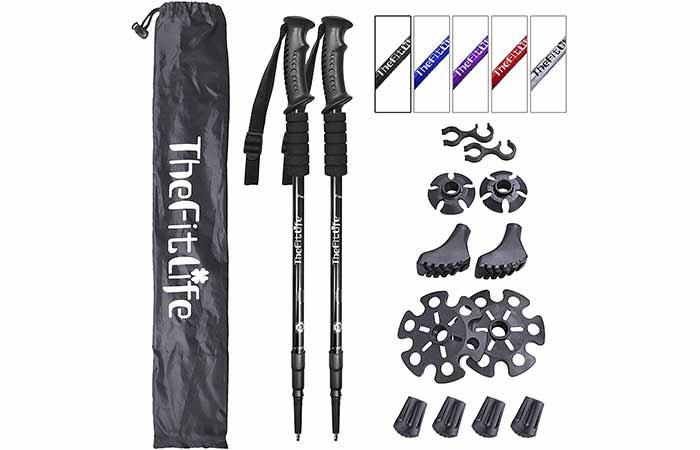 These sturdy trekking poles are made from high-quality aircraft-grade aluminum and are perfect for professional hikers who are out there in ragged and rough terrains throughout the year. They are made with anti-shock and anti-noise technology. The extra-long EVA foam handles with straps are incredibly soft and comfortable. They absorb moisture from your hands and provide a firm hold. These poles are incredibly strong and durable.
They feature a quick-lock system, so you can retract or extend your poles from 26" to 53" in seconds. They offer secure fastening to fix them at any length for a comfortable position. They come with a set of rubber accessories that are suitable for trekking, hiking, nordic walking, and backpacking. Overall these trekking poles are portable, durable, and versatile. 
Features:
Weight per pair: 4 oz
Shaft Material: 100% carbon fiber
Grip: Cork 
Pros
Help maintain your balance
Increase your average speed
Can be separated into sections for easy storage
Flip-lock mechanism 
Cons
None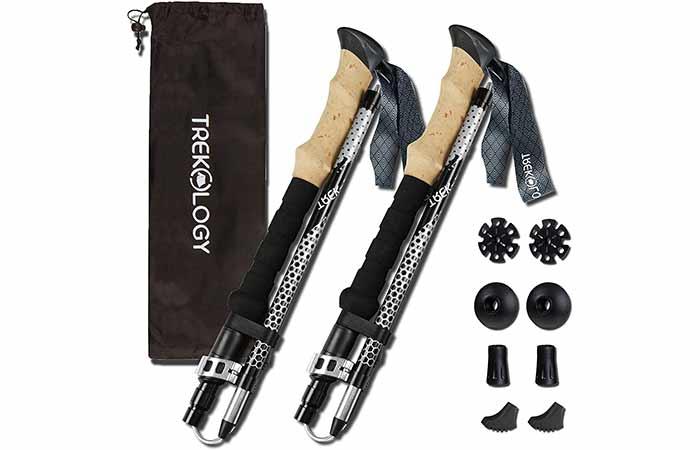 Trekology Trek-Z Trekking And Hiking Poles are built to last long. They help prevent knee injury, support the weight of extra baggage, and improve your balance. The cork-textured grip wicks away moisture and keeps them dry.
These poles provide a firm grip in muddy areas and on uneven surfaces. The EVA foam shafts provide strong support in all environments. The poles are made with 100% durable 7075 aluminum, which is very helpful for hiking in rough terrains. The joints used in these poles are enhanced to provide extra security.
These portable poles retract to 15", which makes them easy to carry around and fit in luggage cases or duffel bags. Trek-Z poles give you the ability to build core strength and muscles.
The length of the pole can be adjusted quickly and easily with the help of the flip-lock feature. You can also customize the height and secure the poles with a metal locking system. 
Features:
Weight per pair: 5 oz
Height: Available in 100cm-120 cms and 115-135 cms
Shaft Material: Aluminum
Grip: EVA foam with cork texture 
Pros
Easy-grip handle
Includes a variety of accessories
Comes with a carry bag
Ultra-compact and lightweight 
Cons
None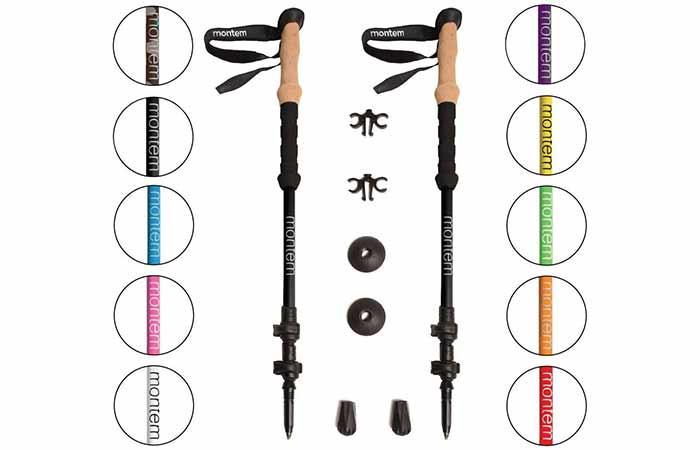 If you are looking for simple and sturdy trekking poles, Montem Trekking Poles are a great option for you. They are strong, durable, and made to last long. The brand claims to have spent 5000 hours designing, testing, and perfecting these trekking poles.
They come with adjustable quick locks that allow you to change the height of your poles from 24" to 53". They are ultra-light and portable, so you can carry them around without feeling weighed down.
The poles are crafted out of aluminum and can support 400 lbs of weight.
They are perfect for trekking on surfaces like snow, rock, and mud as the carbide tips offer extra traction. With these poles, you can keep your hands secure with the comfortable EVA foam grips with extra padded straps.
Features:
Weight per pair: 6 oz
Shaft Material: Aluminum
Grip: EVA foam 
Pros
Perfect for people with mobility issues
Comfortable to use
Suitable for all age groups
Available in a variety of colors 
Cons
None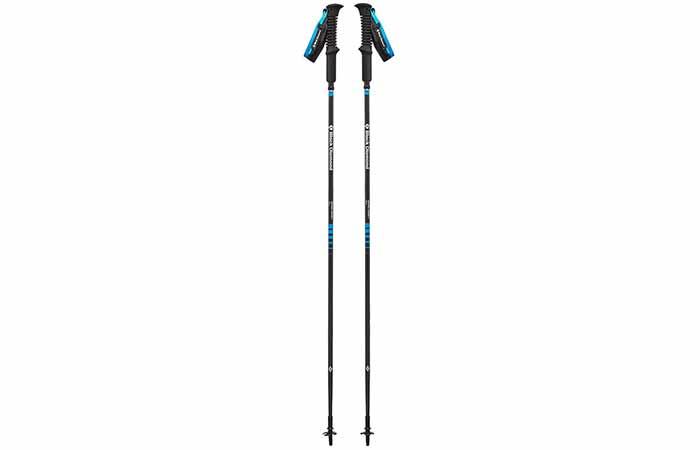 Black Diamond Distance Carbon Z Trekking Poles are perfect for mountain adventurers. They are made with carbon fiber and feature a 3-section foldable design that allows you to deploy the poles quickly. The non-scarring rubber tech tips provide excellent traction. The EVA foam grips are soft, breathable, and comfortable. They come with a single push-button release to retract the pole in one go. You can simply grab the grip and the first section and pull them away gently. The pole flicks and locks into place. These poles are designed with expertise, making them incredibly user-friendly. 
Features:
Weight per pair: 10 oz
Shaft Material: Carbon fiber
Grip: EVA foam 
Pros
Non-slip design
Durable tips
Perfect for long trails
Comfortable handle
Cons
None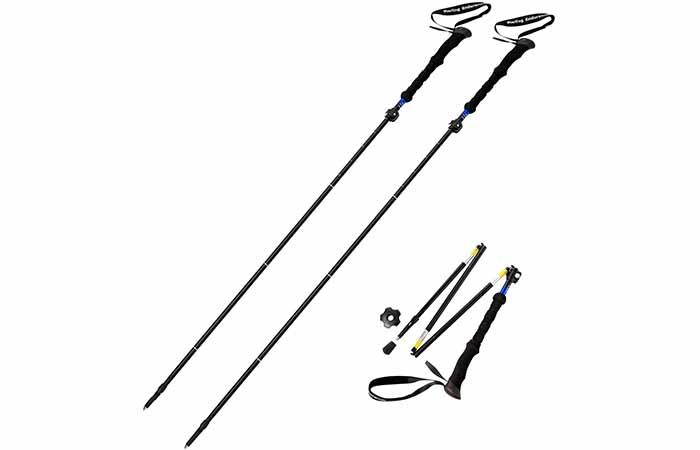 These collapsible trekking poles are perfect for short getaways into the wild. They are made of the T6 alloy of 7075 aluminum along with a number of metals, including magnesium and zinc. These materials make these poles light, durable, and corrosion-resistant. They feature a quick-flip lock, so you can adjust the height of the poles from 44" to 54" easily. These poles are perfect for people from 5'4 to 6'4 tall.
Sterling Endurance Trekking Poles reduce the fatigue in your hands as they provide extra-soft EVA foam handles. 
Features:
Weight per pair: 8 oz
Shaft Material: Alloy of aluminum, zinc, and magnesium
Grip: EVA foam 
Pros
Ultra-light
Comfortable straps
Suitable for all seasons
Durable tips 
Cons
Handles do not wick away moisture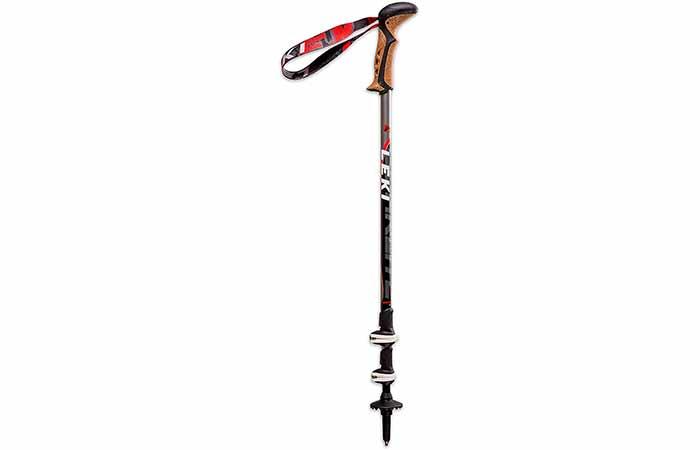 Leki Corklite Trekking Pole is built for heavy-duty use. It is extremely sturdy, making it suitable for various terrains. It is retractable from 26" to 53". This makes it suitable for people of all heights. It can fit into a bag easily, making it perfect for long-distance travel.
This single trekking pole has AERGON Cor-Tec Compact Grip that provides additional comfort. The pole is made of aluminum and stainless steel. It also has automatic support straps and flex tips made of carbide. The interchangeable baskets help you use the pole in all the seasons. 
Features:
Weight per pair:5 oz
Shaft Material: Aluminum
Grip: Cork 
Pros
Durable
Suitable for seasoned trekkers
High-quality material
Comfortable to use 
Cons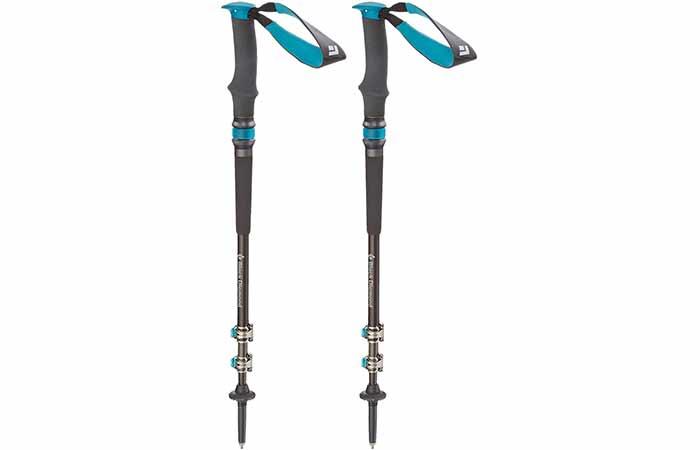 Black Diamond Trail Pro Shock Trekking Poles are made especially for women and come with multiple features. These durable poles are built with high-performance materials to suit different terrains. They come with Double Flick Lock Pro adjustability, which makes them easier to use. The durable aluminum construction provides strength and stability to you. They are also equipped with the Smash Lock Quick Release technology, which is a new quick-release mechanism that allows you to deploy the pole and lock it in place. The poles have upgraded ergonomic grips. The interchangeable carbide tech tips provide excellent grip on a variety of surfaces.
Features:
Weight per pair: 5 oz
Shaft Material: Aluminum
Grip: Soft-foam 
Pros
Suitable for all seasons
Reduces fatigue and strain on your knees
Anti-shock and anti-noise poles
Sturdy and comfortable grip 
Cons
None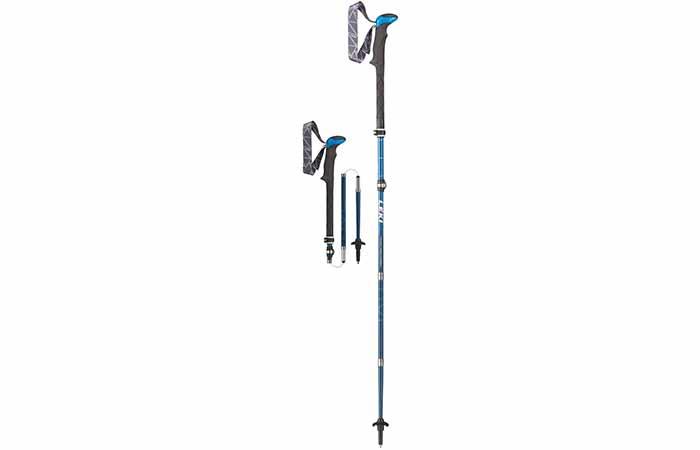 LEKI Micro Vario Carbon Pole Pair features a hollow core grip to save weight and provide a comfortable grip at all angles. They are built at an 8° angle, which helps keep your wrists in a neutral position and provides more support. The security straps are light and air-textured to help in wicking away sweat.
You can also operate the speed lock 2-lever locking mechanism that provides incredible hold against strong forces. The carbon shaft is reliable, durable, and lightweight in all conditions. The poles are coated with PE for long term use.
The external locking system gives easy access to release the tension of the poles for quick packing. There's also an internal spring that allows an equal flow of tension. The carbon section ends are protected by aluminum sleeves for durability. Overall, these poles provide a secure hold on all terrains for years. 
Features:
Weight per pair: 7 oz
Shaft Material: 100% high modulus carbon fiber
Grip: AERGON Thermo + Thermo Long 
Pros
Interchangeable basket system
Snag-free design
Reduces the stress on the knees
Improves posture
Includes a travel storage bag
Cons
These are the 12 best trekking poles that you can get your hands right now. Let's check out how to use these trekking poles.
How To Use Trekking Poles
On Flat Terrains: Place the poles in a way that ensures your hands and elbows are parallel to the ground.
Downhill: On steeper surfaces, you need to expand the poles so that your hands are slightly above your elbows. This will give you the right balance and prevent you from slouching or bending forward.
Ascent: While climbing to the summit of a mountain or a hill, it is important to stay close to the group to avoid injuries. Therefore, shorten the poles, so that your hands are close to your knees and the ground. 
Next up, check out the important features to consider while purchasing trekking poles. 
Trekking Poles – Buying Guide
a. Pole Material
Trekking poles are made from a variety of materials such as aluminum, carbon fiber, and wood. Let's look into them in detail:
b. Aluminum
Aluminum is considered to be one of the most durable materials. It is available in different gauges to suit different needs. But, aluminum poles are heavier than carbon fiber trekking poles.
c. Carbon Fiber
Carbon fiber poles are the lightest. However, they are less strong. Although they are suitable for long hikes, they are not appropriate for tricky terrains.
d. Wood
Wood is a strong material and suitable mainly for strolling on hard surfaces. However, wooden poles are not adjustable.
e. Pole Design
Pole Design – Telescoping Trekking Poles Vs. Folding Trekking Poles
Telescoping poles are divided into 2 to 3 sections that slide into one another. They usually come with an external lever that locks to adjust the height. Folding trekking poles are usually of fixed length. They have an internal cable that connects all the three sections with a quick pull. They are far more foldable than telescoping poles.
But, telescoping poles are more durable and heavier than foldable poles. Considering these differences, you can decide which is better for you.
f. Grip Material
Cork is the best grip material as it molds to the shape of your hands. It stays cooler than rubber. However, it is heavier and sweatier than foam.
Rubber does not absorb sweat, so it's best for long trails in cold temperatures. But, it can chafe your hands in hot climates. Whatever the material, a firm grip is useful in multiple ways and helps make your trekking more comfortable.
g. Tips
Most trekking poles come with carbide or steel tips. They offer good traction in most natural and rough settings, even on ice. Rubber tips are also good for strolling around on neighborhood roads, around the house, in the garden, and so on. But, they are not suitable for hard-core trekking.
h. Baskets
The basket plays a very important role while selecting trekking poles. A smaller basket is meant for general everyday hiking. A larger basket is meant for snowy, rocky, muddy, and uneven surfaces. If you are looking for multipurpose trekking poles, pick ones that offer additional baskets.
i. Strap
The main purpose of straps is to provide extra grip and control. If you are hiking in challenging places with a swift pace, it is advised to use the straps as they help you control the pole. If you are going to use your strap, ensure to read the instructions thoroughly.
j. Adjustability And Locking
Adjustability is also an important factor to consider while purchasing trekking poles. You need to consider if it is easy to adjust the pole and if it can fold easily to fit into your bag. Usually, trekking poles provide locking mechanisms to help adjust the pole easily and quickly. But, too many joints for adjustments can prove tricky during trekking. Other mechanisms include twist lock and flick lock that offer simple ways to adjust the pole to your preferred height.
k. Weight
If you tend to travel a lot with your poles, it is best to look for ones that can fit in your luggage and are light. But, most lighter poles are not durable. If you are purchasing these poles for only daily runs, everyday hikes, and short trips, durability is not a major concern. If you prefer professional-grade trekking poles, then you need to compromise on the weight. 
Trekking poles are a great way to hike as they provide great stability and comfort. These poles also absorb shock when you ascend or descend. In addition, the poles help to maintain the right balance while trekking. Some trekking poles listed above reduce impact, while others provide a firm grip. They absorb moisture and sweat ensuring that it does not slip away from your hand while trekking. However, consider investing in the trekking poles that provide good grip and shock absorption features. And stay away from the trekking poles whose handles do not wick moisture.
Why Trust StyleCraze?
The author, Aditi Naskar, holds a diploma in health and wellness and is a fitness enthusiast. She prepared this list of the best trekking poles after checking the user feedback, quality, features, and safety factors. The author browsed different online forums and brand websites and conducted thorough research to pick only the best ones for the list.
Recommended Articles
The following two tabs change content below.