9 Best Triathlon Bags Of 2020 – Reviews And Buying Guide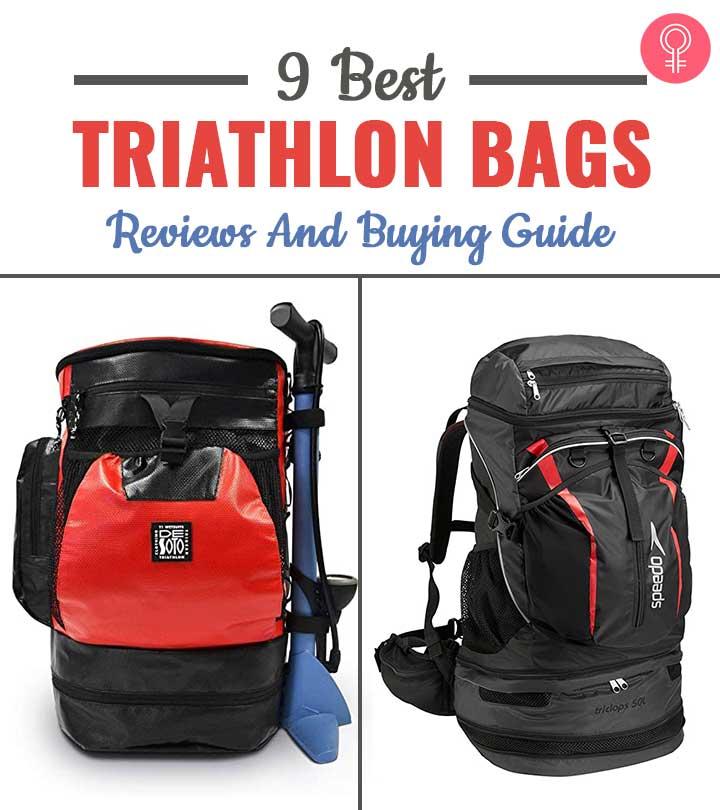 Are you new to triathlon events and worried about how to organize all your essential items in a single bag? A triathlon bag will make your race day less stressful. Triathlon bags are designed with many features and compartments to hold everything a triathlete needs for the event. You need to look for features like multiple compartments, high visibility, space for helmet, and a special waterproof compartment while buying a triathlon bag. In this article, we have compiled a list of the best triathlon bags available right now along with a buying guide to help you make an informed choice. Scroll down to check them out!
9 Best Triathlon Bags Available Right Now
Speedo Tri Clops Backpack is a versatile and multipurpose triathlon gear bag. It has dedicated pockets for specific gear, making it the best triathlon bag on this list. It is made of durable 100D double-ripstop nylon material that gives it a longer life and amazing performance. It is designed with innovative features like a three-headed zip system and 50L capacity to help you manage all the tools a triathlete needs. The unique zipper system allows it to be opened into an organized workstation without removing the helmet.
The 3D molded shoulder straps are padded for comfort and perforated for ventilation. It features multiple pockets for running and cycling and to store your footwear, wetsuit, sunglasses, swim goggles, and other accessories. This helps you save space and put more items in your bag. The bag opens flat so that you can access all your race day essentials in one go. Finally, it has a built-in room for hydration. This trademarked bag is available in black, red, and gray. 
Bag Dimensions
Height: 23"
Width: 15" 
Pros
Ergonomic design
Comfortable padded shoulder straps
Helmet pocket
Multiple pockets
Versatile
Durable
Cons
None
Zoot Sports Ultra Tri Bag is a lightweight and durable backpack for triathletes. The best feature of this bag is its removable and sealed wet and dirty laundry/wetsuit compartment. The body of this triathlon bag is made of high-quality and durable 600D nylon, and the mesh is made of 400D nylon polyester material.
It comes with external compression straps to lock the bag down and a molded helmet protective compartment that makes carrying your helmet very convenient. This bag also has two exterior water bottle pockets, a fleece-lined top pocket for sunglasses/MP3 player, an exterior small-item zippered pocket for valuables, and an interior printed triathlon checklist. The reflective detailing for visibility in low-light conditions is another special feature of this bag. 
Bag Dimensions
Height: 10.24"
Width: 12.99" 
Pros
Can be used as an airline carry-on
Removable wetsuit compartment
A range of storage options
Organized storage pockets
Lightweight
Durable
Cons
No separate compartment for shoes
De Soto Transition Pack is the best water-resistant tri-transition bag. It is made of 45D polyester and TPU laminate that give it a glossy patent leather appearance and make it sturdy. It has a bottom-entry wetsuit compartment with a heat-sealing feature that makes it waterproof. The large top-loading main compartment of this duffel-style bag takes the entire space of all the compartments.
The light-colored interior allows easy viewing of the items inside. This triathlon duffle bag has inverted nylon zippers for a streamlined appearance and smooth operation. Its ergonomic shoulder straps are made with high-density foam for improved comfort. This tri-transition bag also features an interior case for sunglasses, an exterior pop-out pocket to hold a 32-ounce drink bottle, and a waist strap for easy carrying. It comes with an exterior helmet holder that is easy to open for the removal of your helmet. 
Bag Dimensions
Height: 22"
Width: 14" 
Pros
Waterproof
Exterior helmet holder
Long transition rack strap for hanging
Mesh insert for easy drying
Foam -padded shoulder straps
Saddle pocket
Large top-loading main compartment
Keyholder
Side dry compartment
Sunglass compartments
Separate compartment for a wetsuit
Cons
None
TYR Apex Transition Bag is a high-quality bag for triathletes. It is made from 55% polyester and 45% polyurethane material and can be used by both professional and recreational users. This bag features a waist belt, numerous organization compartments, a top handle, a bottom wetsuit compartment, exterior mesh pockets, and a 15″ laptop sleeve for travel. This transition bag also features a drawbridge-style main compartment that opens and displays all your equipment.
Bag Dimensions
23″ x 18″ x 6″ 
Pros
High-quality material
Spacious
Multiple storage compartments
Portable
Comfortable
Separate wetsuit compartment
Cons
None
Blueseventy Transition Bag is a stylish and cost-effective triathlon gear bag. If you are looking for a lightweight and compact triathlon bag, this is your best option. The insulated bottom compartment is waterproof and separates your wet gear from the main compartment. Oversized side mesh pockets take care of all your hydration needs with two expandable side water bottle holders. It also features multiple pockets with four small zipped pockets for essential items.
The front panel is designed specifically for helmets, and the soft microfleece top pockets are made for sunglasses, goggles, and phones. The Blueseventy Transition Bag also has an internal zip pocket for keys and other valuables, an interior padded laptop sleeve, a headphone port, and raised foam padded back and shoulder straps. It also meets all the airline carry-on requirements.
Bag Dimensions
Height: 9"
Width: 14" 
Pros
Expandable volume
Waterproof bottom compartment
Dedicated pockets
Frontal helmet compartment
Cushioned shoulder straps
Affordable 
Cons
Not suitable to accommodate a hero or teardrop style TT helmet
ORCA Transition Bag is a smartphone-friendly triathlon bag. Its main body is made of polyester, and the side panels are made of nylon. It comes with a protective helmet pocket, wet and dry gear compartments, and special pouches for electronic gadgets. This 70L capacity bag has a clear pocket to display race info and checklist. Its thick, padded shoulder straps can also be converted into one strap, making this transition bag an ideal travel companion. 
Bag Dimensions
Capacity: 70L 
Pros
Sturdy
Extra pockets
Separate pouches for electronic items
Gear-specific compartments
Padded shoulder straps
Convertible straps
Cons
If you are looking for a triathlon bag with a big main compartment, the SLS3 Triathlon Bag is the best option. This 40L best triathlon bag also features a 0.5″ thick padded back panel with breathable mesh material casing that offers maximum comfort and helps you stay cool. It comes with one big main compartment with two mesh pockets for goggles and accessories.
This bag is suitable for storing towels, triathlon clothing, and shoes. The bottom compartment is made from PU-coated waterproof lining and is suitable for storing your wetsuit, dirty clothes, and shoes. It has two mesh pockets and two small zippered pockets on the sides to store important documents and your phone. This well-balanced and compact bag also includes chest straps, plastic D-rings to strap a helmet on to the shoulder straps, and a durable carrying handle.
Bag Dimensions
Height: 21"
Width: 8" 
Pros
Sturdy
Durable
Separate wetsuit compartment
Padded back panel
Spacious 
Cons
None
Xterra Wetsuits Tripack Transition Bag is a versatile triathlon backpack. This transition bag features a waterproof zipper compartment for storing your wetsuit. The adjustable padded shoulder straps and equipment sack are designed to provide optimum comfort to both men and women. The bag is designed with two external zipped pockets for a wallet, a phone, food, shoes, helmet, and water bottles. It also has an internal pouch for your sunglasses/goggles. 
Bag Dimensions
Height: 7"
Width: 7" 
Pros
Versatile
Convenient storage space
Separate wetsuit compartment
Padded adjustable shoulder straps
Sturdy
Cons
None
2XU Unisex Transition Bag is a small triathlon bag. This bag is made from 100% nylon material and is machine-washable. It comes with a waterproof zippered pouch for wetsuits and shoes and a large center compartment for triathlon clothing and other gear. Its multiple zippered pockets store all essentials, and the two mesh pockets on the sides hold water bottles. The adjustable shoulder straps provide a comfortable and ergonomic fit.
Bag Dimensions
Height: 4"
Width: 16" 
Pros
Machine-washable
Compact
Unisex design
Separate wetsuit compartment
Suitable for muddy terrain and wet fields 
Cons
None
When buying a triathlon bag, it is essential to pick one that will meet all your needs. Listed below are some things you need to consider before making your purchase.
What To Look For When Buying A Triathlon Bag
High Visibility: Your triathlon bag should have high-visibility on the inside so that you can easily identify and pick the items you need without digging around too much and wasting time during the race.
Multiple Compartments: Having multiple compartments helps you keep all your essential items in their designated places. One compartment for a wetsuit, another for shoes, and perhaps a compartment that can be dedicated to food and water. Most bags feature multiple pockets for sunglasses, electronic gadgets, keys, and valuables. Some of the compartments can be expandable to fit all your items even better.
Designated Space For Bike Helmet: Bike helmets are available in different shapes and sizes. Some helmets can be bulky and not fit into a bag that wasn't built for it. Most triathlon bags have an exterior helmet holder. Make sure you pick a bag that accommodates your helmet.
Backpack Option: A triathlon bag with a backpack option is a good choice as you can carry it around on your shoulders with ease.
Waterproof Compartment: A waterproof compartment is one of the important points to consider while purchasing a triathlon bag. The bag should have the ability to hold a wetsuit and other wet items while keeping the other compartments dry.
That was our list of the best triathlon bags available right now. We hope this article helps you choose the best bag for your triathlon events. Pick one from this list, try it out, and let us know about your experience in the comments section below!
Recommended Articles
The following two tabs change content below.

Latest posts by Sindhu Koganti (see all)

Sindhu Koganti
Sindhu Koganti is a Biotechnology graduate and has been in the writing field for over 4 years now. She specializes in writing on Health and Wellness. She has hands-on experience in writing articles and press releases on Life Sciences and Healthcare, Food and Beverages, and Chemicals and Materials. When she's not writing, she loves watching movies and listening to music. She also enjoys traveling.