The 10 Best Triathlon Cycling Shoes To Try Out In 2023
Swim, run, and cycle comfortably with these supportive and lightweight shoes.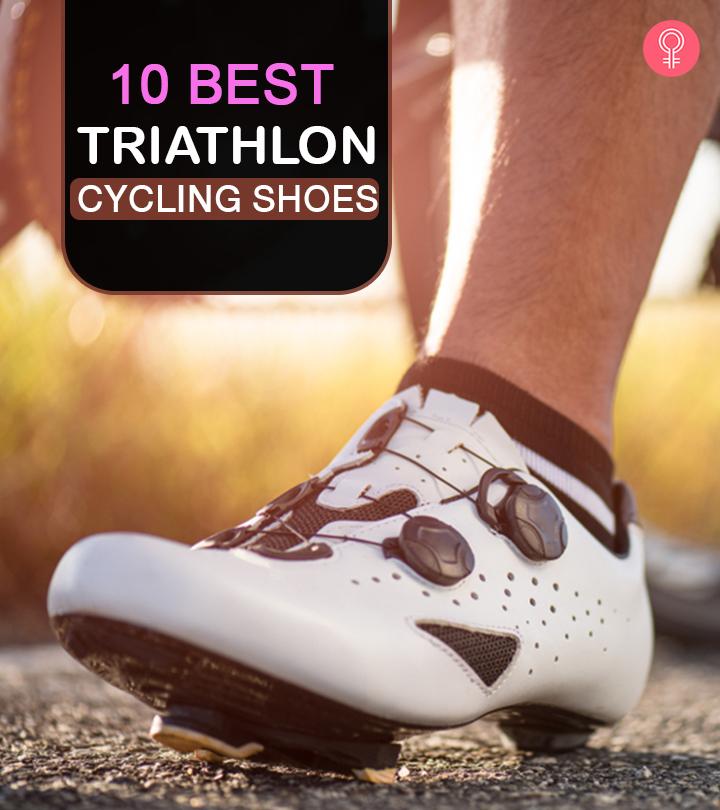 Triathlon is a combination of three sports played together or independently that includes swimming, running, and cycling. To make you have a great experience while performing in this, you need to look for triathlon shoes. The best triathlon cycling shoes help you transform quickly and smoothly between each sport. These shoes must be lightweight and resistant to odor.
In this article, we have curated a list of the 10best triathlon shoes that are preferred by professionals and beginners alike. Keep scrolling to check them out!
The 10 Best Triathlon Cycling Shoes
Fizik R5 Road Cycling Shoes are designed to deliver a timeless look and versatile performance. These shoes make every outing of yours an enjoyable ride. They have a smart form-fitting construction. The R5 Nylon composite outsole delivers the ultimate balance between comfort and pedalling efficiency. The power straps of these shoes feature a foot-wrapping Velcro closure for an enveloping fit.  These shoes are designed to perform on paved roads. They can endure from the smoothest tarmac to the most demanding pave. Their microtex upper with a supple yet strong and durable construction ensures a comfortable and consistent fit. Dominion Ezechibueze, mobility and injury prevention specialist, says, "One of the most important features of triathlon cycling shoes is their durability. A full race can encompass many different surfaces and the ability to navigate those surfaces could be the difference between a good race or a crippling one. The Fizik R5 Road seems to be one of the most durable triathlon shoes on the market."
Specifications
Material: Nylon
Comfort And Support: Yes
Arch Support: Yes
Pros
l Composite outsole for comfort
l Designed to perform on paved roads
l Foot-wrapping velcro closure
l Durable
Cons
None
Price at the time of publication: $129.99
Tommaso Pista Women's Spin Class Ready Cycling Shoesare specifically designed to offer spin class riders the best performance. Their dual cleat compatibility ensures that no matter what pedal system your spin class uses, theseshoes will work perfectly. Theyhave a durable synthetic leather upper and the right amount of padding. This allows the shoes to hug your feet andprovide all-day comfort. Their ventilated mesh portions help keep your feet cool. The low-profile velcro straps offer precision ergonomic fit. This provides comfort and security to the rider.
Specifications
Material: Synthetic fiber
Comfort And Support: Yes
Arch Support: Yes
Pros
Dual cleat compatibility
Durable
Ventilated mesh portions
Ergonomic fit
Cons
None
Giro Rev W Womens Cycling Shoes are versatile cycling shoes. They are comfortable and capable on the road. They can also be used for your spin class. These shoes have a microfiber and mesh upper for a supple yet supportive fit and great breathability. Their classic 3-strap closure offers fast, intuitive fitting with the ability to adjust on-the-fly. The shoes have injected nylon outsoles for great power transfer. They also feature stainless steel hardware and co-molded rubber walking pads. These shoes also have a midfoot scuff guard that ensures durability while walking. They include a die-cut EVA footbed with medium arch support. 
Specifications
Material: Nylon
Comfort And Support: Yes
Arch Support: Yes
Pros
Versatile cycling shoes
Wide range of adjustments
Breathable mesh upper
Cons
None


Quick Tip
Clean the insoles and the cycling shoes by soaking them in hot soapy water and use a brush to remove all dirt.
SHIMANO SH-TR9 Cycling Shoesare engineered to allow for rapid transition times, rigid power transfer, and comfort. These shoes include a dual-strap system to meet the needs of triathletes. Theyare lightweight and have a stiff carbon fiber composite sole. These shoes also have a stability-enhancing dual-density cupped insole. Theyhave been given a 10/12 stiffness rating. This provides optimum power transfer and a cushioning effect. These shoeshave a supported platform through a reinforced heel cup and Shimano's unique Dynalast-shaped footbed. The Dynalast shape has a contour that perfectly fits the curvature of the foot and enhances muscle efficiency to provide a smooth riding performance. These shoes have the ability to keep damp feet comfortable without socks.
Specifications
Material: Synthetic
Comfort And Support: Yes
Arch Support: Yes
Pros
Keep damp feet comfortable without socks
Footbed enhances muscle efficiency
Enhance stability
Provide optimum power transfer
Cons
None
Price at the time of publication: $82.95
The Tri X-Speed Cycling Shoes from Louis Garneau provide the technology you need to take on the world of triathlons. Their ergonomic design provides you with total comfort. These shoesare designed to help speed up transitions with a special puller. It also has an easy-to-adjust reversed hook-and-loop strap. These shoeshave a durable synthetic leather upper that offers protection and prevents toe collapse. Theyare equipped with a patented Ergo Air outsole made from reinforced nylon that provides stiffness. These shoes also have a multi-vent system that boosts airflow. Inside the cup of the shoe, the HRS-80 retention keeps the heel supported and firmly in place. These shoes come with a Power Zone that increases arch support and power transfer. 
Specifications
Material: Nylon
Comfort And Support: Yes
Arch Support: Yes
Pros
Ergonomic design
Comfortable
Provide quick transitions with a special puller
Easy-to-adjust reversed hook-and-loop strap
Optimal airflow
Cons
None
The Santic Women's Cycling Shoes have an ergonomic design that provides maximum comfort even during the toughest rides. The adjustable precision buckle and non-slip rubber sole offer a firm grip. These shoes also help provide great pedestal strokes. They feature heel cup protection, stable foot support, and a breathable mesh insole. Dominion Ezechibueze, says, "The design and breathability of the Santic set it apart from others on the shelves. Arch support is most imperative during long rides that can put a strain on the ankles. And the Santic provides such support and more."
Specifications
Material: Polyurethane leather
Comfort and Support: Yes
Arch Support: Yes
Pros
Ergonomic design
Suitable for beginners
Comfortable to wear
Breathable
Cons
None


Pro Tip
Apply a shoe cleaning spray after washing your cycling shoes to remove bad odor and prevent bacteria growth for a long period of time.
SIDI Women's T-5 Air Triathlon Shoes are great cycling shoes. They are constructed with a solid vented polytex perforated upper that ensures breathability. The shoesare quick and easy to get in and get out of. They are available in standard men's (whole and half) and ladies' whole sizes. They have a 12 carbon composite sole that offers a firm but light feel on the pedals. These shoesare equipped with the classic SIDI Velcro closure system that ensures easy access as well as an amazingly comfortable fit. These shoes also feature SIDI's replaceable anti-slip heel pad. Their seams are double-stitched in all high-stress areas to make them durable.
Specifications
Material: Solid vented polytex
Comfort And Support: Yes
Arch Support: Yes
Pros
Replaceable anti-slip heel pad
Double-stitched seams
Ensure breathability
Comfortable fit
Lightweight
Durable
Cons
None
Scott Sports Tri Carbon Triathlon Cycling Shoes ramp up your time trial speed. These shoes have a wraparound construction that makesthem comfortable and fit securely with or without socks. The full carbon sole provides efficient power transfer. These shoes have a stiffness index of 9/10. This means theyare capable of handling short high-powered events. These shoes' uppersare made from a combination of microfiber and 3D nylon air mesh. These materials – combined with Scott's Wrap Fit technology – provide a snug, breathable, and customized fit.  The Wrap Fit consists of an internal layer of synthetic leather that provides extra support while also conforming to your foot shape. This reduces the stress on pressure points and increases comfort. Across the top of the foot is a BOA closure strap that provides a fast, micro-adjustable fit. The hook-and-loop strap across the forefoot provides additional adjustability.
Specifications
Material: Nylon
Comfort And Support: Yes
Arch Support: Yes
Pros
Comfortable fit
Can be worn with or without socks
Provide efficient power transfer
Can handle short high-powered events
Cons
None


Did You Know?
PearliZUMi was founded by a Korean known as Kinji Shimizu, who used to travel 38 miles daily by his bike to deliver 90 pounds of clothing to neighboring villages in 1964.
Pearl iZUMi Tri Fly Select V6 Cycling Shoes are great for triathlons. They are made from 87% rubber and 13% textile and have a synthetic sole for comfort. The 1:1 anatomic tri-closure of these shoes eliminates hot spots and removes pressure from your instep. These shoes have a bonded seamless upper that delivers all-day riding comfort and durability. The select insole provides excellent longitudinal and transverse arch support. It also has a 1:1 composite power plate with a carbon fiber forefoot insert. This provides lightweight stiffness and durability. These shoes feature the direct-vent technology for cooling and drainage.
Specifications
Material: Rubber and textile
Comfort And Support: Yes
Arch Support: Yes
Pros
Comfortable
Lightweight
Durable
Eliminate hot spots and reduce the pressure on your instep
Cons
TriSeven Premium Nylon Triathlon Cycling Shoes are equipped with all the technologies that will help you in a triathlon. They have reinforced nylon out soles that provide excellent rigidity. The insoles have a ventilation system that channels air from the front all the way through the back of the shoe and keeps your feet cool. The wide strap and loop heel let you pull the shoes on easily for a fast and efficient transition. The Velcro strap of the shoe enhances support without pressure points and is reversed to facilitate closure while on the bike.
Specifications
Material: Nylon
Comfort And Support: Yes
Arch Support: Yes
Pros
Reinforced nylon outsoles provide rigidity
Ensure breathability
Easy to pull on or off
Provide quick transitions
Cons
Price at the time of publication: $79.99
There are certain factors that you should consider when looking for the perfect cycling shoes that are good for triathlons. These points are discussed below.
Triathlon Cycling Shoes –Buyer's Guide
l Fit: Shoes that fit your feet perfectly are the best for triathlons. A perfectly fitting shoe will allow you to be fast. It will also help in efficient transitions between swimming and cycling. Moreover, shoes that fit perfectly will allow you to slip them on and off quickly. They also keep your feet secure and supported throughout the triathlon.
l Material: Shoes made from lightweight and breathable material are highly recommended. The material should also allow the shoe to conform to your foot shape. For an optimum power transfer, the sole should be stiff. Another point to remember is that since cycling is preceded by swimming, the shoes should allow great airflow.
l Cleat System: Your cycling shoes should be compatible with your bike. Most triathlon shoes are made for the SPD triathlon. This means that the shoes are compatible with most road bikes. They are also easy to lock into the bike, making transitions efficient. Hence, having a cleat system will surely help in transitioning from swimming to riding.
We hope that this article has made things a little easier for you and helped you select a pairof cycling shoes that will give your feet ample support and comfort through a grueling triathlon.
Frequently Asked Questions
Do I need cycling shoes for a triathlon?
Most triathletes prefer SPD-type shoes that help in transitioning from swimming to riding. Hence, you need to invest in a pair of good cycling shoes to prepare for a triathlon.
What is the difference between triathlon and cycling shoes?
Triathlon shoes have a single strap or a fastening system, while cycling shoesmay have more than one strap to fasten them.
How are triathlon shoes different?
Triathlon shoes are extremely lightweight, often with just a single fastening strap.
They also have a large pull tab for easy wear and ample ventilation.
How tight should triathlon shoes be?
Triathlon shoes should fit snugly but not too tight.
How do you know if cycling shoes are too big?
If your foot can move back and forth inside the shoe, it is probably too big. Instead, get a shoe where your toes touch forward comfortably without pressure.
How do you break in cycling shoes?
Begin with choosing the right shoe size, wear socks and avoid tying your laces too tight. Also, insert specialized insoles to prevent plantar fasciitis pains.
How often do you need to replace cycling shoes?
This depends on how often you have used them and how many miles. Generally, 7000 miles is enough to wear down a good pair of cycling shoes. Also, replace your shoes if they start coming off from the seams.
Recommended Articles