The 10 Best Triathlon Bike Helmets For Better Road Safety – 2023
Ride your bikes with complete safety with these headgears that are breathable.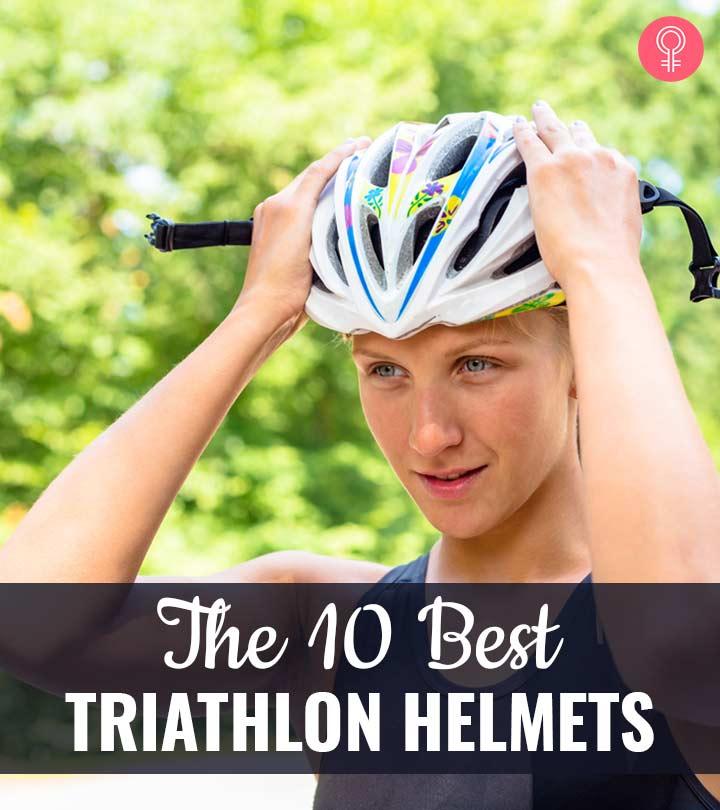 For tri-sports athletes out there, picking the best triathlon helmet can seem like a daunting challenge. With triathlon gaining popularity around the world, various brands are coming out with a variety of helmets that meet all the safety standards. The right helmet will be convenient, breathable, and easy to use. To help you out and ensure you avoid unnecessary injuries while targetting your winning goals, we have curated and reviewed the list of triathlon helmets that are available online. Scroll down to know more!
Top Picks
The 10 Best Triathlon Helmets
Pros
Smart protective design
Equipped with shock absorption technology
22 massive air vents allow airflow across the head
Cons
None
Price at the time of publication: $34.99
Pros
Lightweight
Breathable
Comfortable
Multiple color options
Cons
None
Price at the time of publication: $124.95
Pros
Aero-control technology
UV protection
Attachable visor
Lightweight
Cons
Price at the time of publication: $99
Pros
Comfortable
Available in 3 sizes
Lightweight
360° size adjusting knob
Multiple color options
Cons
None
Price at the time of publication: $40.99
Pros
EPS foam decreases impact of collision
Adjustable straps will protect your head
Aerodynamic design allows better air ventilation
Cons
Price at the time of publication: $23.99
Pros
Advanced technology
Sweat-wicking
odor-proof
10 vents
Cons
None
Price at the time of publication: $129.9
Pros
CPSC and NTA-8776 safety standards certified.
Available in 3 different sizes
Lightweight
Breathable
Cons
Price at the time of publication: $155
Pros
Available in different sizes
Removeable visor
Comfortable
Lightweight
Avialble in multiple colors
Cons
None
Price at the time of publication: $24.99
Pros
Lightweight
Good venilation
PopLock technology
Anti-theft guarantee
Cons
Straps may be difficult to adjust
Price at the time of publication: $69
Pros
Transform air technology reduces drag
Provides aerodynamic efficiency
Multi-directional impact protection system
Roc Loc Air system
Cons
None
Price at the time of publication: $225
These are the top triathlon helmets available online. We have included a buying guide below that can help you make a better purchase decision.
Triathlon Helmet Buying Guide
Ensure your meets these requirements:
Protection – A helmet that will give you protection from any kind of damage should be your first choice. Look for a helmet that is specifically designed to protect your head in any kind of situation.
Comfort – Go for a helmet that perfectly fits your head. A perfect fitting helmet will stay in place and ensure comfort. The inside of the helmet should also have a soft padding.
Weight – A lightweight helmet is a great choice as it will not make your head feel heavy. However, a lightweight helmet will cost more than usual. A lightweight helmet will also help you gain speed.
Breathability – A helmet with more air flow will increase your comfort. However, a breathable helmet means less padding, which can compromise your safety. Hence, many companies use special channels on the inside of the helmets and holes on the outside. This allows for the helmet to be safe as well as breathable.
Frequently Asked Questions
What are the various types of helmets available on the market?
There are three kinds of helmets available on the market:
Recreational helmets – These are simple helmets used for general commutes. These are economical and often include a visor to protect your eyes from the sun.
Road bike helmets – These helmets have advanced features and are lighter than recreational helmets.
Mountain bike helmets – These are perfect for riding downhill. They have strong shells, firm straps, and provide more ventilation.
How do I take care of my helmet?
Do not use any harsh chemicals to wash your helmet. Just use mild soap. Storing your helmet properly also extends its life. However, replace your helmet every 4-5 years as helmets become less durable with time.
What helmet do triathletes wear?
Triathletes wear breathable and easy-to-use triathlon helmets. These helmets feature a multidimensional impact protection system.
Do you need an aero helmet for a triathlon?
Yes. Aero helmets feature aerodynamic efficiency that allows you to cut through the air drag and makes you ride faster with a certain percentage. In addition, aero helmets are lightweight equipment that reduces pressure on your head and aids your racing.
How much does an aero helmet help triathlon?
Aerodynamic drag offers 80% of the overall resistance to cyclists. Also, the aero helmets help you to save 30 to 45 seconds of your time to cover 40 km.
What is the fastest aero helmet?
The Giro Vanquish Bike Helmet is the fastest aero helmet. It reduces air drag and offers aerodynamic efficiency that enables you to cover long lapses in minimum time.
Why do cyclists wear aerodynamic helmets?
Cyclists wear aerodynamic helmets to block the resistance offered by the air, quickly paddle and cover the distance, and improve air passage around their heads.
Are aero bikes really faster?
Yes. Aero bikes increase your cycling speed by 1.63%. In addition, they offer the maximum resistance to air drag and cover long distances in less time than non-aero bikes.