22 Best Tribal Tattoos Designs With Meanings And Importance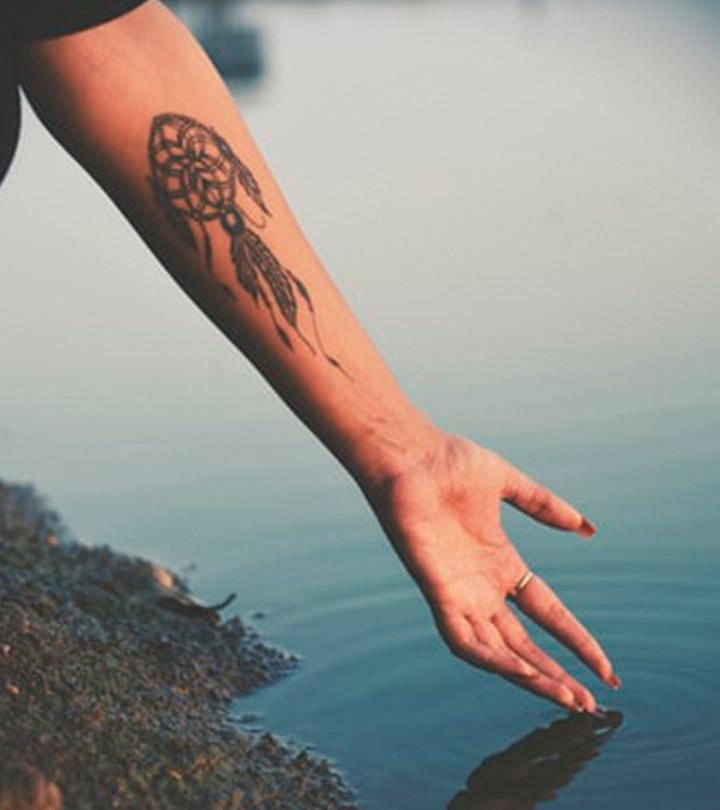 If you want a tattoo that symbolizes boldness and courage, you need to go for a tribal tattoo! Tribal tattoos are often sported by sportsmen, adventurous people, and those who believe in themselves and want to inspire others. They are inspired by the artwork of various tribes, such as the Samoans, Hawaiians, Maoris, and Tongans. These tattoos are not just designs drawn on the skin, but the epitome of strength, integrity, and life values.
Tribal tattoos are elaborate and artistic, unlike some latest tattoo styles that focus on minimalism. They are inspired by the power and beauty of nature. An elaborate tribal pattern is comprised of humans, animals, and various natural patterns like waves, mountains, and caves.
Tribal tattoos started gaining much momentum in the '90s when people started going for bold and black tattoo designs. Many celebrities that we know today have multiple tribal tattoos on their body.
There are many types of tribal tattoos out there. Check out the next section for some traditional tribal tattoo ideas and their meanings.
22 Best Traditional Tribal Tattoos Designs with Meanings
1. Half Body Tribal Tattoos
Half body tribal tattoos are ideal for those who want to get an elaborate design but don't want to go overboard with it. As the name suggests, the design will cover only a part of your body, like the area from the chest until the upper half of your back or from one side of your chest until the abdomen. You can experiment with various tribal design elements when it comes to getting half body tribal tattoos.
[ Read: Best Tattoos Designs And Their Meanings ]
2.Back Tribal Tattoos
Back tribal tattoos cover a major portion of your back, starting from your neck to your hips. With a tribal back tattoo, you can play around with bold patterns and figures, like masks, spearheads, wave patterns, and animals.
[ Read: Tattoo After Care Safety Precautions ]
3. Spiraling Tribal Back Tattoos
A spiral tattoo symbolizes the cycle of continuity and development. It also symbolizes different seasons and the phases of life, growth, and death. Modern spiraling back tattoos are influenced by the concept of yin and yang. They symbolize the balance between good and bad.
4. Tribal Shoulder Tattoo
A tribal shoulder tattoo can be great for people who want to keep it subtle. Shoulder tattoos can be very attractive when paired with off-shoulder tops and dresses. You can opt for a small tattoo or an elaborate one. For a small one, you can get one close to your shoulder blade, and for an elaborate one, you can cover most of your arm along with your shoulder.
5. Cross-Design Tribal Shoulder Tattoo
With a cross-design shoulder tattoo, you can blend two or more different design elements to create one elaborate tattoo for yourself. It is one of the best tribal lion tattoos.
6. Arm Tribal Tattoos
For your arm tribal tattoo, you can go for animal patterns or depict forces of nature such as the ocean, fire, or wind. These natural elements symbolize life and prosperity, while specific animal tattoos symbolize speed, power, authority, and sharpness. You can also place these tribal tattoos on your forearm.
7. Tribal Tattoo With Lotus
A tribal lotus tattoo is a symbol of purity and perseverance. It is also a symbol of mental and physical well- being.
8. Polynesian Tribal Tattoo
Tribal Polynesian tattoos are known for their distinct patterns and symbols like Enata (god), Tiki (mask), animals like lizards and stingrays, and nature and natural forces. Most Polynesian tattoos are a symbol of bravery and triumph over evil.
9. Armored Sleeve Tribal Tattoo
Armored sleeve tribal tattoos were sported by ancient warriors. These tattoos represented their fierceness and boldness. An armored sleeve tattoo is a thoughtful tattoo for someone with a fighter spirit.
[ Read: Unique Forearm Tattoo Ideas For Women ]
10. Tribal Mask Tattoo
Some Interesting Facts About the History Of Tribal Tattoo Designs
In 1991, the dead body of a man was discovered near the Austrian border that was covered in more than 50 tattoos. Upon further investigation, it was discovered that the body was 5,000 years old, which means that it was the body of a tribal man.
The first tribal tattoos in Africa were found on mummies that were buried in 2000 B.C.
African tribal tattooing procedures were rather painful. To make the tattoos visible, they used a process called cicatrization in which different parts of the body were cut open and rubbed with ash that led to permanent scarring patterns on the body.
Ancient tattoos were made using animal bones, teeth, bird beaks, and fish bones.
11. Hawaiian Tattoo
Tribal Hawaiian tattoos are inspired by Hawaiian culture. These tattoos usually depict unity, strength, dominance, bravery, and prosperity.
12. Tribal Neck Tattoo
In ancient times, many tribes used tattoos on their bodies as ornaments rather instead of wearing real jewelry. Tribal neck tattoos are meant to be decorative and enhance the natural beauty of the person.
13. Tribal Dragon Tattoo
A tribal dragon tattoo depicts power, wisdom, and protection of the good from the evil. Dragons are believed to be real and can be seen in many tribal paintings, and ancient folklore depicted dragons as well. Regardless of whether those concepts are real or not, dragons are mystical creatures known to be free and fierce beings. It is the unique tribal tattoo designs
14. Celtic-Inspired Tribal Tattoos
Celtic-inspired tribal tattoos consist of three-pointed interwoven knots and rings that symbolize the three main aspects of nature (earth, sea, and sky), god (maiden, mother, and crone), and human (body, mind, and spirit).
15. Tribal Heart Tattoo
Tribal heart tattoos represent compassion and courage.
16. Tribal Sun Tattoo
Tribal sun tattoos were used universally across various cultures as they represent life and energy. This is an awesome tribal tattoo design!
17. Tribal Rose Tattoo
A tribal rose tattoo symbolizes natural beauty, hope, and joy.
18. Tribal Butterfly Tattoo
A tribal butterfly tattoo represents beauty, freedom, and transformation.
19. Tribal Wolf Tattoo
A tribal wolf tattoo symbolizes power and loyalty.
20. Tribal Bird Tattoo
Tribal bird tattoos symbolize passion and freedom. Tribal tattoos usually feature birds of prey because of their power and sharpness. This is a unique tribal tattoo design.
21. Ornamental Chest Tribal Tattoo
Ornamental chest tribal tattoos consist of intricate designs and patterns inked on your chest. This is one of the best tribal tattoo designs.
22. Badass Tribal Tattoo
Badass tribal tattoos represent power, strength, and the balance between good and evil. They usually contain elements of destruction or death. It is the awesome tribal tattoo designs.
The Origin Of Tribal Tattoos
Although there is much debate on the origin of tribal tattoos, the earliest evidence points towards Polynesian culture. It has several tribes, such as the Tongans, Cook Islanders, Marquesans, Samoans, Niueans, Hawaiians, Tahitians, and Maori. The core of Polynesian culture is deeply embedded in two elements: Moana (ocean) and Mana (spiritual power).
Since there is no history of writing in Polynesian culture, tribal art and tattoos on the body were used to communicate various messages and express their identity. Tattoos were used to symbolize hierarchy, sexual maturity, and rank among the tribal society. However, it was not mandatory for all tribal people to get tattooed.
Tongan warriors were tattooed from waist to the knees with solid black ink and pigments. The tattoos mostly included repetitive geometric patterns. The tattooing was done by the priests who followed very strict rituals while performing this process.
In ancient Samoa, tattooing held significance in both religious and ritualistic activities. The tattooing of Samoan soldiers mainly took place in the form of a ceremony where 6-8 young men were tattooed in the presence of other people in the tribe. Women were also allowed to get tattooed, but they mainly sported subtle geometric patterns depicting flowers and nature.
Captain James Cook was the first person who tried to navigate Polynesia and learn more about the indigenous tribes that existed there. The word 'tattoo' first appeared in Europe when Cook returned from Tahiti in 1771 and brought a Tahitian named Ma'i along with him. Since then, tattoos started becoming popular in different parts of the world.
Different tribal tattoos represent different concepts. Check out the next section to find out what popular tribal tattoo symbols mean.
Representation Of Tribal Tattoos
There are special Polynesian tattoos with distinctive designs and meanings. If you are interested in tribal tattoos, you must know about the meaning of these tattoos and where they originated from. Some of the top tattoo designs in Polynesian culture are:
Enata (Singular): Enata is a symbol that depicts men, women, and sometimes gods. It is often used to depict relationships among people. Enata, when depicted upside down, can mean the defeat of enemies.
Enata (Pattern): Continuous pattern of Enata looks like a group of people holding hands and standing in a row. Enata roughly translates to 'ena' and 'ata', which means cloudy sky. It can also mean ancestors guarding their descendants.
Shark Teeth: Shark teeth are a sign of strength, protection, and ferocity.
Spearhead: It represents the nature of a warrior and can also be used to express sharpness or the sting of certain animals.
Ocean: Ocean depicts the continuity through change. It is a representation of the afterlife.
Tiki: Tiki is used to depict the demigods.
Tiki Eyes: Tiki eyes are the most important part of the tiki figure. Close-ups of tiki figures represent a face with large eyes and outstretched tongue. It usually represents the power to stand up against enemies.
Turtle: Turtle represents health, fertility, and peace. This is the reason some turtle tattoos also represent a human figure on the shell of the turtle because they are believed to help souls travel from one world to another.
Lizard: Lizards and geckos are considered very important in Polynesian culture. Gods and spirits appeared to Polynesian men in the form of lizards. Lizards symbolize good luck and are believed to communicate between humans and gods, but those who disrespect the lizard can face bad omens and death.
Stingray: Stingrays are known for their amazing ability to hide underwater, which helps them escape from their enemies. Thus, they symbolize protection. Other characteristics associated with stingrays are peacefulness, danger, agility, gracefulness, speed, and stealth.
Tribal tattoos hold a huge social and cultural significance in many regions. They were a part of human identity for a long time and are still used to symbolize the positive aspects of life. Modern tattoos help make people feel empowered and are a great way to reflect one's thoughts and beliefs. Just ensure that you get your tattoo done by a professional artist who takes care of the hygiene and safety of their tattooing equipment.
Which one of these tribal tattoos do you want to try out? Comment below to let us know!
BANNER CREDITS: unsplash
Recommended Articles:
The following two tabs change content below.