Best Tribal Tattoo Designs – Our Top 10 Picks
Tribal tattoos date back to the ancient ages. Tribal tattoos were used 5000 years back as identification marks which depicted the origin of the tribes and their glorious mythological culture. Back then people used tattoo art to decorate their body. These tattoos are mainly made in black ink. Though they are now made with a variety of colours, black is still the most preferred ink for tribal tattoos. They are made with great precision and require skill to carve the original designs on the body. Tribal tattoo design for women follow a different pattern to make them look feminine and attractive. Every tribal pattern adds a dimension of style and in this post we are featuring some of the most famous tribal tattoo designs.
Top 10 Tribal Tattoo Designs for Women
1. Tribal dragon tattoo: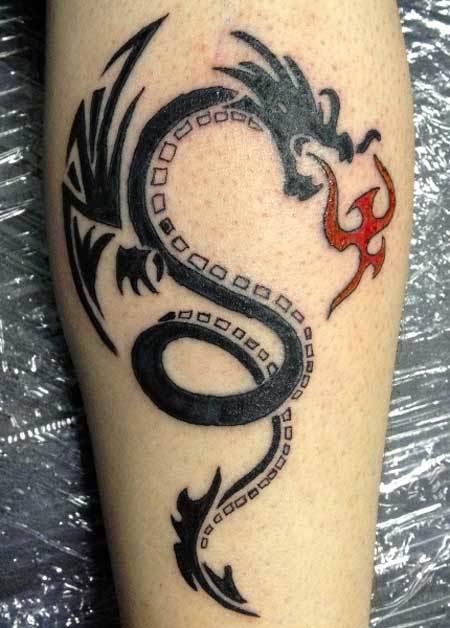 Dragon has always been an important part of the tribes in China. Dragon is considered as a symbol of luck among the Chinese and there are many legends woven around this mythical creature. Tribal dragon designs are made with bold and simple patterns with flowing strokes. The dragon's face and wings are inked in masterful strokes and are usually made with a single coloured ink. Though black ink is traditionally used, a touch of red ink will make it look even more amazing.
[ Read: Guitar Tattoo Designs ]
2. Tribal Celtic tattoo: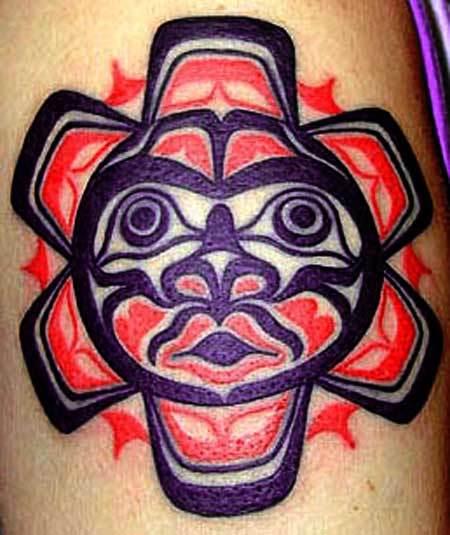 Like other tribal tattoos, Celtic tattoos also have been around since ages. This celtic tattoo looks elegant and appealing. The interesting designs add a level of beauty and dimension to a women's personality. These are among the most popular tribal tattoo designs for women. The designs for these tattoos range from a knot or a cross to several wavy images of birds and flowers. The never ending loops emphasize the vicious circle of life and death which is inevitable. The circular rings signify the never-ending faith that we have in the almighty. The zoomorphic pattern is made with animal's head, feet and tails.
3. Tribal heart tattoo: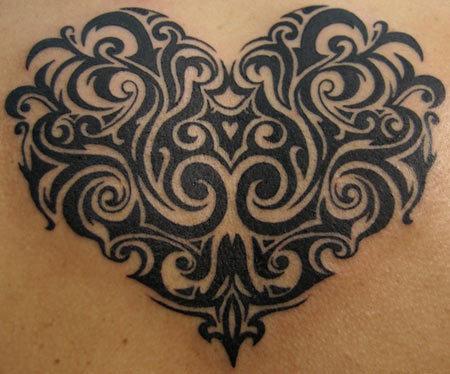 Tribal heart tattoos have always been in vogue and are any day better than conventional heart tattoos. This tattoo design can be flaunted by both men and women. These tattoos are artistic and are made with dark sharp edges. A tribal razor wire design has a sharp black edge to add colours and the name of your love. You can even customize this design by adding flowers, butterflies, thorns, wings or a cross. This design can be worn on any place of the body, be it wrist, legs, or nape.
4. Tribal Sun tattoo: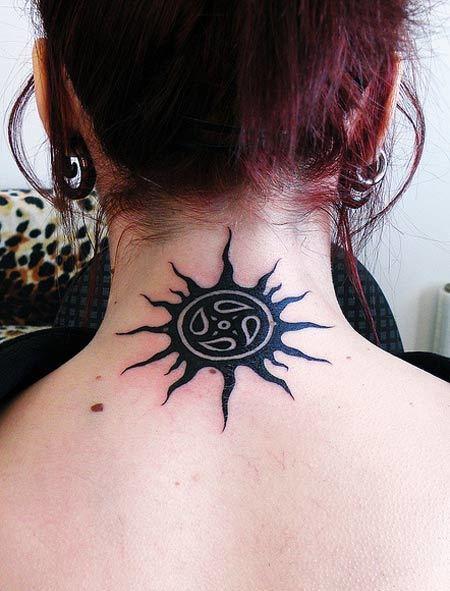 Sun tattoo designs are the most fashionable and are always in demand. These tattoos exude a charm, power and represent many beliefs and divinity. The sun tattoo symbolizes power, supremacy, immortality, truth, vigour and reincarnation.
5. Tribal rose tattoos: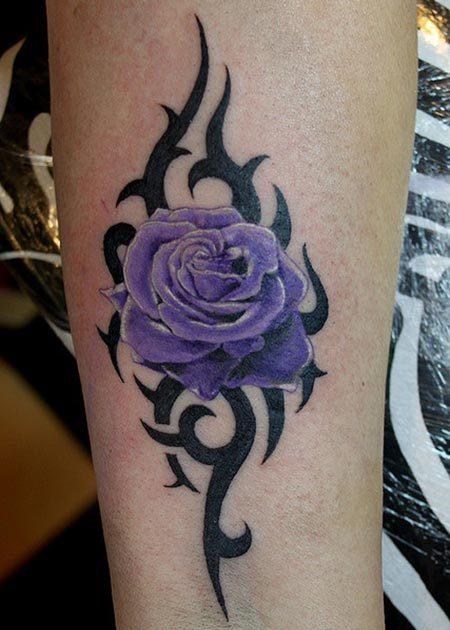 Rose is the most common flower used for tribal tattoos. These tattoos are mostly adorned by women and are a symbol of purity and love. Usually an image of rose is inked along with a contrasting black design which gives a tribal feel to it. To express your love, a rose tribal tattoo is a good idea.
[ Read: Angel Tattoo Designs ]
6. Tribal butterfly tattoo: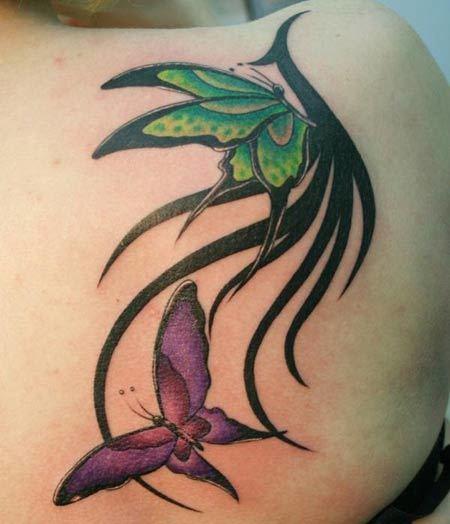 Butterfly tribal tattoo designs are popular designs among women and give a cute plus tradition look to a woman. These tattoos can be adorned anywhere, be it arms, neck, foot or back. You can get them inked in plain black or can add some colour to highlight your tattoo design.
7. Aztec tattoos: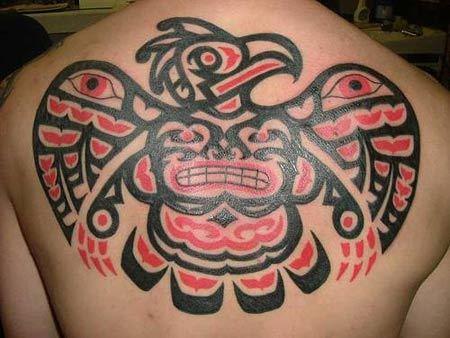 Aztec tattoo are a rage all over USA and Mexico. People often get themselves inked with Aztec tattoo to pay homage to their rich heritage. Aztec designs are intricate, colourful, bold and have various geometrical shapes like triangles, pyramids and so on. The sun god, fire, plant and Eagle are popular themes of this tattoo. These tattoos depict their rich culture, beauty and have an irresistible ethnic charm to it.
8. Tribal wolf tattoos: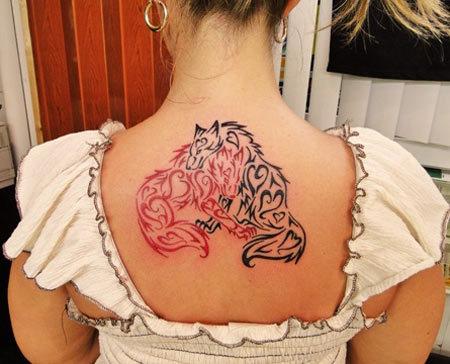 Tribal wolf tattoo is popular among both men and women and is used as a symbol of unleashed strength. These tribal tattoos designs for women and men alike symbolizes power, intelligence and courage. The wolf tribal tattoos are often designed in dark and bold lines in geometric shapes along with the image of wolf. These tattoos are often made in black colour and still attract a lot of attention. Some also add a hint of colour to this tattoo to highlight the design which gives it a classy art form.
9. Tribal back tattoos: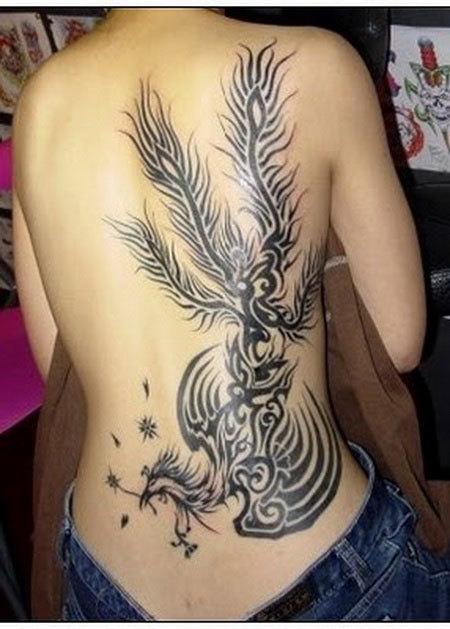 Tribal back tattoos are mostly popular among men and is mostly a presentation of heritage symbols. These tattoos include angels, phoenix, vine patter, images of spears and dragons. Tribal back tattoos make a bold style statement and make you stand out in a crowd.
10. Tribal bird tattoos:
Tribal bird tattoos are artistic and hold mythological significance. These tattoos symbolize the triumph of good over evil and signify liberty of the mind and body. The most common birds used for tribal bird tattoos are eagle, phoenix, raven and vulture.
So which of these are among your favourite tribal tattoos designs?
Image Source: 1 , 2 , 3 , 4 , 5 , 6 , 7 , 8 , 9 , 10

The following two tabs change content below.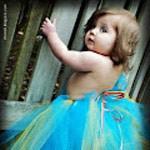 Latest posts by Arshi Ahmed (see all)