10 Best Trigger Finger Braces That Actually Offer Relief
Relieve joint stiffness with these lightweight and comfortable designs.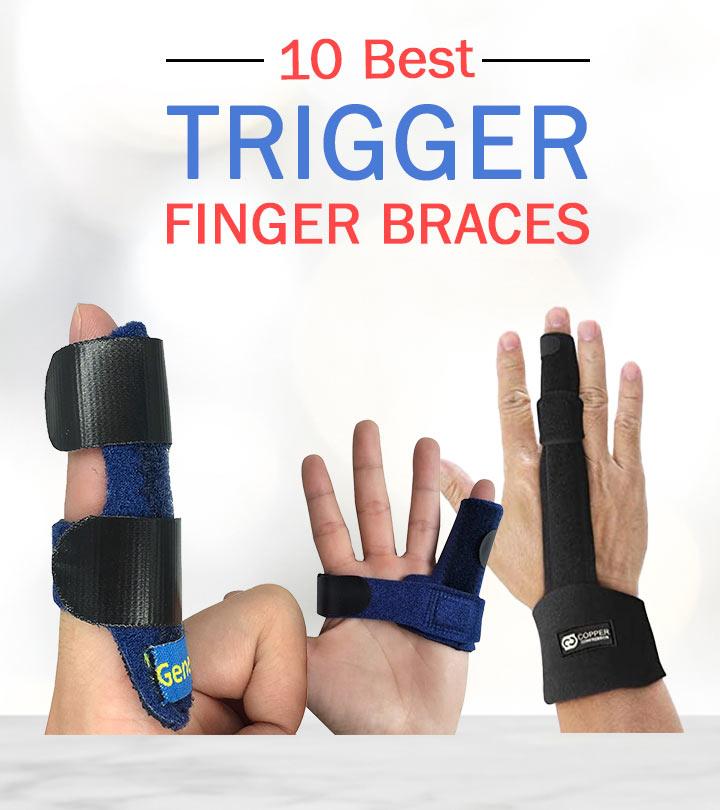 If you applaud yourself to be a fast typer, you must be well-versed with this, i.e., the trigger finger condition. Sometimes, excessive finger movements can lead to an uncomfortable stiffness that forces your finger to get immovable and stay still; this is when you need the best trigger finger brace. The pain only occurs if the problem is not fixed sooner and the area gets inflamed. Take a look at this list of the 10 best finger braces for quick fixes.
What Is A Trigger Finger?
Trigger finger is a common condition in which the affected finger stays in a bent position and causes great pain if moved. The ring and the thumb are the most affected by this condition. Several factors may increase the risk of developing this condition, such as diabetes, rheumatoid arthritis, forceful hand activities, etc.
Why Use A Trigger Finger Splint/Brace?
A trigger finger splint is a type of treatment used for people who do not prefer invasive techniques to treat the condition. It is mainly used to hold the MCP (metacarpophalangeal) joint of the affected finger at 10-15° flexion. This leaves the PIP (proximal interphalangeal) and distal interphalangeal joints free. Doing this for six weeks will reduce inflammation and swelling and heal the triggered fingers efficiently. 
Now that you are aware of trigger finger and why you should use a brace or splint, take a look at the 10 best trigger finger braces.
10 Best Trigger Finger Braces To Buy In 2023
The Vive Trigger Finger Splint can be used on any finger. It is an aluminum splint that helps support the finger and reduces stiffness, preventing the joint from bending and the tendon from catching. It is made of a breathable neoprene material that holds the splint in place with extra grip throughout daily activities. The extra strong fasteners can be easily adjusted and help reduce bunching and slipping.
Pros
Lightweight material
Will not slide
Reduce pain and discomfort effectively
One size fits all the 5 fingers 
Cons
None
Price at the time of publication: $19.99
The Handfix Trigger Finger Splint is designed by a licensed occupational therapist and certified hand therapist. It supports your fingers to provide relief from extreme pain and discomfort. It fits easily on most fingers. You need to fasten the velcro snap around your finger and adjust it accordingly. The product claims to resolve the pain completely within 6-8 weeks.
Pros
Promotes healing
Easy to use
Breathable material
Flexible and long-lasting 
Cons
None
Price at the time of publication: $14.99
The GenetGo Trigger Finger Splint is made of the highest grade neoprene, covered with stretchable nylon and cotton for your comfort. It helps alleviate the locking and bending and provides firm support to the affected finger and keeps it from moving. It has a built-in aluminum bar that immobilizes the finger. This product can be used on the index, middle, and ring fingers. It is suitable for daily use and supports regular activities.
Pros
Prevents further injury
Promotes post-surgery healing
Relieves soreness, stiffness, and swelling
Lightweight and portable
Easy to use 
Cons
None
Price at the time of publication: $6.99
This all-in-one finger splint set fits all fingers easily. Whether at work or home, this product lets you do your regular activities without restricting your movement. It is an ergonomic design that works for men, women, and children. It is specially designed to treat arthritis, mallet finger, broken or jammed fingers, sprain, dislocated joints, metacarpal sprain, tendon sheath hands, ligament tears, etc. It promotes post-surgery recovery and prevents future injuries. The adjustable velcro straps enable you to remove and wear it easily.
Pros
Lightweight and comfortable
Washable and reusable
Ergonomic design
Durable
Effective in relieving pain 
Cons
None 
Price at the time of publication: $11.99
The Quanquer Finger Splint is a simple, portable, and ergonomic design that helps relieve finger pain from locking, bending, and soreness. It helps treat mallet fingers, sprained fingers, and ligament tears. It has a removable aluminum bar that helps keep the affected finger immobilized. It is designed for comfort, convenience, and quick healing. 
Pros
Prevents future injuries
Promotes post-surgery healing
Durable
Easy to use
Cons
None
Price at the time of publication: $6.99
This breathable, lightweight, and ergonomic trigger finger brace is perfect for all day and nightwear. It alleviates pain and stiffness and protects your fingers from injuries. This finger brace is ideal for arthritis, trigger thumb, tendonitis, and sprained fingers. It can fit all the fingers perfectly. 
Pros
Unisex design
Adjustable straps
Durable
Reduces inflammation and joint swelling
Cons
None
Price at the time of publication: $15.95
This simple finger splint design allows normal daily activities for an extended time. It is lightweight, waterproof, durable, and portable. It is designed to help heal injuries and conditions, such as arthritis, sprain, and finger fractures. It can fit multiple fingers easily. All you need to do is pick the right size and use it on the affected joint. 
Pros
Easy to use
Promotes healing
Relieves pain and soreness
Reduces swelling
Cons
None
Price at the time of publication: $18.99
The Copper Compression Finger Splint is one of the most durable finger braces on the market. It helps promote post-surgery injuries and conditions like arthritis, tendinitis, carpal tunnel syndrome, mallet finger, etc. You can wear it all day and night to relieve pain, soreness, and swelling. It can fit most fingers comfortably. 
Pros
High-quality fabric
Maintains joint stability
Easy wear design
Secure fit
Cons
Price at the time of publication: $23.95
This lightweight trigger finger splint can be worn on any finger. It is a compact splint made with breathable neoprene that provides support for stiff fingers. The aluminum brace prevents the tendons from locking and the joint from bending to promote healing and reduce pain. The bonus fastening tape immobilizes the finger and aids faster healing. The adjustable velcro strap allows you to wear and remove the splint easily.
Pros
Breathable fabric
Suitable for daily wear
Portable
Provider faster relief from pain
Helps you carry on with your daily activities 
Cons
None 
Price at the time of publication: $9.98
The RWB Finger Splints are used to hold an injured finger in place, preventing further injury or irritation. It is a foam-padded design created to provide comfort and promote healing. The soft, malleable aluminum keeps the splint in place without moving. The velcro straps are easy to put on and fit most fingers perfectly.
Pros
Easy to use
Durable
Breathable material
Cons
These are the best trigger finger braces out there. If you want to learn about the important features to consider while purchasing a trigger finger brace, read on below.
Trigger Finger Splint Buying Guide
1. Size
Braces with a universal fit will help you in many ways. They can be worn on any finger, on either hand.
2. Comfort
Choose a brace that is made of lightweight, breathable neoprene that does not slide or bunch. This will help you wear the brace for long hours without restricting your daily activities.
3. Fabric
Pick a brace that is made of soft and breathable fabric that is comfortable enough to wear all day. Choose one that offers high-quality fabric with 100% support, stability, and durability.
4. Adjustability
Individual finger adjustments help you use the brace on both your right and left hands. They also help you fasten the splint in place, which immobilizes the finger.
Why Trust StyleCraze?
The author, Aditi Naskar, has a diploma in health & wellness and shares a deep knowledge of several health devices, including trigger finger braces. She has researched quite a lot on trigger finger braces and considered hundreds of genuine reviews to come up with a list of trustable products. These braces, in fact, have been shown to heal trigger fingers effectively. They are also flexible and easy to use.
Frequently Asked Questions
How long should you wear a brace for the trigger finger?
Wear a brace overnight for 2-6 weeks or as directed by your doctor.
Does squeezing a ball help the trigger finger?
Yes, squeezing a ball can help relieve and ease trigger finger pain.
Can I sleep with a trigger finger brace on?
Yes, you can sleep while wearing a trigger finger brace.
Can I wear a brace all day for my trigger finger?
Yes, you can wear the brace all day. However, many people have the worst trigger finger symptoms first thing in the morning when their finger is quite stiff. This is why it is advised to wear a brace at night to keep the finger rested and functioning in the morning.
Is it okay to massage the trigger finger?
Yes, you can massage the trigger finger to relieve pain.
Can trigger finger brace straighten arthritic fingers?
Yes, a trigger finger brace will help arthritic fingers.
Recommended Articles