10 Turquoise Nail Polishes To Glam Up Your Manicure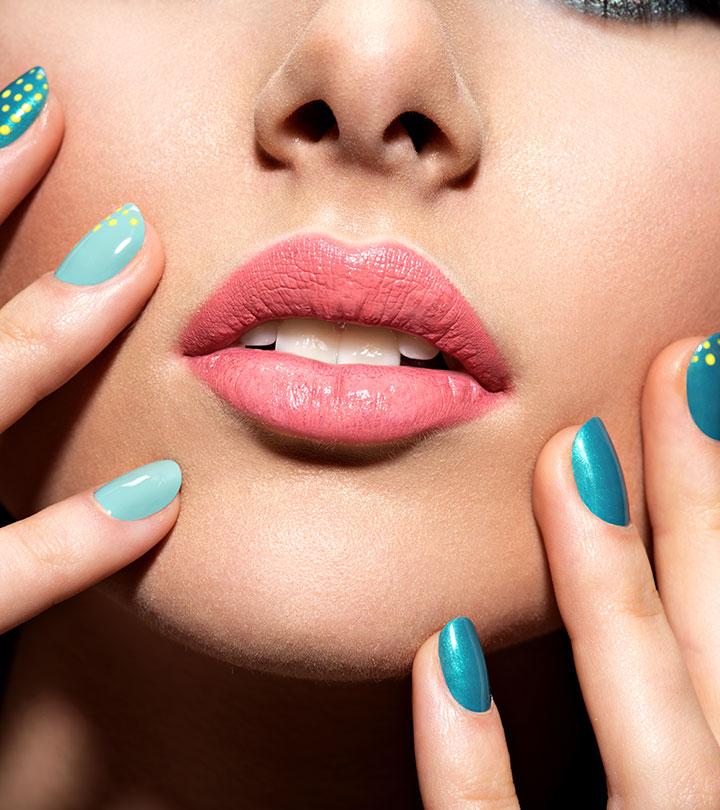 Do you love fun, preppy, bright colors on your nails and don't know which ones to choose, then we have got the best turquoise nail polishes for you. This beautiful color has been derived from the powerful gemstone that has been extensively used in different styles and types of jewelry for ages. This eye-catching color is popular in Egypt and Persia. This rich color has been in demand for years now and is a very versatile color to doll up your nails. It will open up the entire hand appearance and make them look naturally gorgeous.
The color is a mix of teal, green, and blue shades. This spring-friendly nail polish shade is a hue of the many oceans that we see. This bold color might look like a pop-up, but it suits different skin tones like a dream. Whether it's a neutral-themed outfit or a deep dark shade, this gorgeous aquamarine color will complement it. In this article, we have listed the 10 best turquoise nail polishes for you. Scroll down and check them out.
10 Best Turquoise Nail Polishes To Wear This Season
Kick-off your fun nail manicure with this pretty turquoise shade from Sally Hansen in the shade 'Combustealable'.  Bring the salon home to you with this gel hybrid manicure polish that stays on for as long as up to 8 days, lasting much longer than regular nail polish. You can use and apply it without a UV lamp light as well. The glossy formula is made to be chip-resistant, and you can pair it with the Sally Hansen top coat for an even longer-lasting finish. For more information about the product, click this video.
Pros
Gel-based nail polish
Glossy finish
Bright color
Lasts up to 8 days
No UV/LED light needed
Salon-like manicure at home
Chip-resistant
Cons
May require multiple coats for an opaque finish
Treat yourself to a luxe nail polish session with OPI's gorgeous deep turquoise nail polish. It is recommended to start your manicure with a base coat and then apply 2 coats of OPI's richly pigmented and chip-resistant teal shaded nail varnish for the perfect nail set. The nail polish comes with a ProWide brush for easy application and lasts for up to 7 days. The gel-based turquoise formula has a shimmering finish and delivers a fast-drying result. Check this video to learn more about the product.
Pros
Shimmery finish
Gel-based formula
Deep turquoise shade
Highly pigmented color
Chip-resistant
Comes with a ProWide brush
Fast drying
Lasts for up to 7 days
Cons
Shade may be a slightly darker than expected
If you're looking for a fun neon green-toned turquoise nail polish shade, then grab China Glaze's color in the shade "Turned Up Turquoise". The matte formula is a unique one that combines a balance of polymers and resins, which help maintain its durability and its color and shine. Infused with china clay which helps strengthen nails and prevent chipping, this light shimmery formula dries quickly to give you a turquoise satin matte finish and a long-lasting manicure. Take a look at this video to get more information on the product.
Pros
Deep turquoise shade
Satin matte finish
Long-lasting
Infused with china clay
Chip-resistant
Fast drying
Affordable
Cons
May need to touch up often to avoid chipping
Get ready for a salon-worthy manicure with Elite99's turquoise blue nail polish, which is gel-based to give your nails a pretty, shimmery look. This ultra-durable gel turquoise nail polish lasts for at least 2-3 weeks and requires drying under a UV/LED lamp for best results. The color is very resistant to chipping, and before application, there is no grinding or filing required. What's more, there is no drying time either! The formula is suitable for natural nails, false nails, UV gel nails, acrylic nails, and more.
Pros
Shimmery finish
Gel-based
Lasts up to 2-3 weeks
No drying time
No filing or grinding required
Suitable for all nails
Requires drying under a UV/LED lamp
Cons
May require multiple coats for an opaque finish
Dress up your nails for a beach day out with this gorgeous turquoise nail polish shade from NYK1, which will leave you with a salon experience. The bright and shiny gel-based formula is easy to apply and durable, so you don't have to worry about chipping or smudging your nails. It won't chip, fade, break or smudge easily even if you put your hands to good use. Apply it using a UV/LED lamp, and it's sure to stay on for at least 14 days with a deep turquoise shine.
Pros
Gel-based
Smudge-resistant
Last up to 14 days
Requires drying under a UV/LED lamp
Chip-resistant
Glossy finish
Durable
Nick-resistant
Cons
Pamper yourself with a beautiful glossy turquoise-colored gel manicure and grab Revlon's gel envy in a bright teal blue color that is super eye-catching. The high-impact color delivers an incredible shine and a rich, long-lasting color that lasts for up to 7 days and looks like it's salon fresh. The formula is enriched with shea butter and oils to condition and strengthen your nails to remain strong and durable. The turquoise nail color also comes with a wide-angle brush to help create smooth, bubble-free coats.
Pros
Gel-based formula
Glossy finish
Durable
Last up to 7 days
Infused with shea butter and oils
Comes with a wide-angle brush
High-impact color
Affordable
Cons
Formula may take time to dry
May require multiple coats for an opaque finish
Add a bit of glitz and glamour to your nails with this dreamy holographic nail color. With a vibrant color that changes with lighting and angles, this one is sure to turn eyes wherever you go! Just apply this turquoise nail polish on your toes and fingers and cure it under a UV/LED lamp for gorgeous nails! Made from natural resins, this one is safe and non-toxic for sensitive skin and lasts up to a whopping 21 days.
Pros
Gel-based
Shiny holographic finish
Lasts up to at least 21 days
Requires drying under a UV/LED lamp
Non-toxic and natural resin formula
Rich color
Cons
The Cirque Colors also has a gorgeous vivid turquoise blue nail color in the shade "Cerrillos" if you're in love with the holographic nail polish effect. It gives off a rainbow holographic finish and is all completely handmade in New York. For an opaque finish, apply two coats of this vegan and non-toxic formula and get a full-coverage coat of this beautiful bright turquoise blue nail color. Grab this cool color for a party or a night out, and use it to dress up your look as it's sure to catch eyes.
Pros
Vivid turquoise color
Liquid formula
Shiny holographic finish
Vegan
Non-toxic formula
Long-lasting
Cons
Slightly expensive
May chip easily
Are you looking for a liquid-based nail polish that delivers a salon-like finish? Well, look no further than Essie's high gloss turquoise nail polish in the shade "In The Cab-Ana," which gives you flawless full-coverage and is highly durable. You'll feel like you've just left the salon as it has the easy glide brush, which allows an even, professional application. The shiny, gloss color is a rich azure shade that matches the color of the ocean and is perfect for a beach day out.
Pros
Liquid-based
Shiny finish
Durable
Easy glide brush
Salon like finish
DBP, Toluene and Formaldehyde free
Even, professional application
Cons
Make a statement this summer and grab a gorgeous turquoise holographic nail color to do so! Glam up your party or beach day look and feel like a mermaid with ILNP's ultra-vivid turquoise nail color, which has an aquamarine holographic effect. The formula in the shade "Sail Away" reminds us of the ocean as well as amping it up to a popping, extra sparkly holographic color. The color is accented with a subtle green-to-blue sparkle and turns fully opaque with 2-3 coats.
Pros
Shiny holographic finish
Long-lasting
Fast drying
Vegan
Cruelty-free
Sparkly
Full coverage
Cons
Now that you've seen our list of the 10 best turquoise nail polishes, here are some tips to keep in mind while picking out one of these gorgeous nail polishes for yourself.
How To Choose The Right Turquoise Nail Polish
Formula Type

Are you a sucker for gel nail polish? If you love that salon's look and durability of gel nail polish, look at the nail polish formulation before selecting one. Gel nail polishes generally last longer than regular polish but may require a UV/LED lamp for application and are usually harder to remove than regular nail polish. If you want to get gorgeous turquoise nails without the extra effort, then a regular liquid polish may be the one for you.
Durability

No one wants a nail polish that chips immediately after application and needs multiple touch-ups to last. Check the durability of the nail polish you're buying and make sure it is chip-resistant. The color is durable so that it lasts longer for you without you having to worry about the next application.
Finish

This is a truly subjective feature to keep in mind when selecting a nail polish. If you want a matte or toned-down satin finish, you can check out nail polishes that offer those while on the other, and you get a shiny, glossy finish as well that you can opt for. Recently, there are also iridescent holographic finishes available, and all these looks are gorgeous, so check the finish while purchasing your turquoise nail polish.
Bold colors seem attractive and instantly glam up to the overall look of your manicure. But, a perfect nail color that stands out in a crowd is what every girl dreams of. Well, turquoise shade offers exactly that. This shade makes a statement when you step out. A nail polish that is long-lasting, chip-resistant, cruelty-free, and non-toxic is ideal for a perfect look. Be it a shimmery or matte finish, the turquoise hue stands out with an attractive look and suits every season.
Why Trust Stylecraze
Chaitra Krishnan specializes in writing about beauty and lifestyle. She holds a master's degree in journalism and communication and has vast experience working across different types of professional content writing. Since beauty is her forte, she does extensive research and analyzes customer feedback across multiple forums while curating product lists for her readers. For this post on turquoise nail polishes, she has shared detailed descriptions of each to help you buy the best.
Recommended Articles:
The following two tabs change content below.