10 Best Tweezers For Fine Hair In 2023
Invest in a grooming tool that helps you deal with ingrown hairs with minimal pain.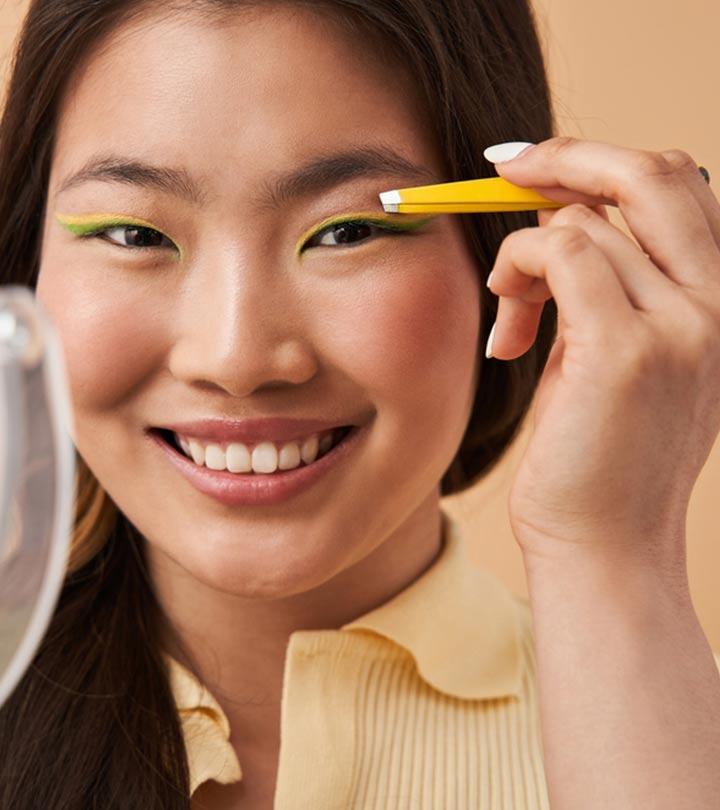 Tweezers are an ideal way to pluck rouge hair strands that annoy you. The best tweezers for fine hair meet your hair plucking needs and are designed with slanted and sharp tips. Tweezing facial hair is considered a painless procedure compared to waxing; hence many people opt for it. They are great saviors and provide the result that we desire. Being compact and discrete, you can simply slide them into your handbag and use this handy tool anywhere. These innovative tools come in handy whether you want to remove the fine hair over the lips, chin hair, extra eyebrow strands, or even pluck out ingrown hair.
With so many options in the market, you might be overwhelmed by the choices. To help you pick the perfect one, we have a list of the 10 ideal tweezers for fine hair that matches your needs. So go on and scroll through our list, and we're sure you'll find a pair of tweezers that will ensure all your pesky hair is out!
10 Best Tweezers For Fine Hair That Meet All Your Plucking Needs
This facial tweezers set includes two tweezers of different angled tips so that you can choose from the slanted and pointed ones. This tweezer will meet all your facial hair needs because it does a great job plucking stray, baby hairs and shaping your eyebrows. The firm grip will also allow you to have complete control during the removal process, and they are made from premium-grade stainless steel so that they will last you a long time. In addition, each tweezer has a wide grip that makes the whole hair removal experience comfortable, so you can isolate hair strands and pluck them easily. You can also use tweezers to extract any stubborn splinters and any ingrown hair.
Pros
Made from premium stainless steel
Suitable for ingrown hair
Set includes slanted and pointed tips
It comes in a travel-friendly pack
Durable
Available in three fun colors
Cons
It May not be ideal for coarse facial hair
Price at the time of publication: $13.34
This has to be one of the best tweezers for fine eyebrow hair. It is highly recommended by aestheticians and top makeup artists from all over the world. It is made from high-quality surgical stainless steel, which is so much better than ordinary steel. The tweezers have a smooth texture, are highly resistant to rust and stains, and are pretty durable. The square and flat tip ensure that the hair is removed quickly and with minimal pain. Thanks to the sleek design, you can keep unruly eyebrows in shape and remove any unwanted fine hair with one swift move. The broad grip also allows calibrated arm tension, so it won't hurt when you go in on the strands that are tough to extract. Also, these tweezers are pretty travel-friendly so that you can carry them around in a leather case.
Pros
Travel-friendly
Durable
Made from surgical stainless steel
Lightweight
Available in different colors
Calibrated arm tension
Easy to clean
Cons
The prongs may be misaligned
Price at the time of publication: $6.98
Why settle for low-quality tweezers when you can go for the superior Zizzili Basics Tweezers? These beauty tools are beautifully designed and shaped to extract facial hair safely and painlessly. They are made from surgical-grade stainless steel, are acid-proof and rustproof. These are the best tweezers for fine facial hair because they ensure that they are removed from the root. Most people struggle with finding a tweezer that won't break fine hair or let it slip through the prongs, which is why these tweezers are a great choice because they not only have a firm grip on the strand but remove it from the root, thanks to the aligned prongs.
Pros
Acid proof
Sharp tip
Rustproof
Made from surgical grade stainless steel
Cons
It may not extract ingrown hair
Price at the time of publication: $14.39
Enjoy effortless plucking with this gorgeous hair removal tool! The tweezers have a practical slanted tip that gives an excellent grip to your fine hair strand without breaking it or letting it slip through. The whole plucking ordeal goes by painlessly and while applying minimal pressure at the tips. They are made from stainless steel, making them highly durable, easy to clean, and convenient to use. In addition, the slanted tip can be used to shape unruly eyebrow hair and unwanted chin hair and remove any nasty splinters.
Pros
Durable
Made from stainless steel
Prevent hair from breaking
Minimal pressure at the tips
Easy to clean
Cons
With the straight and precision aligned stainless steel tips, the Tweezerman facial tweezer effectively removes all kinds of facial hair, even the short and fine strands. The pointy and elongated edge is designed to grab stubby or hard-to-reach eyebrow hair. Additionally, the sharp precision tips are suited to eliminate any peach fuzz. Once you start using these tweezers, you will notice that every strand can be removed with ease. The superior calibrated prongs are designed to ease tension in your arms so that you are comfortable throughout the plucking process. This video will provide you with added insights about the product.
Pros
Calibrated prongs
Precision aligned tips
Stainless steel
Easy to control
Suitable for extracting ingrown hair
Cons
The tips may get dull after long term use
When searching for tweezers that will pluck out hair and leave you with long-lasting results, you must give these tweezers for fine hair a try. They will pluck out the tiniest and stubbiest hair strands and provide you with a sharp eyebrow-shaping experience. The ultra-strong grip will ensure that the hair is removed quickly, without any unnecessary yanking or pulling. These are considered one of the best tweezers for plucking every fine facial hair and are pretty popular because they can extract ingrown hair. Your soon-to-be favorite tweezers will quickly grasp the hair with both prongs and take it off seamlessly.
Pros
Extracts ingrown hair
Precision tip
Strong grip
Surgical steel ends
Painless plucking experience
Aligned tips
Cons
The tweezer's paint may wear off after constant use
Price at the time of publication: $8.99
When it comes to quality and value, you can't beat the Pinsuko Tweezers For Ingrown hair. However, when it comes to plucking curly hair, these tweezers are perfect because they are sturdy, sharp, and pointed in a way that they remove any stray hair swiftly, with minimal pain. In addition, these tweezers are a convenient tool that you can carry around in your beauty bag to address any ingrowth issues on the go! Also, the ergonomically designed body shape ensures that the tweezers are easy to hold and won't slip or lock during the extraction process.
Pros
Perfectly aligned tip
Comfortable handle
Suitable for fine hair
It doesn't scrape the skin
Durable
Cons
May only be ideal for extracting ingrown hair
Price at the time of publication: $9.99
This stress-free beauty tool has a slanted tip and is guaranteed to give you fantastic results. The tweezers grab every type of facial hair, with precision, without scratching or pulling the skin. Also, the durable slanted square tip holds the hair strands firmly without breaking them; you don't have to worry about hit or miss situations with this square tip tweezer because it removes even the finest hair strands with ease and precision. The tweezer is made from the highest quality stainless steel. It is quite versatile because it extracts not only fine hair but also blackheads and splinters.
Pros
Slanted square tip
Precise alignment
Comfortable handle
Suitable for people with arthritis
Safe to use on delicate skin
Versatile
Cons
• Some may find the prong's grip flimsy
Price at the time of publication: $6.99
This facial tweezers set includes four tweezers of different angled tips so that you can choose from slanted to pointed ones. The firm grip allows you to have complete control, and they are made from premium-grade stainless steel to last you a long time. It will meet all your needs because it is excellent for plucking stray hair strands, ingrowth, and shaping your eyebrows as well. Since they allow a comfortable grip, you can squeeze the prongs with minimal pressure without worrying about sore hands. In addition, they are suitable for travel because you can conveniently carry them in a leather pouch.
Pros
Made from premium stainless steel
Suitable for ingrown hair
Set includes slanted and pointed tips
It comes in a travel-friendly pack
Cons
It may not be ideal for coarse, curly facial hair
If you want to perfect the shape of your brows and extract any annoying facial hair strands that are short and fine, then this set is perfect. This high-quality and affordable set is one of the best precision tweezers for fine hair. It includes a pointed tip and slant tip tweezer that is perfect for removing ingrown hair and splinters. In addition, each tweezer is expertly aligned, and they are made from stainless steel. The professional-grade fine hair tweezers give you excellent results. The tips are perfectly aligned to provide accuracy and a painless hair removal experience.
Pros
Provides flawless precision
Extracts ingrown hair, blackheads, and splinters
Made from stainless steel
Available in two styles
Cons
It may not have a comfortable handle, especially for people with joint pain.
Price at the time of publication: $9.99
Now that you have read through some of the top tweezers available online for fine hair, you must know the features to look out for before purchasing the perfect one. Our buying guide will help you on that front; keep reading to learn more.
How To Buy The Best Tweezers For Fine Hair
When looking for good-quality materials, hygiene is crucial. Hence, it would help if you looked for a pair made from premium quality stainless steel. You can go for surgical stainless steel or high-quality German-grade steel for the best results.
There are different types of tweezer tips, which suit various types of facial hair. For instance, if you want a tweezer for thick hair, go for the comprehensive/ textured tip. On the other hand, the pointed tips are your best bet if your aim is fine and peach fuzz hair.
This is another essential factor you must look into before purchasing tweezers. This means that both sides of the tool are perfectly lined up, and it will effectively grab onto your hair. The alignment will also ensure that your skin is not harmed and the hair is extracted smoothly, without any snags or breakage.
Why Trust StyleCraze?
Kirtana Divakar, who authored this article, is a skincare aficionado. She wanted to help her readers buy the best tweezers for fine hair, so she made a list of them after conducting thorough research and reading many product reviews. These listed items are easy to use and give you impressive results. From removing fine hair above your lips to plucking eyebrow strands, these products can do a lot.
Frequently Asked Questions
How to pluck fine facial hair?
To safely pluck fine and stubble facial hair, you will need pointed precision tip tweezers. They have to maintain a good grip on the strand so that it doesn't break when you pull it and lead to any annoying ingrowths.
Does plucking hair make it grow back thicker?
Plucking facial hair is one of the most common hairs removal methods, and it does not cause hair to grow back thicker or faster.
Is using tweezers better than shaving?
It depends; if it's just for facial hair removal, plucking can be better than shaving because the results are long-lasting.
How long does it take for hair to grow back after tweezing?
If done correctly, plucking fine hair will keep it from growing back for at least six weeks. This is more prominent when the entire strand is extracted from the follicle.
Are pointed or slanted tweezers better for fine hair?
Slanted tweezers are better for fine hair. They give you more control over the process and gives you a better view angle as well.
How often should tweezers be replaced?
Tweezers do not have an expiration date. But they do become dull and lose their capacity to grip hair over time. Replace them when you don't feel they are efficient any more.
Recommended Articles
Best Tweezers For Facial Hair That Make Your Skin Feel Smooth
Best Tweezers With Light To Close On Those Little Hairs
Best High-Quality Drugstore Tweezers
Best Lighted Tweezers To Get Perfectly Arched Eyebrows