13 Best Tweezers For Ingrown Hair Removal With Buying Guide
Remove your ingrown hair without damaging the hair follicles with these precision tools.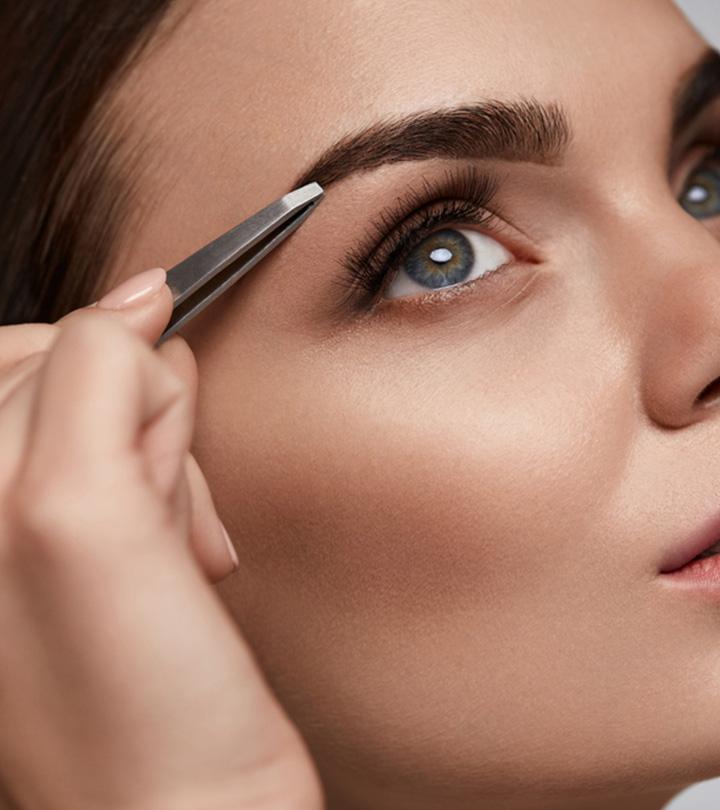 Ingrown hair removal can be an excruciating process for many. However, the best tweezers for ingrown hair can make the task easier for you. We usually visit the salon to get our eyebrows shaped according to our facial structure or get our body hair waxed. However, it is not always possible to hit the salon for one or two stray hair strands that show up randomly. And when you try to remove them at home, you may end up with ingrown hair.
Removing ingrown hair requires surgical or precision tweezers. These tweezers help you pull the hair from the root without damaging the hair follicle. They come in handy when you have to remove one or two stray hair strands from the eyebrows, upper lip, and chin. However, if you are confused about which tweezers to go for, we can help you pick one. Here, we have prepared a list of the 13 best tweezers for ingrown hair. Scroll down to take your pick.
Top 13 Tweezers For Ingrown Hairs of 2023
Even the most stubborn, ingrown hair on your face stands no chance with a tip as sharp as this one. The long-pointed precision tips grab each hair firmly and remove it in one swift pull. This pair of surgical tweezers is also the perfect tool for an eyelash extension application.
Ideal for precision plucking, the perfectly aligned tongs of this high-quality tweezer will also help you remove splinters, thorns, glass shards, and metal debris. It is made of premium-grade stainless steel and gives you better hand control and an extra-strong grip. It is a great tweezer to remove unwanted hairs without scraping or harming your skin. It is also one of the best tools to remove thorns. A lot of positive Amazon reviews of this product testify to the satisfied testers' experience as they got precise visible results.
Pros
Stainless steel surgical tweezers
Tips are aligned with each other
Long and pointed precision tips
Hand-filed calibrated ends
Available in a variety of colors
Cons
After extended use, the tips tend to bend.
Price at the time of publication: $8.97
The Coco Closet Professional tweezer goes beyond your usual grooming tweezers. It is specifically designed to remove fine, small, ingrown, or unwanted hair from your face. It is hand filed and has a sharp plucking angle to remove hair from the roots. The tool features a non-slip silicon grip for safety purposes. It is made with medical grade steel, is rust-proof, and comes with a safeguarding cover to retain the sharpness of the tool for a long time.
Pros
Non-slip silicon grip
High-quality stainless steel
Aligned sharp tips
Rust-proof
Comes with a safeguarding cover
Travel-friendly
Cons
Breaks the hair midway before plucking out
Price at the time of publication: $8.99
The TRBC Tweezers For Ingrown Hair are specifically designed to pluck coarse and curly ingrown hair. It prevents razor bumps and folliculitis. These tweezers for coarse hair are designed with a surgical-grade needlepoint that is perfectly angled to pluck even the finest body hairs. It is made with long-lasting, high-quality stainless steel. It can be used for removing splinters and ticks from people, cats, dogs, and other pets besides plucking your facial hair. It is ergonomically shaped and offers an anti-slip grip.
Pros
Ingrown hair removal needle tip
Ideal for precision plucking
Ergonomically designed
Made with durable stainless steel
Anti-slip grip
Long-lasting
Cons
None
Price at the time of publication: $7.99
Living with ingrown hair can be quite disheartening. It may prevent you from wearing your favorite outfits, it may be a cause of embarrassment for some, and for others, it may be the cause of constant pain. So, if you are on the lookout for the best tweezers for ingrown hair, you need not look any further than this ingrown hair tool by Tweezerman. It is made of stainless steel, which means that it is durable and will last you a lifetime. The tips of this Tweezerman extractor are hand-filed to achieve brilliant sharpness and help get rid of ingrown hair with minimal pain. If you are also a carpenter, or someone who's line of work involves dealing with wood, you can use this tool to remove splinters. Thousands of people tested this product and shared their positive reviews which indicates that it provides precise and visible results.
Pros
Sharp and tapered tips
Easy to clean
Made of stainless steel
Tweezerman takes the responsibility of the free sharpening of the tweezer.
Cons
Some may feel that the tips aren't perfectly aligned.
Price at the time of publication: $15.0
The Nylea Professional Tweezers Set is perfect for your everyday grooming needs. This stainless steel set is extremely durable and easy to clean. The set includes cuticle scissors, a toenail clipper, a fingernail clipper, a nail file, an eyebrow comb, and flat, slanted, pointed, thin, and wide tweezers. You can easily pick out ingrown hair, odd hair, splinters, chin hair, or any unwanted hair from your body with these tweezers. The set has a compact carrying case. The tools are made of Grade-A 304 stainless steel which offers durable performance. All the tweezers are well constructed and have aligned tips, even prongs and pointy tips for precise tweezing results. Additionally, the tools feature ergonomic handles.
Pros
5 tweezers
Grade-A stainless steel
Aligned tips
Ergonomic design
Durable
Sharp tips
Value for money
Travel-friendly
Cons
Sharpness might deteriorate after extended use
Price at the time of publication: $14.99
Whether you need a pointed tip to tweak an ingrown or need a sharp flat end to pull out a splinter, this Zayraz Style Tweezer Set is perfect for all your needs. The tweezers are made of 100% stainless steel. They can be used to pull out ingrown hair, blackheads, and splinters, and even for shaping eyebrows. The slanted and pointed tweezers are hand filed for precision and improved alignment. They have non-slip handles which are easy to grip. The tweezers come in a leather case which makes them super portable.
Pros
Non-slip finish
Ergonomic handle
Sharp tips
Comes in a leather protective pouch
Professional grade stainless steel
Portable
Cons
Price at the time of publication: $12.49
The LahGum Metal Super Sharp Pointed Tweezer is a precision tool designed for fine-ingrown hair removal. It is made from strong surgical-grade stainless steel. It has fine point tips that are ultra-sharp and calibrated for perfect alignment. The yellow and black powder-coated finish ensures a comfortable grip. The protective caps extend the longevity of the tool. These fine-tip tweezers are also effective in removing splinters, and tiny objects embedded in your skin with ease and precision.
Pros
Durable
Ultra-sharp, fine-point tips
Comfortable grip
Cons
Price at the time of publication: $6.99
The LahGum Metal Super Sharp Pointed Tweezer is made with high-quality stainless steel. It has pointed tips that are sharpened for perfect precision, alignment, and calibration. The pointed edges make it super easy to pull out the hair effortlessly. The tweezer also comes with a protective cap for utmost safety. It is also extremely useful in removing splinters and blackheads. The tweezer has a sleek slim design, ideal for carrying in your handbag.
Pros
Powder-coated color
Aligned and pointed tips
Medical-grade blade
Multipurpose
Value for money
Durable
Has protective caps
Cons
Price at the time of publication: $8.99
If your extensive search for how to remove ingrown hair isn't bearing fruit, perhaps you are looking in the wrong direction. Sometimes, the answer may be as straightforward as a Bubblegum Pink colored surgical tweezer. Get your hands on this stainless steel tweezer that will make you forget you ever had ingrown hair. Its sharp precision tips are hand-filed to provide a gentle yet superior grip. The colored coating on the body of the tweezer is not slippery, allowing for a firm grasp. Not only is it one of the best tweezers for ingrown hair, but you can also use it to remove ticks or other small particles stuck in your fingers. It also includes a nice carrying case.
Pros
5 inches for better grip
Hypoallergenic material
Comes with a protective pouch
Includes tip guards to protect the tips.
Cons
The tips may be too long for some.
Price at the time of publication: $13.39
The Rubis Switzerland Two Tip Pointed Tweezer is a high-quality tool, made of the finest grade stainless steel. It has two slanted tips for all-purpose hair removal. This pointed tip tweezer helps you selectively remove hair. Each pair of tweezers goes through a 40-step production process and is checked under a microscope to assure precise tip-to-tip alignment.
Pros
Highest-grade stainless steel
Durable
Versatile
Precise tips
Cons
Price at the time of publication: $34.4
While most tweezers are designed for removing stubborn ingrown hairs and defining eyebrows, this one is the perfect tweezer to remove curly and coarse ingrown hair. Its sharp needle-point tips grip each hair and pluck it out while preventing razor bumps and folliculitis. Sometimes when we tweeze out hair we find ourselves accidentally getting our skin pinched. But not with this one! It is perfectly angled to avoid such incidents. It ensures that the hair is plucked out from the root without breakage or letting hair slip through. Made of high-quality stainless steel, this tweezer is built to last, is non-magnetic, and rust-proof. Its ergonomic design also ensures an anti-slip grip. These tweezers for thick hair are also an excellent tool to remove small items lodged in your skin or even lice and ticks breeding in your pets' bodies.
Pros
Made for thick, curly, and coarse hair
Needle-point sharp ends
Resistant to microbial growth
Anti-rust
Cons
The black coating tends to flake away.
Price at the time of publication: $7.99
This mini splinter tweezer will quickly become your favorite due to its unparalleled qualities. One of the best tweezers for ingrown hair in a compact size, it is handmade by highly skilled Swiss craftsmen. After an extensive 40-step finishing process, the tweezer is tested under a microscope to verify if the tips are aligned. Made of 100% durable stainless steel, this ingrown hair solution will never lose its edge and is rust-proof as well. The interior of the tips is embedded with crushed diamond, which allows for easy hair extraction from the roots.
Pros
Non-slip grip for better control
Made of stainless steel
Anti-rust
Undergoes a 40-step finishing process
Handcrafted
Cons
Price at the time of publication: $44.99
Ideal for both home and professional use, these stainless steel tweezers are handcrafted to perfection. The tips are individually sharpened by Japanese craftsmen to ensure nothing short of the best tweezing experience. Its ergonomic design makes it easy to hold and deliver precision plucking. This slant tweezer makes it easy to pull out any kind of hair. This tweezer is tempered twice and comes with a black epoxy coating, making it safe from disinfectants. Not only is it a good tweezer to pluck out eyebrow hair and remove ingrown hair, it is also an ideal choice to remove thorns and splinters.
Pros
Handmade by skilled Japanese craftsmen
Slanted tips
Suitable for coarse hair
Lightweight
Cons
Price at the time of publication: $20
Now that we have looked at some of the best tweezers for ingrown hair, we hope that it will help you make an informed choice. Find more helpful tips below.
How To Look For The Best Tweezers For Ingrown Hairs – A Buying Guide
How To Choose Good Quality Tweezers For Ingrown Hair
When choosing a good quality tweezer to remove ingrown hair, look for the following qualities:
Ensure that the tweezer features handcrafted needle-point tips.
Stainless steel is an excellent material. It is durable, lightweight, and anti-rust.
Make sure that the tips come with perfect alignment for superior ingrown hair extraction and precise plucking.
It will be a great pick if the tips come with a protective travel tube or casing.
An optimum quality tweezer comes equipped with tips that don't bend easily.
You can also read reviews and watch videos about the reviewers' experience to find a suitable tweezer for yourself. This is how you can choose the best tweezers for ingrown hair. Scroll down to know more about simple ingrown hair tweezing tips.
How To Get Rid Of Ingrown Hairs With Tweezers?
Step 1: Sterilize your tweezer beforehand. You can use rubbing alcohol, or cotton swab and soapy water to clean it.
Step 2: Wash and exfoliate the affected area.
Step 3: Make sure that all skin care products have been completely wiped off.
Step 4: For best results, soak a soft piece of muslin cloth in lukewarm water. Get a good grip. Dab it gently on the ingrown hair for about a minute.
Step 5: Use a tweezer with a needle-point tip to coerce the ingrown hair out. Be careful not to tug too hard or cut yourself.
Step 6: Once you remove the ingrown hair, dab the area with an antiseptic cream to avoid redness, swelling, and other infections.
Why Trust StyleCraze?
Srijani Roy Chowdhury is a makeup and beauty enthusiast who loves trying out different beauty tools and products. After conducting thorough research, she prepared this list of the best tweezers for ingrown hair. The products included in the list have the highest reviews and positive user feedback. They can help you eliminate stray hair strands and stubborn ingrown hair. You can also use them for grooming your eyebrows.
Frequently Asked Questions
What are ingrown hairs?
An ingrown hair is a hair that grows back into the skin. Typically, our hair rises from our skin's surface, but sometimes due to certain reasons, hair is forced to grow under the skin.
Does using a tweezer cause ingrown hair?
If the hair breaks close to the skin's surface, or just beneath the skin when tweezing, it could cause ingrown hair.
What is a good pair of tweezers?
A good pair of tweezers removes not just ingrown hair but hair from the eyebrows, upper lip, and other parts with equal ease and minimal pain. It should be sturdy yet lightweight and easy to hold.
Is it bad to squeeze out ingrown hairs?
It is not wise to squeeze out an ingrown hair as it may cause further infections and leave a permanent scar.
What causes ingrown hairs?
Improper shaving and tweezing techniques are the most common reasons for developing many ingrown hairs. If not done correctly, the hair might grow back inside the skin and develop ingrown hairs.
How do you get a deep ingrown hair out?
• Apply a warm compress to the ingrown hair area to soften the top skin layer.
• Exfoliate the area with a chemical exfoliant to deep clean the dirt trapping the ingrown hair.
• Use a clean tweezer with a narrow tip. Hold the hair with the tweezer and gently pluck it out. Do not poke the skin to get the hair out forcefully.
• Apply a lotion that contains anti-inflammatory and non-comedogenic ingredients to the area.