12 Best Tweezers With Light To Close On Those Little Hairs – 2023
Get rid of even the most delicate and thinnest hair strand with pinpoint accuracy.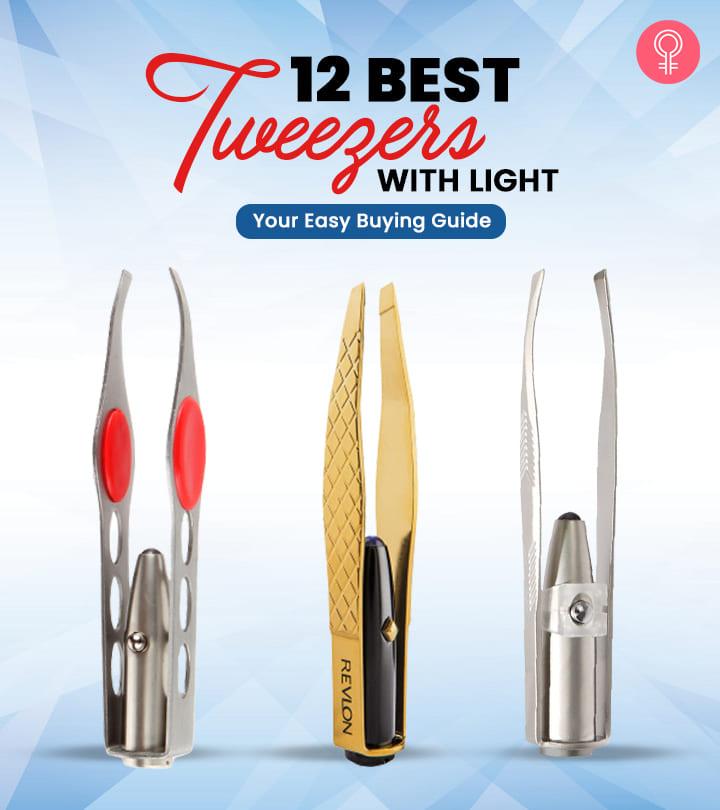 A tweezer comes handy when dealing with unruly eyebrow hair, splinters in your hands or feet, pokey or itchy ears, precise craft, or delicate nail art. And if that tweezer comes with an in-built light, your job becomes much more simple. So, here, in this article, we bring you the best tweezer with light. It is a powerful tool that helps grab even the tiniest objects and remove them precisely. This tool is a staple for makeup kits, first aid kits, and tool kits. It is extremely helpful when you are juggling electronic spare parts. Some tweezers also feature magnifiers, better grips, special bodies, and other features. Scroll down to find a list of the 12 best tweezers with added features that make your tweezing experience easy.
12 Best Tweezers With Light
The Revlon Gold Series of facial tools bring you titanium-coated tweezers. The titanium coating makes them last long with efficient strength and durability. The tweezer is fitted with a bright LED light which facilitates precision and accuracy for the finest of hairs. The slanted tips are well-aligned and cover all grooming requirements. The tool comes with a replaceable LR41 battery.
Pros
Designed with LED light
Excellent accuracy
Slanted tips
Titanium-coated
Durable
Cons
Dulls easily (does not remain sharp)
Price at the time of publication: $23.34
The Lumi Tweezers from Sensica are precision tweezers with bright LED light for better viewing. It has slanting tips which enable the finest of hair to be held and picked with ease. The ergonomic handles offer good grip and finger control. The multi-purpose tweezers can be used for plucking eyebrows, moustache, small splinters, fine hair, and also to apply false eyelashes. It is made of durable and rust-proof stainless steel material and offers long-lasting performance.
Pros
Durable
Easy to clean
Ergonomic design
Multiple uses
Cons
Price at the time of publication: $14.8
The Trenton Gifts stainless steel tweezers are fitted with an in-built LED light for accuracy and precision at any angle. The set of three facial tools are cost-effective and help remove hair from chin, ear, upper lip, eyebrows, etc. Its stainless steel construction is long-lasting. They are also corrosion-proof and rust-proof. The heavy-duty tweezers also work great on hard hair like mens' beards. Splinters, ticks, in-growths, or small objects can also be removed with these tweezers easily and can be used on humans or pets alike. Each tweezer measures 3.75" long with slanted tips and rubber-like comfort grips in red, purple, and blue.
Pros
Mini size
Versatile
Set of three
Different grip colors
Rust-proof
Corrosion-proof
Durable
Cons
None
Price at the time of publication: $11.99
Professional Tools from ZoneYan include an excellent LED-lit tweezer which makes fine hair removal a breeze! The two-piece set is designed with slanting tips and is apt for removing splinters and ingrowths. The ergonomic crafting makes it lightweight and easy to use with precision. The tweezers come in a carry case that makes them portable and convenient for travel. Beautifully designed with matte finish handles, the tweezers offer a stable grip. Each piece measures 9.7cm and is made of durable stainless steel, which is rust- and tarnish-proof. It runs with 3 button batteries and a convenient push-button switches the light on and off.
Pros
Beautiful design
Matte finish
Easy portability
Lightweight
Medical quality stainless steel
Rust-proof
Tarnish-proof
Cons
The blades are not aligned well.
Price at the time of publication: $12.99
A two-piece ear-cleaner health tool kit from Pozilan includes an earwax spoon digger and a pair of tweezers. The set comes in a case for easy portability. The ear spoons have two head sizes, and the tweezers are a cute fish shape. Made of high-quality stainless steel, they are durable and efficient. They help to pull our solidified ear wax or fine ear hair. The LED light allows clear visibility, capturing the finest of hairs and avoiding accidents. A simple switch button turns the light on and off.
Pros
Switch button light
Durable
Top grade stainless steel
Rounded dull heads
Cons
Price at the time of publication: $11.68
General Tools Lighted Tweezers are crafted with smooth point tips and an anti-slip comfortable grip. It comes equipped with an LED light which allows the user to see the finest of hair clearly. Its heat-treated handle is corrosion-proof with an anti-glare black finish. Three LR41 batteries and a simple on/off button operate the light.
Pros
Smooth point tip
Corrosion-resistant
Push on/off button
Anti-slip grip
Cons
The tips are not well-aligned.
Price at the time of publication: $15.29
The UST Trail Tweezer is a plucking tool with an integrated LED light. It makes this simple machine extremely helpful during camping trips, hiking, and all kinds of outdoor activities. The tweezers are designed with rubber finger pads for a good grip. It is well-aligned and has sharp tips to pull out stuff from the skin. The light requires three AG3 or LR41 batteries, which are provided in the buy.
Pros
Great during outdoor trips
Rubber finger pads
Easy on/off button for light
Convenient
Comes with batteries
Cons
Price at the time of publication: $9.9
MagniGrip from Carson is a tweezer that includes not only a light but also a magnifying glass. The lighted MagniGrip provides a 4.5x view through a 1.1" diameter magnifying lens. This enables extra clarity of the target hair or object/splinter and facilitates precision tweezing. The ultra-fine points on the tweezers are in-built in the magnifier. Expandable to a 70-degree angle, it is also a great tool for doing crafts and hobbies, electronics, picking ticks and lice, removing fine hair, etc., which require intricate workmanship. This divide has a detachable base which makes it possible for you to use the lighted tweezer even without the magnifier.
Pros
Lightweight
Fine point precision tweezer
Detachable base
Bigger grip
4.5x power magnification
Cons
Price at the time of publication: $11.99
This precision-tip tweezer is ideal for shaping your eyebrows. It is equipped with an LED light and an ergonomic grip, which, combined with its lightweight feature, is ideal for multipurpose use like removing an ingrown hair or a splinter, working with electronics, etc. It is made with medical-grade stainless steel that makes it sturdy, durable, and easy to clean.
Pros
Versatile use
Lightweight
Easy control
Made with medical-grade stainless steel
Comes with batteries
Cons
None
Price at the time of publication: $12.99
This ear-cleaning kit from Yesunny is a four-piece set for adults and kids. It includes one ear pick with light, one ear tweezer with light with batteries included, one spiral ear spoon, one spring ear spoon, and one ear spoon head. The LED light makes it easier to view the ear canal for better cleaning. The light can be operated with a press button. The stainless steel body with the attachments weighs 0.25lbs. The effective tweezer head is designed with non-slip lines which give it a better grip. It pulls out wax residue almost effortlessly. The set comes in a rose-gold metal storage box which is perfect for gifting.
Pros
Comes is a metal box
Stainless steel
Set of four pieces
Better viewing
Anti-slip head
Cons
Price at the time of publication: $11.95
Eutuxia Flashlight Ear Pick is an earwax removal and cleaning kit. The set includes three transparent extensions –  basic, small, and tweezer, which can be stored in a rear compartment. These tools are interchangeable. The illuminating light allows precision and accuracy while tweezing fine hair and cleaning the inside of the ear. The instrument comes with three LR41 batteries, which are long-lasting and easy-to-replace. This lightweight and portable cleaning device is ideal for kids. The tweezers can penetrate deep and remove solidified wax from the inside of the ears. The handle is designed for easy grip and maneuverability. A simple on/off switch operates the light.
Pros
Accurate
Lightweight
Clean and hygienic
Portable
Batteries included
Cons
Price at the time of publication: $6.99
The illuminating tweezers from La-tweez are crafted with Diamond Dust tips and a fine stainless steel body. The tips are hand-filed and precisely aligned. The in-built LED light is bright and allows excellent viewing of the finest of hairs. It comes in a fancy compact case which is portable and great for travel. The design also includes a magnifying mirror. Diamond Dust technology provides exceptional grip with a stronger-than-normal metal structure. It assures an effortless tweezing experience.
Pros
Fine stainless steel
Diamond Dust technology
Well-aligned
Ultra-bright light
Cons
Price at the time of publication: $36
Types Of Tweezers
Tweezers are available in various types based on design and functionality. Here are a few examples.
Slant-Tip Tweezers: This is the most common type. It is an ideal shape for plucking eyebrows or even applying false eyelashes. The slanted shape of the edge makes it easier to grab hair while allowing precise plucking.
Point-Tip Tweezers: This type of tweezer requires a steady hand and could cause nicks and cuts if you are a beginner. But they are capable of plucking the finest of hairs, however short or thin. It is ideal for ingrowths or removing splinters. These are also great for grabbing decals and rhinestones for nail art.
Pointed-Slant Tweezers: This is a combination of the first two types. The slant of these tweezers is deeper, but they grab fine hair very easily too. The points are not as sharp as a point-tip tweezer but still enough to grab fine hair and pull out splinters and ingrowths.
Round-Tip Tweezers: Round-tip tweezers tend to grab too many hairs at one time and may be painful. But they are good for angling. These tweezers are also safer with less chances to nicks, cuts, and stabs.
Flat-Tip Tweezers: These tweezers are also not recommended for tweezing hair as they tug unevenly and pull out more hair at a time, becoming painful. These are good, however, for applying false eyelashes or delicate craftwork.
Arched-Claw Tweezers: The arched-tip tweezer allows a better view of the hair it is grabbing. These tweezers are used mainly for hard-to-see areas like light-colored or short hair and bikini lines.
Wide-Grip Tweezers: Wide-grip tweezers have a wider body and offer better control and comfort. If you are generally not very careful and delicate with your tweezing, this type may help you become a bit more skilful at the task.
Tips and Tricks To Use Tweezer
Here are some tips and tricks to make your tweezing experience easier and better.
Wash the face or body part and dry well before tweezing. Avoid oils, lotion, or makeup as these may make the hair slippery and difficult to grab.
A hot shower helps to open up the pores of the skin, making tweezing less painful.
A magnifying mirror or a tweezer with an in-built magnifying glass can help you zero in on the exact location and the hair or object you want to remove.
In case you are shaping your brows with a tweezer, it is advised to define the shape with markings. The arch limits should be drawn so you don't end up plucking a brow that may ruin the shape.
Always wash and sterilize the tweezer before and after use. Rub some alcohol or sterilizing agent with a cotton piece to keep it bacteria-free. Store them in a box or bag for added safety and protection.
Your tweezer should come with an end-cap. Keep these on when the instrument is not in use to maintain its alignment and shape.
Do not press too hard or drop the tweezer while using, as these will disfigure the instrument and disbalance the alignment.
Frequently Asked Questions
Are tweezers good for hair removal?
Yes, tweezers are a great option for hair removal. Using tweezers to pluck the hair correctly prevents them from growing back on unwanted areas for up to a few weeks.
Why won't my tweezers grab hair?
If your tweezers are not grabbing on to the hair, you may need to readjust the edge or sharpen it on a rough surface.
How do you use tweezers without pain?
Taking a hot shower before using the tweezers can loosen up the hair follicle. It makes the process of plucking the hair follicle in one-go easy and painless.
Are straight or slanted tweezers better?
Straight/flat tweezers are usually not recommended to pluck the hair as they may cause pain. Consider opting for a tweezer with slanted edge for easily grabbing the hair and precise plucking.
What are flat tip tweezers used for?
Flat tip tweezers are recommended to apply false eyelashes.
Recommended Articles