10 Best Two-burner Gas Grills – Reviews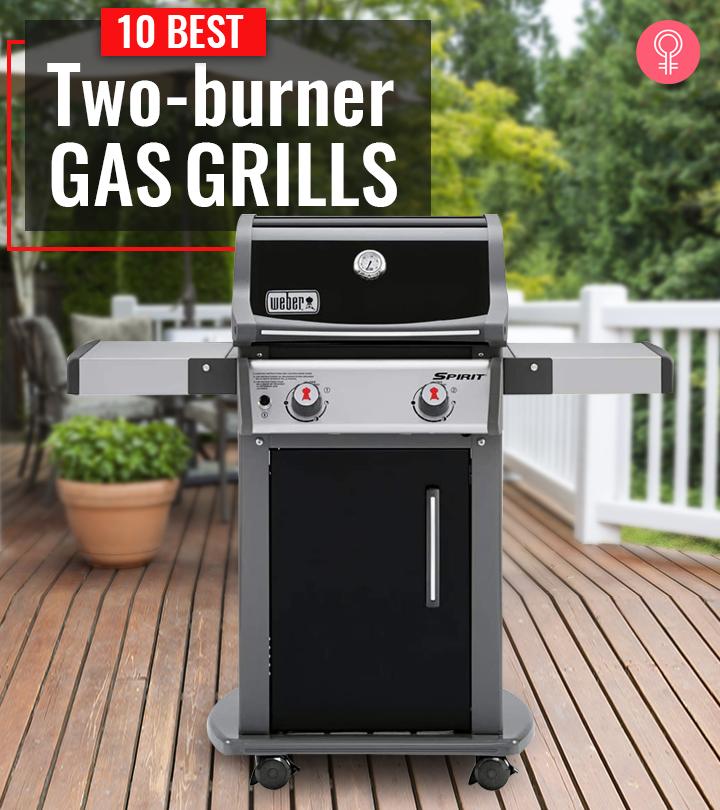 Are you looking for a grill for small outdoor spaces? Get a two-burner gas grill. It is compact, easy to use, and pocket-friendly. It uses propane or natural gas to fuel the gas burners for grilling meat/veggies. All you have to do is connect it to a propane gas cylinder or your home's gas line. Here are the 10 best two-burner gas grills available online. Scroll down to check them out!
10 Affordable Two-burner Gas Grills You Need To Own
The Weber Spirit Gas Grill is designed to fit in your patio or balcony. It has sturdy, porcelain-enameled, cast-iron cooking grates, which are rust or peel-resistant. The porcelain-enameled lid comes with a built-in thermometer. The stainless steel foldable side tables give you a large prep and serve space. It also has six tool hooks for easy accessibility of grilling tools. A bonus is the strong caster wheels that help you move the gas grill around.
Features
Dimensions: 50″ x 32″ x 63″
Cooking Area: 450 sq. in.
BTU/hr: 26,500
Pros
Low maintenance
Easy to clean
Portable
Long-lasting
Cons
Temperature control flawsFuel regulator issues
Difficult to assemble
The Char-Broil Two-Burner Gas Grill comes with porcelain-coated, cast iron grates, which are rust-resistant. The two stainless steel burners are durable and deliver strong cooking performance. It is equipped with an electronic ignition system that start-ups the burners quickly and uniformly with the push of a button. This gas grill has a swing-away warming rack to provide a secondary cooking area – ideal for toasting buns. The entire cooking area is covered by a stainless steel lid that can withstand tough weather.
Features
Dimensions: 42.9″ x 24.5″ x 44″
Cooking Area: 300 sq. in.
BTU/hr: 24,000
Pros
Easy to clean
Expandable prep space
Hassle-free mobility
Space-saving
Easy to assemble
Accessible fuel tank
Durable
Cons
No products found.
The Huntington Gas Grill is designed with a cast aluminium oven, black powder-coated control panel, and cart shelves to withstand tough weather. This gas grill has Accu-Flow burner valves and Sure-LiteTM push-button ignition system to enable quick heating and efficient temperature control. The heat-resistant, front-mounted handle lets you use the grill safely at high temperatures.
Features
Dimensions: 54″ x 20″ x 45″
Cooking Area: 390 sq. in.
BTU/hr: 25,000
Pros
Easy to use
Value for money
Cons
Flimsy body
The electric ignition might malfunction.
The Thermos Burner Gas Grill has a piezo-electric ignition system, porcelain-coated steel lid, and firebox to ensure the grill lights up easily. It rests on two 6″ wheels and two stationary legs for easy portability and stability. This gas grill has plastic side shelves, with built-in tool hooks for storage and easy accessibility.
Features
Dimensions: 49″ x 21.9″ x 41.5″
Cooking Area: 265 sq. in.
BTU/hr: 26,500
Pros
Easy to assemble
High-performance
Value for money
Portable
Cons
Does not support natural gas. Too hot to control
This gas grill has two burners and a stainless steel drip tray. It comes with a stainless steel frame and windshields to face tough windy weather. It is equipped with an advanced pressure control feature so that the heat remains steady. This high-pressure grill lets you regulate the amount of propane that reaches the burner. You can also control the flame intensity, thereby speeding up the cooking process. This grill can be carried in your backpack or luggage using the built-in handle.
Features
Dimensions: 14″ x 18.5″ x 13″
Cooking Area: 250 sq. in.
BTU/hr: 20,000
Pros
Portable
Easy to clean
Easy to maintain
Compact design
Wide cooking area
Cons
None
The SABER Two-Burner Infrared Grill gives consistent grilling results. The patented cooking technology ensures even heat distribution without flare-ups. It comes with a wide temperature range. You can precisely control the temperature while slow roasting or rapid searing. The product also features a warming rack and electronic ignition. It has a sleek body with powder-coated finish and a lid with cast aluminium end caps.
Features
Dimensions: 48.5″ x 25″ x 48.4″
Cooking Area: 330 sq. in.
BTU/hr: 16,000
Pros
No flare-ups
Quick heating
Durable
Sturdy
Cons
The OTU Tabletop Burner Gas Grill is made of durable, 430 stainless steel. It is ideal for picnics, camping, and traveling. It also has buckles to latch the upper and lower bodies to avoid bump damage. This grill has foldable legs that open left and right, making it convenient to set on any surface.
Features
Dimensions: 21.6″ x 16.3″ x 15″
Cooking Area: 277 sq. in.
BTU/hr: 16,000
Pros
Portable
Easy to clean
Lightweight
Compact design
Durable
Cons
The Giantex Tabletop Gas Grill is a CSA-certified, powerful product made of 430 stainless steel. Its compact and unique design is ideal for traveling, camping, picnics, and outdoor dinners. The foldable legs and lockable lid ensure safety. This tabletop grill has two electronic ignition burners, which are adjustable independently. You can, hence, sear a chicken breast, slow roast steak, and toast hot dog buns – all with the same speed and consistency.
Features
Dimensions: 22″ x 18″ x 15″
Cooking Area: 266.5 sq. in.
BTU/hr: 20,000
Pros
Easy to use
Lightweight
Portable
Compact design
Value for money
Quick heating
Cons
No products found.
The Smoke Hollow Two-Burner Gas Grill uses convection-style cooking with better fuel efficiency. Its unique, geometrical V-shape design facilitates a temperature range of 176℉ to 600℉. You can also add wood chips to the porcelain-coated wood chip pan to enhance the meat flavors. The foldable legs with locking hood and side tables allow easy transport.
Features
Dimensions: 46″ x 17″ x 19″
Cooking Area: 367 sq. in.
BTU/hr: 13,000
Pros
Portable
Wide prep area
Quick heating
Lightweight
Cons
Uneven heat distribution
Difficult to maintain
The Royal Gourmet Two-Burner Gas Grill has a large cooking area with expandable metal tables for extra prep space. Its two independently adjustable burners heat up quickly and cook uniformly. The built-in thermometer and user-friendly gauge allow you to accurately control the temperature accurately and grill food to perfection. This stylish and sleek grill has a cabinet cart for more storage space. You can use it to tuck away the propane tank, BBQ tools, and other accessories.
Features
Dimensions: 43.3″ x 22.4″ x 44.5″
Cooking Area: 405 sq. in.
BTU/hr: 24,000
Pros
Easy to clean
Portable
Wide prep and cook space
Quick heating
Value for money
Cons
Not easy to assemble
Might feel heavy
These 10 best gas grills are affordable and a great investment. If you are unable to decide which one to buy, look at a few features that matter the most in making the final choice.
Features To Look For While Buying A Two-Burner Gas Grill
Dimensions: Choose a grill based on the purpose – travel-friendly or heavy-duty. Gas grills with small dimensions are light and compact. They can be carried easily with your luggage. On the other hand, the big ones are usually for fixed spots. But they can grill large batches of food, unlike the portable ones.
Cooking Area: The cooking area is measured in terms of square inches (sq. in.). Gas grills need to have a wide and deep cooking area to ensure safe and even grilling. A large area can accommodate large/multiple batches of food. So, Choose a gas grill based on the size of your family. If it is for 1-2 members, prefer go for a portable/tabletop grill over a freestanding unit.
BTU/hr: The British Thermal Unit per hour (BTU/hr) describes how much energy it takes to raise the temperature of one pound (1 lb.) water by one degree Fahrenheit (1°F). The more the BTUs in a grill means, the faster it will burn up your fuel. To start with, look for 80–100 BTUs per square inch of cooking space.
Easy To Use And Clean: The accumulation of grease, grime, and dust on the gas grills reduce their lifespan. Therefore, buy a grill that comes with removable and washable parts. Go for the ones that have electronic ignition, thermostats, heat-resistant lids, handles, and storage nooks. They are easier to use and safe.
Compare your gas grill options based on these points. Choose from our list of the 10 best two-burner gas grills and enjoy your favorite grilled meats with family and friends – just the way you like!
Recommended Articles
The following two tabs change content below.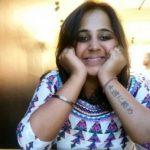 Latest posts by Swathi Handoo (see all)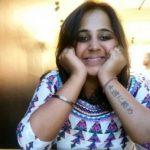 Swathi Handoo
Swathi holds a Master's degree in Biotechnology and has worked in places where actual science and research happen. Blending her love for writing with science, Swathi writes for Health and Wellness and simplifies complex topics for readers from all walks of life.And on the days she doesn't write, she learns and performs Kathak, sings Carnatic music compositions, makes plans to travel, and obsesses over cleanliness.