10 Best Ultrasound Gels Available On The Market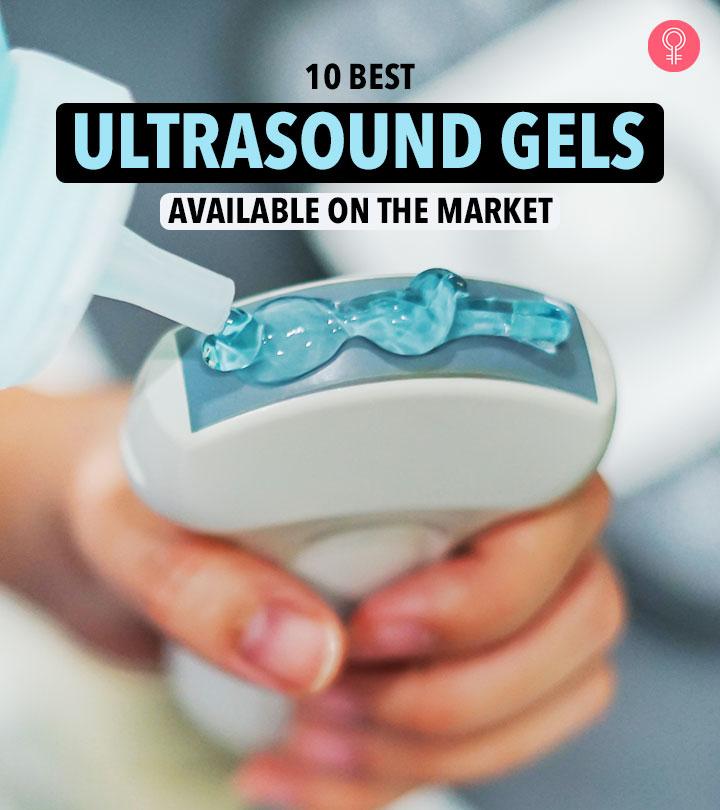 If you have ever gone through an ultrasound, you must have experienced the cold, gooey, and sticky sensation of the ultrasound gel. The gel acts as a conductive medium by reducing airspace between the patient's skin and the ultrasound transducer. It is necessary to produce the best results for the scan. This gel is used in ultrasound diagnostics, ultrasound therapies, laser procedures, and cosmetic treatment.
In this article, we have listed the top 10 RF Radio Frequency ultrasound gels. But before we get to the list, let's look at what an ultrasound gel is and why it is used.
What Is An Ultrasound Gel?
The ultrasound gel is a water-based hypoallergenic gel that is used in all types of ultrasound scans. It can also be used with cavitation machines. The gel is specially formulated to act as a coupling agent and reduce static while using ultrasound equipment.
The ultrasound gel is made of water and propylene glycol. Propylene glycol is a synthetic compound that is found in food and cosmetics or hygiene products. The sticky consistency of the gel allows it to spread over the patient's skin without dripping or running.
The tiny hair and dry skin hold many little pockets of air, and sound waves don't travel through the air very well. The gel becomes a necessity as it serves as a connector and establishes a bond between your skin and the ultrasound probe by eliminating the air. It helps the sound waves travel directly to the tissues beneath the skin of the patient, allowing them to get a clear image of the organ(s) of interest.
Ultrasound gel has the purpose of serving during the scan and is applied to your skin for better scan results. Here are a few reasons the gel is a necessity during scans.
Advantages Of Ultrasound Gel
It provides optimal contact between the ultrasonic head and the skin.
Reduces or eliminates static energy
It eliminates air between the transducer and the skin.
It provides superior transmission of ultrasound waves.
It contains a thickening agent to improve the spreadability on the skin.
Easily removable after treatment without leaving any residues.
The gliding properties of the gel help the ultrasonic head subtly glide over the skin.
It doesn't stain clothes even if carelessly handled.
This gel is acoustically correct for the broad range of frequencies used.
Let's now look at the 10 best ultra sound gels on the market.
10 Best Ultrasound Gels
This multipurpose medical-grade conductive gel can be used with any ultrasound device without the fear of damaging the transducers. It is an efficient coupling agent and spreads evenly during therapeutic and diagnostic procedures.
It can be used for Doppler baby heart monitor, Doppler ultrasound, ultrasonic cavitation, therapeutic ultrasound procedures, and more. This gel is recommended for use for all medical ultrasound procedures where a viscous gel is required.
This is a water-soluble gel that does not stain your clothes and damage the transducers. It is hypoallergenic, non-sensitizing, bacteriostatic, and non-irritating.

Similar Products:
Spectra 360 is a salt-free and chloride-free electrically conductive gel. This gel is recommended for all electromedical procedures except for defibrillation.
As it is salt-free, this gel is suitable for long-term applications. Spectra 360 is significantly different from other electrically conductive gels. It works by wetting the skin, thereby reducing resistance. It is a non-irritating coupling gel and bacteriostatic.

Similar Products:
Aquasonic Ultrasound Transmission Gel is acoustically appropriate for a broad range of frequencies. It's gentle wetting of the skin assures excellent transmission of ultrasound waves at all times. It doesn't have any formaldehyde and spermicide.
This is a complete aqueous solution that doesn't stain your clothes and damage the transducers. Its unique formula is non-sensitizing, non-irritating, and bacteriostatic. The dispenser bottle comes with a Parker's SNAP CAP with a self-sealing silicone cap. This gel is used and recommended by leading manufacturers of ultrasound equipment worldwide.
This gel comes with a 5-year expiration from the date of manufacture, as long as it is stored away from light and at room temperature. It is recommended for all procedures in which a viscous gel is required.

Similar Products:
Medline is a global manufacturer and distributor of medical products with patient-centered solutions. They offer services and expertise across the continuum of care. Medline Blue Ultrasound Gel is a latex-free, non-greasy, and water-soluble ultrasound gel.
Each case has 12 bottles. It is available in 8.5 oz squeeze bottles or 5-liter jugs that include four 8.5 oz empty bottles.

Similar Products:
This clear ultrasound gel couplant is used for therapeutic and diagnostic ultrasound and neuromuscular electrical stimulation. It is alcohol-free, salt-free, and non-corrosive. It comes in 5-liter containers.

Similar Products:
JazzyGel MV is a trademark of Jazz Labs Company Ltd. It is a multipurpose ultrasound gel with medium viscosity. This is a water-based and water-soluble gel. It is a stable couplant that holds on vertical and overhead surfaces and fills the depression in rough services.
It is a slow drying gel and a good transducer lubricator. It has an extended ambient temperature range. It is free of fragrance, latex, parabens, salt, and alcohol. It is composed of purified water, glycerine, carbomer, polyethylene glycol, phenoxyethanol, and sodium hydroxide.

Chattanooga Conductor Transmission Gel is a water-soluble, non-greasy ultrasound and electrical coupling gel. This gel does not irritate tissues or cause damage to the ultrasound applicator. It spreads evenly and is one of the most efficient coupling agents for diagnostic and therapeutic procedures.
This aqueous coupling agent is non-allergenic and is meant to be used on intact skin only. This product is not intended for surgical use and also should not be used with defibrillators.

Medvat Lavender Scented Transmission Gel is a water-soluble and hypoallergenic gel. It includes aloe vera for additional moisturizing of the skin. The gentle lavender scent enhances the experience of the patient and offers a calming spa-like environment.

Medex Blue Transmission and Scanning Gel is a water-soluble, hypoallergenic, and non-irritating gel. It has no formaldehyde. This gel uses high-quality ingredients with the purest water. It provides a wide range of frequencies for diagnostic and therapeutic procedures.

Aquaflex Ultrasound Gel Pad is a disposable gel pad. It eliminates the risk of cross-contamination in therapeutic and diagnostic procedures. This gel cushions sensitive areas and is hypoallergenic and bacteriostatic. It is aqueous and flexible and best for difficult to visualize and near-field areas or when gel alone won't do. This gel pad is easy to use.

Ultrasound gels can be used for varied purposes. However, we advise you to read the product description before you use it for any other intended purpose. The above lists featured the best-reviewed and used ultrasound gels on the market.
Ultrasound scan is considered to be a safe radiological procedure. Though adverse skin reactions with doppler ultrasound are uncommon and rare, a few cases have been reported. A small population of people developed contact dermatitis when exposed to ultrasound gel. The study concluded that the purpuric reactions occurred as a result of phenoxyethanol and paraben mixing and causing irritation to the skin (1). We have listed a few more side effects of the ultrasound gel below.
Ultrasound Gel Side Effects
Ultrasound gels can leave behind a sticky and greasy residue, causing drying of the skin or flaking.
Bacterial contamination
Dermatitis
Let's now look at the difference between ultrasound, ECG, and IPL gels.
Difference Between Ultrasound Gel, Electrocardiography Gel, And IPL Gel
The electrocardiography (ECG) gel has the same viscosity as the ultrasound gel. The main underlying difference between ECG gel and ultrasound and laser gels is that the electrocardiography gel contains an additional component that enables it to transmit electro activity via a person's skin. This is done with the help of electrodes. The current is then transmitted into the ECG device for recording.
The IPL gel has more viscosity than the ultrasound gel, which helps to disperse and minimize the heat produced by the laser or IPL equipment. The laser gel provides much more favorable results of refraction of light when passed through it when compared with other gels.
We hope you find this article helpful. Let us know your views in the comments section below.
Frequently Asked Questions
What is an ultrasound gel made of?
Ultrasound gel is a thick transparent substance. Several companies make it out of various combinations of water, propylene glycol, glycerine, perfume, dyes, phenoxyethanol, or carbopol R 940 polymer. The information about the ultrasound gel is hard to find, but you are most likely to find it in the material data safety sheets of the various companies that make it.
How long does ultrasound gel last?
The manufacturers mention that the shelf life of the ultrasound gel is 5 years. However, it is advisable that once the bottle is open, you should mark it with an expiration of 28 days. The rationale behind this recommendation is that this gel is used by multiple people and multiple times. Thus, there is no way to ensure that the gel is not contaminated. Ensure that only sterile gels are being used for procedures involving vaginal or esophageal transducers, biopsy, etc. The sterile gel is only for one-time use.
What can be used as a substitute for an ultrasound gel?
While the ultrasound gel is a specialized formulation used during the procedure, there are many substitutes that serve the same purpose, like KV jelly, Bio-oil, moisturizers, and creams, hand sanitizer, skin gel, or aloe vera.
Is it safe to use ultrasound gel substitutes?
Medical grade ultrasound gel is costly. Hence, many consumers and clinicians resort to alternatives. However, these gel substitutes come with some risk. They might give unreliable diagnostic results, cause skin irritation or allergies, and even damage the machine. Coupling agents are specialized ultrasound supplies. The conductive gel has been formulated, keeping in mind the needs of the procedure.
References
"Contact dermatitis due to ultrasound gel: A case report and published work review" The Journal of Dermatology, Wiley Online Library.
Recommended Articles