15 Best Under-Eye Concealers For Mature Skin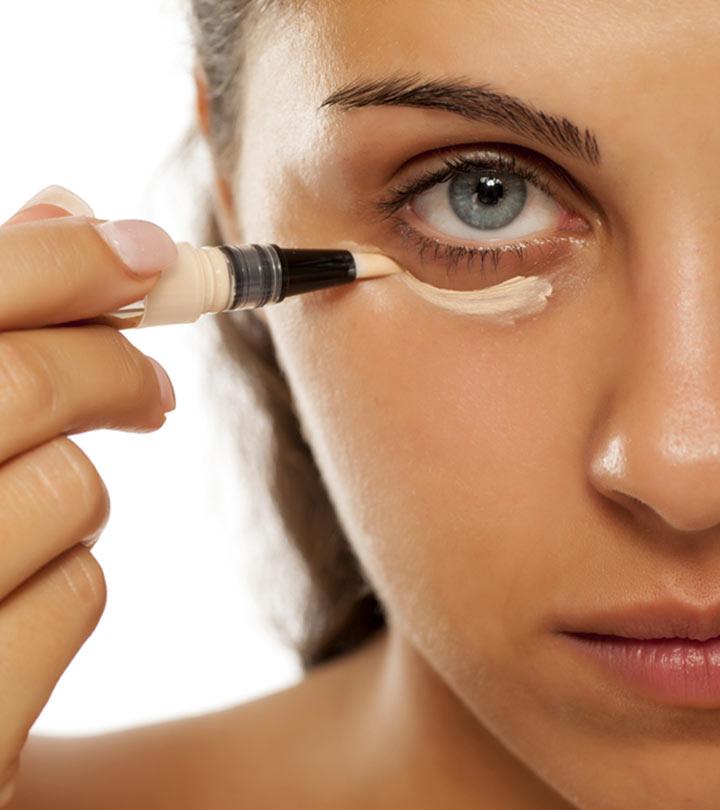 When you start aging, your skin starts to mature as well. The results of that are visible on your face, especially under and around your eyes. Therefore, the products you use should also change accordingly. The easiest way to do this is to invest in the best under-eye concealers for women over 50. At this age, your eyes start looking dull, puffy, baggy, or engulfed with dark circles that ruin your makeup look. That's when a concealer comes into play as it masks all these eye issues and leaves your eyes looking fresh and popping. Look for something that is easy to apply, feels light, and also suits your skin type.
This helpful list of the 15 best under-eye concealers for anyone over 50 can help you find your next product and fix your under-eye issues. Check it out!
What Is A Concealer?
As we age, it is inevitable that we get fine lines and wrinkles. Apart from that, our skin also goes through breakouts that tend to leave dark spots, scars, and other skin discoloration. All this along with dark circles and other skin imperfections are not new to us but how do we tackle them? That's where concealers come into play. They are skin correcting measures that help reduce visible signs of aging and leave you with young, radiant, and flawless skin. Concealers can be in the form of powder, cream, liquid, or stick, and depending on your skin type, you can choose the one that suits you the best.
How To Apply Under-Eye Concealer For Mature Skin?
Concealers can be used in various ways to cover up skin imperfections throughout your face. But there is a certain technique required to apply a concealer to your under-eyes in order to effectively cover up your dark circles. Here are the steps that you can follow:
Prep your skin with a solid base. Be it a foundational layer or a moisturizer, apply a smooth layer before applying concealer.
Choose the right shade depending on your skin tone. After all, you don't want only your under-eyes to be a different shade or stand out from the rest of your face.
The most important technique to keep in mind is to start applying the concealer from the inner corner of your eye and move outward to effectively cover your dark circles.
Gently pat the concealer until it blends in with the rest of the makeup. Remember that you have very delicate skin under your eyes so be gentle while doing this.
To set your concealer in place, you could also top it off with a layer of powder so that it remains long-lasting. However, this is optional based on the type of skin you have.
15 Most Effective Under-Eye Concealers For Mature Skin
To take care of those dark circles that make you look like a sleepyhead, the Maybelline New York Instant Age Rewind Eraser (Ivory) is what you need. It not only reduces dark circles but it also corrects the redness of your skin. It brightens dull skin and promotes younger looking skin. It gives you a sheer and medium coverage which helps you get rid of the appearance of fine lines and blemishes to give you a radiant glow. One of the best Concealer for mature skin as it can contour and highlight your facial features with two different shades of this concealer! Check out this YouTuber's review of this product.
Pros:
Reported as America's #1 concealer
Brand credibility
Easy applicator that's inbuilt
Anti-aging treatment
Fused with Haloxyl and goji berry extracts
Wide range of shades to choose from
Fragrance-free
Cons:
Might not be suitable for dry skin
Multi-usable and photogenic, the NYX Professional Makeup HD Studio Photogenic Concealer is best suited to sculpt your chin and cheekbones and can even be used for contouring. It provides a natural to medium coverage on all skin tones and makes a great highlighter. The all-in-one contouring concealer can be used to cover blemishes, dark spots, and under-eye skin discoloration. You can also check this video out for a brief review of the product.
Pros:
Available in 23 different shades
Budget friendly and lightweight
PETA-certified cruelty-free
Can be used to contour as well as conceal
Cons:
A concealer stick to help you with your concealing concerns, the Revlon PhotoReady Concealer glides on seamlessly to your skin. Say goodbye to your under-eye dark circles with this creamy and rich formula. It helps camouflage any skin imperfections to give you flawless looking skin. For best results, blend in the concealer using fingertips to achieve a smooth finish. Gently pat the skin to get perfect skin that looks filter-laded. It is the Best Under Eye Concealer Very Dark Circles because it uses a high definition filter technology that captures and transforms flaws into perfect looking skin. If you need more convincing, feel free to take a look at this YouTuber's video on the merits and demerits of the product.
Pros:
Angled tip for precise application
Creamy texture for smooth coverage
Stick form for convenience
Medium, buildable coverage
Cons:
Might take some time to blend into your skin
The Covergirl Concealer Stick not only works as a great under-eye concealer but also conditions your skin to make it soft and smooth. It perfectly covers fine lines, dark circles, and other stubborn skin imperfections giving you radiant, young skin. The stick glides smoothly onto the skin, does not clog pores, and makes it easy for application. It is designed using aquacurrent science technology and uses a fragrance-free formula that is suitable for sensitive skin too.
Pros:
Contains botanical ingredients
Hydrates skin with vitamin E
Contains chamomile
Hypoallergenic formula
Cons:
Might not be long-lasting
One of its kind, the bareMinerals Bareskin Complete Coverage Serum Concealer provides adequate coverage to give you a smooth and silky finish. It works like magic and instantly reduces the appearance of dark circles, discoloration, and other skin imperfections to give you an even-toned skin. This serum formula leaves you with younger-looking flawless skin that you just cannot resist. It is the best under eye concealer for mature skin.
Pros:
Medium golden tone
Natural-looking concealer
Reflective quality works well as a highlighter
Is not cakey
Cons:
The shine might not be appealing to all
A concealer that not only provides great coverage but also hydrates your skin, the Neutrogena Hydro Boost Hydrating Concealer comes in the form of a stick for easy application. It is a great cover-up makeup stick that can be used to mask the appearance of redness and dark under-eye circles. It blends in without much effort and leaves you looking refreshed all day. One of the best under eye concealers, it is formulated with purified hyaluronic acid and works to repair dry skin.
Pros:
Lightweight and oil-free formula
Non-greasy and non-cakey
Works well on thirsty skin
Non-comedogenic and blendable
Smooth application feature
Cons:
Not suitable for pale complexion
The unique formula of this concealer stick is yellow in color. It works well on fair skin with yellow tones and hides skin imperfections perfectly. The yellow stick uses color theory to effectively hide under-eye circles, blemishes, and visible imperfections. It is formulated as a creamy, non-drying stick that glides on easily to your skin to give you a flawless look. It can be used separately or under makeup for the best results. What are you waiting for? Grab your Physicians Formula Gentle Concealer Stick today!
Pros:
Easy application
Hypoallergenic
Non-comedogenic
Dermatologist approved
Cons:
Not your average concealer because this one offers sun protection too! The Neutrogena Healthy Skin 3-in-1 Concealer works as a concealer, eye cream, and sunscreen. It comes in a tube packaging and is easily blendable. It gives your skin natural coverage and adds a smooth finish to your fine lines, blemishes, and dark circles. It one among the best liquid concealers as it is formulated with aloe vera and green tea to instantly correct the puffiness of your eyes to give you a fresher and brighter skin.
Pros:
Blends in well with your skin
Includes broad spectrum SPF 20
Dermatologist developed formula
Suitable for sensitive eyes
Works well for contact lens wearers
Cons:
Fragrance might be too strong
Ever wished for a concealer that you can apply with accuracy? If yes, then this one's for you! The Ecco Bella Correcting Concealer glides on smoothly to your skin to cover acne scars, dark circles, and discoloration. It is formulated with the magical power of flower cutins that help keep your makeup long-lasting. This under-eye concealer contains skin nourishing and hydrating ingredients like candelilla wax, beeswax, flower wax, iron oxides, and titanium dioxide. It provides excellent coverage that blends well and builds flawless skin.
Pros:
Contains organic ingredients
Free of parabens and gluten
Contains vitamin E
Vegan and cruelty-free
Blends in organic jojoba oil and chamomile oil
Cons:
With this 3-in-1 formula, the Undone Beauty 3-in-1 Cream Concealer is just what you need to give you intense coverage. It is best suited for fair porcelain skin. The cream palette can be used for three different purposes— to provide ultimate coverage of blemishes and tattoos, full coverage of under-eye dark circles and wrinkles, and to give you a sheer and dewy coverage all over. It contains natural coconut extract for an extra glow that also nourishes your skin.
Pros:
Vegan and cruelty-free
Suitable for skin with pink undertones
Customizable concealing
Affordable
Cons:
No products found.
The best concealers not only conceal but also work as an excellent highlighter. The Sace Lady Full Cover Concealer Corrector is one of a kind because it can be used as a concealer, highlighter, and for contouring. This under-eye concealer works well to cover and correct skin imperfections like uneven skin, redness, and dullness of skin to give you flawless, bright looking skin. It is designed to hydrate the skin and give you a fresh matte finish making your skin radiant and refreshed with a natural-looking glow.
Pros:
Provides full coverage
Pore concealing formula
Multi-use liquid
Lightweight formula
Crease-proof
Cons:
Remember that party you have to attend? This long-lasting concealer stick is what you're looking for if you want your makeup to last. Formulated to last 16 hours, the bareMinerals BarePro Full Coverage Concealer contains bamboo stem extract and powerful antioxidant-rich raspberry seed oil, blackcurrant seed oil, and sea lavender to nourish and hydrate your skin and improve it. This creamy stick is ideal to conceal dark under-eye area, does not contain synthetic fragrance, and glides on your skin smoothly to give you a natural-looking matte finish. It is the best Eye Concealer for mature skin.
Pros:
Waterproof and crease-proof
Protects skin from environmental stressors
Vegan and cruelty-free
No parabens, gluten
No tree nut, talc, SLS
Cons:
One of the best under-eye concealers to add to your daily mix of makeup, the Almay Age Essentials Concealer helps you conceal dark circles, fine lines, and dark spots. It provides smooth coverage to give you younger-looking skin and camouflages skin imperfections naturally. Available in four different shades, the concealer also includes broad-spectrum SPF 20 to protect your skin from the harmful rays of the sun.
Pros:
Dermatologist-tested
Is not cakey
Protects skin from the sun
Ophthalmologist-tested
Hypoallergenic
Cons:
Might not be suitable for dry skin
The Tarte Rainforest Of The Sea Aquacealer Concealer provides medium coverage and moisturizes your skin with each application. It especially takes care of the imperfections of the skin under your eyes to make you look fabulous and glowing. Lightweight and vegan, this concealer masks redness, dark spots, acne, and gets rid of premature signs of aging.
Pros
Lightweight
Moisturizing
Glides on smoothly
Suitable for dry skin
Vegan
Dermatologist-tested
Cons
Not only does the under-eye concealer correct imperfections, but it also illuminates your skin to give you radiant looking flawless skin. The L'Oreal Paris Visible Lift Serum Absolute Concealer works perfectly to hide fine lines and wrinkles. The oil-free formula gives you brighter skin and keeps it smooth and hydrated. For best results, choose a shade slightly lighter than your skin complexion, apply three dots under eyes and over dark circles and pat gently. Avoid tugging the delicate skin under-eyes and gently pat until it blends in completely.
Pros:
Brand credibility
Luxuriously lightweight formula
Encourages even skin tone
Wrinkle reduction
Minimized imperfections
Cons:
With our busy lifestyle that involves looking through a screen for long hours, it is no mystery that we all have stubborn dark circles. The best under-eye concealers help with this and leave you with natural-looking, flawless skin. It is important to find the right under-eye concealer based on your skin type to give you radiant and natural glow. Do you look for a multi-purpose under-eye concealer? Comment below and let us know which one is your favorite from our list.
Why Trust StyleCraze?
Known for her love of beauty products, Chaitra Krishnan has the lowdown on the best concealers you should have for your cosmetics arsenal. A perfect product, in her opinion, can easily hide the imperfections on mature women's skin. After looking at every product review on the market, she has compiled a comprehensive list of the top undereye concealers. The right under-eye concealer can help reduce visible signs of aging and leave your skin looking supple and flawless.
Recommended Articles