15 Best Under Eye Dark Circle Removal Creams Available In India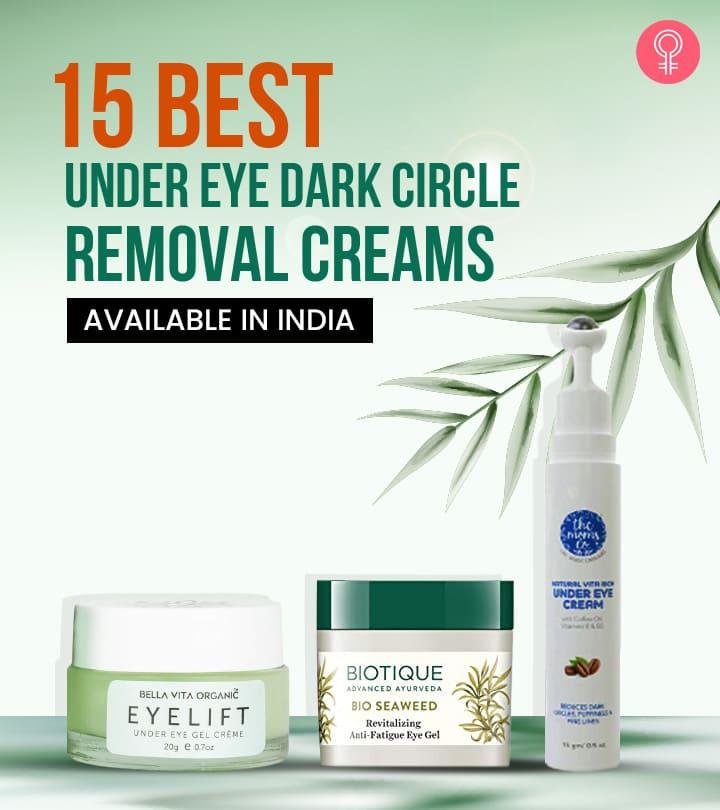 Dark circles under your eyes can occur due to the lack of sleep, fatigue, pigmentation, genetics, and aging.  You can cover it up using a concealer but that is not a long-lasting remedy. Home remedies can be a solution to the issue, but they can be cumbersome if you have to do it regularly for desired results. The most effective solution is a good under eye dark circle removing cream that is rich in antioxidants and boosts collagen production to reduce dark circles and puffiness. To give relief to your fatigued eyes we have put together a list of the 16 best dark circle removal creams in India!
15 Best Under Eye Dark Circle Removal Creams In India
The Moms Co. Natural Vita Rich Under Eye Cream is formulated to reduce fine lines and wrinkles caused due to stress and lack of moisturization. The cream is infused with omega-3 rich chia seed oil and chamomile oil that locks in moisture. It also contains coffee oil and vitamins B3 and E to help fight wrinkles and dark circles. Green tea, along with shea butter and avocado oil, condition your skin and provide soothing effects. The bottle comes with a roller massager to massage the under-eye area.
Key ingredients: Coffee oil, Hyaluronic acid, Vitamin B3, Chamomile oil, Almond oil.
Pros
Toxin-free
Hypoallergenic
Paraben-free
No synthetic fragrance
Cons
The Biotique Advanced Ayurveda eye gel has a refreshing formula that treats signs of stress, puffiness, and dark circles. It is formulated with the goodness of punarnava roots, baheda fruit pulp, badam oil, and jaiphal oil. The healing and moisturizing properties of these ingredients diminish wrinkles and fine lines around the eyes. It also contains madhu, chinai ghas plant, and kheera that are rich in water content and effectively moisturize the areas around the eye.
 Key ingredients: Punarnava roots, Baheda fruit pulp, Badam oil, Jaiphal oil, Madhu, Chinai ghas plant, Kheera
Pros
Lightweight
Non-oily
Suitable for all skin types
Unisex product
Cons
This nourishing and soothing eye cream is perfect for reducing dark circles. It is infused with antioxidant-rich cucumber and daisy flower extract to neutralize free radical damage and build collagen. The goodness of these extracts also gently exfoliates the skin around the eyes. Peptides and hawk weed extract in the formula regenerate skin cells and reduces dark spots around your eyes.
Key ingredients: Cucumber, Daisy flower extract, Peptides, Hawk weed extract.
Pros
Paraben-free
Silicone-free
Suits all skin types
No artificial preservative and color
Cons
Himalaya Herbal Under Eye Cream also prevents wrinkle formation around your eyes. It is formulated with a safe blend of herbal ingredients that gently hydrate and moisturize under-eye skin. Suitable for all skin types, this cream protects the sensitive area around your eyes from any free radical damage. It contains bergenia ligulata and cipadessa baccifera that have healing and moisturizing properties. The vitamin E-rich wheatgerm oil has intense nourishing and anti-aging properties.
Key ingredients: Bergenia ligulata, Cipadessa baccifera, Wheat germ oil.
Pros
Dermatologist tested
Non-comedogenic
Hypoallergenic
Herbal ingredients
Cons
Biotique Advanced Ayurveda Bio Almond Eye Cream has a soothing and nourishing formula that lightens up the skin around the eyes. It is infused with vitamin-E-rich almond oil that has rich antioxidant properties that fight wrinkles. It also contains the goodness of sesame oil, Indian gooseberry, and berberis aristata that reduce dark spots. These ayurvedic ingredients give your eyes a youthful appearance.
Key ingredients: Almond oil, Sesame oil, Indian gooseberry.
Pros
Anti-inflammatory
Dermatologist-tested
Paraben-free
Suits sensitive skin
Cons
This is a fast-absorbing gel that helps in reducing dark spots caused due to environmental damages. The cooling metal ball of the eye roller reduces fluid build-up when massaged around the eyes. The gentle formula is enriched with caffeine and vitamin B3 to brighten up the under-eye contour and reduce skin inflammation. It also contains aloe vera, green tea, and cucumber for deep hydration and boosting cell growth.
 Key ingredients: Cucumber extract, Green tea extract, Aloe vera, Vitamin-E, Caffeine.
Pros
Paraben-free
Hypoallergenic
Sulfate-free
Bioactive ingredients
Cons
This is a perfect morning and night eye cream. The restorative properties of white lily, mulberry, and papaya extract boosts skin moisture and improves its elasticity. In addition, green tea extract and glycerine in the formula are rich in antioxidants and protect the delicate skin around the eyes. Cucumber and hydrolyzed collagen defend against free radical damage and fight signs of aging. This is a clinically tested formula that is safe for all skin types.
Key ingredients: Coffee, Cucumber, Green tea extracts.
Pros
Suits all skin types
Bioactive ingredients
Paraben-free
Sulfate-free
Hypoallergenic
Lightweight
Cons
Takes time to show results
This under-eye cream from McCaffeine is created to reduce dark circles and depuff the area around your eyes. It can be used during the day and also before going to bed. Enriched with arabica coffee that is rich in antioxidants, it helps to tone your skin and fade dark circles. The white-water lily and sweet almond oil in the cream keep your skin hydrated. It also offers protection to the skin from harmful sun rays.
Key ingredients: Arabica coffee, White-water lily extracts, Almond oil.
 
Pros
Paraben-free
SLS-free
Mineral oil-free
Offers sun protection
Vegan
Cons
None
This is a lightweight formula that is designed to depuff the eye area. Ingredients like hyaluronic acid restore the vitality of your skin, while niacin amide, tomato extract, and quinoa keep your tired eyes hydrated. It also contains arnica montana flower and grapefruit that make the under-eye skin firm and reduce fine lines. The formula does not contain any harsh chemicals that may cause allergic reactions.
Key ingredients: Hyaluronic acid , Niacinamide, Tomato extracts.
 
Pros
Suits sensitive skin
Paraben-free
Lightweight
Cons
None
Aroma Magic under eye cream is great for nourishing and firming the under-eye area. The soothing formula is enriched with calcium and zinc-rich goji berry fruit extract that reduce wrinkles for a youthful look. Combined with olive butter oil and rice bran oil, it helps in lightening up your skin to blur the appearance of dark circles. It also has the goodness of essential oils of sea buck thorn, lavender, and rosemary to regenerate new skin cells and make your eyes look bright and fresh.
Key ingredients: Goji berry fruit extract, Olive oil, Rice bran oil.
Pros
Paraben-free
Phthalate-free
No toxic ingredients
No artificial fragrance
Cons
Lotus Herbals Nutraeye eye gel is a lightweight formula that spreads evenly around your eyes. It is enriched with wheat proteins that have conditioning and masking properties to hide dark circles. It also contains the skin-repairing agent, peptide, to stimulate collagen production for a wrinkle-free look.
Key ingredients: Wheat proteins, Soy bio peptides.
Pros
Paraben-free
Sulfate-free
No mineral oil
No artificial color
Cons
This vitamin-rich under-eye cream from Red Root is a skin-rejuvenating formula that is infused with the richness of aloe vera and saffron extract. Its hydrating formula fights wrinkles and dry skin. On the other hand, carrot extract and jojoba oil moisturize and nourish the under-eye skin. It also contains xan than gum and vitamin E that have antioxidant properties to reduce redness and inflammation. The cream is non-comedogenic and suitable for all skin types.
Key ingredients: Aloe vera extract, Saffron extract, Carrot extract, Jojobao, Vitamin E, Xanthan gum.
Pros
Antioxidant properties
Chemical-free
Non-comedogenic
Dermatologist-tested
Cons
The Khadi Natural under eye gel reduces and repairs the dull area around your eyes. This eye-rejuvenating gel helps in reducing the appearance of fine lines and eye bags under your eyes. Enriched with the goodness of almond oil that is rich in vitamins and folic acid, it helps to stimulate cell growth. Regular use of this gel will give you visibly less puffiness and improved skin texture.
Key ingredients: Aloe vera gel, Papaya extracts, Licorice extracts.
Pros
Bioactive ingredients
Paraben-free
Nourishing formula
Cons
May not suit sensitive skin
This is a fast-absorbing formula to provide deep hydration to your under-eye areas. It is enriched with argan oil, betaine, and olive oil to render moisture around your eyes. These ingredients are effective in reducing the visible effects of aging. It also contains the goodness of hyaluronic acid to reduce hyperpigmentation and brighten the eyes.
 Key ingredients: Argan oil, Olive oil, Hyaluronic acid.
Pros
Paraben-free
SLS-free
Sulfate-free
Cruelty-free
For all skin types
Cons
None
Wish care Collagen Boosting Under-Eye Cream has a unique anti-wrinkle formula that prevents the signs of aging. It contains coffee beans, almond milk, and rose hip oil that calm your skin and reduce eye bags. The gooseberry, aloe vera, and licorice in the formula offer deep hydration around the eye contour. Vitamin boosting elements like retinol, hyaluronic acid, and niacin amide are effective in minimizing fine lines and wrinkles.
 Key ingredients: Coffee, Almond milk, Vitamins C and E, Hyaluronic acid, Niacinamide, Retinol.
Pros
Fast-absorbing
Non-comedogenic
Paraben-free
Cons
None
What Causes Dark Circles?
Dark circles are generally caused by fatigue and stress. Other causes of dark circles are natural aging. As you age, your skin becomes loose because of reduced fat and collagen. Also with age, you may develop puffy eyelids or hollow eyes. These physical changes may appear as a dark circle under your eyes.
Benefits Of Using Under Eye Creams For Dark Circles
Reduces puffiness under your eyes
Minimizes dark circles
Reduces fine lines and wrinkles
Keeps your skin younger-looking and bright.
How to Apply Under Eye Creams
Follow these steps to apply under eye cream.
Clean your face thoroughly with a face cleanser to remove all makeup.
Exfoliate your skin using a scrub or face mask.
Apply a toner to soothe your skin
Use a moisturizer on damp skin.
Take a small amount of eye cream on your finger and apply it around your eyes in a circular motion.
Things To Consider When Buying Under-Eye Dark Circle Removal Creams
Always pick under-eye creams that contain nourishing ingredients as this area is delicate and needs special attention. Look for creams that contain antioxidants like vitamins C and E, ceramides, and hyaluronic acid to keep the area moisturized. You may also look for niacinamide for added nourishment, retinol to reduce wrinkles and fine lines, and peptides for collagen and elastin development. Avoid any ingredient like synthetic fragrance, parabens, urea, and artificial preservatives as they might irritate the skin
The majority of under-eye creams are suitable for all skin types. However, if you have oily skin, look for an under-eye cream with vitamins A, C, and E as they prevent skin damage and refresh your skin. If you have dry skin, look for a cream with moisturizing properties, emollients, oils, and hyaluronic acid.
It is always best to go for under-eye creams that are dermatologist-tested and ophthalmologist-tested. Some under-eye creams are safe for contact lens-wearers. These tags are usually mentioned on the packaging. Check them before buying.
Now that you know how to take care of the delicate area around the eyes, browse our list above and find the product that suits all your needs.
Frequently Asked Questions
When should I use under eye cream?
Eye cream should be applied both in the day and at night before going to bed to get the best results.
Is there any particular age of using under-eye cream?
The collagen in our skin are responsible for maintaining the elasticity of the skin. As we age, these collagen start reducing. By the age of 25, this ageing process sets in. So, it's best to start using an under-eye cream in your mid-twenties, before the signs of ageing starts to show.
Are there any side effects associated with under eye dark circle removal creams?
Under-eye creams are generally considered safe for use. However, they may cause skin irritation or allergic reactions in some individuals. It is recommended that you conduct a patch test before using the product.
Are there any lifestyle changes or habits that can help prevent under eye dark circles in addition to using creams?
Yes, getting adequate sleep, managing your stress levels properly, eating a balanced diet, and using sunscreen regularly may help improve the appearance of dark circles.
Are there any known interactions between under eye dark circle removal creams and makeup?
Yes, putting makeup immediately after applying dark circle removal cream may make your skin look cakey and reduce the effectiveness of the cream. You may wait a few minutes before applying your makeup to allow the eye cream to be completely absorbed by your skin.
Recommended Articles