13 Best Underwear For Women's Health That Are Comfortable
Feel comfortable and confident in your skin with these well-fitting, breathable intimates.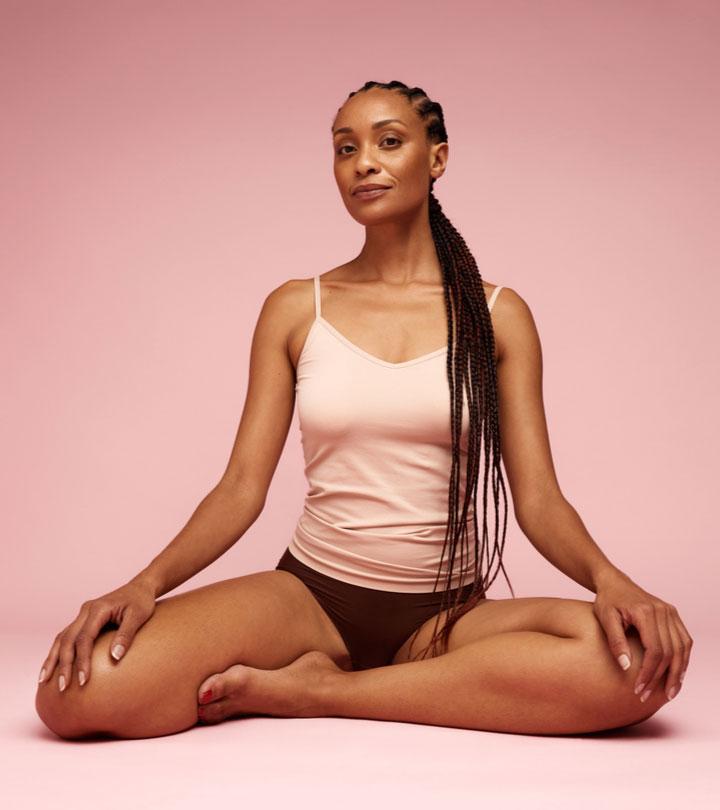 With so many underwear styles available in the market, buying the best one is a tough task. Hence, we have the best underwear for women's health. Of course, we love being fancy, be it lace trims or high-waisted briefs or skimpy thongs, but we have also had to ensure comfort above anything. Even though doctors recommend not to wear undies at night, we can always decide what to wear during the day. So, to help you with this task, we have curated a list of the top 13 underwear that are comfy and will keep yeast infections or any other vaginal infections at bay.
Wondering what the brownie point about these underpants is? These pairs of underwear protect clothes from monthly or regular vaginal discharge. They protect the vulva from chafing and irritation. There are days when you want to wear bodycon outfits, and if you're wearing the right undies, you won't have to struggle with any discomfort on the intimate parts. Underwears usually create a dark, enclosed space that gives sweat and no breathability. So, bid goodbye to odor-causing bacteria by opting for these underpants that we have listed below. Keep scrolling and get the best ones for yourself.
13 Best Underwear For Women's Health You Need To Get Your Hands On
Pros
 Pack of 4 underwear
 Breathable fabrics
 Moisture-wicking
 Double-layer crotch and waistband
 Offers moderate tummy compression
 Reduced chafing
Cons
Price at the time of publication: $19.99
POKARLA offers the best type of underwear for women's health which mainly uses combed cotton to allow constant airflow. The full rear coverage smoothes down skin and prevents any lumps for a seamless look under clothing. Sitting on the waist, this double-layer cotton crotch underwear has wide leg openings that don't pinch skin. The waistband is also thick and wide, hiding your muffin top with slight tummy control.
Pros
 Long and double-layer crotch
 Breathable
 Bind-proof seams
 Full rear coverage
 Smoothes down skin
 Pack of 5
Cons
 Might shrink after being washed
Price at the time of publication: $21.59
Pros
 Pack of 6 everyday underwear
 4-way stretch fabric
 Cotton crotch liner
 Seamless
 Extremely breathable
 Tag-free
Cons
 Some colors might bleed when washed.
Price at the time of publication: $14.98
As cotton is the best fabric for underwear, Knitlord's thongs combine 95% of it with 5% spandex to give you a second-to-skin feeling. Retaining both color and brightness even after multiple washes, this pack of 6 will serve you well when you want to avoid visible panty lines. Stretching optimally, this breathable women's underwear smooths down the sides to give you a streamlined look.
Pros
 Pack of 6 underwear
 No visible panty lines
 Breathable
 Lightweight
 Smooths down skin
 Retains color
Cons
 Some might find the elastic to leave marks on the skin.
Price at the time of publication: $11.99
Pros
 Pack of 5 underwear
 Slim waistband
 Crotch gusset sewn in
 Smooth finish
 Breathable
 Full rear coverage
Cons
Price at the time of publication: $35.4
COSOMALL uses the healthiest material for women's underwear to make it stretchable, soft, and comfortable for your skin. The blend of 90% polyamide prevents irritation and promotes ventilation to keep infections to a minimum especially in sensitive skin. Low-rise with a hip-hugging feeling, these are the best underwear women can don to keep their privates feeling good, especially under tight dresses. No seams, no harsh elastics, and no tags—what more can you ask for with this pack of 6?
Pros
 Seamless
 Tag-free
 Skin-friendly
 Breathable
 Smooth texture
 Slimming effect
Cons
 Some might find the crotch liner too small.
Price at the time of publication: $21.99
Pros
 Pack of 6 underwear
 Seamless and tagless
 Soft and stretchable
 Gentle waistband
 Full back coverage
 100% cotton crotch
Cons
 Might withstand very few washings
Price at the time of publication: $24.99
SIMIYA's breathable women's underwear wicks away sweat to keep you dry all day long. With the dual-layered crotch, moving around is made comfortable aided by the tagless construction. If you're bringing out your low-waisted jeans this summer, this low-rise underwear pairs perfectly without rolling up. Keeping your skin free of any friction with reduced chafing, these non-tight cotton panties are a healthy choice.
Pros
 Pack of 7 underwear
 Skin-friendly
 Breathable
 Moisture-wicking
 Anti-fade
 Double-layer crotch
Cons
 Might make panty lines visible
Price at the time of publication: $17.99
To gently cater to your changing body's needs during pregnancy and post-partum, this cotton-lined underwear set comes to your rescue. Composed of 95% cotton and 5% spandex, the material stretches to fit you without any deformation. The crotch liner is white to help you keep track of changes while the full rear coverage keeps you comfortable. With a V-shaped front waistband that lies under the belly, this underwear keeps your bump unharmed.
Pros
 Breathable
 Retains shape
 100% cotton crotch
 Non-fade colors
 Phthalate-free
 Accommodates growing bumps
Cons
 Some might find the leg openings to be constricting.
Price at the time of publication: $16.99
Imakokoni's no-show thongs feature a smooth, skin-friendly, and quick-drying liner for absolute comfort. Made with 84% nylon and 16% spandex using a circular knit, all seams are eliminated to keep chafing and panty lines minimized. This particular fabric blend works like a charm to repel moisture so you can remain dry and cool with no overheating even in the summer months.
Pros
 Pack of 6 underwear
 Tagless
 Breathable cotton underwear
 Moisture-wicking
 Quick-drying liner
 No visible panty lines
Cons
Price at the time of publication: $17.99
Annenmy combines 95% combed cotton, the best underwear material with 5% spandex to give you briefs that are softly stretchable. With no pilling, sagging, or binding, this underwear holds its shape and won't dig into your skin either. Offering full coverage with a high-waisted fit, you can count on the thick fabric-covered waistband for mild tummy compression. Seams on the leg openings are concealed with smooth fabric to keep you moving freely with no chafing.
Pros
 Anti-chafe stitching
 Thick fabric-covered waistband
 Pack of 6 underwear
 Retains shape
 Breathable
 Sweat-wicking
Cons
Price at the time of publication: $25.99
Cassney brings home high-waisted types of underwear for women that reduce the muffin top appearance and smooth the tummy down. The leg openings of these cotton panties are bind-proof to keep chafing and digging to a minimum while you go about your day. Double-layer fabric covers the waistband that sits gently on the skin and the complete rear coverage can help you wear anything with confidence.
Pros
 Flatlock seams reduce chafing
 Thick and double-layer covered waistband
 Offers tummy compression
 Has a smoothing effect
 Fully breathable
 Pack of 5
Cons
 Might shrink after being washed
Price at the time of publication: $25.99
If you believe life's too short to wear boring underwear, HAVVIS has you in for a treat with their printed designs. 95% cotton and 5% spandex in this composition keep the fabric snug against the skin without bunching up or rolling down. The crotch liner is not only breathable but is wide enough to give you enough room for free movement. Wicking away moisture, these briefs also work to offer tummy control.
Pros
 Pack of 8 underwear
 Breathable and wide liner
 Moisture-wicking
 Offers tummy compression
 Wide leg openings
 Full rear coverage
Cons
Price at the time of publication: $29.98
Now that we've gone over some of the best underwear you can choose to promote good health, let's learn how you can make these choices.
How To Choose The Best Underwear For Women's Health
The material your underwear is made of determines how frequent infections are. Natural fibers such as organic cotton are quite common in the realm of underwear owing to how gentle it is. Comfortable against the skin, cotton is also highly breathable and absorbent. Synthetic fabrics, on the other hand, aren't as ideal as cotton as they can be linked to vaginal irritation.
Polyester, nylon, and spandex are also found in underwear blends but it is best to steer clear of them even though they happen to enhance ventilation. However, if you prefer synthetic material, ensure that at least the crotch is lined with 100% cotton for reduced bacteria build-up, urinary tract infections, and allergic reactions.
As underwear literally hugs the most private part of your body, it needs to cause you as little irritation as possible. The seams on underwear can cause itching, chafing, and irritation especially when in contact with sweat and no air. To prevent this, look for underwear that is either laser-cut seamless or has covered seams that lie softly against your skin. Further, a crotch gusset sewn in can offer a helping hand with eliminating chafing so you can also keep rashes away.
Making up the upper portion of the underwear, a comfortable waistband is necessary. Depending on your choice and style of clothing, you can choose from low-rise, mid-rise, and high-rise waistbands. Low-rise is ideal for low-waisted jeans, for example. However, this type can roll down easily if you happen to wear it under dresses.
Mid-rise sits right on your belly button and is a good option for everyday wear. High-rise underwear, when coupled with a thick and wide waistband, can offer tummy compression and makes sliding down rare. This is deemed most comfortable as sides are smoothed down for a streamlined look through your clothes.
Now that we've gone over the main features of your underwear, let's learn what cut is ideal for comfortable wearing.
What's The Right Cut For Women's Underwear?
Underwear cuts can be varied such as briefs, thongs, bikini panties, boyshorts, and G-strings. Whatever you choose depends on your personal preference and the clothes you will be wearing. Doctors claim that the cut style doesn't really impact vaginal health but it is recommended to keep the labia covered with a healthy fabric.
Even the tightest underwear won't cause any bacterial or yeast infections but choosing something that isn't very snug can be beneficial. Ensure that your underwear is free of latex, plastic, and other waterproof materials. Whatever cut you happen to choose, ensure to change your underwear on a regular basis so you can prevent the build-up of bacteria.
Why Trust StyleCraze?
Priyam Gupta, the author of this article, is a makeup and fashion fanatic. She conducted thorough research and browsed online reviews to curate a list of the best healthy and comfortable underwear for women. They are made of breathable, smooth, and lightweight fabrics that keep the user cozy all day. Priyam has also included underwear in the list that offers tummy compression and moisture-wicking qualities.
Frequently Asked Questions
What type of underwear prevents yeast infections?
The best underwear for chronic yeast infections is made of cotton as it is completely absorbent while still allowing your skin to breathe.
Is cotton underwear good for a woman's health?
Cotton absorbs both sweat and pesky discharge to keep you dry. At the same time, it doesn't weigh and is breathable as well.
Is 95% cotton underwear good?
Yes, cotton used in underwear promotes breathability and keeps sweat away, which can help prevent infections. Underwear made of any fabric with a 100% cotton lining at the crotch is highly ideal.
Is spandex in underwear bad?
Spandex on its own isn't the best fabric for your bikini area as it traps in body heat, moisture, and odor which can cause infections. However, a minimal amount of spandex is blended with other fabrics like cotton or polyester to give underwear a slight bit of stretch for easy wearing.
How often should you change your underwear?
Just like how you bathe everyday and brush your teeth to maintain hygiene, you should also change your underwear every day.
What type of underwear is most comfortable?
Cotton underwear is the most comfortable and best choice. It avoids suffocating the intimate region and allows room for breathing. This material is highly absorbent and can prevent the formation of yeast infections.
Does underwear affect body shape?
Yes. The right size of underwear will keep you in shape, whereas tight, uncomfortable underwear may cause body fat to accumulate.
Recommended Articles: