10 Best Underwire Sports Bras For Comfortable Workout Sessions
Invest in bounce-control bras that make your exercise routine more comfortable.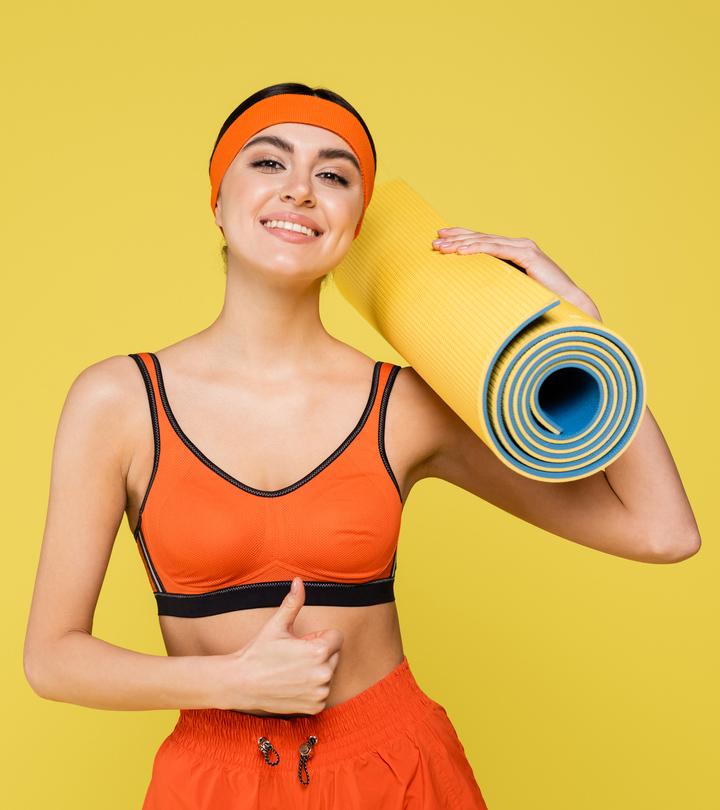 Finding the right sports bra that prevents your breasts from awkwardly bouncing while you are engrossed in an intense cardio workout session is a challenge. To control these movements, you need the best underwire sports bra. An underwired sports bra is especially beneficial for those who have large breasts. It offers maximum support, comfort, the ability to move freely, and most importantly, bounce control. While working out, any discomfort and distractions are probably the last things you would want. So, if you are a gym enthusiast, these underwired sports bras will make your workout sessions smooth and comfortable. Besides offering support, the best part is that these bras also look stylish.
Another important factor you should consider while zeroing in on a sports bra is that its material should be durable and breathable. Underwired sports bras are available in multiple sizes and patterns. If you are looking forward to buying one, this article contains all the options you need to consider. We have detailed some of our top picks for underwired sports bras available online. Keep scrolling to see all the great options!
10 Best Underwire Sports Bras Of 2023 That Guarantee Bounce Control!
Finding the right plus-size sports bra just got easy! With maximum support and bounce control, you can trust this high-impact underwire sports bra during your intense workouts. Made of polyester, polyamide, and elastane, it has a padded underwire that is the brand's WonderWire design to prevent irritation or poking. The double-layered cups are non-stretch to brace the bust securely, and the 2-way stretch back design ensures high flexibility with the hook-and-eye closure. The straps are also non-stretch, non-slip, and customizable for a comfortable fit.
Pros
 Moisture-wicking
 Cushioned support
 Extra-padded back
 Available in multiple colors and sizes
Cons
 Not machine washable
 Some may find the cup coverage sheer.
Price at the time of publication: $46.2
Sports junkies! This sports bra will be a fantastic addition to your gym arsenal. With the fit of a regular bra, it ensures maximum support and comfort without compressing the bust. Designed for free movement and optimal comfort during intense workouts, the fabric is polyamide, polyester, and elastane. The cups provide a seamless, uplifting, and maximum coverage to the bust with its body-shaping design. It also ensures 83% bounce reduction, has padded straps for comfort and hook-and-eye closure for a secure fit. What is more? You can use no-slip straps as racerback for running!
Pros
 Adjustable
 Breathable
 Moisture-wicking
 Available in plus sizes and multiple patterns
Cons
 Side spillage possible in plus sizes
Price at the time of publication: $55.95
With this underwire sports bra in your collection, you'd never say no to high-impact workouts. The 2-ply cups provide maximum support and have an inner sling in plus sizes for extra comfort too. Designed with nylon, spandex, and elastane, the mesh back closure guarantees high breathability, making it great for summer. Besides this, the underwire minimizes bounce during intense workouts, and the hook-and-eye closure provides a secure and comfortable fit.
Pros
 Moisture-wicking
 Adjustable and wide straps
 Optimal coverage
 Available in plus sizes and multiple colors
Cons
 Some may find the coverage slightly sheer.
Price at the time of publication: $68
Uni-boob is common when it comes to a compression sports bra, but not with this one! Syrokan Underwire Sports Bra will separate, support, and shape your bust while uplifting them. The molded cups will maintain shape, provide maximum support, and reduce bounce to a great extent during high-impact workouts. The fabric is also antibacterial, breathable, and made of polyester and spandex, which will keep you cool and dry through those sweaty sessions. This contoured bra not only has great support, but also a hook-and-eye closure for a secure fit and is customizable to use as a racerback too.
Pros
 Snug fit
 Adjustable straps
 Optimal coverage
 Maximum comfort
 Available in plus sizes and multiple colors
Cons
Price at the time of publication: $28
This ultra-chic sports bra will up your confidence during those intense walks and jogs. With optimal coverage and zero sheerness, the cups have paddings for maximum comfort and support. It fits like your regular everyday bra (which means no uni-boob) and has a wire-supported e design to reduce the bounce. Besides, it uses motion control cup technology to control the bounce and move your bust with your movement. The nylon-spandex bra is also designed with custom lift technology to shape and uplift for a flattering look. And as for the customizable straps (you can use it as a racerback too) they are broad and soft with hook-and-eye closure, and the fit will not dig into your skin.
Pros
 Breathable
 Adjustable straps
 Moisture-wicking
 Enhanced shaping
 Available in plus sizes
Cons
 May not be suitable for high-impact workouts
Price at the time of publication: $38
If you prefer a roomy and bust-defining bra while working out, Elomi Energise Sports Bra might suit your liking. The full coverage cups have a 3-piece panel for uplifting, forward-shaping, and separating the busts. It also has a side support panel to prevent side spillage. And although it fits like an everyday bra, it has a unique non-compressing design to ensure maximum support and comfort during workouts (especially in sizes D-K!). And if you are an active runner, you can also use this underwire sports bra as a racerback.
Pros
 Snug fit
 Breathable
 Optimal coverage
 Moisture-wicking
 Adjustable straps
 Available in plus sizes
Cons
 Limited color options
 Some may find the cups slightly unflattering.
Price at the time of publication: $54.94
Here's a cotton underwire sports bra that spells out comfort like no other. With broad shoulder straps and a wide underwire band for maximum comfort and support, it has oval-shaped cups for optimal coverage. It also has a separation panel in the center to prevent uni-boob and embarrassing sweat patches. An incredible and versatile option to wear for walks and jogs during summer, the fabric is cotton, polyester, and spandex for high breathability. This one's best for medium-impact sessions!
Pros
 Snug fit
 High-cut cups
 Adjustable straps
 Offers adequate support
Cons
 May not be moisture-wicking
 Not suitable for high-impact activities
Price at the time of publication: $37.99
If you haven't fallen for the crop top look already, this wide curve wire sports bra is designed out-and-out for active souls. High on comfort, support, or coverage, this sports bra guarantees only high athletic performance. It has molded and perforated foam cups for maximum support, zero movements, and enhanced shaping. And it does not compromise on breathability! Its COOLMAX fabric (polyester, nylon, and elastane) on the cups and power mesh panel are breathable and will keep you cool during intense and sweaty workouts. Bonus, the straps are racerback-friendly too.
Pros
 Flexible
 Non-chafing
 Moisture-wicking
 Non-compressing design
 Soft hook-and-eye closure
Cons
 Not suitable for high-impact workouts
Price at the time of publication: $43.95
This underwire sports bra by Champion doesn't lie when it promises bounce control. Designed using 3D motion technology, it keeps the bust secure, supported, and comfortable throughout high-impact workouts. The cups are extremely supportive and reduce optimal movement, and their panels are laminated and smooth for optimal coverage, zero sheerness, and bounce control. Plus, it has a high-cut center for a no-show performance during downward dog or yoga stretches. Made of polyester, nylon, and spandex using double quick-drying technology, Champion Underwire Sports Bra also has a cushioned underwire and a pullover hook-and-eye closure. Looking for a chic sports bra, are you?
Pros
 Wider back
Yoga-friendly
 Adjustable straps
 Moisture-wicking
 Machine washable
 Optimal and side support
Cons
 Slightly difficult to put on and remove
Price at the time of publication: $24.4
The Woxer Boss Bralettes are for women who do it all! They are made from 95% modal and 5% elastane and provide unparalleled support in all your tasks. They are stretchy and flexible and absorb moisture to keep you dry, clean, and comfortable all day long. They also do not show through your upper garment. The long-lasting fabric is breathable, does not shrink after washing, and is eco-friendly, since it is made from beechwood tree fibers.
Pros
Available in various sizes
Ultra-stretchy and breathable
Light support
No cups
Racerback style
Scooped front neckline
Lined front
Cons
Might cause a rash in some
Price at the time of publication: $28
Let's ban the bounce, shall we? There you go, those were the 10 best underwire sports bras you must check out for high-impact workouts. If you are still wondering how to choose the best one for yourself, we've collated some expert shopping tips for you in the buying guide below.
How To Choose The Best Underwire Sports Bra
Sports bra sizes are different from your regular everyday bra sizes. So, measure your bust and under-bust areas and compare them with the brand's size chart. You can also check the comments to know if you need or size up or down for the best fit.
For maximum comfort during working out, inspect the material. You should feel comfortable in the sports bra, and the sweaty sessions shouldn't leave you feeling drenched and dirty. Most sports bras are made of polyester, nylon, or cotton fabric. Although cotton is the most breathable, it may not be as moisture-wicking as nylon and polyester. So, it's better to choose a chafe-free bra for ease and comfort.
Scrutinize the sheerness, compression, and coverage of the cups before buying. You wouldn't want to end up with an option that's either too sheer or giving way to side spillage. For a flattering look, choose bras with smooth and padded cups that are non-compressing and provide optimal coverage for the best experience.
Not all sports bras are designed for high-impact workouts; some may be ideal for low-impact activities like jogging or brisk walking. Ideally, padded sports bras provide better bounce control than paneled cups. You can also check the comments to know the bounce control of a particular sports bra.
Lastly, to make your sports bra last for a long, long time, you must maintain and wash them right. Do not choose a hand-washable option if it's not feasible for you. Besides, you must avoid machine-drying them as they may deform their shape or damage the underwire.
Why Trust StyleCraze?
Srijani Roy Chowdhury, the author of this article, loves fashion and stays on top of the latest fashion trends. She understands the struggle of women who love working out but have difficulty choosing the right sports bra for themselves. To save them the time and energy of searching through numerous websites, Chaitra has combed several user reviews on reliable online forums to bring her users the best underwire sports bra. The shortlisted bras are designed to offer maximum comfort, support, and bounce control for a stress-free workout session.
Frequently Asked Questions
Is underwired sports bra harmful?
No, underwire bras are far from harmful for you. These bras are instead very good at giving proper support and the right shape to your breasts.
Can I wear an underwired sports bra every day?
No, do not wear underwired sports bras every day. They fit you tightly which can irritate your skin if you wear them daily.
Can sports underwire bras hamper your breast health?
No, there is no such data that show that wearing an underwire sports bra will negatively affect your breast health.
Is it safe to wear a sports underwire bra during pregnancy?
Yes, you can safely wear an underwire nursing sports bra during your pregnancy. It is not likely to cause you any pregnancy-related issues; instead, it will provide you comfort and support.
What are the benefits of an underwire sports bra?
Underwire sports bras will provide your breasts with comfort and support throughout the day. They also maintain your breast shape, regulate blood flow, and reduce any breast pain. They are a modest yet fashionable choice.