13 Best Unscented Soaps To Try If You're Sensitive To Fragrance
Use organic, soothing, and hypoallergenic unscented soaps to cleanse sensitive skin gently.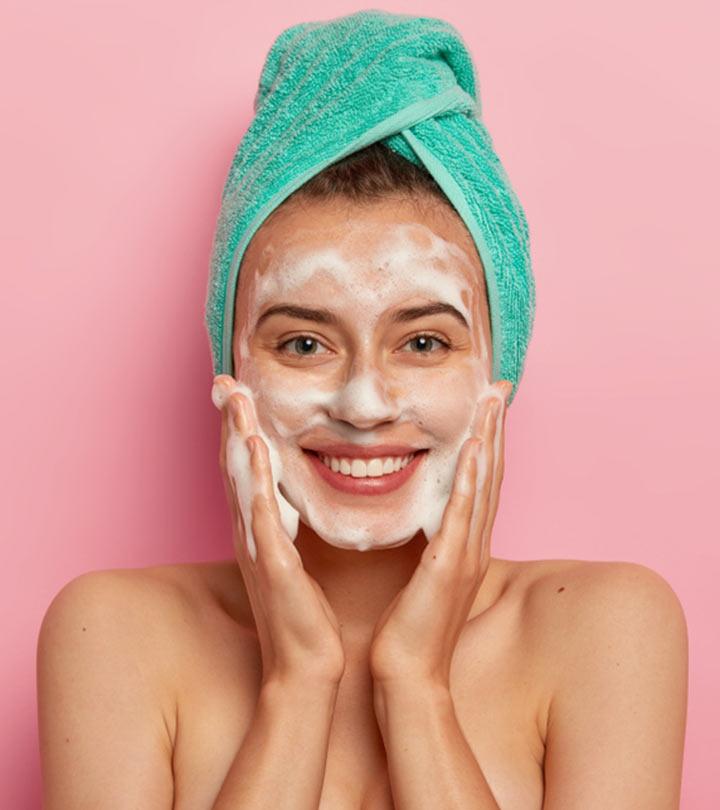 If you are someone who is all for a fragrance-free life, then go for the best-unscented bar soap. Soaps with beautiful scents and aromas can be intoxicating and make you smell amazing. On the flip side, those with sensitive skin know the struggle. Scented soaps contain harsh chemicals and preservatives that can leave your skin red, itchy, and inflamed. Every time you shop for a soap, you will probably think twice before buying one. No matter how natural they are, they can still cause an allergic reaction and leave your skin redder rather than clean. That's why dermatologists recommend unscented bar soaps for sensitive skin.
To help you end your struggle once and for all, we have curated a list of the best unscented bar soaps that will give you soft and smooth skin. Scroll down to check them out!
Top 13 Unscented Soaps And Fragrance-Free Soaps – Our Reviews In 2021
Finding a budget soap for sensitive skin is indeed a painstaking job, and we have got you covered. This pure unscented soap made with goat milk using a unique technology ensures to deliver all the benefits of milk in its soap. The moisturizing unscented soap hydrates and soothes your dry and damaged skin. It offers long lasting protection to your sensitive and irritated skin with its blend of vitamins, urea, and AHA lactic acid. The mild ingredients handpicked from a 4,000-hectare certified sustainable palm plantation nourish your skin without destroying its natural barrier.
Pros
Deep moisturization
Cruelty-free
Soothes dry and damaged skin
Maintains skin's natural barrier
Nourishes and protects skin
Cons
Trial and error with different soap bars, especially if you have sensitive skin, is an herculean task. Fret not. Try this glycerin-rich unscented soap that washes away dirt, impurities, bacteria, oil, and grime to leave your face clean and clear. The dermatologist-recommended product is formulated without any harsh chemicals or dyes, and hence, does not clog your pores. It promotes healthy-looking skin. Gentle on skin, this hypoallergenic soap is available in original and fragrance-free bars. Click this video to learn more about the product.
Pros
Dermatologist-recommended
Promotes healthier skin
Hypoallergenic
No harsh chemicals or dyes
Rich in glycerin
Does not clog pores
Cons
Some may find its natural scent to be unpleasant
After a long stressful day, the first thing you look for is a detox. Let go of all your worries and have a soothing bathing experience to calm your mind and body with this unscented bar soap. The hand-harvested ingredients of this moisturizing unscented soap contain over 65 vitamins and minerals that exfoliate your skin, providing great detoxification, and better skin elasticity. This soap is formulated sustainably with coffee, kuikui oil, coconut oil, cinnamon bark powder, seaweed, and sunflower seed oil to offer deep hydration to your skin as it washes away dirt, impurities, and toxins from your skin. It promotes healthier, smoother, and firmer-looking skin. Rich in antioxidants, it also improves the skin tone and texture. Learn more about the product in this video.
Pros
Paraben and sulphate-free
Gluten-free
Cruelty-free and vegan
Purifies and nourishes skin
Improves texture of skin
Boosts skin elasticity
Gives smooth and moisturized skin
Cons
Some may find the natural scent to be unpleasant
Dive into the bathtub after a long, exhausting day with this unscented bar soap. Suitable for all, Dr Bronner's has been formulating environmental-friendly products since 1948 as it believes "We are all one or none!". This cruelty-free, vegan and pure unscented soap has a rich lather that won't leave your skin dry. The gentle and mild ingredients of this excellent skincare product that include coconut oil, palm oil, olive oil, hemp oil, jojoba oil, sea salt, and citric acid ensure to make your skin soft and smooth. It is safe for use on face, body, and hair as it does not contain any synthetic preservatives, detergents or foaming agents.
Pros
Non-GMO
Organic and biodegradable
Cruelty-free and vegan
Suitable for sensitive skin
Leaves skin soft and smooth
Moisturizes your skin
Cons
In case you are worried about your skin's pH with regards to sensitivity, try this unscented soap for sensitive skin. It protects and maintains your skin's pH levels when you slide this soap bar throughout your body as it cleanses your skin off any dirt or impurities. The hypoallergenic formula of this mild unscented soap contains no fragrance or harsh chemicals. Made in the USA with finest ingredients like glycerin, palm oil, and coconut oil, the moisturizing unscented soap hydrates your skin and makes it soft and smooth. It is gentle to use and does not leave any residue on your skin.
Pros
Gentle formula
Hypoallergenic
Cruelty-free and vegan
Nourishes your skin
Non-GMO and gluten-free
Does not leave skin dry or itchy
Cons
May not lather adequately
Pamper your skin with some unconditional love like that of a grandma with this unscented bar soap. The clinically-tested soap is free of any harsh chemicals that cause allergic reactions or lead to itchy skin. Suitable for all skin types, it works great, especially for those with dry and sensitive skin or those suffering from acne, eczema, psoriasis, or rosacea. Its gentle and mild recipe is created with glycerin, and can soothe rashes and bug bites without leaving your skin feeling dry. This pure unscented soap can do wonders if you prefer to spend most time outdoors in the hot sun as it helps mask body odor.
Pros
Clinically-tested
Soothes irritated skin
No harsh chemicals
Suitable for all skin types
Masks body odor
Cruelty-free
Cons
May not be suitable to use for hair wash
Specifically formulated for sensitive skin, this soap is made with pure and fresh goat's milk, non-GMO soybean oil, coconut oil, palm oil, and sea salt. This goat milk unscented soap offers deep moisturization to your dry, itchy skin and nourishes it. It has anti-inflammatory and antiseptic properties of honey, one of the key ingredients in this unscented bar soap. Though unscented, you may find a faint scent of natural milk and honey. It is free of any harsh chemicals, and hence, gentle to use on your sensitive skin. It soothes skin affected with eczema or any allergies. Handmade in the USA, it promotes healthy and rejuvenated skin.
Pros
Paraben and sulphate-free
Non-GMO
Ultra gentle on skin
Specifically made for sensitive skin
Nourishing formula
Anti-inflammatory and antiseptic
Cons
It may not be suitable for extremely sensitive skin.
You need not spend money every now and then for this excellent skincare product for your sensitive skin anymore! This moisturizing unscented soap is denser and lasts longer than an average soap. The French milled bars made with natural ingredients that include palm oil, cocoa butter, olive oil, coconut oil, and glycerine help moisturize your face, hands, body, and hair. This certified organic product gently dissolves excess oils, restores your skin tone, and rejuvenates your skin to give it a brighter and youthful appearance. It also nourishes your sensitive skin and prevents dryness, itchiness, and skin irritation.
Pros
Long lasting
Cruelty-free and vegan
Dissolves excess oils
Restores skin tone
Prevents dry, itchy skin
Moisturizes your skin
Cons
Some may find it slightly slippery.
Your skin will thank you for gliding this unscented soap with amazing skincare benefits all over your body. The handmade charcoal soap gently exfoliates your skin and leaves it feeling clean with an easy rinse. This unscented soap is made in the USA especially for acne-prone skin as it can be extremely soothing and calming for your irritated and dry skin. Its fine ingredients are sourced from across the world and cold pressed to transform hog lard and coconut oil into a soap bar. The other key ingredients in the recipe include activated charcoal, and powdered marshmallow root. It forms rich lather that makes it good enough to also shave with.
Pros
Offers gentle exfoliation
Soothes skin
Suitable for acne-prone skin
Washes away dirt, impurities
Long-lasting
Handmade
Cons
Some may find the large pieces of marshmallow root in the soap undesirable.
Just like its motto says, indeed 'all things are good' when you have this organic unscented soap. The skin lightening soap bar's natural formula contains vitamin E, shea butter, and organic jojoba oil sourced from across the world to support small farmers and their families. The safe, natural and cruelty-free blend of its powerful ingredients and fatty acids ensure to protect, heal, and moisturize your skin. The mild unscented soap balances out your skin tone and texture and soothes it after gently exfoliating to wash away dirt, impurities, and excess oils. Suitable for all skin types, it gives you a youthful glow and can make your skin look and feel younger.
Pros
Gluten-free
Cruelty-free and vegan
Paraben and sulphate-free
Soothes and balances skin
Gently exfoliates skin
Suitable for all skin types
Heals and moisturizes skin
Brightens skin tone
Cons
This hypoallergenic unscented soap is as beautiful to look at sitting on your bathroom cabinet as it is to smell as its natural scent drafts through your bath. Specifically formulated for sensitive skin, it is free of chemicals, dyes, and other harsh ingredients that can cause any allergic reactions or irritation. It is non-comedogenic and hence, does not clog your pores. The moisturizing unscented soap hydrates your skin and prevents dryness and itchiness while nourishing your skin. A natural soap, it is gentle to use and mild enough for your children too. It is made in the USA using the cold pressing method with minimal, yet effective ingredients that include palm oil, sunflower oil, coconut oil, shea butter, and olive oil.
Pros
Hypoallergenic
Vegan
Non-comedogenic
Makes skin soft and smooth
Delicate on skin
Suitable for sensitive skin
Cons
Some may find the natural scent overwhelming.
This unscented soap builds a foundation for maintaining healthy, glowing skin as it detoxifies and purifies your skin. The triple-milled soap provides deep moisturization to your skin to prevent dryness. It works well for all skin types as a natural and effective cleanser. The raw ingredients are handcrafted by women in West Africa and it is made in the USA with a milling machine by the social enterprise. The emollient and moisturizing formula of shea butter, palm oil, charcoal powder, oatmeal, and coconut oil soothe skin irritation and provide long-lasting benefits. Use this soap and let your skin breathe better all day long.
Pros
Unisex
Cruelty-free
Paraben and sulphate-free
Detoxifying
Promotes healthy skin
Prevent dryness
Soothes irritation
Cons
Some may find it slightly expensive.
A self care routine begins with taking care of your own body and skin. So, show your skin some love with this unscented bar soap as it contains impressive moisturizing ingredients like shea butter, olive oil, aloe vera, coconut oil, and hemp oil. It offers a truly luxurious bath experience with its rich blend of natural fragrance of coconut and vanilla. It leaves your skin clean, smooth, and moisturized. The oil-free unscented soap has a great lather which works amazing for shaving. This cruelty-free and vegan product which is also free of palm oil can give you a good reason for you to switch to bar soaps from body washes.
Pros
Paraben and sulphate-free
No artificial scents or dyes
Cruelty-free and vegan
Rich in antioxidants and vitamin E
Gentle to use
Moisturizes and soothes skin
Cons
Some may find it slightly expensive.
How Do I Choose Unscented Bar Soaps?
It is better to opt for a triple-milled soap as it means the soap would neither be too rigid nor too soft that it loses its shape. Triple-milled or French-milled soaps pass through a milling machine of stainless steel rollers thrice to shape into more uniform and proper bars.
Though the soaps are unscented, they do carry natural scents of the ingredients. Even though these scents do not last long, you may still want to check the label for ingredients so that you can pick the ones with your personal favorite-smelling ingredients.
Non-comedogenic and hypoallergenic
If you have extremely sensitive skin, it is recommended that you pick soap bars that are free of harsh chemicals and other ingredients that can cause allergic reactions. Also, if it is non-comedogenic, you need not worry about it clogging your pores.
It is tricky to pick skin care products, especially if you have sensitive skin. You may often be sceptical about the product that you are choosing, wondering if its added fragrance could lead to breakouts or will it actually live up to the expectations that it creates with its advertising. While shopping for unscented soaps, it is not always obvious which ingredients contain scents. Some natural products can contain fragrance as well that may irritate your sensitive skin. However, when you opt for an unscented soap, you get to stay away from the agents that may aggravate your sensitivity to intense and overpowering scents as well as artificial fragrances.
Why Trust StyleCraze?
Kirtana Divakar, the author of this article, is a skin care fanatic. She has browsed multiple forums for user feedback and checked numerous reviews online to compile the list of the best unscented bar soaps. If you are sensitive to fragrances and looking for fragrance-free formulas, she recommends these products. These bar soaps are dermatologically tested and ideal for sensitive skin.
Frequently Asked Questions
Does unscented soap work?
Unscented soaps can work well, especially if you have a sensitive skin. They cleanse and moisturize your skin, leaving it healthier and more supple minus the strong scent that your olfactory sense may be sensitive to.
Is unscented soap good for acne?
It's not proven if unscented soap is good for acne but it can help prevent redness and skin irritation which could be symptoms of acne.
Is fragrance-free better than unscented?
Fragrance-free soaps are free of masking scents. Unscented soaps may contain certain agents used to mask the smell of other ingredients in the soap. It all boils down to personal preference.
Recommended Articles: