15 Best Unscented Lotions For Sensitive Skin To Buy In 2023
Start repairing your skin problems today with these fragrance-free lotions.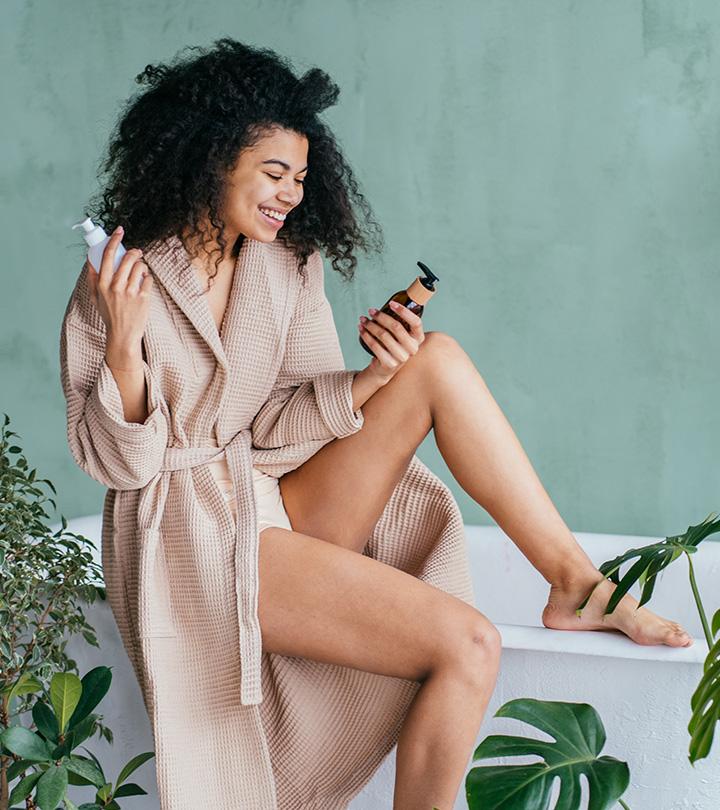 While we all prefer to smell like a freshly cut bouquet, doing so may harm your skin. Yes, we're talking about scented or fragrant lotions that can wreak havoc, especially on sensitive or fragile skin, to trigger allergic reactions. To prevent this from happening, we recommend using the best unscented lotions available in the market.
These lotions do not have added fragrances that irritate the skin. Not only are they full of moisturizing and good-for-your-skin ingredients, but they also have the ability to mend or repair any skin problems that arise. It's the perfect addition to your skincare routine that ensures your skin goes through a deep cleansing process and comes out with a smoother, more supple, and firm texture. If you have been wondering where to start in your journey for the best scent-free lotions, we can help guide you and decide. We've listed the 5 best unscented lotions that money can buy while helping you bid adieu to skincare problems forever. So, what are you waiting for? Quickly skim through our list, pick the perfect one for your unique skin type and achieve glowing, gorgeous skin that everyone is in awe of.
Enhance Your Skin's Health With The 15 Best Unscented Lotions In 2023
The Alba unscented lotion is a cocktail of botanical ingredients such as aloe vera, green tea, chamomile extracts, and a generous dose of antioxidants. Apart from strengthening the skin's protective barrier, these elements also deliver a cooling sensation to your skin while soothing it. Using this clinically-tested formula after showers is a great way to ensure all-day hydration for even the driest skin. Watch this video for a thorough understanding of the product.
Pros
Made with plant-based natural ingredients
Cruelty-free
pH-balanced formula
Hypoallergenic
Free of parabens, sulfates, synthetic fragrances or colors, and phthalates
Suitable for dry or sensitive skin types
Cons
Might leave behind a white cast
Price at the time of publication: $14.99
If you happen to struggle with dry and itchy skin, this Aveeno unscented lotion can help with nourishing and rehydrating it. The formula absorbs quickly to retain moisture and balance the skin microbiome. Enriched with prebiotic triple oat complex coupled with natural shea butter, Aveeno's healing lotion is your skin's best defense against dryness, flakiness, and itching. The ingredients work to protect skin that is chapped, chafed, or cracked, while also safeguarding it from harsh weather conditions and winds that have a drying effect. Click here to check out a detailed personal review of this product.
Pros
Suitable for dry, itchy, and sensitive skin types
Works for up to 24 hours
Protects skin from drying cold winds
Balances skin's microbiome
Soothes chapped, cracked, and chafed skin
Steroid-free
Cons
Some may not like the sticky consistency
Price at the time of publication: $19.63
Brickell's natural unscented lotion is a powerhouse of potent healants and protectants from nature that suit all skin types. While aloe vera works to supply much-needed moisture, jojoba has moisture-locking properties that prevent said moisture from leaving the skin's barrier. For an intense hydration boost, hyaluronic acid comes into play and green tea reverses the signs of aging with the help of anti-aging antioxidants. Use it as part of your daily skincare routine for skin that looks firmer, younger, and healthier. All of this topped off with a lightweight, oil-free, and quick-absorbing formula that leaves behind no residue or stains makes this a star daily-use moisturizer in our books.
Pros
Made with 100% natural and 83% organic ingredients
Provides robust anti-aging benefits
Lightweight and oil-free formula
Doesn't clog pores
Contains hydrating ingredients
Prevents moisture loss
Cons
Some may find the consistency to be slightly runny
Price at the time of publication: $35
Cetaphil's got the best unscented body lotion for eczema as it is non-irritating and won't clog your pores. Its star ingredient is colloidal oatmeal, known to heal and calm dry and itchy skin. The addition of 15 moisturizing agents along with vitamins B3, B5, and E dive deep to hydrate and nourish the skin to keep it soothed. For dry skin that is prone to eczema or atopic dermatitis, Cetaphil's daily moisturizing lotion is clinically-proven to retain moisture and soften skin.
Pros
Ideal for dry or sensitive skin prone to eczema or atopic dermatitis
Heals and calms dry and itchy skin
Retains essential moisture
Paraben-free
Dermatologist-tested
Hypoallergenic and non-comedogenic
Cons
Might take a while to absorb
Price at the time of publication: $15.69
When applying layers of multiple products may feel like a task, multipurpose unscented lotions can simplify your skincare routine. Lubriderm's 3-in-1 decadent formula works as an aftershave, while also doubling as a face and body moisturizer. It is enriched with aloe to give your itchy skin a soothing hug after a shave or a shower. Lightweight and fast-absorbing, this lotion is also non-greasy and meets all your skin's needs by improving its overall health. The no-fragrance option is ideal if you like using colognes or perfumes.
Pros
Can be used as an aftershave
Has a soothing effect
Lightweight
Fast-absorbing
Non-greasy
Cons
Price at the time of publication: $36.99
Avalon's vegan unscented lotion is exactly what your dry, dehydrated, and sensitive skin needs. Its formula consists of aloe vera, shea butter, calendula, and beta glucan — all of which are rich in nutrients to restore your skin's lipid balance. As your skin is adequately hydrated, you will find that rough, dry, and irritated skin is soothed and softened. You can even leave this restorative lotion bottle next to your work desk and constantly moisturize dry skin due to overworking or cold weather.
Pros
Vegan
Biodegradable
Formulated without gluten, GMOs, sulfates, and phthalates
Cruelty-free
Contains organic ingredients
Ideal for dry, rough, or irritated skin
Cons
Some may find it to be a little thick
Price at the time of publication: $19.49
The RaGaNaturals Soo Shea Hand And Body Lotion is natural and helps keep your skin super-hydrated and nourished. It contains plant-based ingredients such as argan oil, avocado oil, and shea butter, and can be applied to your entire body for healthy and glowing results. Its unscented formula protects sensitive, dry, rough, or combination skin from dehydration and damage.
Pros
Plant-based
Ultra-hydrating
Fast-absorbing
Paraben-free
Paraffin-free
Dye-free
Cruelty-free
Suitable for sensitive skin
Cons
Might need frequent application
Price at the time of publication: $14.99
This Curél unscented lotion supplies your skin with ample moisture for up to 24 hours. Enriched with an advanced ceramide complex and shea butter, your skin is nourished with all the essential fatty acids that strive to keep it healthy from within. The formula is so gentle that it can be used on sensitive skin and even your face as it doesn't clog pores. Not only does this creamy, odorless body lotion moisturize skin, it prevents further skin dryness. The lightweight lotion gives you a radiance while also working to soothe the skin's natural barrier.
Pros
Hypoallergenic
Works for up to 24 hours
Ideal for sensitive skin
Can be used as a facial moisturizer
Non-comedogenic
Lightweight and quick-absorbing
Cons
Price at the time of publication: $9.77
Stubborn dry skin will be the death of us but with a good unscented lotion, you can help it disappear. Vaseline's unscented lotion for sensitive skin is a godsend as it reverses the damage that is caused by dry or flaky skin and an irritated barrier. Containing microdroplets of Vaseline's unique Jelly, this formula locks in moisture and goes skin-deep to fully heal and repair dry skin. Use it daily as a hand or full body lotion and watch your skin transform!
Pros
Can be used on dermatitis-prone skin
Reverses damage caused to dry skin
Locks in moisture
Soothes irritated and sensitive skin
Non-greasy
Fast-absorbing
Cons
Some may not like the sticky consistency
Price at the time of publication: $17.69
Formulated by skin care specialists, Remedy's unscented body lotion keeps your skin hydrated and retains moisture for up to 24 hours. It is formulated with a botanical complex of antioxidants, humectants, and vitamins like green tea, soy, and clove flowers that soothe skin and lock in all the hydration it needs. And for a lasting effect, safflower oleosomes containing natural oils keep your skin softer for long durations. Clinically-tested and pH-balanced, this lotion is the answer to your skin's moisturization requirements.
Pros
pH-balanced formula
Clinically-tested
Safe for use on sensitive skin
Heals dry and cracked skin
Free of parabens, sulfates, aloe, and phthalates
Hypoallergenic
Cons
Might take a while to absorb
Price at the time of publication: $13.99
Tree To Tub brings to the one best unscented lotions for dry skin owing to its rich and clean ingredient list. Blended with nature's best moisturizer — shea butter, your skin is in for long-lasting nourishment. Other organic soothing botanicals such as colloidal oatmeal, cocoa butter, and chamomile hydrate skin without irritating it or making it greasy. You will also find your skin calmer than before and the initial damage reversed. This gentle moisturizing formula is ideal for sensitive, allergy-prone, and oily skin types as it contains no chemicals.
Pros
Ideal for dry, oily, and sensitive skin
Retains skin moisture
Free of sulfates, parabens, gluten, or silicones
Doesn't contain harsh chemicals or irritants
pH-balancing and hypoallergenic formula
Cruelty-free and vegan
Cons
Some may not like the runny consistency
Price at the time of publication: $19.99
Stony Brook's oil-free unscented body lotion can give you instant relief when applied on dry skin and hands. Containing chamomile, aloe vera, kelp extract, and vitamins A, D, and E, this formula works to soften and smooth your skin. NaPCA, which is a natural humectant, retains the skin's moisture levels to keep it supple and plump without drying it out. Massage this calming unscented face lotion before bed and wake up to rejuvenated skin in the morning.
Pros
Free of gluten or animal-derived ingredients
Lightweight consistency
Retains skin moisture
Softens skin
Oil-free
Soothes dry and irritated skin
Cons
Might not be quick-absorbing
Price at the time of publication: $15.17
If you often find your skin to be irritated or aggravated, Everyone's unscented lotion for sensitive skin should be your go-to lotion. This gentle and moisturizing formula is enriched with coconut oil, aloe vera, and vitamin E. As these ingredients soften the skin deeply, they also strengthen its barrier to fight off damage caused by free radicals.You can use it on your face, hands, or body for optimum skin health.
Pros
Enriched with nourishing ingredients
Strengthens skin barrier
Deeply moisturizes skin
Made with plant-based ingredients
Can be used on face, hands, and body
Cruelty-free
Cons
Might need frequent reapplication
Price at the time of publication: $14.99
This extraordinary lotion consists of a decadent silky formula that glides smoothly on your neck, hands, and body for intense moisturization. Luxe Beauty's ingredient list is filled with rich elements like hyaluronic acid that plumps, allantoin which promotes collagen, raspberry seed oil that renews skin cells, sea buckthorn that minimizes aging, with papaya and blueberry extracts that exfoliate and soothe the skin. You will find that these ingredients completely revitalize the barrier by penetrating deeply to improve overall appearance. For properly nourished skin, you will do well to invest in this high-quality unscented moisturizing lotion.
Pros
Silky formula
Hypoallergenic
Non-comedogenic
Vegan and cruelty-free
Free of harsh chemicals
Safe for blemish-prone skin
Cons
Application may be streaky
Price at the time of publication: $37.93
Everyone's gentle unscented lotion can be used on the hands, face, and body for a quick moisturizing recharge. It is enriched with pure botanical extracts that soothe and nurture the skin from the inside-out. Formulated without the use of any harmful chemicals or irritants, this cruelty-free lotion hydrates the barrier along with softening, smoothing, and soothing the skin.
Pros
Cruelty-free
Made without gluten, parabens, GMOs, and EDTA
Soothes dry skin
Makes skin soft and smooth
Can be used on hands, face, and body
Formulated with plant-based ingredients
Cons
Some may find it to be slightly runny in consistency
Price at the time of publication: $11.99
Now that we've looked at the best unscented lotions out there, let's learn how you can pick out the best one for your needs and preferences.
How To Choose An Unscented Lotion
As with any product that goes on your skin, you must ensure that an unscented lotion suits your skin type. Oily and acne-prone skin types will do well to use lotions that have AHAs that get rid of dead skin cells and also provide anti-aging benefits. Additionally, a lightweight formula that is non-comedogenic and won't clog your pores is an ideal pick.
For dry and dehydrated skin types, a heavier formula filled with hydrating ingredients like glycerin, hyaluronic acid, jojoba oil, vitamin B5, shea and cocoa seed butters, and lanolin will seal in moisture and prevent moisture loss. A thick and creamy consistency will also help soften flaky and dry skin.
Sensitive skin types should be on the lookout for a hypoallergenic formula and lotions that have as few ingredients as possible. Those made of natural, organic, and vegan ingredients can be beneficial too. 
Steer clear of any unscented lotion that is formulated with parabens, sulfates, phthalates, mineral oils, animal-derived ingredients, or any other harsh chemicals because they can wreak havoc on your skin. Stick to non-irritating and soothing ingredients that can help skin heal and repair itself.
You must also check expiry dates on your beauty products like you do with food. If you use something that is past its date of expiry, the consistency and formulation changes. This can cause flare-ups or damage the skin barrier. You can check the date on the back of the bottle as it is indicated on a tiny open lid in the corner.
Why Trust StyleCraze?
Krati Darak, the author of this article, is a skin care enthusiast. She loves to explore and review various products used in skin care. The list of best-unscented lotions is compiled by her after thorough research and reading many online reviews on trusted forums. These lotions are a must-have for those who do not prefer fragrances in their products and are allergic to them.
Frequently Asked Questions
Do unscented lotions help sunburn?
Yes, unscented moisturizers or lotions contain fewer irritating or chemical ingredients, which can help the skin heal from a sunburn.
Are unscented lotions better than scented ones?
Not necessarily, but unscented lotions can help people that are sensitive to or dislike fragrances.
Can I use an unscented lotion on my face?
An unscented body lotion can be used on the face but if you have oily or acne-prone skin, it is better not to do so. If a lotion specifically mentions that it can be used on the face or if it claims to be non-comedogenic, it is safer to do so.
What is the difference between unscented and fragrance-free lotion?
Fragrance-free lotions don't use any fragrant material or masking scent in the formula. On the other hand, unscented lotions have chemicals that cover up the odor of other ingredients on the list.
Is unscented lotion good for tattoos?
Yes, an unscented lotion with a soothing formula can be used on tattoos.

Recommended Articles
Best Fragrance-Free Lotions For Dry Skin
Best Fragrance-Free Moisturizers For Healthy, Hydrated Skin
Best Products For Sensitive Skin To Add To Your Skin Care List
Best Fragrance-Free Skincare Products For Those With Skin And Nose Sensitivity
Best Body Lotions That Are Worth Trying
Best Moisturizers For Sensitive Skin – Our Top Picks