10 Best UV Light Sanitizers – 2020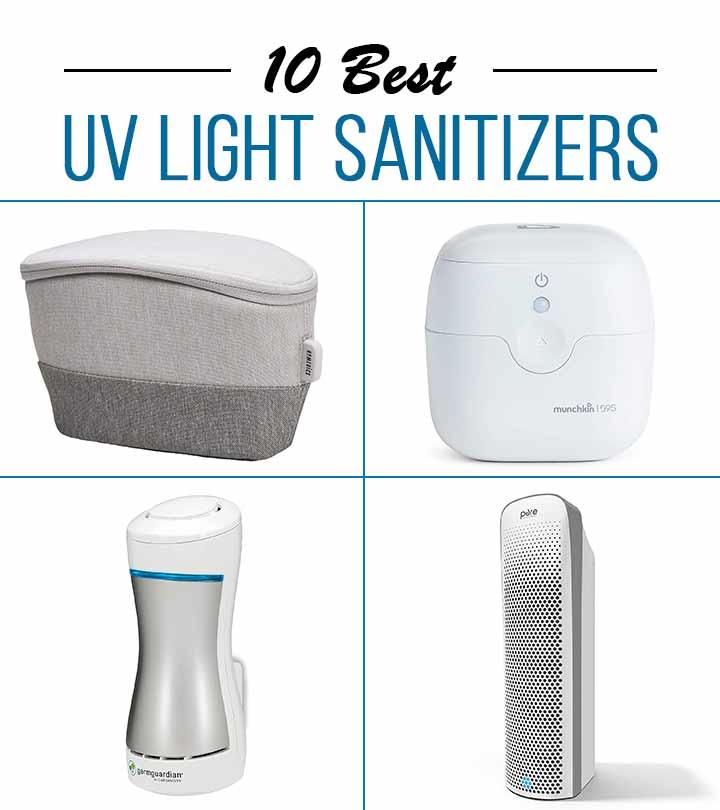 Life in 2020 is fast and technology-driven. It brings with it a rapidly evolving lifestyle, including new ways to stay clean. Proper hygiene has currently become crucial in the wake of the global spread of the COVID-19 coronavirus. With that in mind, not to mention the usual flu season, it is essential to stay aware of basic hygiene habits and keep your supplies stocked with soaps, wipes, and sanitizers. In this article, we are going to talk about UV light sanitizers and the best models that you can get your hands on.
What Is A UV Light Sanitizer? Why Do You Need A UV Light Sanitizer?
Between soaps, face washes, hand washes, and cleansing gels, there are a million products out there to help you keep your skin clean and germ-free. But what about the objects around you? Take your phone, for example – you are constantly scrolling through multiple apps all day, and it's not always after washing your hands. Bottom line: there's an army of microbes living on your stuff.
A UV light sanitizer is like the equivalent of your tech devices and other objects taking a shower every day. You can use one on plastic and glass objects to rid them of germs. A UV light sanitizer, as the name suggests, uses UV light to sanitize products and surfaces, making them free of illness-causing pathogens.
How Do UV Light Sanitizers Work?
A UV light sanitizer makes use of the UV-C light in the ultraviolet light spectrum (the others are UV-A and UV-B). UV-C light is capable of killing germs and has a wide range of effectiveness. UV-C light can interfere with and destroy nucleic acids in bacteria and other microbes. It also kills some amino acids and disrupts proteins in those microbes. For best results, use UV light to sanitize smooth surfaces.
However, UV-C light does have some limitations as it cannot reach crevices and nooks on uneven surfaces. This includes buttons and germs inside food particles. A UV light sanitizes quickly, but you must keep in mind that the surface can only remain clean for a limited time. Using a light sanitizer doesn't keep you free from new germs permanently.
Let's find out more about the best UV light sanitizers that you can get your hands on right now.
Top 10 UV Light Sanitizers Of 2020
The InvisiClean Ultrasonic Cleaner & UV Light Sanitizer combines the disinfecting properties of two products – an ultrasonic cleaner and a UV-C light sanitizer – in one smart design. It works well for deep cleaning knick-knacks, such as jewelry, watches, brushes, sunglasses, dentures, coins, and more.
The UV-C light in this device comes in handy when you want your phone and other electronic gadgets to be free of germs. The InvisiClean efficiently kills 99.9% of bacteria, viruses, and mold on all your devices. Place your phone in the box, and get it back sanitized in 5 minutes!
Pros
2 cleaning modes
Auto 5-minute shut-off
Includes basket and watch holder
Portable
Lightweight
Ergonomic design
1-year warranty
Replaceable UV-C bulbs
Value for money
Kills germs and mold 
Cons
None 
Similar Products
No products found.
The Munchkin Portable UV Sterilizer is the perfect sanitizer for pacifiers, bottle nipples, and any baby product that you want to sterilize before it comes in contact with your little angel. It uses UV-C light to kill 99% of viruses and bacteria that thrive on baby products and renders them safe in 59 seconds.
Pathogens targeted by the Munchkin sanitizer include E. coli, Staph, RSV, Kleb, Salmonella, flu, and other common strains. It also gets rid of bad smells and odor-causing bacteria, leaving the pacifier fresh and sterilized. The child-safe design turns off the UV light immediately when the lid is opened, keeping your toddler protected if they open the lid by accident.
Pros
Suitable for cleaning baby products
Child safe UV light
Lightweight
Travel-friendly
Strap for attaching with a handbag
Sanitizes in less than a minute
USB and battery-powered
Removes odor-causing bacteria
Affordable 
Cons
None 
Similar Products
The Germ Guardian Pluggable Air Purifier & Sanitizer uses UV-C light to kill airborne germs and mold and helps sanitize the air you breathe at home. It also reduces household odors by eliminating bacteria and cooking fumes, as well as controlling any other unwanted smell.
The small size makes it easy to plug in anywhere, and the 7-inch device easily fits in the kitchen, bathroom, kid's room, or any spot that you want to purify. The device can last a long time, with only the UV-C light bulb needing replacement once in 10-12 months.
Pros
Compact plug-in design
Small size fits in most spaces
Replaceable UV-C bulb
Cordless
Helps reduce odors
Removes bad odors
Travel-friendly
1-year warranty
Affordable 
Cons
Similar Products
The Coospider UV Germicidal Lamp is a powerful light sanitizer that effectively cleans the space where it is installed. The UV-C light is powerful but free of unpleasant ozone odors. There are four timer modes of 5, 15, 30, and 60 minutes. You can choose the setting that is most appropriate, based on the size of the space where you install it.
The packaging of the product includes everything you might need for a hassle-free installation. Apart from the lamp, there are fixing accessories, a cable, a plug, and a double-sided tape. The small size is perfect for installing in drawers, closets, and any other small space that needs purifying.
Pros
4 timer modes
8000-hour lifespan
Fixing accessories included
1-year warranty
5 ft cable with plug
Ozone-free
Fits easily in small places
Affordable 
Cons
Similar Products
The Pure Enrichment PureZone Elite 4-in-1 Air Purifier uses a 4-stage purification system to clean the air in your room. It starts with an activated carbon pre-filter, followed by a pure HEPA filter. Stage 3 is the UV-C light that kills airborne pathogens, and the 4th stage is an ionizer.
The device also features a smart air quality monitor that can detect air particles and indicate the air quality using a color-coded lighting system. Blue is for good air quality, yellow is for fair quality, while red indicates poor air quality and is a signal for turning the PureZone on. The fan speed also adjusts automatically according to the size of the room.
Pros
4-stage air purification
ETL safety certified
Full coverage for the entire room
Built-in handle
Quiet operation
Smart air quality monitor
3-speed fan
5-year warranty 
Cons
Expensive
Not travel-friendly 
Similar Products
No products found.
The Brightinwd UV Light Mini Sanitizer is perfectly sized for carrying along on your travels. You can use it with ease on any public surface, such as armrests on a flight, doorknobs, and desks in your hotel bedroom. The device kills 99.9% germs on any surface you point it at.
It has an inbuilt safety feature that turns the blue light off automatically when the sanitizer is turned upwards. This protects your eyes against accidental exposure to harmful UV-C light. In fact, the light will only turn on when facing downward, which may be annoying if you are trying to clean a sloping or vertical surface – but it is designed this way for maximum safety.
Pros
Lightweight
Portable
Travel-friendly
Auto shut-off for safety
Battery & USB powered
Sanitizes within 15 seconds
Easy to use 
Cons
The HoMedics UV-Clean Portable Sanitizer is a hit among germaphobes everywhere! You can use it to sanitize all your objects and gadgets that you use most frequently. The portable size is compatible with using at home or while traveling. It can fit in most purses and is capable of killing up to 99.9% of viruses and bacteria.
The UV-C light sanitizer works 10 times faster than any conventional sanitizer to keep your belongings pure and germ-free. Just 1 minute inside the sanitizer bag will sanitize and disinfect most items like keys, jewelry, remotes, eyeglasses, and more. The inbuilt safety lock protects against harmful exposure.
Pros
Mercury-free
Chemical-free
Lightweight
Portable
Rechargeable LEDs
Cleans in 1 minute
Advanced safety lock 
Cons
Expensive
Not suitable for larger items. 
The GermGuardian True HEPA Filter Air Purifier helps eliminate 99.97% of dust, pollen, harmful germs, mold spores, pet dander, and other allergens from the air in your room. It is fitted with an inbuilt UV-C light that kills airborne viruses and reduces volatile organic compounds using titanium dioxide.
The device also contains a pre-filter that traps larger particles, such as dust and pet hair, and helps the HEPA filter last longer. The activated charcoal filter reduces bad smells and cooking fumes, keeping the air clean and fresh all day. There are three speed settings, the lowest of which may be used as white noise to help you sleep.
Pros
Replaceable filter
3 fan speed settings
Filter change indicator
Energy Star Certified
CARB compliant
Reduces bad odors
Kills airborne germs and mold 
Cons
Noisy operation
Not travel-friendly
Expensive 
The 59S X5 UV Light Sanitizer Wand automatically shuts off when turned upwards or on its side. This is an inbuilt safety feature to keep your eyes protected against harmful UV exposure. Use it at home and while traveling to keep your surroundings sanitized at all times.
It efficiently kills 99.9% pathogens on any surface it scans. It gives you less worry and more comfort about being in public spaces, especially in the current climate. For maximum ease and convenience, the device can be recharged with a USB charger.
Pros
Auto shut-off for safety
Lightweight and compact
Powered by 20 UVC LEDs
Disinfects within 1-3 minutes
USB cable included
1-year warranty
Cons
Expensive
Inconsistent performance
The battery does not last long.
The Gakus UV Light Sanitizer kills 99% germs in a matter of seconds. Its range includes viruses, bacteria, molds, fungi and odor-causing bacteria. You can use it in your surroundings at home and work to keep them clean and fresh.
The small size makes it easy to carry with you wherever you go, and knowing that the sanitizer is doing its job to keep things clean will help you breathe easy and stay relaxed. The wand comes equipped with a child safety lock and a USB charging port.
Pros
Powered by 16 UVC LEDs
Travel-friendly
USB-rechargeable
Child-safety lock
Easy to use
Cons
Inconsistent performance
Quality control
Now that you know about the best UV light sanitizers out there, read on to know all the advantages these devices offer.
Benefits Of Using UV Light Sanitizers
There are a ton of advantages to using a UV sanitizer:
UV light is non- toxic. Unlike the harsh chemicals found in disinfectants and other cleaning products, UV light is far more environment-friendly. The sanitizing effect of UV light is a physical process that does not make use of chemicals. When used with proper precautions, UV light disinfection is a safe and non-toxic way to get rid of germs.
A UV sanitizer is far more effective than some other methods of disinfection. UV light is capable of killing a wide array of microorganisms, and since it is a dry process, it also prevents the growth of mold and fungi that can occur in damp conditions.
UV light disinfection is a savior in a climate with increasing concerns about antibiotic-resistant bacteria. With traditional disinfectants and antimicrobial agents, it has been found that bacteria can sometimes build immunity to these methods after repeated use. But a UV sanitizer is a physical way to kill bacteria, so pathogens are unable to build a resistance to it.
Some UV light sanitizers are available in the shape of travel-friendly wands. This means you can carry one with you anytime you are traveling and keep your surroundings clean and hygienic whenever you want. No matter the size of your UV sanitizer, the most significant advantage remains that this device is extremely easy to use.
UV light sanitizers are also quite affordable. It is feasible for you to maintain hygiene without breaking the bank. Compared to regular restocking for disinfectants, a UV light sanitizer is a one-time investment that lasts a very long time, giving back more than its worth in returns.
That was our round-up of the 10 best UV light sanitizers along with their benefits. Sanitizers may make you seem over-cautious, but in times like these, it is better to give your health top priority and keep yourself protected against germs, rather than catch an infection and feel sorry later. Keep your hands and surroundings clean and stay safe!
Expert's Answers for Readers Questions
How effective are UV light sanitizers?
UV light sanitizers claim to kill up to 99% of germs by altering their genetic structure. This includes antibiotic-resistant bacteria that cannot be eliminated using standard disinfectants.
How long does it take for UV light to sterilize?
It depends on the kind of product you are using. Check the manufacturer's instructions that come with the product, and follow them accurately for best results.
Where can UV light be used?
UV light is best used on smooth, even surfaces. It is ideal for use on objects and surfaces used by multiple people in a day, such as an office. But you can also use it to clean anything in your home that changes hands frequently, such as remote controls, phones, and tablets.
Recommended Articles