15 Best V-Neck T-Shirts For Women In 2023
For figure-flattering looks to complement your casual outfit and make a style statement.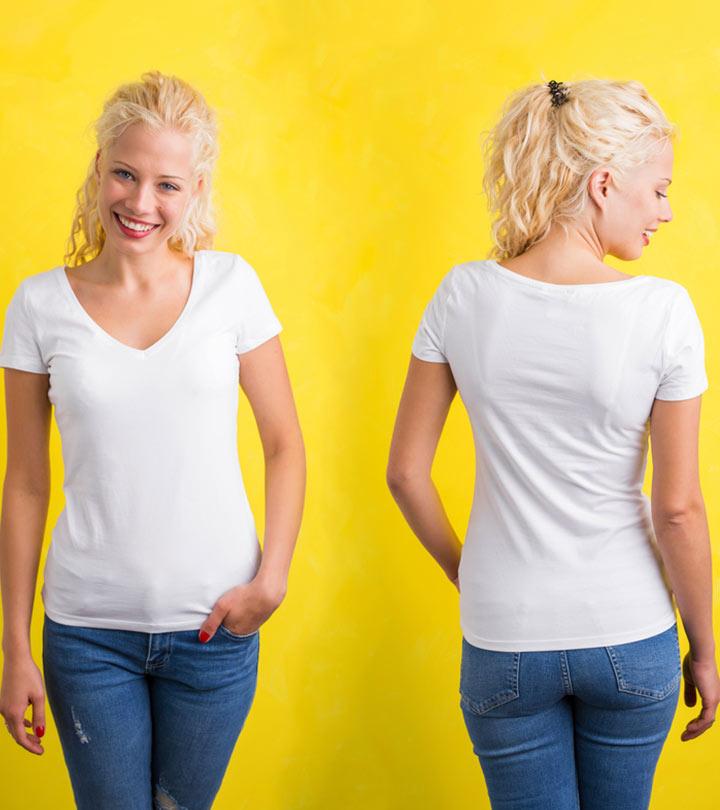 V-neck T-shirts are at the core of all wardrobe-essentials. The best V-neck T-shirts for women can look stylish with whatever you pair them with if chosen carefully. A cozy, comfortable, figure-flattering T-shirt will be as satisfying as finding a soulmate. This comfortable wardrobe basic can take you from a virtual team meeting to a quick 30-minute stretch in your living room without going through the hassle of changing clothes. Today, many different brands have created an amalgamation of styles that can help you make a classic statement through your fashionable basic clothing.
Looking for the best V-neck T-shirt in different styles, colors, and materials? Keep reading this article to explore our list of the 15 best V-neck T-shirts for women now.
Top 15 V-neck T-shirts In 2023 For Women Worth Being In Your Wardrobe
Pros
Machine-washable
Breathable fabric
Pack of 2
Available in other colors
Cons
Price at the time of publication: $18.9
Pros
Lightweight fabric
High-quality sewing finish
Form-fitting
Stretchable
Cons
Price at the time of publication: $17.95
If you're not a fan of shirring details on the sides but love dolman sleeves, Lock And Love brings you dressy V-neck T-shirts with precisely that. The sleeves are loose, but the top's body fits well with a beautiful and chic drape-like fall. It is made from a blend of rayon and spandex, making it ideal for the spring and summer time. It feels light on the skin and is flowy. You'll find a diverse variety of warm and cool colors to opt for, and if you fall in love with this super soft v-neck tee, they're worth hoarding in different shades.
Pros
Lightweight fabric
Highly stretchable
Double stitching on the neckline, sleeves, and hem
Available in 32 colors
Cons
Some may find the material relatively thin.
Price at the time of publication: $17.95
The Sampeel Women's rolled sleeve T-shirt is a loose-fitting tee that screams cozy. It is made from a blend of high-quality polyester, rayon, and spandex. With this tee in your wardrobe, you can breeze through a humid day with ease. It runs long and features slits on both sides at the bottom, making it easier to tuck the top in. You can pair it with leggings or shorts, which would make for the most comfortable attire in the summers whether you hit the café for a quick coffee or go to the mall for shopping.
Pros
Breathable
The material is not see-through
Floral patterns available
Doesn't feel tight around the armpits
Cons
The cuffs dangle as they're only stitched at 2 spots
Price at the time of publication: $21.99
The Sipaya Basic V-Neck T-shirt is made shrink-resistant with a blend of polyester, rayon, and spandex. It comes with pull-on closure and keeps you cool and comfortable even in the summer. You can pair up this t-shirt with leggings, jeans, or shorts. The v-neck design ensures a slim look with a loose fit.  It is available in various colors to go well with your skin.
Pros
Breathable
Lightweight
Stretchy
Soft
Cons
Price at the time of publication: $18.67
Pros
Slim fit
Lightweight
Comfortable
Figure flattering
Stretch-ribbed knit
Quality fabric
Machine-washable
Cons
May be a bit too tight for some people
Price at the time of publication: $26.99
Pros
Comfortable
Lightweight fabric
Tough stitching
Cons
Price at the time of publication: $19.99
The criss-cross design at the neckline of this V-neck T-shirt makes it one of our favorites on the list. If a standard V-neck does not excite you, this top will ask for your attention. It is made from soft materials like rayon and spandex, and the T-shirt flows freely, which is a great feature for a creaseless tuck-in. The optimal length makes it easy to pair with skirts and shorts alike. When it's winters, you can also wear this short sleeve v-neck t-shirt underneath your blazer for the neckline to add some sass to your outfit.
Pros
Features stretch-slim design
Does not shrink upon washing
Lightweight and comfortable
The T-shirt flows naturally on the body.
Cons
It is not made of cotton.
Price at the time of publication: $18.99
The chic style v-neck t-shirt by ASTANFY is ideal for wearing as a summer top as it fits loosely. It is made of polyester and cotton blend. The short sleeves and v-neck cut design make the shirt ideal to pair up with jeans or shorts. It is available in various colors, making it apt for everyday wear.
Pros
Lightweight
Fade-resistant
Comfortable
Breathable
Cons
None
Price at the time of publication: $19.99
Pros
No shrinkage
Cool and comfortable
Lightweight
Cons
Not true to size
Price at the time of publication: $7.37
Workouts are easier to commit to when you find T-shirts that motivate you to sweat it out. Hanes Sport Performance tees are made from 100% polyester, making them ideal for jogging, walking, and hitting the gym. You don't have to strictly reserve it as gym-wear and wear it for other occasions like casual tees. These are also a great alternative for women who prefer shallow V-neck T-shirts. When you take your next flight, you can wear this cute V-neck T-shirt made from polyester for its wrinkle-resistant and travel-friendly attributes.
Pros
Chafe-resistant
Wicks away moisture rapidly
Cool DRI interlock fabric dries faster
Suitable for workouts
Cons
Does not offer many size options for plus-sized women.
Price at the time of publication: $6
A perfect case of basic meets classy, Cordat plain colored V-neck T-shirts are ideal for all body types. The most attractive feature of these good-quality v-neck t-shirts is the bell-sleeve that's 3/4th in length, making it both trendy and elegant. You can shop for a form-fitting size without worrying about it running too tight because of the stretchy material. The combination of flared sleeves and well-fitted body of the top makes it super chic.
Pros
The blend of rayon and spandex offers comfort.
Lightweight
Great for summers
Can be machine-washed
Cons
It may wrinkle when machine-washed.
Price at the time of publication: $17.99
If you're looking for V-neck long-sleeve T-shirts, Dutebare's T-shirts are worth taking a look. These T-shirts are made of a cotton blend material and are lightweight and elastic. The most amazing thing about this T-shirt is that it features 2 functional pockets. When you wear this tee on a breezy night, you can slide your hands into the deep pockets and expect some warmth.
Pros
Elastic material
The cotton blend makes it breathable
Features pockets
Allows gentle machine wash
Cons
The material may be relatively thin.
Price at the time of publication: $7.99
Lock and Love's women's fitted V-neck T-shirts are tailor-made for those who love form-fitting basic tees for a figure-flattering look. It is made from 95% cotton and 5% spandex. The cotton makes it a perfect wear for summers, and the spandex makes the T-shirt decently stretchable. You can sport them with both skirts and pants, and on hotter days, a pair of shorts is all you need to complement this fitting T-shirt. In winters, you can slip into your matching sweatsuits and wear this deep v-neck t-shirt underneath.
Pros
Great for humid weather
Slim-fit
Double-stitched on sleeves and bottom hem
Soft fabric
Cons
May expose tires for plus-sized women.
Slightly see-through
Price at the time of publication: $12.95
Inspop's oh-so-comfy short-sleeve V-neck T-shirts are a wardrobe must-have if all you ask for is a T-shirt that feels like a second skin. You can go to the gym, head straight to work, get back home and go out for dinner, and hit the sack in this T-shirt— practically starting and ending your day in it. Of course, they'd need frequent washing if you're wearing it for long hours and frequently, and you don't have to worry about that. This T-shirt doesn't shrink or lose its color when you wash it too often, so you can expect it to last long. You can go 1 or 2 sizes up if you like baggy V-neck T-shirts.
Pros
Wrinkle-resistant
Lightweight and comfortable
Can be machine washed
Does not shrink or fade upon washing
Cons
Price at the time of publication: $12.99
We hope this list helps you find the best V-neck T-shirt for women that's a useful addition to your wardrobe. If you're confused about finding the right T-shirt for yourself or how to style it, read on for some valuable insights.
Wearing V-neck T-shirts The Right Way
You can wear a V-neck T-shirt with almost anything. That is one of the reasons why women love them. They can help you save time in the morning that you might otherwise spend on wondering what to pair your top with. Here's how you can wear your V-neck T-shirt with different outfits.
When you're wearing a pair of jeans with a form-fitting tee, it's best to opt for boyfriend denims. This works great if your T-shirt is not too long. However, if the T-shirt runs long or is a loose V-neck tee, you can pick your favorite skinny jeans for a casual look.
V-neck T-shirts are not just for the summers. You can wear them as an undershirt underneath your formal blazers or throw a jacket over it for either a formal look or to stop yourself from shivering. They're also suitable for work or a formal FaceTime as they are for the gym or a walk.
V-neck T-shirts also go well with skirts. Whether you have a denim skirt or a flowy one that falls to your knees, pick the best V-neck T-shirt for women that fits you snuggly, and you're sure to look flawless. Wear ankle length boots or sneakers to accessorize, and you'll love what you see in the mirror.
Pajamas and V-neck T-shirts are like soulmates. It goes without saying that pajamas and a rugged T-shirt make for the best home-wear. So, when you buy a basic tee, don't feel guilty about wearing it at home. There are no fashion rules that apply here. Pick the most comfortable pajamas, and don't think twice.
Features To Look For In A V-neck T-shirt
Finding the best V-neck T-shirt for women that feels just right needs some effort. When you consider the features that we've discussed, you're way closer to buying the right V-neck T-shirt that becomes a part of your essential clothing collection. Here's what you should look for in a V-neck T-shirt.
Since basic tees are worn frequently, look for a fabric that you feel comfortable in. A blend of cotton and spandex is ideal for summers as they offer comfort and stretch. Rayon is a thin material that is used for tailoring breathable tees. Polyester is the easiest to wash and travel-friendly. Determine what's on your priority list to pick the best V-neck T-shirt for women made from the right fabric.
The fitting can best be determined based on your personal preference. Most people prefer their tees to be neither tight nor too loose. However, baggy T-shirts are great if they're your style. When made from breathable and stretchable fabric, you can also shop for tight tees that feel comfy.
For people with inverted triangle shaped torso, it is best to wear longer t-shirts, and dark colors are preferable. If you have a rectangular torso, try to avoid oversized t-shirts or boxy tees. Almost all types of t-shirts suit the hourglass body-type, and for the oval-shape, it is recommended to look for flared sleeves as they divert the focus from the waist.
When you're buying T-shirts for the summers, it is recommended to settle for lighter colors. For summers, you can always settle for a white v neck t-shirt. Colors like millennial pink, biscay green, faded denim blue are among those in trend. Dark colors, especially black, absorbs heat. However, if the weather gets pleasant, tees in darker shades are just as great.
Basic T-shirts witness upgrades from time to time. Currently, dolman sleeves, pockets, cold shoulders, etc. are features that make T-shirts look more stylish. You can wear these kinds to a date, work, shopping, etc. based on the occasion. However, if your favorite basics to be worn mostly at home are v-neck t-shirts , classic v-neck tees are best suited.
Since we frequently get in and out of T-shirts, they require frequent washing. This might not be the case for fancier T-shirts that you don't wear too often. However, T-shirts that can be machine-washed are preferable. You should give the washing instructions a careful read and do everything to ensure the T-shirt is as durable as it should be.
This list of the best V-neck T-shirts for women and our buying guide should help you find one that is worth being in your closet. Lockdown or not, work from home or not, buying women's V-neck T-shirts can never be a wasteful investment. After all, stylish clothes can't feel all that great if they're not cozy. And V-neck T-shirts can give all your dresses and blouses a run for their money when it comes down to that.
Why Trust StyleCraze?
The author, Priyam Gupta, is a fashion enthusiast and keeps up with all the latest trends. She shares tips for choosing the best v-neck t-shirts in her buying guide and explains how to consider design, material, and fit parameters for a better experience. After conducting extensive research and reviewing numerous online reviews, she compiled this list. T-shirts with V-necks are comfortable and stylish, and they match any outfit.
Frequently Asked Questions
Are V-neck tees out of style?
No, V-neck tees are not out of style. Nowadays, V-neck tees are also layered under shirts for unique style statements.
Is crew neck or V-neck better for women?
While both are perfect for women, it depends on their taste and unique styling choices. However, several fashion enthusiasts prefer V-neck over a crew neck due to the former's flattering structure.
Are V-neck shirts business casual for women?
Yes, V-neck shirts are business casual for women. They can be paired with formal pants or jeans for the perfect style statement.
When should you wear V-necks?
You can wear V-necks to casual meetups or parties. V-necks are also great for virtual office meetings or important business events if paired well.
Are V-neck tees professional?
Yes, V-neck tees are professional if you do not sloppily wear them. So, wear solid-colored V-neck tees with formal pants to appear professional.
Are V necks more attractive?
Yes. V-necks come with a figure-flattering design that automatically makes them more attractive. However, one may not find V-necks attractive based on their style preferences.
Recommended Articles