11 Best Vacuum Cleaners To Keep The Bed Bugs Away – 100% Effective
Keep your living areas clean and eliminate bed bugs and allergens.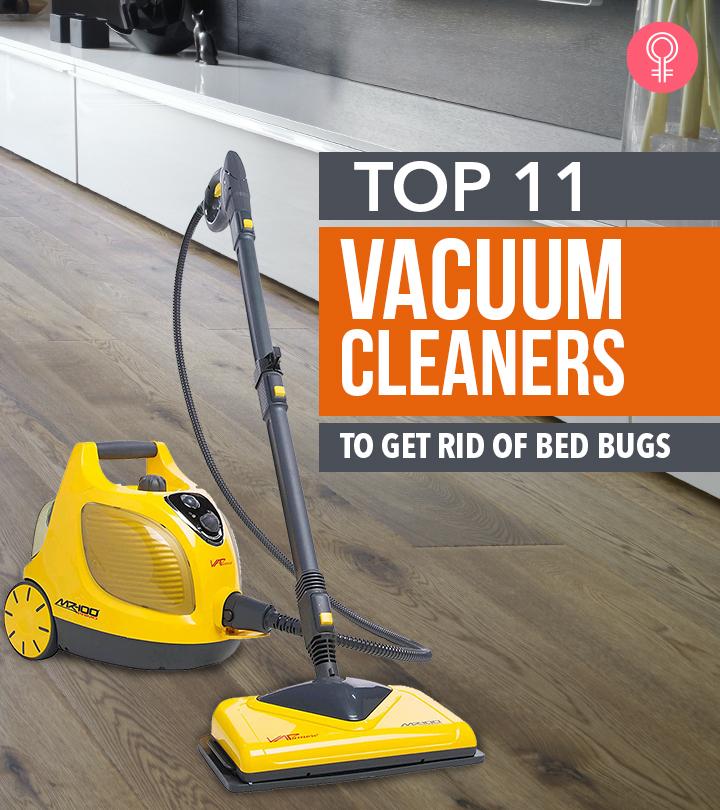 Bed bugs are annoying, pesky, and quite hard to get rid of. This problem occurs especially when you are living in tight spaces. Thankfully, with the best vacuum cleaners for bed bugs, you don't have to throw your mattress away.
Bed bugs are hazardous for your hygiene and health. There are different effective ways to eliminate bed bugs, and one of them is using a high-performance vacuum cleaner. There are plenty of options available online, and it might be overwhelming for you to pick one. So, we have reviewed the best options that will keep the bugs away. Keep scrolling!
11 Best Vacuum Cleaners For Bed Bugs
The Atrix – VACBP1 HEPA Backpack Vacuum is powerful and suitable for home and industrial needs. It has an ergonomic design and comes with attachments that can reach inaccessible corners, ceilings, drapes, blinds, stairs, warehouses, etc.
This backpack vacuum has a unique 8-Quart HEPA filter that captures particles, bed bugs, pests, and dust safely. HEPA filter prevents the risk of exhausting, dangerous bacteria during vacuuming. It comes with accessories like a 6' hose, a round brush, a floor brush, an air-driven turbo brush, and a set of hose and filter plugs.
Features
Dimensions: 19.5 x 12.5 x 10 inches
Weight: ~12 lbs
Power Needed: 1400 W
Pros
Lightweight
Supports left and right-handed use
Comes with a belt loop for accessories
Suitable for residential and commercial purposes
Cons
Short cord length
Flimsy and unstable attachments
The Housmile Mattress Vacuum Cleaner is a handheld UV-based model that comes with an advanced HEPA filtration unit. It features an exclusive activated carbon filtration technology that, along with the HEPA unit, removes 99.98% microparticles and pollution.
The high rotation frequency and powerful suction (10.5 kPa) beat out and suck the dust and mites from mattresses, sofa, bed sheets, blankets, and upholstery.
Features
Dimensions: 10 x 6.8 x 12 inches
Weight: 5.46 lbs
Power Needed: 350 W-450 W
Pros
Lightweight
Compact design
Activated carbon filtration technology
Powerful suction
Has an intelligent touch sensor
Cons
Strong suction
Not long-lasting
The Dyson (214730-01) V8 Absolute Cordless Stick Vacuum Cleaner is a powerful and hassle-free option best suited for home cleaning. The entire machine is fitted with HEPA filters that filter the air exhausted, keeping the environment allergen-free.
This vacuum is cordless and provides up to 40 minutes of high-power suction to pull out fine dust, pet hairs, and bugs that stuck deep within carpets and hardwood floors. The best part is that it comes with a washable HEPA filter.
Features
Dimensions: 9.9 x 8.9 x 49 inches
Weight: 5.75 pounds
Power Needed: Battery operated 
Pros
Convenient to use
Versatile
Cordless
Hassle-free
Lightweight
Good battery life
Washable filter
Cons
Expensive
No comfort protection on the grip.
The LivePure Ultramite Vacuum uses UV technology that removes dust mites, bacteria, and pollen, etc, preventing allergies and asthma. It features a True HEPA filtration unit, and the detachable bin traps up to 99.97% of particles as small as 0.3 microns like pet hair. In addition, the vacuum is equipped with dual motors that have multiple cleaning modes and an extendable hose for easy cleaning.
Features
Dimensions: 13.5 x 9 x 8 inches
Weight: 6.4 pounds
Power Needed:650W
Pros
45° Angle Air Discharge
Value for money
Easy to use
Dual filtration
UV sanitation
Cons
Weak suction
UV doesn't work on dark fabrics
The Kenmore 600 Series Canister Vacuum with a swivel head is designed to clean difficult and inaccessible areas. It has triple HEPA filters and two motors that trap 99.97% of debris, pet hair, bugs, and dust inside the bagged collection cup. It comes with a dusting brush, crevice tool, and a bare floor tool that fits well within the unit. It has a 28 feet. long cord.
Features
Dimensions: 27.95 x 16.22 x 13.78 inches
Weight: 22 lbs
Power Needed: 1440 W
Pros
Retractable, lengthy cord
Easy portability
Easy to store
Lightweight
Multipurpose design
Triple HEPA filtration
Detachable handle
Dual-motor system
Cons
Noisy
Not suitable for hardwood floors.
The Vapamore MR-100 Primo Steam Cleaning System kills bed bugs, bacteria, germs, dust mites, and molds by producing 210°- 220° steam. It removes dirt, grease, grime, grout, and stains effectively without using chemicals. With a flow rate of 40 gallons/min, this steam cleaning system gives you 60 minutes of uninterrupted operation per tank fill. It runs on a water heater that consists of a stainless steel boiler and an adjustable steam setting.
Features
Dimensions: 13 x 15 x 14 inches
Weight: 18.85 lbs
Power Needed: 1500 W
Pros
Chemical-free sanitization
Easy to use
Value for money
Large floor head design
Solenoid steam control
Cons
Cord retraction flaws
Weak floor-cleaning wand
Water spillage issues
The Ivation 1800W Canister Steam Cleaner is a versatile steam cleaner that can be used on any surface in your home. The 14-piece accessories pack allows you to convert a handheld nozzle gun to a floor brush, scrubber, or squeegee. These functions help you in getting rid of grease, grime, bed bugs, pests, and allergens on the floor, windows, corners, ceiling, carpets, curtains, and mattresses.
The portable canister gives you 30 minutes of continuous operation. Since it works on steam and high temperature, the cleaning process is chemical- and mess-free. You can use this vacuum safely around kids and pets.
Features
Dimensions: 19.69 x 12.6 x 42.91 inches
Weight: 15.22 lbs
Power Needed: 1800 W
Pros
Versatile
High capacity rolling tank cost-effective
Easy to operate
Cons
Water might spill.
No water level indicator
Short steam hose
The Eureka Mighty Mite 3670G Vacuum Cleaner is an efficient home cleaning assistant. With a 20 feet long cord and extension wands, it makes cleaning hard floors, drapes, upholstery, and outdoors quick and convenient.
The motor creates powerful suction to clear dust, pests, and mites. This bagged canister vacuum includes a triple filtration bag system that can be replaced without any mess.
Features
Dimensions: 9 x 17.5 x 11.63 inches
Weight: 11.60 lbs
Power Needed: 1400 W
Pros
Lightweight
Portable
Large dust canister
Long-lasting
Reliable
Includes blower port
Easy to use
Cons
Small vacuum hose
Noisy
Clunky attachments
BLACK+DECKER Dustbuster Handheld Vacuum is a lightweight, cordless cleaner that runs on a fast-charging lithium-ion battery. Smart Charge technology uses less energy and gives powerful suction.
This handheld vacuum comes with a rotating slim nozzle for various applications. The dustbowl is translucent and bagless. Along with the filter inside, the bowl is removable and washable.
Features
Dimensions: 17.25 x 5.5 x 7.75 inches
Weight: 2.6 lbs
Power Needed: 15.2 W (battery-powered)
Pros
Cordless
Portable
Includes fast-charging battery
Long battery life
Lightweight
Washable filters and dustbowl
Cons
Low suction
The battery is not replaceable
The Dibea Bed Vacuum Cleaner runs on a high-power motor that generates high-frequency vibrations (33000 cycles/min). The vibrations and the unique S-brushes beat and clean dust and bugs out of bed linen, carpets, mattresses, couch, furniture, and toys. The 6-stage HEPA filters and UV rays clarify the exhaust air 99% free of allergens and fine particles.
It comes with a 14.7 feet long cord and a large dust collector – a bonus in this price range.
Features
Dimensions: 12.2 x 8.67 x 10.24 inches
Weight: ~ 2.2 lbs
Power Needed: 300 W
Pros
Value for money
Lightweight
Long cord
Powerful suction
HEPA filtration
Lifetime customer service
12 months warranty
Cons
The Atrix Lil Red Canister Vacuum should definitely be high on your preference list if you're looking for noiseless vacuums. Small, compact and lightweight, this vacuum cleaner comes with an adjustable three-speed motor and three stages of filtration which makes it easier to capture dry particles on rough and soft surfaces as well. The six feet hose and the 22 to 36 inches telescopic extension wand helps users to clean the areas that are hard to reach with bare hands.
Features
Dimensions: 13.5 x 10 x 8 inches
Weight: 11.6 lbs
Power Needed: 1200 W
Pros
Easy to use
Retractable cord
Variable speed motor
Noiseless
Portable
Cons
These are the 11 best vacuum cleaners to deal with bugs and allergens. If you have not shortlisted your picks yet, consider a few points before finalizing.
What Should You Look For When Buying Vacuums For Bed Bugs?
Weight And Size: Most vacuum cleaners are bulky because of their powerful motors or accessories. While buying, look at the weight and size of the product. These factors decide the portability and ease of using the vacuum.
HEPA Filters: High-Efficiency Particulate Air Filters (HEPA) are designed specially to trap 99.97% of particles in the air as small as 0.3 microns.
These filters in your vacuum eliminate allergens like bacteria, pollen, bugs, dust mites, mildew, pet hair, and dander and release fresh exhaust air. Choose a vacuum with HEPA filters to get rid of bed bugs. 
Suction: A powerful motor should be able to generate enough suction to clean the space effectively. Suction power is measured in 'air watts' and mentioned on the packaging or product insert.
There are machines that offer 350 AW of suction, which means more power consumption. Therefore, look for moderate-high suction capacity and low power consumption, especially if you asthmatic or allergic.
Input Power: Most models consume 500-3000 W of power, which varies with size, suction, weight, and the application surface.
Dustbin Capacity: It gets cumbersome to remove and clean the dust collector bin repeatedly. You are also exposed to allergens in the process of emptying it. Hence, go for a vacuum cleaner with a relatively large, detachable, and washable bowl for less frequent and easy cleaning. The best is to choose bagless cleaners for bed bugs as they are effective and hassle-free. 
Accessories: Always check for the accessories that come with the package. All vacuum cleaners need suitable attachments to perform effectively. Brush heads, crevice tool, extendable wands, and charging docks have to be included in your package. Remember, using accessories from a different company may cause irreversible damage to the electrical components of the vacuum.
Durability: Vacuum cleaners are a big investment. Choose a product that gives value for money. It should perform efficiently, and the batteries need to last long.
Why Trust StyleCraze?
Pratyasha Ray is a homecare appliances lover who makes sure that her readers have access to tools that make their home comfortable and functional. She realizes that bed bugs can be annoying and pesky and can be very hard to get rid of. She carefully evaluated feedback given by users on various platforms and assembled this list of the finest vacuum cleaners that can say goodbye to those bed bugs. These products are light, easy-to-use and are available at an affordable price.
Frequently Asked Questions
Can bed bugs live in vacuum cleaners?
Yes, bed bugs can travel through the vacuum hose and cling to the fabric of the filter bags. They can crawl out of the crevices/folds and go back to hiding. Therefore, it is important to clean the dust collector bowl and filter bags thoroughly after every use.
How do you clean a bagless vacuum with bed bugs?
Empty the contents into a trash bag and seal it tight immediately. Wash the collector bowl thoroughly, sanitize, and dry it before the next use. This is not applicable if you think the bed bugs have infested the vacuum hose or other cavities.
Can you use these vacuums on other pests?
Yes, if the pests include mites, ladybugs, and millipedes, vacuuming can help. Large roaches may also get killed. But vacuuming alone is not enough to eradicate their infestation. You may need to use a few chemical methods, depending on the pest.
Recommended Articles