13 Best Vacuum Cleaners For Tile Floors – Reviews And Buying Guide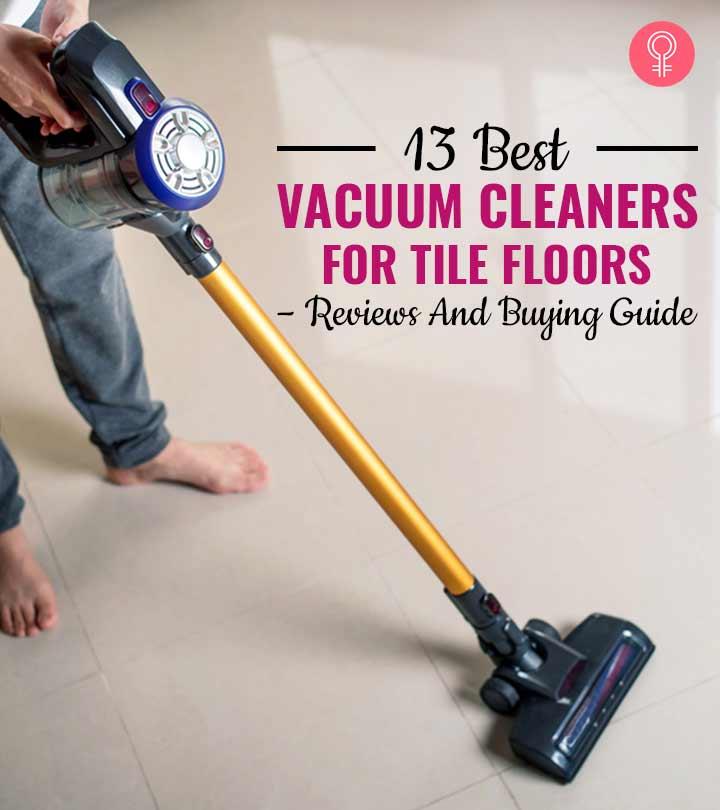 Having a vacuum cleaner is convenient for many reasons. It can be extremely difficult to maintain a squeaky clean house with kids or pets around or if you have a large family. This task becomes even more difficult when you have title floors. Not all vacuum cleaners are designed with multiple attachments or functions to tackle the debris stuck between tile gaps. But, vacuum cleaners that are specially designed for tile floors are equipped with powerful suction, bristle brushes, and multiple rotating head attachments that lift dirt, remove stains, and deep clean carpets and tile floors with precision. Are you tempted to get one for your home? Then, scroll down to check out the 13 best vacuum cleaners for tile floors that we have put together in this list!
13 Best Vacuum Cleaners For Tile Floors Available Right Now
Dyson Cyclone V10 is an ultra-light cordless vacuum cleaner for tile floors, hard surfaces, and carpets. It can be used in cars as well. It has a good 1-hour run time despite being a non-motorized tool. It is equipped with advanced filtration. It is capable of capturing minute dust particles, debris, allergens, and bacteria from nooks, corners, and tile gaps. It requires charging for a minimum of 3.5 hours before your first use.
Features
Includes vacuum, charger, wall mount, and combination tool
Instant-release trigger to consume less power
40 minutes of fade-free power
Designed with a soft roller cleaner head
Stiff nylon bristles for carpets and deep cleaning
84 inches cleaning path width
14 concentric cyclones technology
Specifications
Suction Power:8 to 33.8 air watts
Run Time: 60 minute
Weight:88 pounds
Dimensions:84 x 10.08 x 49.17 inches
Bagged/Bagless: Bagless
Brush Roll On/Off: No
Floor Type: Hard floors and carpets
Warranty: 2 years
Pros
Cordless
60-minute run time
Strong suction on all indoor floor types
Lightweight
Versatile
Instant-release trigger
Power-saving
Picks small and large debris particles
No assembly required 
Cons
Expensive
Battery life issues
Xiaomi's Roborock S5 robot vacuum cleaner is well-equipped to clean your house without you having to do anything. The Laser Mapping System scans your home and gives the vacuum cleaner all the information that it requires to clean every room efficiently and effortlessly. It can be operated with the Mi Home App through which you can schedule a cleaning, view the entire cleaning progress, check the accessory status, take control manually, pick clean modes, clean specific areas, and turn on self-recharge.
Features
Built-in laser mapping system
Self-adjustable brushes
Equipped with Mi Home App compatible with Android, iOS, and Alexa
Multiple cleaning modes
Built-in water tank for mopping
Specifications
Battery Capacity: 5200mAh
Suction Power: 2000 Pascal
Run Time: 150 minutes
Weight: 7 pounds
Dimensions:8 x 13.7 x 3.8 inches
Bagged/Bagless: Plastic Bag
Brush Roll On/Off: Yes
Floor Type: Hard floor and carpet
Wheels: 3
Warranty: 1 year
Pros
Strong suction
Various cleaning modes
Self-operating
Mops and vacuums at the same time
Self-charging
Washable E11 filter
Ability to climb obstacles and hurdles 
Cons
Side brush not powerful enough
No smart-home integration and boundary limitations
The Eufy BoostIQ's RoboVac 11S Robot Vacuum Cleaner is the slimmest vacuum cleaner for tile floors. It operates quietly and can easily slide under furniture to clean the area thoroughly. It has powerful suction and runs for more than an hour at one go. It auto-adjusts the power suction within 1.5 seconds wherever needed. It is a stylish vacuum cleaner for tile floor that ensures cleaning in every corner.
Features
Low height – slides under furniture easily
Auto-adjusts the suction level
Anti-scratch tempered glass-top cover
Infrared sensor for evading hurdles
Drop sensor tech to avoid falls
Remote control
Includes remote control, charging base, AC power adapter, cleaning tool, extra set of filters, 4 side brushes, and 5 cable ties
Specifications
Suction Power: 1300 Pascal
Runtime: 100 minutes
Weight:73 pounds
Dimensions:8 x 12.8 x 2.83 inches
Bagged/Bagless: Bagless
Brush Roll On/Off: Yes
Floor Type: Hard floors and carpets
Wheels: Multiple large wheels
Warranty: Limited 1-year warranty
Pros
Ultra-quiet functioning
Great for removing pet hair
Recharges itself automatically
Compact and stylish design
Easy to use
Adjusts itself as per the hurdles
Durable
Long battery life
Easy to clean 
Cons
Short warranty period
No mapping system
The Dirt Devil SD20020 Vibe 3-in-1 Vacuum Cleaner is lightweight and easy to carry from room to room. It has a long that which enables you to reach every corner of the room. This vacuum cleaner also has a brush roll-on/off system that helps in switching surfaces while cleaning. Turn it on for carpeted surfaces and off for cleaning hard or tile floors.
Features
Easy-cleaning dirt cup
Detachable hand vacuum for handy cleaning
10-inch nozzle
Scatter guard
3-in-1 stick vacuum cleaner
Specifications
Motor Power: 240 watts
Suction Power: Strong
Cord Length: 15 feet
Weight:4 pounds
Dimensions:5 x 6 x 17.25 inches
Bagged/Bagless: Bagless
Brush Roll On/Off: Yes
Floor Type: Hard floor and other surfaces
Warranty: Limited 1-year warranty
Pros
Easy to empty
Lightweight
Easy to use
Convenient hand vacuum mode
Compatible with various surfaces
Long nozzle aids easy cleaning 
Cons
Brush rotation issues
Flimsy build
Not powerful suction
The BISSELL Symphony 2-in-1 Steam And Vacuum Cleaner is specially designed for tile floors. It is a versatile cleaner that ensures multiple tasks are carried out in less time. It can steam mop with distilled water to make sure the bacteria and germs on the floor are well taken care of. It leaves the floor squeaky clean and fully sanitized. Also, it allows you to switch between cleaning functions easily and adjust the steam, suction, and cleaning modes conveniently. The powerful cyclonic vacuuming captures dirt and large pieces of debris as well.
Features
Vacuums and mops at the same time
Easy touch digital controls
5-way adjustable handle
Quick-release mop pad
Includes 4 mop pads
Separate container for dry debris and water
Produces its own steam
Specifications
Water Tank Capacity: 8 oz.
Suction Power: Strong
Cord Length: 25 feet
Weight: 13 pounds
Dimensions: 9 x 11 x 46.5 inches
Bagged/Bagless: Bagless
Brush Roll On/Off: No
Floor Type: Hard floor, ceramic, linoleum, granite, marble
Warranty: 2 years
Pros
Versatile cleaning modes and techniques
Easy to use
Time-saving
Easy release button
Changeable microfiber pads
Extra chemical or disinfectant not required
Convenient and resourceful
Cons:
Not suitable for carpets
Requires additional distilled water
Not efficient for any type of spills
Hoover FloorMate's FH40160PC Deluxe Vacuum Cleaner for hard tile floor consists of a patented SpinScrub Brush Technology that offers 360° counter-rotating scrubbing technique while vacuuming. The removable brushes ensure that the floor is gently scrubbed from every angle. It has dual tank technology that separates clean and dirty water to ensure hassle-free water changing, emptying, and refilling.
Features
Clean boost control
Removable brushes
Gentle scrubbing from all angles
Adjustable wash and dry mode
Dual tank technology
Clean surge control – extra detergent for stubborn stains
Includes a sample bottle of cleaning solution
Specifications
Cord Length: 20 feet
Weight: 23 pounds
Dimension:4 x 12.8 x 32.8 inches
Bagged/ Bagless: Bagless
Brush Roll On/Off: Yes
Floor Type: Hardwood, vinyl, ceramic tile, laminate, grout, and marble floor tiles
Wheels: Soft type
Warranty: Limited 2-year warranty
Pros
Hassle-free water changing and refilling
Scrubs easily
Versatile
Easy to clean
Safe for all sealed floors
Adjustable cleaning modes
Fingertip control applies extra detergent on stubborn stains 
Cons
Not suitable for carpets
Low suction capacity
Loud
The Eureka Mighty Mite 3670G Corded Vacuum Cleaner is easy to use and lightweight to carry easily all around the house. It has a powerful suction quality. It also consists of a blower port that enables you to blow off dust, dirt, and other particles off surfaces.
Features
Easily removable dust bag for emptying
Built-in blower
Lightweight 10 amp canister
Power-touch handle
Fingertip controls
Extension wand provided for extra-long reach
Consists of a bare-floor nozzle and deluxe floor brush
Comes with a bag for easy storage
Specifications
Suction Power: Powerful
Cord Length: 20 feet
Weight:6 pounds
Dimension: 9 x 17.5 x 11.63 inches
Bagged/Bagless: Bagged
Brush Roll On/Off: Yes
Floor Type: Floor, car, upholstery, ceiling, tile, carpet, and stairs
Wheels: 2
Warranty: 1 year
Pros
No assembly required
Bagged canister for storage
Lightweight
Portable
Hassle-free cleaning
Removable dust bag
Cord winding for compact storage
Suitable for various types of surfaces 
Cons
Flimsy extendable wand
Power button issues
Makes a lot of noise
Price at the time of publication: $94.55
The Shark Rocket Ultra-Light Corded Vacuum Cleaner is an appliance that is compatible with every type of surface, from floor to ceiling. It is lightweight and can be turned into a handheld vacuum cleaner for convenient use. It has a long nozzle that helps you reach the ceiling as well as under the furniture for a resourceful cleaning experience. It is durable and has a compact design for easy storage.
Features
Swivel steering
Cleans carpets and bare floors
Washable filter
Capable of picking pet hair
Fingertip controls
Easy-to-empty dust container
Extendable wand reaches the ceiling without hassle
Capable of converting into a handheld vacuum
Includes extension wands, upholstery cleaning, and crevice tools, pet hair tool, dusting brush, and a Dust-Away microfiber pad
Specifications
Cord Length: 25 feet
Weight: 6 pounds
Dimension:5 x 9.8 x 46 inches
Bagged/Bagless: Bagless
Brush Roll On/Off: Yes
Floor Type: Floor to ceiling, all surfaces
Warranty: 5 years
Pros
Durable
Lightweight
Portable
Versatile cleaning options
Easy to clean and maintain
2 modes of speed control
Long enough to clean the ceiling 
Cons
Low suction power
Heats up when used for long
Miele Compact C1 Pure Suction Powerline Canister Vacuum Cleaner is perfect for cleaning and vacuuming bare floors and low pile carpets with effortless handling. Its AirClean exhaust filter offers maximum filtration and seals the dust particles inside the canister. This vacuum cleaner is hassle-free and easy to use with its impressive cleaning radius.
Features
AirClean sealed system
Stainless steel wand
6 speed settings
Easy-to-use rotating dial control
Rug and floor combination nozzle
Deluxe handle grip with electro-brush control
Includes a dusting brush, an upholstery tool, and a crevice tool
Specifications
Suction Power: Strong
Cord Length: 22 feet
Weight:8 pounds
Dimension:9 x 9.8 x 9.1 inches
Bagged/Bagless: Bagged
Brush Roll On/Off: No
Floor Type: Hard floor and low pile carpets
Wheels: Rubberized wheel
Warranty: Limited 2-year warranty
Pros
High quality
Durable
No assembly required
Keeps dust inside the canister
Noise-free operation
Powerful suction
Large cleaning radius
Easy to use
Suitable for multiple surfaces
Cons
Expensive
Difficult to clean
Ovente ST2010 Canister Cyclonic Vacuum Cleaner is suitable for tile floors and carpets. It is an efficient appliance that helps you clean your place effortlessly. This cyclonic vacuum uses high power and a non-stop suction for deep cleaning on all the surfaces in one swift passing motion. The HEPA filtration ensures that this vacuum cleaner removes 99.97% of airborne particles, dust, bacteria, and allergens that are even 300x smaller than hair.
Features
Step button to turn on/off
360° hose swivel
Adjustable telescopic wand to reach higher surfaces
Translucent dust compartment design
LED light alert when dust container and filters are full
HEPA filtration
Automatic cord rewind for compact storage
Includes a sofa/floor/pet brush, a combination crevice nozzle/bristle brush, a telescopic metal wand, a dust compartment, and a power cord
Specifications
Suction Power: Non-stop and strong
Cord Length:7 feet
Weight: 12 pounds
Dimensions:5 x 15.5 x 10 inches
Bagged/Bagless: Bagless
Brush Roll On/Off: Yes
Floor Type: Hard floor and carpet
Wheels: 2 rubberized wheels
Warranty: Limited 1-year warranty
Pros
Affordable
Easy to use
Premium attachments to clean various surfaces
Easy and low maintenance
Indicator for changing the dust bag
Easy-to-clean dust bag
Telescopic wand for convenience 
Hose keeps popping out
Short cord
The ORECK Venture Pro PetPower Vacuum Cleaner for tile floors is a high-performing appliance that is known to be best for its task. Its powerful suction makes sure that it prevents all the dirt and debris particles from escaping and cleans tile floors, carpets, and other surfaces thoroughly. With its long nozzle, you can reach the ceiling and under the furniture to clean every nook and corner of your house effortlessly. 
Features
Retractable power cord
Silent Technology
5 suction speed settings
Slim swivel steering
HEPA bag system indicator traps dirt, dust, pet hair, and pollens inside
Extra-long nozzle for longer reach
Turbo handheld brush for cleaning stairs and upholstery
Specifications
Suction Power: High and powerful
Cord Length: 22 feet
Weight:8 pounds
Dimensions:4 x 13.9 x 13.8 inches
Bagged/Bagless: Bagged
Brush Roll On/Off: Yes
Floor Type: Hard floor, carpet, and upholstery
Wheels: 2 large wheels
Warranty: 7 years
Pros
Durable and sturdy build
Suitable for multiple surfaces
Easy to use
Compact
Captures pet hair, dirt, and dust
Mess-free convenience while cleaning the dust bag 
Cons
No extra dust bags
Extremely heavy
ILIFE V5s Pro is a 2-in-1 robot vacuum for tile floors and low pile carpets. It can sweep as well as mop the floor. It has a powerful suction in vacuum mode and an intelligent control on the water tank for the mopping mode. The powerful motor is capable and strong to easily collect even the tiniest debris, dust, dirt, or hair particles efficiently.
Features
2-in-1 design – vacuum and mopping
Scheduled cleaning mechanism
Unique suction structure inlet for pet hair
Automatically docks and charges
Drop sensors to avoid falling off the stairs
Intelligent Protection Sensors to avoid ramming into furniture
Includes a remote control, 2 filters, an AC adapter, a charging base, a cleaning brush, 2 side brushes, a water tank, and a mop with a mop holder
Specifications
Run Time: 110 minutes
Weight:9 pounds
Dimensions:8 x 11.8 x 3 inches
Bagged/Bagless: Bagless
Brush Roll On/Off: Yes
Floor Type: Laminate, tile floor, hardwood, and low pile carpet
Wheels: 2
Warranty: Limited 1-year warranty
Pros
Affordable
Lightweight
Quiet yet powerful motor
Requires no supervision
Self-charging
Effective cleaning
Suitable for pet hair 
Cons
Not sturdy
Beeps every time it reaches stairs
The iRobot Roomba i7+ Vacuum Cleaner With Automatic Dirt Disposal is all about taking convenience to the next level. It can automatically empty itself into an enclosed bag that holds 30 robot bins, so you don't have to keep vacuuming multiple times a week. It has an intelligent mapping technology that ensures it stays in the allotted space. It also has Keep Out Zone controls to actively avoid specific areas and objects in your house. It cleans dust, dirt, allergens, and pet hair effectively. With its Wi-Fi connectivity, auto-adjust cleaning head, and smart navigation, this vacuum cleaner is your dream come true!
Features
Multi-surface rubber brush.
Control with iRobot HOME app, Google Assistant, and Alexa
AllergenLock automatic 60-day dirt disposal bag
Power-lifting suction delivers 10x the airpower
3-stage cleaning system
Intelligent mapping system
Unique dual multi-surface rubber brushes
Includes a dual-mode virtual wall barrier, an extra high-efficiency filter, an extra side brush, a line cord, and 2 dirt disposal bags
Specifications
Run Time: 75 minutes
Weight:44 pounds
Dimensions:34 x 13.26 x 3.63 inches
Bagged/Bagless: Bagless
Brush Roll On/Off: Yes
Floor Type: Carpets, hard floors, bare floor, laminate, tile, vinyl, and wooden floor
Warranty: Limited 1-year warranty
Pros
Self-operating
Automatic dirt disposal.
Ideal for homes with pets
Empties on its own
Hassle-free cleaning
Quiet cleaning
Powerful suction 
Cons
Expensive
Requires a long time to charge and clean
Listed in the next section are some features that you need to consider while buying a vacuum cleaner for tile floors.
How To Choose The Best Vacuum Cleaner For Tile Floors – Buying Guide
Tile Type: Tiles are of various types and made from different materials with a myriad of finishes and quality. Ensure that the vacuum you wish to buy is compatible with multiple types of tiles.
Suction: Suction is an extremely important factor to consider. The efficiency of a vacuum cleaner depends on its suction power. Picking up large debris, such as crumbs or pet food or, naturally requires more suction power than picking up dust and pet hair. So, ensure that your vacuum cleaner has high suction to eliminate every type of debris and dust.
Filtration: You may collect plenty of dirt, dust, and other types of allergens during a regular vacuum cleaning session. A vacuum cleaner with a high-quality HEPA filter keeps these dust and allergen particles locked inside the filter bags to prevent them from being dispersed back in the air.
Grout Lines: The grout lines or gaps between the tiles are tough to clean and scrub. So, the suction and the power of the vacuum cleaner must be strong enough to scrub between these grout lines to clean them thoroughly without leaving any built-up debris or dirt.
Cord Length And Runtime: If you have a corded vacuum cleaner, make sure that the length of the cord is long enough to give you enough mobility and moving space. And for cordless vacuums, ensure that the runtime is at least half an hour or more.
Weight: The lighter the weight of the vacuum cleaner, the more efficient and resourceful it is to use. You can lift it easily to carry up the stairs and to other rooms.
Brush Roll: Brush rolls are not really required to clean tile floors, but if you need a vacuum cleaner for cleaning tile floors as well as carpets, then you should look out for the ones with brush rolls. The brush roll on/off feature lets you shift between the different surfaces with ease.
Versatility: When you plan on investing in a vacuum cleaner, look for a versatile one. From powerful cleaning, scrubbing, mopping, and steaming functions to having various accessories, ensure it has it all.
Dust Container Capacity: The dust container's capacity should be large as it allows you to clean larger areas in your house without you having to empty it constantly.
Warranty: Having a warranty for the product you purchase is really important. The brand repairs the product during the warranty period.
Having a spotless and dust-free home is something that we all wish for. A vacuum cleaner that is ideal for tile floors and other surfaces is a boon for the same purpose. Ensure that you pick a versatile vacuum cleaner that has all the necessary features and is also lightweight, compact for storage, and maintains the hygiene of your home. The vacuum cleaner should not only be suitable for floors and carpets but also on all other surfaces. It should have a long cord and the ability to trap dust, debris, and pet hair with HEPA filtration. Pick one of the 13 best vacuum cleaners for tile floors mentioned above to take care of your cleaning needs.
Expert's Answers for Readers Questions
Are cordless vacuums ideal for tile floors?
Yes, but they should have a powerful suction quality to make sure that the tile floors are squeaky clean.
What are some of the best robot vacuums for tile floors?
Some of the best robot vacuums for tile floors are Roborock S5, Shark Rocket, and iRobot Roomba i7+.
Which is the best vacuum cleaner for tiles and pet hair?
Shark APEX Upright Vacuum Cleaner is considered to be one of the finest vacuum cleaners for tiles and pet hair.
Is HEPA filtration important in a vacuum cleaner?
Yes, HEPA filtration is extremely important to maintain the hygiene of the house.
Is it better to sweep or vacuum tile floors?
Both are good in their own way. But, vacuum cleaners are a better and more convenient option as they not only clean the floor thoroughly but also pick the tiniest particles of dust and store them in a self-contained canister.
How do you use a vacuum cleaner on tiles?
You can simply vacuum thoroughly on the tiles and use different attachments to clean out any debris between the tile grouts. If your vacuum cleaner has a scrubbing option, then you might as well use it to ensure the tiles are squeaky clean.
Is it better to dust or vacuum first?
It is always a good option to dust before you vacuum so that you can vacuum the dust particles that eventually settle on the floor.
Recommended Articles