5 Best Safe Vaginal Or Unscented Soaps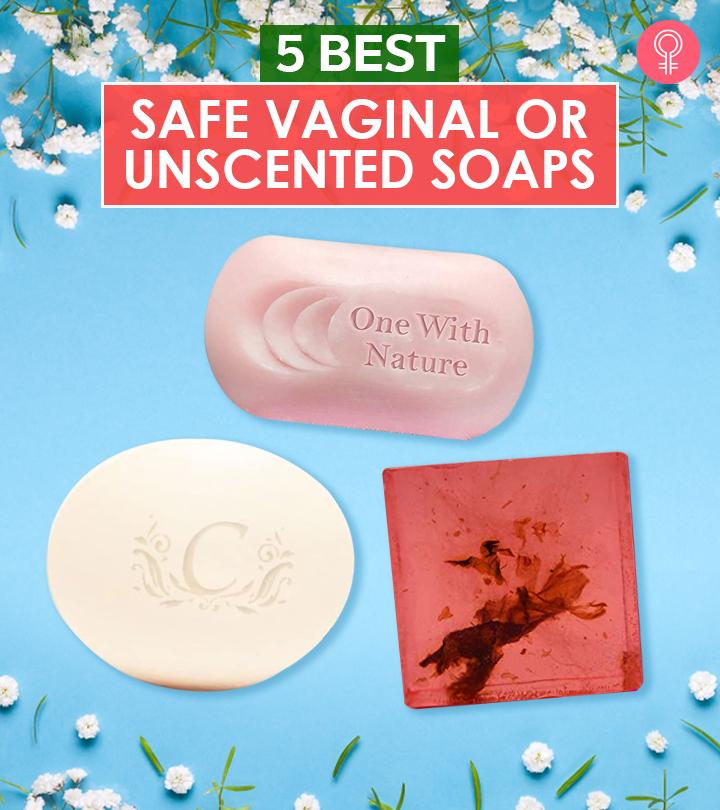 The vagina is a self-cleansing organ. But what about the delicate skin surrounding it? The soft and thin skin around the vagina is made of sensitive tissues that can easily get irritated and prone to allergies. Therefore, it requires regular cleaning with a gentle and non-irritating soap.
An ideal vaginal soap maintains its optimal pH balance and prevents the occurrence of infections. But be careful with what you use as you don't want to increase the vaginal pH and get rid of good bacteria over there. In this article, we have curated a list of the 5 best vagina-friendly or unscented soaps that are safe and gentle on your skin. Keep reading to learn more.
5 Best Vagina-Friendly Soaps Of 2021
The Yoni Bar contains concentrated rose essence and real rose petals, along with shea butter, rosehip oil, jojoba oil, and lauric acid. These ingredients use acid-base neutralization to provide gentle and effective cleansing.
This soap contains herbs that enhance hormone function and eliminate odor and germs. It prevents inflammation and tightens, softens, and nourishes the vagina. The optimum pH value of the vagina ranges from 3.8 to 4.5, and this soap maintains it between 4.5 to 5 to keep you healthy and comfortable.
Pros
Dermatologically tested
Alcohol-free
Sulfate-free
Paraben-free
Glycerin-free
Cruelty-free
Long-lasting
Cons
The One With Nature Feminine Cleansing Bar gently and effectively cleanses the vagina to maintain its optimal pH balance. This hydrating soap is not just for intimate areas but also for the face and the body.
It contains a rejuvenating combination of ingredients like apple cider vinegar, kaolin clay, mango butter, coconut oil, olive oil, avocado oil, argan oil, almond oil, oatmeal, omega fatty acids, and probiotics. These nourishing ingredients thoroughly moisturize and protect the sensitive skin while calming inflammation. While the probiotics maintain vaginal pH, kaolin clay gently detoxifies the area, and oatmeal helps calm inflammation. This bar has a natural fragrance and is safe for everyday use.
Pros
Dermatologically tested
Natural scent
Long-lasting
For daily use
Cons
The Dorlene Herbal Bikini Soap is crafted for sensitive skin to cleanse intimate areas gently and effectively without leaving any residue. This herbal vaginal soap contains coconut oil, palm oil, ginkgo extracts, fragrance, and curcuma comosa. They naturally cleanse the skin while leaving it soft, firm, and moisturized.
This soap helps get rid of unpleasant odor and infections and maintains the natural microbiological flora of the vaginal tract to prevent yeast infections. The curcuma comosa in this soap helps tighten and repair the vaginal muscles by enhancing blood circulation.
Pros
Cons
The Candida Freedom Probiotic Soap is an all-natural soap formulated with essential oils of lemon, tea tree, lemongrass, and moisturizing ingredients such as coconut, palm oil, and aloe vera. The soap effectively cleanses dirt and grime while maintaining the vagina's health. It relieves skin discomfort and conditions deeply to leave your skin fresh. The soap has a skin-friendly pH of 4.0 and has a natural scent of lemon.
Pros
 100% biodegradable
 Synthetic fragrance-free
 Preservative-free
 Artificial color-free
Cons
None
The Cha.lu.la Evolve Soap offers protection against yeast and bacterial infections by gently cleansing sensitive areas. Its natural formula eliminates odor, itching, and burning by maintaining the natural microbiological flora in the genital tract. This herbal vaginal soap is crafted with plant-based ingredients like aloe, black tea, rosemary, lavender, sage, hazel, licorice, and horse chestnut to moisturize and protect the vaginal skin.
Pros 
Long-lasting
Mildly scented
Deodorizing
Comes with a microfiber cleaning cloth
Cons
None
These were the 5 best safe vaginal or unscented soaps to maintain the health of your vagina and the sensitive area around it. Choosing the most appropriate soap for the vagina is essential as it maintains the pH balance and prevents foul odor and infections. Find the one that suits you best and keep your intimate areas clean and healthy.
Recommended Articles