21 Best Valentine's Day Gifts For Your Husband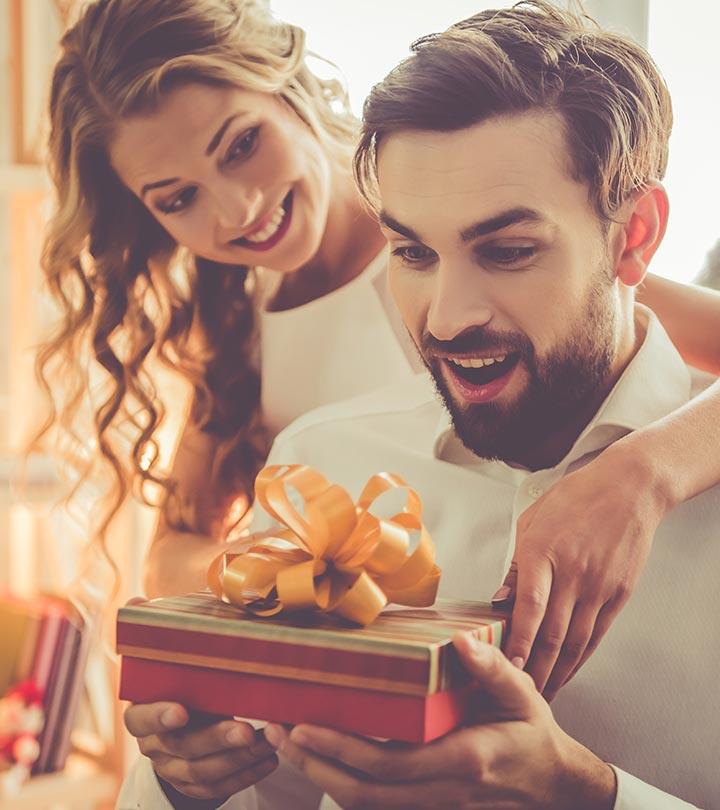 Valentine's Day is back, and you have the perfect opportunity to shower some gifts on your husband. If you are dying to show some love to your husband through gifts, here are 21 best Valentine's Day gift options that are worth considering. This list consists of some thoughtful, novelty, funny, romantic, and super cheesy Valentines Gift Ideas For Husbands. Whether he is a businessman who travels frequently, a beer lover, a beard lover, or a techie, these gifts will surprise even the choosiest man.
1. Grow Alpha Beard Beard Brush And Comb Set For Men's Care
If your man loves growing out his beard, here is the perfect grooming kit you can gift him this Valentine's Day. This functional gift comes with small mustache scissors, a beard brush, and a mustache comb. This travel-friendly kit consists of brushes with broad bristles that stimulate oil production and remove facial dirt. The bamboo comb massages the skin and keeps your facial hair healthy.
Key Features
High-quality bamboo wood grooming kit
Boar bristles
Eco-friendly and reusable product
2. Hydro Flask
Want your husband to stay hydrated while working out and throughout the day? Gift him this vacuum-insulated stainless steel flask this Valentine's Day. This flask is available in a range of vibrant and appealing colors and will become his favorite. It also keeps beverages cold for up to 12 hours when used with the lid. The bottle is made of 18/8 grade stainless steel and is BPA- and phthalate-free.
Key Features
Double-wall insulation to keep the beverages hot or cold for hours
Made using rust-free and corrosion-free stainless steel
Comfortable grip
Durable
3. Nonda ZUS Smart Car Charger
Give this smart car charger to your techie husband this Valentine's Day and help him manage his car with a single touch. The smart charger comes with a car-charging app that is compatible with various models of the iPhone. The ZUS app saves your parking location and helps you find or locate your car easily. It is also a great app for recording your business mileage, and it has a parking meter alert feature.
Key Features
You can share your parking location with your friends or family
Locates your car within seconds
The ZUS app records your business mileage
Parking meter alert feature
4. Brooklyn Brew Shop Everyday IPA Beer Making Kit
Does your husband love beer? Here is a beer-making kit that will make his day. This is the perfect kit for beginners that turns the beer-making process into a fun and adventurous activity. Using this pro kit, you and your husband can make delicious beer at home. The kit includes an IPA-making mix, a glass spirit-filled thermometer, a 1-gallon glass fermenter, a cleanser, a screw-cap stopper, and vinyl tubing.
Key Features
Makes 1 gallon of beer
Natural and organic beer making ingredients
Comes with essential beer-making tools like a glass spirit-filled thermometer, a 1-gallon glass fermenter, a cleanser, a screw-cap stopper, and vinyl tubing
5. Anker Soundcore Bluetooth Speaker
Here is a thoughtful gift for your music-loving husband. Surprise him with this Anker Bluetooth speaker that offers loud stereo sound and 24-hour play time.  He'll surely love this speaker that features a built-in mic, offers 66-ft Bluetooth range, and is compatible with all smartphones. It is easy to use and designed with seamless controls. This is a travel-friendly gift that will make your vacations more fun.
Key Features
Deep bass
Extraordinary sound quality
Zero distortion
24 hours of play time
Maintains a strong Bluetooth connection up to 66 ft
Lightweight and travel-friendly
6. Moji Heated Foam Roller
If your husband is a fitness freak, this heated foam roller is a great gift option for him. It offers intensive heat therapy and is highly effective in reducing muscle pain. It is also great for reducing body pain and releasing trigger points. This is also a great massager for conditions like a stiff neck, muscle spasms,and regular back pain.
Key Features:
Works best on glutes, back, neck, hamstrings, calves, and hips
Two-piece design to target two muscle groups at the same time
Assists muscle recovery and soothes pain
7. Outlaw Soaps Blazing Saddles Solid Cologne
Surprise him this Valentine's Day with thisrefreshing solid cologne. This cologne smells luxurious and features the perfect balance of leather, sagebrush, gun powder, and sandalwood fragrances. It is made using natural ingredients like beeswax and cocoa butter. It is bold, impactful, and great for men who like unique fragrances!
Key Features
Smells like campfire, sandalwood, gunpowder, sage, and leather
Organic product
Made using natural ingredients like beeswax, vitamins, and fragrance oils
8. Kollea Stainless Steel Reusable Ice Cubes Chilling Stones
If your husband loves sipping on ice-cold whiskey or beer, these chilling stones will be a great gift for him. This Valentine's Day, offer these stainless steel ice cubes that will keep his drinks chilled without diluting them. The stones are made using premium-grade stainless steel and are an exciting gift for spirit lovers. Simply freeze the cubes for an hour and drop them in your drinks to keep them chilled for a long time.
Key Features
Comes with a pair of tongs
Keeps your drinks chilled without diluting them
Made using high-quality stainless steel
9. Espro Travel Coffee Press
This is a travel-friendly and sturdy stainless steel coffee press and leak-proof mug that you need to get for your husband if he loves coffee. Frequent traveling can make him long for his tasty and delicious coffee when he is on the road. With this mug, he will never feel far from home. This coffee press and no-leak mug are made using insulated, double-walled stainless steel that keeps your coffee hot and yummy for hours.
Key Features
Comes with a double micro filter that keeps your coffee fresh and prevents sludge or grit
The cup prevents your coffee from getting bitter
Durable and insulated mug
10. Travelambo RFID-Blocking Minimalist Leather Slim Wallet
If your husband needs a super slim and sturdy leather wallet that can easily hold all his cards and cash, gift him the Travelambo Minimalistic Leather Wallet this Valentine 's Day. This RFID-blocking wallet protects your important information and holds your credit cards, debit cards, cash, ID, and other documents effortlessly. It does not make your pocket look bulky and slides easily into the tightest pockets.
Key Features
12" thick
Made using 100% genuine leather
Features 6 layered card slots
Available in numerous colors
11. Guento Airus Mens Tie Bar Clips
Treat your gentleman with these amazing tie bar clips and make him look fabulous. This Valentine's Day, show your love for him with this sophisticated present. The black, gold, and silver finishes of the clips will complement all his shirts and cuff-links. They work with both narrow and broad ties.
Key Features
3 uniquely designed and luxurious tie bar clips
Great for formal events
Fit on both broad and narrow ties
12. Gift A Cup "Best Husband Ever" Coffee Mug
Even a little gift like a coffee mug can bring a smile on your husband's face, and this mug will surely make him blush. This ceramic mug with the caption "Best Husband Ever" will melt his heart. So stop wondering and get this heavy-duty and durable mug as 1St Valentine'S Day Gift For Husband.
Key Features
Ceramic mug
Great for hot and cold beverages
13. Boldloft "You're Irresistible" His And Her Drinking Glasses
Here's a romantic and cheesy gift you can buy for your husband this Valentine's Day. These creative and fun drinking glasses with romantic graphics on both the sides will surely make his day. The set is made of hiball glass and is a perfect Valentine's Day treat for couples. These glasses will make your husband feel loved as soon as he sets his eyes on them.
Key Features
Durable and sturdy
12-oz glasses
14. LParkin "Drive Safe, Handsome. I Love You" Keychain
As a wife, you can be concerned about your husband. Remind him to drive safe and also how much you love him with this keychain. This little stainless steel keychain features a quote that will remind him of you. This is a Unique Valentine Gifts For Husband if he just loves driving.
Key Features
Made using high-quality stainless steel
Nickel- and lead-free key chain with a glossy finish
15. XMCOSOCS Survival Kit
Who doesn't want their loved ones to be safe? If you want a thoughtful and functional gift for your husband this Valentine's Day, gift him this survival kit to help him stay safe. This survival kit will help him if he ever gets stuck in a jungle, on the wild road, or in any dangerous place. The set contains a flashlight, a loud whistle, a keychain LED, a fire starter, a scraper, a versatile tool card, and a compass.
Key Features
Functional and useful tools
Weighs 0.9 kgs
Travel-friendly and compact kit
Consists of all necessary tools for survival in unfavorable conditions
16. Davidoff Cool Water EDT Spray For Men
Men love cologne, and your husband will not mind if you add another one to his collection. Surprise him with theclassic Davidoff Cool Water EDT.Its fresh fragrance opens with notes of peppermint and lavender that fade into oak moss, geranium, and sandalwood and settle into a warm flow of amber and musk. It is the most Romantic Valentine Ideas For Husband.
Key Features
Made using natural ingredients like honey, wheat flour, whey, and buttermilk
Long-lasting and refreshing scent
17. FJ Frederick James Engraved "To My Husband" Pocket Watch
Love those vintage style nostalgic gifts? Here is something that will turn your husband's cheeks red. This romantic pocket watch is an adorable gift option for valentine's day. The message "To my husband. I loved you then, I love you still. Always have, always will" is beautifully engraved on the cover of the watch, making it a sentimental gift. This watch will remind your husband how much you love him every time he looks at it.
Key Features
Intricate engraving done by professional artists
5cm in diameter
Comes with a chain measuring 40 cm in length
18. Love Bites Design Company "Sorry This Beard is Taken" T-Shirt
If your husband just can't get enough of his beard, here is a funny Insta-worthy gift for him. This cute T-shirt that reads "Sorry, this beard is taken" will make him laugh and love you more. This cool T-shirt is made using cotton and polyester, making it super comfortable to wear. It is a lightweight and breathable T-shirt that is great for everyday use.
Key Features
Made using breathable and skin-friendly cotton
Available in 5 different colors
19. PajamaMania Plush Long Sleeve Fleece Bathrobe
Just like you, your man needs a super soft and comfortable long bathrobe too. If he secretly adores and uses your fluffy bathrobe, gift him this fleece bathrobe this Valentine's Day to make him feel loved. The robe is available in six bright colors and has a contemporary plaid design. Made using 100% polyester, this robe is soft to touch and will make him feel warm and cozy after a shower.
Key Features
100% polyester
Super soft
Features a hanger loop, a removable belt, 2 front pockets, and a shawl collar
20. Simple Modern Wanderer Backpack
Whether he is a frequent traveler or likes to go on weekend trips, this functional backpack will become his favorite accessory. It has a thick cushioned laptop compartment and pockets for storing other important gear. It looks stylish and can accommodate all your belongings effortlessly. Available in a range of bright and appealing colors, this backpack features a laptop compartment, a concealed front pocket, an interior file pocket, and a mesh zip pocket on the inside.
Key Features
Suitable for business travel and unplanned weekend getaways
Water-resistant backpack for hiking, camping, and adventure trips
Durable and reinforced zippers for prolonged use
21. Woodies Wooden Sunglasses with Black Polarized Lens
Gift these wooden sunglasses to him this Valentine's Day to make him look stylish. These are uniquely designed wooden sunglasses with black polarized lenses. The frame is made using plastic while the arms are made using zebra wood. These anti-reflective glasses offer a comfortable and lightweight fit.
Key Features
Stainless steel durable hinges
Protect from UVA and UVB rays
 Valentine's Day is a day for celebrating love, and giving one of thesecute gifts to your husband will make him feel even more special. Offer these wonderful gifts to your husband and show him how much you treasure him!
Recommended Articles
The following two tabs change content below.

Latest posts by Harini Natarajan (see all)

Harini Natarajan
As Chief Editor, Harini sets the tone and editorial direction for StyleCraze to deliver engaging, interesting, and authentic content revolving around women's health, wellness, and beauty. She has over 14 years of experience in content writing and editing for online media. She specializes in the areas of Beauty, Lifestyle, and Health & Wellness and is proficient in Medical Sciences (Biology, Human Anatomy and Physiology, and Biochemistry). Her background in Biomedical Engineering helps her decode and interpret the finer nuances of scientific research for her team. Harini is a certified bibliophile and a closet poet. She also loves dancing and traveling to offbeat destinations.