14 Best Valentine's Day Cards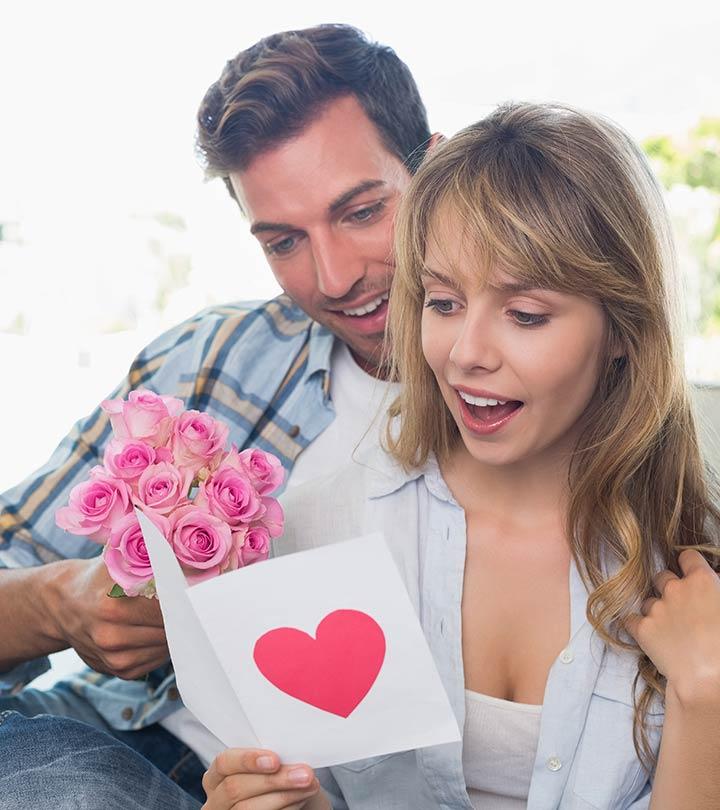 You may or may not buy an adorable gift. You may or may not go for a movie and dinner. You may or may not take an evening stroll that ends with stargazing. But, it is a universal rule that you must get a Valentine's Day card for your bae. It does not have to be mushy and emotional. It can be funny, quirky, or naughty. To help you out, here are the top 14 Valentine's Day cards trending right now. Whether you are looking for a cute card or a funny card, a quirky card or a corny card, an adult card or an old-fashioned card –  this list has it all. Take our advice and buy one before they are sold out!
Two-dimensional cards are so 2010. Lovepop has redefined the genre with a card so imaginative that it looks like a well-concealed work of art. This is undoubtedly one of the finest cards you can give this Valentine's Day. With its stunning 3D design, this card featuring a bouquet of roses will find a permanent place on the mantel. Add a personalized message, and you have aced the card-gifting game.
Key Features
Unique design
3D flowers
5" x 7" greeting card
This is the right kind of naughty card that can lead to the right kind of evening later on. This card is perfect if you both are fans of dogs and football. The front of the card features a goofy dog in football gear saying, "I'd like to score with you today in a big way." On the inside, it cheekily reads, "Get ready for a touchdown, way down." Talk about getting some action!
Key Features
63" x 6.75" greeting card
Printed on top-quality stationery
30% recycled content
Made in the USA
If a 3D bouquet of beautiful flowers doesn't get your boo's approval, how about a 3D maple tree that looks like it's shedding leaves in autumn? Gift it to the love of your life, knowing that this card will be proudly displayed in a prominent place in their home.
Key Features
Ultra-realistic pattern
3D card with tree
5" x 7" greeting card
HeartSpace Cards are pioneers when it comes to artistic handmade greeting cards. After all, if the love of your life is one in a million, why should the card you give them be mass-produced? These top-notch cards are made from bamboo wood and laser cut with precision. This card is perfect for not only Valentine's Day but also birthdays and anniversaries.
Key Features
Completely made by hand
Intricate laser cut
Money-back guarantee
You may say 'I Love You' a lot and mean it. But, have you said it with the help of a creature that is long extinct but still popular? In case you haven't, don't blame yourself. The T-Rex Arms card from Hallmark is here to help. After all, there is no measure in the world that can quantify the love have for your partner.
Key Features
5″ x 7.2″ greeting card
Quirky illustration
Top-notch paper
Well, if anyone knows how to master mush, it is the grandfather of greeting cards – Hallmark. Love finds long-form in this beautifully written card that is honest and evocative. If the literary flourish does not floor you, the adorable design will. The doodles and illustrations of red, blue, and striped hearts and arrows make this an excellent card not only for Valentine's Day but also birthdays and anniversaries.
Key Features
Printed on high-quality paper stock
Eco-friendly
5″ x 8.3″ greeting card
Run-of-the-mill greeting cards are for run-of-the-mill lovers. What you need is something unique and highly unlikely to be seen before. This card is exquisitely handcrafted with walnut wood and has a two hearts laser cut in the front with precision. If the redwood cover isn't stunning enough, the distinct box it comes in will make your partner fall in love with it.
Key Features
Made from walnut wood
250 gsm paper
5″ x 8.3″ greeting card
If you think poop humor is beneath you, you may be shocked to know that hundreds of millions of poop emojis are shared every year. That brand of humor has evolved to a level where it has lost its stench (no pun intended). Maybe it is not for everyone, and it is certainly not the right choice if it is the first card you are ever giving that person. But if your partner loves sending and receiving those emojis, we say go for it.
Key Features
Printed on high-quality paper stock
5″ x 5.5″ greeting card
Lovepop takes Valentine's Day to a whole new level with their three-dimensional cards. On the front of this exceedingly elegant card is a sneak-peek of a beautiful stem with artistically created leaves. Inside is a 3D pop-up of a tree with a couple on a swing. Gift it to your partner and watch them clear their shelves to find a place for it.
Key Features
3D card with intricate design
High-grade stationery
5" x 7" greeting card
Eco-friendly material
Some things look so adorable that you won't be able to deeply analyze what they are all about. The only acceptable reaction to this card is "It's so cute!" Seriously, look at the knobs. A 3D toaster pop-up card is the last thing your partner will expect on Valentine's Day, which makes it even more surprising and unique. For greater emphasis, add a bit about how you two are just like two slices of bread in this toaster that we call life.
Key Features
3D card with intricate design
High-grade stationery
5" x 7" greeting card
Eco-friendly material
Show not only your love for your Valentine but also for the planet with this stunning seed-embedded card. The paper with wildflower seeds can be planted, and the card, like your love, will keep growing. The card is made of recycled paper, and the ink is free of any harmful chemicals. Even the packaging is eco-friendly.
Key Features
Carries wildflower seeds
100% post-industrial, recycled paper
All-natural, vegetable-based pigments and dyes
Water-based inks
Corn-based packaging
Handcrafted in the USA
This is not a typical Valentine's Day card as it is for children (and adults who still act like children on big occasions). So, while you are making big plans for Valentine's Day, don't forget the little ones around. Include them in the festivities by gifting these cards that are more like an invitation to play. So, go all out sweet and sugary with this pack that will have them sniffing and guessing flavors.
Key Features
Scratch-and-sniff cards
Many shapes of ice-cream
This Cootie Catcher card is perfect to gift to children on Valentine's Day. If you are a teacher or have children in your family, this is an interesting way to involve them in the festival of love. They will have enough fun playing the Cootie Catcher game as they discover new messages. This is a great way to occupy a classroom full of kids or your nephews and nieces.
Key Features
Three distinct styles
Hidden messages inside
We have saved the most artistic cards for last. This is the perfect set of cards to get if you believe in celebrating Valentine's Day with all the special people in your life. With vintage motifs and rich, colorful illustrations of everything from flowers to birds to cupid to women straight out of Victorian romantic novels, this set will fill an entire mantel. These aren't just greeting cards. These are proof that you have a refined sense to appreciate the finer things in life.
Key Features
30% recycled content
Detailed illustrations
4" x 5.12" greeting cards
Made in the USA
Elegant, funny, emotional, quirky, artistic, pop-up, and vintage – we have listed all types of cards here. We hope you find the perfect card to give to the love of your life this Valentine's Day. Let us know which of these you loved in the comments section below!
Recommended Articles
The following two tabs change content below.