56 Best Valentine's Day Gifts For Him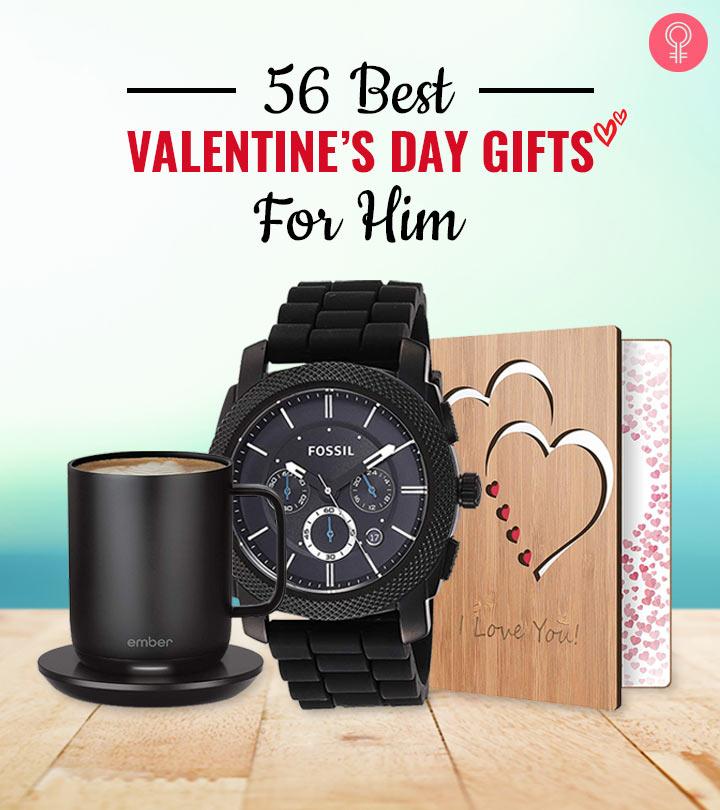 Even if you are a pro at finding the best gifts for people, it becomes difficult to find the right gift for the man you love the most. Valentine's Day is around the corner, and it's time to get a thoughtful and romantic gift for him! If you have still not found the right gift for him, it's not too late to get one now. Here are some of the most romantic, funny, and useful gifts for your boyfriend. You know that your bae is the best, so check out these 56 fabulous Valentine's Day gift options and get the best one for him!
The Swiss Army Knife is a little gem that consists of some handy tools. Your guy will love this convenient tool that is available in some vibrant colors and designs.  This compact and sleek tool features 7 functions: a blade, scissors, a nail file, a screwdriver, a key ring, tweezers, and a toothpick. The classic green camo design will surely impress him, and it'll make an unbeatable gift for Valentine's Day.
Key Features
Equipped with 7 unbeatable features
25" long and 0.74 oz compact knife
Stainless steel design
If your man loves playing golf, this is a fun gift you can offer to him this Valentine's Day. This 9-foot green putting golf course is great for at-home golf practice. This smooth putting will keep him engaged, especially if he is a beginner and needs more practice. Also, it has a sticky backing that prevents it from sliding on smooth surfaces.
Key Features
Made using PET resin
9-feet long
Comes with non-skid backing
What about an edible treat for your boyfriend? This Valentine's Day, gift these yummy spicy dark chocolate wedges to your boyfriend. This chocolate consists of the spicy and sweet mixture of Tabasco, soy lecithin, cocoa butter, sugar, and unsweetened chocolate that'll melt in the mouth. It is a luxury gift that'll also spice up your Valentine's Eve!
Key Features
Sweet and spicy chocolate wedges
Contains cocoa butter, Tabasco, and unsweetened chocolate
If he is a dog lover, he'll love this adorable blueprint of his dog hanging on the wall of your home. Gift this personalized blueprint of his dog with his name on this Valentine's Day. The print is done on high-quality paper and available in two edgy color options. Also, the blueprint is designed by a professional and gives a lot of important information about the dog breed you choose.
Key Features
The print consists of information about dog breeds
20" long and 16" wide
Nothing is more relaxing than a soft cushion. Let your man unwind and relax with this yoga meditation bolster pillow. This soft cushion is great for yoga practitioners. It can also be used as a decorative sofa cushion. It reduces numbness while meditating for long hours and is also travel-friendly. The cushion is filled with buckwheat hull that prevents heat retention and offers proper support.
Key Features
Zipper closure for easy refill
Filled with buckwheat hull for added support
Pliable and firm cushion
If your partner is an adventure lover and loves clicking pictures, treat him with this awesome leather personalized camera strap.  Not only will it protect his camera but also hold his camera securely while he is busy taking pictures and videos. This is a unique and stylish accessory with a minimalistic design and rugged shade. The strap is adjustable, so he can adjust the length using the buckles and click pictures comfortably.
Key Features
Heavy-duty and durable leather straps
Adjustable straps with buckles
Comfortable and light on the neck
Surprise your partner with these warm leather gloves this Valentine's Day to protect him from the freezing cold weather. These stylish black leather gloves are made of cashmere and wool for warmth and comfort while driving, camping, and traveling. The gloves also have a polyester fleece lining and a sturdy closure. Available in different colors and designs, these gloves are perfect to show some care!
Key Features
Sturdy and heavy-duty gloves
Made of cashmere and wool
Offers touchscreen feature
Even something as basic as a hot yoga mat can go a long way in making your partner's Valentine's Day. If your boyfriend practices yoga every day, gift this anti-slip and warm yoga mat to him. The mat does not slip or slide due to sweat and offers a better grip while you perform some difficult yoga poses. It is a lightweight and travel-friendly mat that he can carry to the gym or a nearby outdoor area to practice yoga on the go.
Key Features
Lightweight microfiber mat
Anti-slip and highly absorbent
No products found.
If your partner loves traveling, his heart will skip a beat when he unwraps this amazing gift and explores the thousand adventures listed in it. Nothing will make him happier than this guide that consists of life-affirming activities, cultural activities, travel inspirations, sports activities, and self-improvement ideas. This guide will surely bring a smile on your explorer boyfriend's face.
Key Features
Consists of positive and inspirational activities and ideas
Available in paperback and hardcover
Traveling, attending concerts, visiting museums, and seeing new places is always a memorable and fun experience. To cherish those memories, treat your boyfriend with this amazing ticket stub diary. This is a handy journal that can be used o preserve and show off all your tickets from sports events, concerts, lavish trips, or any important events. It makes for a great Valentine's Day gift, especially if you are traveling with him to an exotic location soon!
Key Features
Roomy sleeves to store small and large tickets
Lined margins for writing notes
Durable acid-free pages
If you are looking for a super romantic way to sweep your Valentine off his feet, here is a stunning gift idea for him. Give the hero in your life a beautifully bound set of letters. Nothing is cheesier than handwritten letters, and this Valentine's Day, you can show your affection by writing love letters to your boyfriend. He'll surely treasure these open-in-the-future letters!
Fold and mail style letters
Creatively designed and comes with stickers
If you are looking for a thoughtful gift for your boo, a reversible leather belt is a great option. This classic belt by Calvin Klein is made of cowhide and synthetic leather and has a glossy finish. It is black on one side and brown on the other and has a silver buckle.  This is a casual belt available in different sizes. It is sturdy but has a luxurious vibe, making it great for everyday use.
Key Features
Reversible belt in black and brown
Silver buckle
Sturdy leather belt for professional and casual use
Is your man an outdoor enthusiast? Here is a very thrilling gift that'll make him happy. Treat him to this outdoor life print magazine that consists of all the important information related to boating, fishing, hunting, conservation, and other interesting outdoor activities. The magazine also includes information about outdoor gear, tools, go-to places, and disaster areas. Enrich his hunting and fishing experiences with this ultimate guide.
Key Features
Has an entire section for fishermen
Great guide for hunting and fishing
Interesting tips and tricks
Prevent your man from getting late to important meetings and dates with you with this Fossil Chronograph Quartz Watch. This best-selling watch is designed with black-plated stainless steel. It has a black textured dial and silver hands. It also has a stopwatch function.  It'll also tell you the current time, date, and month! Help him keep up with his schedule with this high-quality and stylish watch!
Key Features
3 chronograph subdials
Water-resistant up to 165 feet
Black silicone interchangeable band
Whether he is headed to a business meeting or a get-together with friends, these Ray Ban sunglasses will make him look like the cool dude that he is. These sunglassesgo perfectly with all face shapes. They are retro and timeless sunglasses that feature a square and oversized frame inspired by classic Hollywood movies. These functional and fashionable glasses are a great gift for the love of your life.
Key Features
Oversized square-framed glasses
Functional and trendy
Eliminates glare
If your man loves sipping on his whiskey, here is a creative Valentine's Day gift that'll amaze him. The Corkcicle Whiskey Wedge will prevent his whiskey from watering down and keep it chilled. Simply place this whiskey wedge in the glass and freeze the water in the glass. Ice will freeze on one side of the glass in the shape of a wedge. Pour whiskey on the other side.
Key Features
A silicone ice form for freezing ice
Comes with an old fashioned whiskey glass
If he is the kind of guy who loves to travel to new destinations every vacation, here is something that'll surely make him happy. If he is obsessed with traveling and wants to explore new places, this Scratch The World travel map will become his ultimate favorite gift.  This scratch-off map works like a scratch card. He can scratch off the destinations he has visited, using a coin. This large and creative world map will inspire him to travel even more!
Key Features
Extra-large travel map
Functional and fashionable home décor piece
If your guy is a coffee lover, swoon him with this portable and travel-friendly espresso machine. With this small coffee machine, he will be able to make piping hot coffee anytime and anywhere. This machine has an innovative design and is hand operated. You don't need electricity to operate it, so it can also become his ultimate travel companion. It is operated by piston action, this coffee maker is just the right gift to treat your Valentine.
Key Features
Lightweight and compact coffee maker
Works on a semi-automatic piston
Modern and sleek design
Does your man love clicking pictures? This Panasonic Lumix Camera will be a great Valentine's Day gift for him. This high-quality camera offers the finest quality pictures. It is lightweight and more compact compared to the traditional DSLR cameras. It offers 4K photo modes and 3 unique ultra HD video pause features. The camera has an interchangeable lens and offers fast and precise location/object focus. It is equipped with silent shooting and no-shutter sound features and continuous auto-focus for up to 6 frames/second.
Key Features:
16 megapixel sensors
4K HD video recording feature
Three 4K photo modes and intuitive controls
This Valentine's Day, make a romantic move and surprise your spouse with this interesting love book.  This book will remind you of your favorite moments and turn this romantic day even more special. You simply need to fill in the lines and gift the journal to him. He won't be able to stop blushing after reading it!
Key Features
112 pages
5" x 3.25" book
Designed with interesting and colorful prints
Does your boyfriend love music? Here are the perfect wireless headphones to give him on Valentine's Day. These white headphones offer a deep and impressive sound and seamless audio and video sync. The headphones switch between two different Bluetooth devices easily and can be used with smartphones and tablets. They also come with a sleek and stylish case that protects them from breakage even while traveling.
Key Features
Noise-canceling headphones
Lightweight and impact-resistant
15 hours playtime
Latest Bluetooth technology
Greet your Valentine with this cute and functional gift. Pen down a sweet and romantic message for him in the attached greeting card.  This box has compartments for storing beer bottles, and it comes with a greeting card where you can write a Valentine's Day message for him to make him feel special. It is a compact beer box that you can also carry on a camping or hiking trip.
Key Features
Beer box for 6 bottles
Comes with an attached greeting card
Help your bae take better pictures with this Xenvo lens kit. The 0.45x wide angles capture 45% more impactful and clear pictures. The lens is made using high-quality aluminum and premium-grade optical glass. It also consists of an LED light that clips on the phone and helps capture clear pictures even in darkness.
Key Features
Clarus 15x macro lens
Rechargeable LED glow-up light
Compatible with most single and dual camera phones
Here is a sleek and stylish key holder you can offer as a gift to your spouse this Valentine's Day. This compact leather key holder is made of premium-quality leather and holds up to 6 keys effortlessly. Its minimalist and elegant design will please him. This one is the right option especially if you want to replace his scratchy and huge key holder with a compact and elegant key holder.
Key Features
75" key holder
Available in 8 vibrant and pleasing colors
Non-scratchy and versatile holder
This wooden beer cap map will add an elegant and creative touch to your living or bedroom wall. If your man is a beer lover, this wooden bottle cap holder will help him show off his taste in beer. If you are done with the boring and casual gifts, this can be a unique and creative gift that'll bring a smile on his face.
Key Features
24" x 14" wooden holder with pre-drilled holes
Holds up to 69 bottle caps
Comes with free mounting nails
No jagged edges
If your favorite man loves hanging around in the sun, here are the perfect wooden sunglasses for him. These glasses with polarized lenses are stylish, functional, and perfect for any face type. The lenses are also anti-reflective. Even though the stems of these glasses are made using wood, they are lightweight and offer a comfortable fit.
Key Features
Durable stainless steel hinges
Dark and polarized lens
Offers 100% UVA and UVB protection
Help your partner stay fit and healthy with these Nike Luna Fingertrap Cross Trainer shoes. If he is a gym-goer, plays sports, or goes for a run every day, these shoes will help him train better. The shoes are made using a synthetic textile and have a smooth rubber sole. It is lightweight, and its dynamic fit offers a glove-like feel. Its inner sleeve is constructed using lightweight and breathable fabric that hugs the foot.
Key Features
Offers proper arch support
Great for walking, running, working out, and training
Breathable mesh and rubber insole
If your boyfriend loves camping and often goes on adventure trips, give him Radiate Portable Campfire this Valentine's Day. This portable campfire offers 3-5 hours of burn time and is easy to light. You can set a campfire in your backyard, frontward, on the beach, or at any camping location. It is made using soy wax and does not have any smokey smell.
Key Features
Contains recyclable paper briquettes
Portable and a travel-friendly campfire for outdoor camping
Made using soy wax
Make your man feel special and loved with this romantic Valentine's Day gift. This set of embroidered pillowcases will add an elegant touch to your living room. The pillowcases are made using pure cotton and have concealed zippers. These are the cutest and most tasteful pillowcases for your favorite man.
Key Features
High-quality cotton fabric
Concealed zipper closure
If he doesn't have high-quality headphones, these Bose wireless Bluetooth headphones will make a great gift for him. They offer clear sound and are compact. These noise-canceling headphones offer clear sound through its noise-rejecting technology. They are equipped with effortless Bluetooth pairing and personalized settings for efficient use.
Key Features
Dual microphone system for noise cancellation
Balanced audio performance
Alexa-enabled headphones
Connects with Bose mobile apps and offers music sharing
If your man is a Yankee's fan, here is a great gift to surprise him with on Valentine's Day. He can use it as a poster or wall art in your living room or hallway. This is a unique artwork and has the names of all the players who played in the stadium. It is designed by artist Daniel Duffy and features the famous Yankees stadium.
Key Features
16" x 20" word art
Consists of the names of all the players who played at the stadium
If your man uses his phone all the time and his phone is always running out of battery, here is a smart and compact solution to his problem. This Valentine's Day, gift this amazing Samsung fast wireless charger to him. This charger pad offers fast wireless charging and is compatible with almost all the models of the Samsung Galaxy Note series. The charger is portable, compact, and travel-friendly.
Key Features
Comes with LED halo to indicate charging status
Compatible with Qi-enabled devices
Easy to set up and use
Here is an amazing edible treat for your favorite man. If he loves meat, gift him the Carnivore Club Exotic Jerky Bouquet. This set comes with 20 delicious meat sticks in 4 unique flavors. A jerky lover will surely love the Buffalo, Elk, Venison Mild, and Venison Hot flavors.
Key Features
4 different flavors
20 long-stemmed meat sticks
A decanter is a great tool for people who love liquor. If your man loves collecting unique and classy decanters, here is a top-notch and luxurious whiskey decanter you can offer him this Valentine's Day. The dispenser features an etched globe design and an antique ship in the bottle that makes a bold impression.
Key Features
Mahogany stained tray and a golden-toned stopper
850 ml decanter and 300 ml glass capacity
Spice up your Valentine's Day by gifting this amazing card game to your man. If it's the beginning phase of your relationship or you are getting along quite well, this cool game will help you both have fun on a special night. This amazing book consists of 100 thought-provoking questions that will start conversations. Share laughter and fun with your partner with these fun game cards, and you'll have a great time.
Key Features
Consists of 100 question cards
If your spouse is a pro gamer, he will surely love this PS4 controller charger. This charger comes with 3 cooling fans, game storage, and a dual charging station for PS4 controllers. This cool set consists of all the accessories he might need while gaming. It also has a vertical stand that works with PS4 slim, PS4 pro, and regular PS4. The chargers are high speed, and the 3 cooling fans keep the console cool.
Key Features
Offers 12 slots to organize his gaming space
2 EXT charging ports for charging both controllers
3 cooling fans
If you are looking for something funny and functional for your man, gift him this amazing T-shirt. This green T-shirt comes with the caption "Sorry, this beard is taken." This T-shirt will surely make your man laugh. This novelty T-shirt is perfect for your spouse if he loves his beard. It is made of lightweight and breathable cotton. He'll love to wear it regularly, and it'll always remind him of you!
Key Features
Cotton T-shirt with a classic fit and double-needle sleeves
Make your partner's drinking sessions more exciting with this Hydro Flask Beer Growler. This insulated flask eliminates condensation and keeps your beverage cold for 24 hours. It is made of stainless steel and does not contain any BPA or phthalates. It is a fresh carry system that'll keep the beer fresh and carbonated for a long time. If your spouse loves beer, he'll also love to carry this flask along with him during his weekend trips.
Key Features
18/8 food-grade stainless steel
BPA- and toxin-free
Keeps the beer carbonated and fresh for up to 24 hours
Who doesn't love Baby Yoda? If your man is a huge Star Wars fan, this T-shirt will make him smile. This cute Baby Yoda T-shirt that says "One for Me" print is a great Valentine's Day gift. It is made of lightweight and breathable cotton. It is an officially licensed Star Wars T-shirt, so your man will love flaunting it often.
Key Features
100% breathable cotton fabric
Officially licensed Star Wars T-shirt
Classic fit T-shirt available in different colors
Here is a personalized and special gift for the man in your life. If your man plays the guitar, get him this amazing and personalized "I couldn't pick a better husband" guitar pick. It is a tiny and elegant way to show him your love and care. This cool pick is a great gift for musicians and guitarists. Since it is made of stainless steel, this pick is not going to tarnish any time soon!
Key Features
Rust free, fade-free, and durable guitar pick
18" long pick
If your husband or boyfriend is a diehard Star Wars fan, this cute little waffle maker will make his day every day! The Deluxe Falcon Waffle Maker makes yummy and tasty waffles in minutes. It looks just like the millennium falcon that's ready to fly! It is made using premium-grade cast aluminum and coated non-stick waffle plates. The plates are easily removable and easy to clean.
Key Features
Easy to remove and clean waffle plates
Licensed Star Wars product
Made using high-quality cast aluminum
If you have a special picture with your boyfriend, and you know he loves it too, get this amazing photo frame and gift it to him. Put your favorite picture in this frame, and it'll hang on his bedroom or hallway, reminding him of you every time he passes by it. This beautiful frame has a "Together Forever" tag in pretty handwriting, making it a great gift for Valentine's Day.
Key Features
Designer wooden, metal, and glass frame
75" frame that holds a 4" x 6" picture
What can be a better gift than a shaving kit for him? If your man likes to stay groomed, here is a personalized gift you can offer to him on this special day. This shaving kit is great for a wet shave and consists of all the necessary shaving tools. The set comes with 10 blades, a shaving badger hairbrush, a canvas dopp kit, a stainless steel bowl, a shaving stand, and a sandalwood shaving soap.
Key Features
The soap contains natural ingredients like shea butter, aloe, lavender, and coconut oil
Durable and high-quality shaving tools
Canvas carry bag for traveling
This might look like a casual or ordinary wallet but it can bring a smile on your boo's face instantly. This sleek and minimalist wallet is designed to fit in his pocket easily and hold all his cards and cash effortlessly. This is an RFID front pocket cardholder made using 100% genuine leather and handcrafted by professionals.  This ultra-slim wallet slides into the pocket easily without making it look bulky and huge.
Key Features
4 card slots
A front ID window
RFID-blocking technology to protect your data
Available in many colors
If you are looking for high-quality ascot slippers for your man, gifthim these UGG Ascot Slippers. They are designed to look like loafers and have a rubber sole. Your boyfriend can wear these slippers at work, for a casual walk, and indoors. It is made using water-resistant suede and has pure wool lining for warmth and comfort. It also has gum rubber on the outside and a woolen insole to prevent moisture.
Key Features
Made using leather and lamb wool
Water-resistant suede and gum rubber suede
Moc-toe construction
Wool lining for warmth and moisture prevention
What can be a better gift option than a smart temperature-control mug? If your man loves sipping hot coffee or tea, this mug is a great novelty gift for him. This controlled heated mug keeps your beverage hot for up to 1.5 hours on a single charge. The newly designed charging coaster is also app-controlled, which means you can also charge it with your phone. While your boyfriend is attending a meeting, he can heat his beverage with a phone.
Key Features
Compatible with the Ember app
Stainless steel and scratch-resistant
Keeps the beverages hot for 1.5 hours
If you are looking for a romantic and classy gift for your boyfriend, offer him this amazing red polka-dotted tie this Valentine's Day. This necktie is made of 100% polyester and will perfectly go with his formal shirts and casual outfits.  It is perfectly designed and not too thin or too broad. Available in three royal colors, this tie is a gift worth offering to your beloved!
57" long necktie
Available in 3 pleasing shades
Made of 100% polyester
If he keeps losing his headphones, this is the time to gift him some unique and easy-to-carry headphones. The Apple AirPods come with a charging case, makingthem an ideal gift for your boyfriend this Valentine's Day. These wireless headphones offer great-quality sound and are travel-friendly. The headphones start and connect automatically and are easy to set up with all Apple devices.
Key Features
Offers quick access to Siri
Compatible with all Apple devices
Charge quickly in the fast charging case
Fast wireless connection
Here is a high-quality and powerful Bluetooth tracker that you can offer as a gift to your man this Valentine's Day. If he always forgets and misplaces his things, this is a great gift for him. The tracker works very well with Alexa and has voice control features. He can attach it to his smartphone and other things to make them ring when he misplacesthem. This device will help him find his belongings within a 400 ft Bluetooth range.
Key Features
The TileMap remembers the things you lost
Durable, powerful, and stylish devices to prevent misplacing your things
If your guy is a techie and loves gadgets, here is something to treat him with! The Echo Studio with 3Daudio and Alexa is probably one of the most amazing gifts you can give him this Valentine's Day. The speakers offer powerful bass, and he can play music and read news using Alexa. It has a voice control music system, so he can stream his songs from different music apps.
Key Features
Comes with 5 speakers for a powerful bass
Syncs easily with Alexa
Senses the acoustics of the space automatically
Built with multiple privacy controls for safe use
If your man loves hosting parties and liquor, here is a luxurious bartending kit you can gift him this Valentine's Day. This bartending kit consists of 10 bar tools and is great for preparing a refreshing cocktail at home. It includes high-quality cocktail tools that are scratch-safe and durable.
Key Features
Comes with a high-quality bamboo storage rack
Heavy-duty, rust-proof martini shaker
Stainless steel tools
Let your boyfriend enjoy a sound and relaxing sleep with the Philips Sleep And Wakeup Light Therapy Lamp. This is a unique and functional Valentine's Day gift that comes with a built-in bedroom monitor. The lamp also has a sunrise alarm and bedroom sensors for creating a restful and ideal environment at night. It's a clinically validated lamp that will help your boo sleep and wake up effortlessly.
Key Features
Equipped with customized alarm, light, and sound
Offers a light-guided breathing program
Also has FM radio, USB phone charging, and a smart-touch display
If your man loves listening to rock albums, here is a special gift for him for Valentine's Day. The Prince And The Revolutionis a great album by Prince that contains some amazing and fun tracks.  This is the ultimate classic album that your boyfriend will feel nostalgic while listening!
If you want to give a funny and interesting gift to your spouse this Valentine's Day, consider this amazing mug. This ceramic mug has a quote that will remind him of you whenever he sips his coffee. This 16-ounce mug has an elegant white exterior and acute blue interior.
Key Features
Ceramic mug
16-ounce mug for coffee, tea, and other beverages
If your boyfriend loves outdoor adventures and playing games, surprise him with this amazing yard games set. This premium outdoor tossing game is fun to play with friends and family. The set is made using premium shock-absorbent and eco-friendly hardwood. It is a great game for BBQ gatherings, parties, camping trips, and weekend getaways!
Key Features
Made using eco-friendly hardwood
Knot-free rubber wood makes it durable and lasting
Easy to set up and carry
If you want to make your boyfriend feel loved this Valentine's Day, give himthis amazing handmade wooden card. This is a uniquely designed personalized gift that he will love. The card has a romantic design and a beautiful heart segment inside where you can pen down a mushy message for your favorite man.
Key Features
A long-lasting and memorable keepsake
Handmade using bamboo wood
These are some of the most romantic and functional gift options for your man. Convey your feelings with some of these interesting gifts show some love to make your Valentine's Day even more memorable! Which of these gifts are you going to get for your boo? Comment below to let us know!