7 Best Valentino Perfumes For Women Available In 2021 Valentino, a popular Italian luxury brand, was founded by the Italian designer Valentino Garavani in 1960. Their unique perfume line offers a lush range of fragrances that reflect class, elegance, and grace. From spicy scent and floral to woody and fruity fragrances, the options are limitless.
To help you out, we have narrowed down the 7 best Valentino perfumes for women that you are sure to love. Read on and choose your favorite signature fragrance.
7 Best Valentino Perfumes For Women Available In 2021
The Valentino Valentina leaves a lingering, subtle fragrance that evokes a sense of strong and rebellious nature. It has a top note of white alba truffle and Calabrian bergamot, with undertones of strawberry, orange blossom, tuberose, and jasmine. This light fragrance is ideal for both day and nighttime wear.
Unlike other Valentino perfumes, this product offers a bold and strong scent. It features a blend of Bulgarian rose and bergamot scent that awakens the senses. This perfume has the base notes of jasmine and Vanilla Bourbon. The sensual fragrance creates a sense of class and maturity.
This perfect blend of woody, musky, and floral scent by Valentino is a must-have this winter. It provides a cozy yet fresh and alluring feeling. This perfume features a top note of ginger, orange, and bergamot, followed by a swirl of orange blossom and gardenia. The scent of musk, sandalwood, tonka bean, vanilla, and oakmoss kicks in to spread a sense of warmth. This captivating fragrance is perfect for chilly winter and breezy falls.
The Valentino Donna Rose Verde is a floral perfume launched in 2018. It comes in a gorgeous diamond engraved bottle. This sensual and subtle fragrance is perfect for women of any age. It features notes of ginger, bergamot, and petitgrain, with the finishing note of magnolia , osmanthus, and rose.
Ignite your senses with this perfume by Valentino. It offers an energetic, cheerful, and exotic vibe – perfect for the modern woman. This floral and fruity fragrance has a top note of musk, blackberry, and strawberry. It is followed by a heart note of roses and peony and an amplifying scent of pralines and cashmere amber. This flirty fragrance is perfect for the summers and spring.
This perfume by Valentino comes in a gorgeous rose embellished bottle. This oriental fragrance was launched in 2016! It features a powdery top note of musk mallow, with oriental notes of vanilla, tonka bean, and sandalwood. This floral fragrance is ideal for evening wear.
This floral and sweet perfume by Valentino has an intoxicating, sensual yet elegant scent that lures your senses. It has a top note of Italian bergamot, alba truffle, and smeggia peach. The lingering middle note is made of vanilla, jasmine, and soothing tuberose. This fragrance features base notes of a heart-warming oakmoss and patchouli scent.
Valentino is one of the most sought-after brands, which are at the peak of their perfume game. It offers intoxicating fragrances in aesthetically pleasant bottles. Each perfume makes a luxurious statement in itself. Their fragrances evoke a sense of elegance, sophistication, and femininity. So scroll up and take your pick from our list today.
The following two tabs change content below.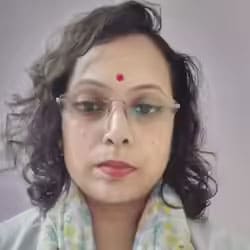 Baishali has a master's degree in English and is an associate editor. She specializes in makeup and fashion and reviews products that fall under these categories. Prior to this, she worked with a digital marketing company in Kolkata where she wrote stories on travel, beauty, and home décor. When she is not working, Baishali loves reading and having intense discussions over a cup of tea.