13 Best Vanity Mirrors With Lights To Check Out In 2023
You deserve to look like the starlight when getting ready for the day ahead.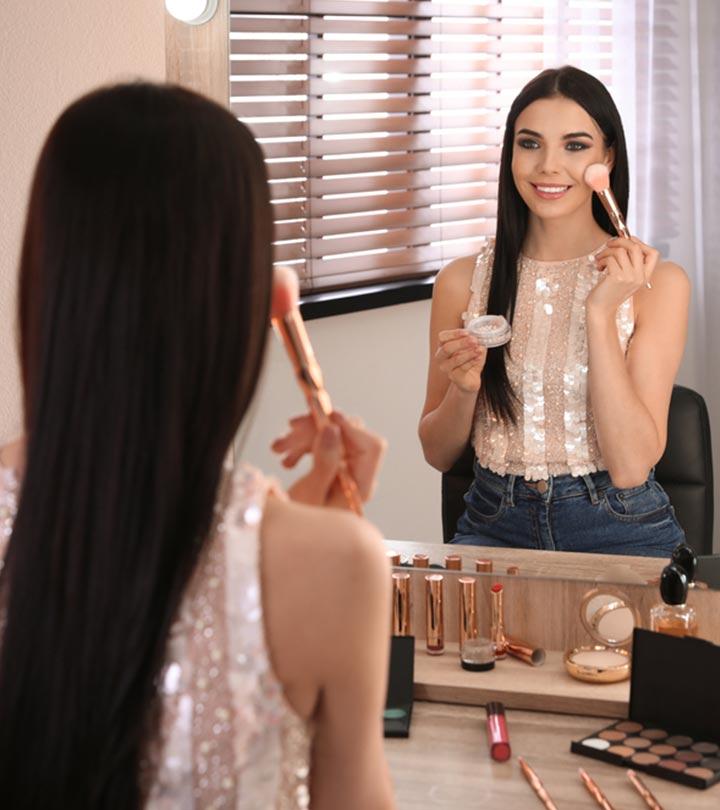 If your makeup doesn't really look as good as it seemed in your mirror back home, maybe it's time to get your hands on one of the best vanity mirrors with lights instead. Even if you are a pro at applying makeup, good lighting at the correct angle is essential in making your makeup look flawless. While some of you might be blessed with natural sunlight streaming into your room to see your face clearly, some might just have to do with artificial lighting all through the day and night. That's when your makeup— your eyeshadows, lipstick shades, foundations, and concealer may all look, blend, and apply differently in the different light settings. A vanity mirror with good lighting makes sure you look your best no matter what time of the day!
These vanity mirrors usually come with multiple light settings, are easily rotatable for that perfect angle and easily portable as well. To help you choose the right one, we have enlisted the 13 best vanity mirrors with lights to save your face any day!
Do Your Makeup Right With Top 13 Best Vanity Mirrors With Lights!
Check your features clearly and set your makeup with the deweisn Tri-Fold Lighted Vanity Mirror. It features an in-built 21pcs LED light with adjustable brightness that can be operated using a touch sensor switch. The mirror operates on a micro USB cable and 4AAA batteries. You can fix the mirror at any position with the swivel movement. Its tri-fold design encourages a wide-angle view. Additionally, you can use 3x/2x/1x magnification for perfect makeup. Moreover, the mirror comes with a bottom tray for storing small accessories. Check out the review of this product for more information.
Pros
Swivel rotatable
Tri-fold design
Dual power supply modes
Portable
Cons
None
Price at the time of publication: $27.99
Do your makeup in bright light with the HUONUL Makeup Mirror Vanity. It comes with 1x,2x, and 3x magnification modes. The mirror comes with a storage tray to store accessories and other necessary small items. You can remove the base and carry the mirror portably. It is equipped with a USB charger and 4 AAA batteries. Its tri-fold design gives you a wide-angle view for clear makeup. This vanity mirror has 21 bright lights for clear visibility. You can make the lights dim or bright by pressing the button.
Pros
Adjustable brightness
Multi-functional tray
Swivel rotation
Dual power supply
Cons
None
Price at the time of publication: $25.99
Brighten up your makeup set up with this large-lighted vanity mirror with 35 dimmable LEDs. 14.56 x 8.97 inches in dimension, it provides crystal-clear reflection in its wide-view glass. Besides this, it comes with a 10x magnified small spot mirror to amplify areas while applying detailed makeup. Built-in with suction cups, you can mount the small mirror on the large one too. And for the utmost convenience, this circle vanity mirror with lights can rotate 360-degree and is dual-powered (batter and micro-USB).
Pros
Eye-friendly
Travel-friendly
Detachable design
Highly-susceptible touchscreen
Cons
Price at the time of publication: $41.99
Detailed makeup or wearing contact lenses can be a struggle, especially with a handheld mirror. This lighted and 10x magnifying mirror is high on clarity and will make the task effortless for you. With surrounding white light to elevate your experience all the more, this elegant piece will fit into your home décor without looking out of place. Compact and powered by batteries, the mirror light also eliminates shadows, if any.
Pros
Portable mirror
Travel-friendly
Easily mountable (suction cups)
360-degree swivel
Cons
Not ideal if you need adjustable lights
Price at the time of publication: $16.97
This 2-in-1 mirror set will ensure your makeup is always flawless. It includes a 1x magnified wide-view mirror and a 10x magnified mirror to meet all your makeup needs. The 1x magnified mirror has 21 built-in LEDs that are adjustable and controlled by a touch sensor. The 10x magnified mirror has suction cups so you can mount it on your regular mirror or glass for applying mascara, eyeliner, eyebrow plucking, and more. Besides this, the high-tech mirror vanity with lights is dual-powered, and the stand has a storage area to hold all your makeup products. If you want to know more about the benefits of this product, check out this quick review on YouTube.
Pros
Eye-friendly
Travel-friendly
Dimmable LED lights
180-degree rotation
Detachable design
Cons
Some may not find it bright enough
Price at the time of publication: $22.99
With a slide-out small 10x magnified mirror and 5-compartment storage mount, this 1x magnified wide-view mirror screams convenience. It has 16 LEDs that are bright yet natural and soft. You can control these lights via a touch sensor which also lets you check your makeup under different light settings. And the best part is, these lights will auto-shut after 30 minutes to save energy! Now, that's something unique, right? Dual-powered and with a 180-degree swivel for optimum angle viewing, this large vanity makeup mirror is worth a try.
Pros
Eye-friendly
2x bright light
Dimmable lights
Horizontal and vertical rotation
Cons
Slightly expensive
10x magnified mirror may be too small for some
Price at the time of publication: $39.99
Make space for this next-generation vanity mirror with a built-in speakerphone and compatibility with Bluetooth, Siri, and Google. Enjoy hand-free makeup, ask Siri/Google all your makeup concerns, or answer calls if you want without reaching out for your phone with this mirror. Powered by a universal AC adaptor, the mirror packs unlimited entertainment, so you can listen to your favorite music, weather reports, news, or podcasts while applying makeup! And what about makeup lights? It has flat LED panels on either side that produce natural white light suitable for any environment. Want more? The high-tech stand can also charge your smartphone!
Pros
Eye-friendly
Dimmable lights
Durable construction
Distortion-free appearance
Cleaning cloth included
Cons
Slightly expensive
May not be travel-friendly
Price at the time of publication: $58.9
Feel like a star with this high base and 360-degree swivel mirror as it has 12 LED bulbs inspired by celebrity makeup mirrors. Built to provide convenience to the user, it has a smartphone holder and two hooks to hold your jewelry pieces. 14×21 inches large to provide optimum face appearance, it also comes with a mountable 10x magnified mirror for detailed makeup and grooming. Moreover, these LEDs have a 50,000-hour lifespan, and you can switch between 3-color lights and control the brightness via smart-touch control. Give your vanity a Hollywood touch with this one.
Pros
Dimmable lights
Memory function
Easy to use
Cons
Not detachable
May not be travel-friendly
Price at the time of publication: $139.99
Makeup lovers, upgrade your vanity with this sophisticated and gold-plated large oval mirror designed for the fashionistas. With a sturdy iron base for high durability, the mirror operates on smart-touch technology. It has a surround LED strip that lets you switch between 3-color lightings (white, warm white, and warm yellow) and adjust brightness. Besides this, the mirror has 5MM HD glass and a 360-degree swivel for optimal angle viewing. A fantastic choice for gifting, this cosmetic mirror will last through many, many makeup sessions.
Pros
Stepless brightness
Distortion-proof
Dimmable lights
Anti-rust frame
Anti-slip base
Cons
Not suitable if you need super bright light
Price at the time of publication: $89.99
Here's another Hollywood-inspired makeup mirror if you are looking for a large size. Catch the celebrity vibe while applying makeup as the 12 LED bulbs brighten up your vanity instantly. With 3-color settings (daylight, cool white, warm yellow), the lights have a 50,000-hour lifespan, and the smart-touch technology lets you control the brightness too. An ideal fit for your dressing table, the mount is stable and sturdy, and this Hollywood vanity mirror has a 360-degree swivel to meet all your professional makeup angle needs.
Pros
Dimmable lights
Memory function
Anti-rust frame
Anti-skid base
High durability
Cons
Slightly expensive
May not be travel-friendly
Price at the time of publication: $69.99
Here's an extra-large vanity mirror with lights that'll transform your dressing table and give it a luxe upgrade. It has a bright LED strip, a 99 MM backboard (TSCA-certified), and 4-MM HD glass with silver coating to deliver a non-distorting appearance. The mirror also operates on smart-touch technology for you to control the brightness and switch between warm yellow and cool white effortlessly. Premium, modern and sophisticated, the mirror is plug-powered and has a 180-degree rotation to meet all your desired makeup angles.
Pros
Anti-rust
Sturdy stand
Finger-proof frame
Available in 4 colors
Can be used as a night lamp
More than 20 years of craftsmanship
Cons
Price at the time of publication: $99.98
Loved by celebrities, makeup, and selfie lovers, this mirror is multitasking, and how! Besides its high-tech display and iPad-like sleek body, the mirror has a retractable stand and 5-stage dimmable LEDs. Easy to use and portable, the built-in Bluetooth selfie function will be a joy for selfie lovers. The set comes with a magnetic phone holder to take effortless selfies and a mountable 5x magnified mirror for detailed makeup and grooming. So, if you want to upgrade to the next-generation mirror and don't mind splurging on one, this portable vanity mirror with lights will be a fab choice.
Pros
Lightweight
Travel-friendly
Prevents fluorescent lights
Cons
Price at the time of publication: $225
This cordless makeup mirror is rechargeable, and you can use it without charging for up to 10 hours! Don't believe us? It has a built-in 1500mAh lithium battery which is rechargeable via USB, power outlet, or even your laptop. And it doesn't end here; this 360-degree swivel mirror is double-sided with a high-definition 1x magnified mirror on one side and 10x magnified on the other. And as for the lighting, the mirror has 54 LEDs (yes 54!) that produce soft and natural lights. Besides this, you can also switch between the 3 color lighting modes such as white, white-yellow, and yellow with the sensor switch. A great choice for business and leisure travelers, you don't have to look for a power source or batteries with this one.
Pros
Travel-friendly
Dimmable lights
Easy on the eyes
Distortion-free appearance
Anti-skid rubber base
Cons
It does not have a low battery indicator.
Price at the time of publication: $36.99
No more makeup blunders if you have one of these lighting angels in your vanity. Those were the 13 best vanity mirrors with lights that every makeup lover must try. If you are still wondering how to choose the best portable vanity mirrors with lights, we have some tips for you in our buying guide below.
How To Choose the Best Vanity Mirror With Lights?
Look out for the following features before buying the product:
Choose a brand that guarantees HD glasses in both regular and magnifying mirrors. Ideally, 4- and 5-MM HD glasses are considered the best choices for a high-definition and distortion-free appearance.
The mirror stand should be ultra-sturdy and stable to prevent the mirror from toppling to its sides. Choose a product that has a solid construction, such as iron or metal, for long-lasting durability. Also, if choosing an iron frame, make sure it's anti-rust. Besides this, the mirror stand should be anti-skid to provide a sturdy grip on the dressing table.
There are multiple light settings on the market to suit your makeup needs. There are mirrors with only white light (white light is ideal btw), white and yellow lights, and 3 color settings such as white, warm white, and white-yellow lights. These lights help you understand how your makeup will look during the day, evening, night, and under various light settings.
Before choosing a mirror, check if it is magnified or regular. And if it is magnifying, inspect the power as the mirrors are available with 1x/5x/ 10x magnifying glasses. 1x magnified mirrors are mostly wide-viewing mirrors that provide an optimal face angle view. 5x and 10x magnified mirrors are great choices for detailed makeup, grooming, or wearing contact lenses.
Prefer to travel with your mirror? Check the power source it operates on before buying. Although most mirrors are dual-powered (micro-USB and batteries), there are plug-in vanity mirrors with lights and rechargeable cordless mirrors. Also, plug-powered vanity mirrors may not be ideal for on-the-go makeup sessions.
Why Trust Stylecraze?
Chaitra Krishnan, a makeup enthusiast, has compiled the list of the best vanity mirrors with lights for this article. She went through numerous options in this category and carefully looked at user feedback and product specifications as she handpicked the best for her readers. The recommended products are portable and come with valuable features to enable a convenient and comfortable makeup session.
Frequently Asked Questions
Do lighted makeup mirrors work well?
Yes, lighted makeup mirrors or LED lights work really well to help you see clearly as you apply makeup. They help direct light from all directions. Some mirrors also have magnifying power that helps you zoom in and apply eyeshadows or draw your eyeliner correctly.
Are LED lights the best for a makeup mirror?
Yes, LED lights are the best for a makeup mirror. They come with different light settings and rotatable glass that makes you see your true reflection.
Which lights are better – cool white or warm white – for a vanity mirror?
Bright cool white lights are usually considered better for makeup application. Warm white lights do not show true color.
How big should a mirror be over a 48-inch vanity?
If your vanity is 48 inches, you should get a mirror of around 44 inches. Ideally, your mirror should be 2-4 inches smaller than the size of your vanity.
Should bathroom vanity lighting face up or down?
If you have a big bathroom or want it to appear bigger, we recommend upwards lifting lights as they diffuse more light into the room.
How high should the mirror be above a vanity backsplash?
Your mirror should be a couple of 10 inches above a vanity backsplash or sink.
How long do LED mirrors last?
LED mirrors are a long-term investment. They easily last you up to ten years.
Recommended Articles