13 Best Vanity Mirrors With Lights In 2023, Approved By A Makeup Artist
You deserve to look like the starlight when getting ready for the day ahead.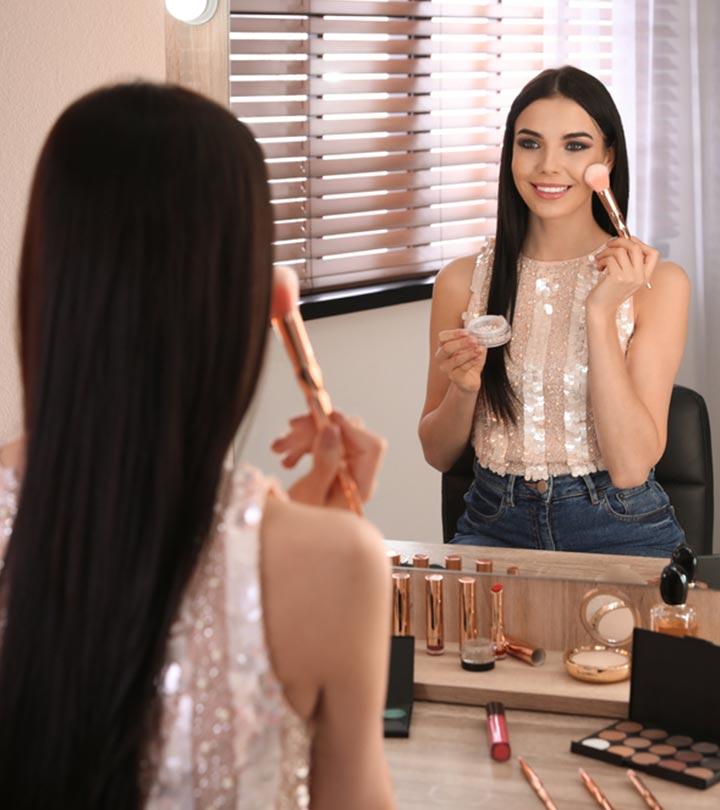 If your makeup doesn't really look as good as it seemed in your mirror back home, maybe it's time to get your hands on one of the best vanity mirrors with lights instead. Even if you are a pro at applying makeup, good lighting at the correct angle is essential in making your makeup look flawless. While some of you might be blessed with natural sunlight streaming into your room to see your face clearly, some might just have to do with artificial lighting all through the day and night. That's when your makeup— your eyeshadows, lipstick shades, foundations, and concealer may all look, blend, and apply differently in the different light settings. A vanity mirror with good lighting makes sure you look your best no matter what time of the day!
These vanity mirrors usually come with multiple light settings, are easily rotatable for that perfect angle and easily portable as well. To help you choose the right one, we have enlisted the 13 best vanity mirrors with lights to save your face any day!
Do Your Makeup Right With Top 13 Best Vanity Mirrors With Lights!
Pros
Good brightness
Sturdy
Value for money
Lightweight
Extra small mirror attached
Cons
Pros
Classic style
Sturdy
Easy to use
Value for money
Easy to hold
Cons
None

Pros
Sturdy
Lightweight
Travel-friendly
Best for gifting
Easy to use
Cons
None

Pros
Sturdy
Travel-friendly
Lightweight
Cons
Pros
Eye-friendly
2x bright light
Dimmable lights
Horizontal and vertical rotation
Cons
Slightly expensive
10x magnified mirror may be too small for some
Pros
Eye-friendly
Dimmable lights
Durable construction
Distortion-free appearance
Cleaning cloth included
Cons
Slightly expensive
May not be travel-friendly
Pros
Dimmable lights
Memory function
Easy to use
Cons
Not detachable
May not be travel-friendly
Pros
Stepless brightness
Distortion-proof
Dimmable lights
Anti-rust frame
Anti-slip base
Cons
Not suitable if you need super bright light
Pros
Dimmable lights
Memory function
Anti-rust frame
Anti-skid base
High durability
Cons
Slightly expensive
May not be travel-friendly
Pros
Anti-rust
Sturdy stand
Finger-proof frame
Available in 4 colors
Can be used as a night lamp
More than 20 years of craftsmanship
Cons
Pros
Lightweight
Travel-friendly
Prevents fluorescent lights
Cons
Pros
Easy to assemble
Workable touch screen
Bright lighting
Lightweight
Affordable
Cons
No more makeup blunders if you have one of these lighting angels in your vanity. Those were the 12 best vanity mirrors with lights that every makeup lover must try. If you are still wondering how to choose the best portable vanity mirrors with lights, we have some tips for you in our buying guide below.
How To Choose the Best Vanity Mirror With Lights?
Look out for the following features before buying the product:
Choose a brand that guarantees HD glasses in both regular and magnifying mirrors. Ideally, 4- and 5-MM HD glasses are considered the best choices for a high-definition and distortion-free appearance.
The mirror stand should be ultra-sturdy and stable to prevent the mirror from toppling to its sides. Choose a product that has a solid construction, such as iron or metal, for long-lasting durability. Also, if choosing an iron frame, make sure it's anti-rust. Besides this, the mirror stand should be anti-skid to provide a sturdy grip on the dressing table. For extra convenience, choose a product with built-in suction cups as they can be space-saving.
There are multiple light settings on the market to suit your makeup needs. There are mirrors with only white light (white light is ideal btw), white and yellow lights, and 3 color settings such as white, warm white, and white-yellow lights. These lights help you understand how your makeup will look during the day, evening, night, and under various light settings.
Before choosing a mirror, check if it is magnified or regular. And if it is magnifying, inspect the power as the mirrors are available with 1x/5x/ 10x magnifying glasses. 1x magnified mirrors are mostly wide-viewing mirrors that provide an optimal face angle view. 5x and 10x magnified mirrors are great choices for detailed makeup, grooming, or wearing contact lenses.
Prefer to travel with your mirror? Check the power source it operates on before buying. Although most mirrors are dual-powered (micro-USB and batteries), there are plug-in vanity mirrors with lights and rechargeable cordless mirrors. Also, plug-powered vanity mirrors may not be ideal for on-the-go makeup sessions. You can also opt for high-battery range mirrors that are rechargeable via USB or a power outlet, or even a laptop.
Why Trust Stylecraze?
Srijita De, a makeup enthusiast, has compiled the list of the best vanity mirrors with lights for this article. She went through numerous options in this category and carefully looked at user feedback and product specifications as she handpicked the best for her readers. The recommended products are portable and come with valuable features to enable a convenient and comfortable makeup session.
Frequently Asked Questions
Do lighted makeup mirrors work well?
Yes, lighted makeup mirrors or LED lights work really well to help you see clearly as you apply makeup. They help direct light from all directions. Some mirrors also have magnifying power that helps you zoom in and apply eyeshadows or draw your eyeliner correctly.
Are LED lights the best for a makeup mirror?
Yes, LED lights are the best for a makeup mirror. They come with different light settings and rotatable glass that makes you see your true reflection.
Which lights are better – cool white or warm white – for a vanity mirror?
Bright cool white lights are usually considered better for makeup application. Warm white lights do not show true color.
How big should a mirror be over a 48-inch vanity?
If your vanity is 48 inches, you should get a mirror of around 44 inches. Ideally, your mirror should be 2-4 inches smaller than the size of your vanity.
Should bathroom vanity lighting face up or down?
If you have a big bathroom or want it to appear bigger, we recommend upwards lifting lights as they diffuse more light into the room.
How high should the mirror be above a vanity backsplash?
Your mirror should be a couple of 10 inches above a vanity backsplash or sink.
How long do LED mirrors last?
LED mirrors are a long-term investment. They easily last you up to ten years.