5 Best Veet Products You Need to Try Out in 2020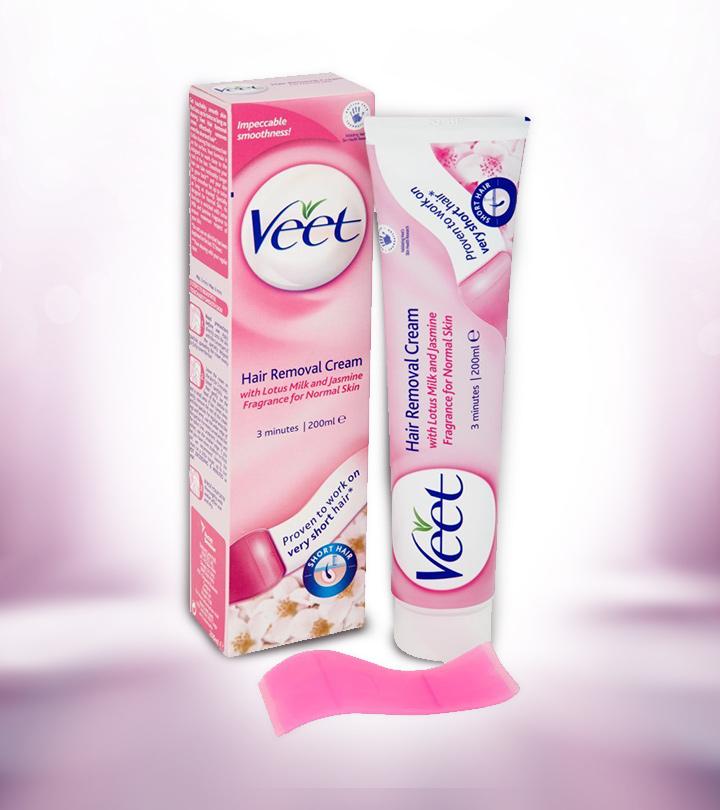 Veet, from Reckitt Benckiser is India's number 1 brand in the category of hair removal products.
They have an impressive range of cream and wax products to cater to the depilation needs of women while at the same time keeping in mind their skin type. The products contain ingredients such as Potassium Thioglycolate and Potassium Hydroxide which combine to form Potassium Glycolate that helps in dissolving hair shafts which aids in effective removal of unwanted hair.
Veet promises long-lasting smooth and supple skin, bidding goodbye to the pain and patience involved in parlor waxing, threading, tweezing and possibilities of nicks and cuts with shaving. With the different skin variants of Veet available, one can take her pick and welcome hair-free, soft, glowing and smooth skin at an affordable price.
So let us check out which are the best Veet products:
Top 5 Veet Products of 2020
1. Veet Suprem´ Essence Hair Removal Cream:
The Veet Suprem´ Essence Hair Removal Cream contains a blend of beauty oils. These have an aroma therapeutic effect along with having moisturizing effect on the skin, and with the light Velvet Rose fragrance in this product, there is no worry of the strong chemical smell that may be disliked by some in their hair removal creams.
This non-greasy veet hair removal cream is easy to apply and spread; works super fast, in just 3 minutes and can be kept on for a maximum of 6 minutes as per directions.
It comes with the curvaceous Perfect Touch Spatula that Veet provides with all its cream products and this ensures easy and quick removal of the dissolved hair from the skin, leaving the skin smooth, supple and soft to the touch.
It is also known to remove tan and not darken the skin.
[ Read: Dry Skin ]
For Normal skin types, Veet brings us this variant.
Its formula is enriched with double moisturizing complex for acquiring smooth and beautiful skin in 3 minutes time. This also contains Lotus milk – which is known to soften and soothe the skin and a delicate Jasmine fragrance.
Easy to use and apply, this hair veet removal product quickly shrinks hair which is visible to the eye, melting them from the roots and once again the useful spatula helps remove them effectively, leaving the skin hair-free, soft and hydrated for an all-over confidence.


[ Read:Side Effects of Laser Hair Removal ]
The ItemId B01LNA2YCM is not accessible through the Product Advertising API.

This one is meant for dry skin and works in the same way. The special ingredient contained in this variant is Shea Butter which helps to moisturize condition and heal the skin, making it smooth and soft, and at the same time is useful for anti-ageing purpose.
This also contains the delicate lily fragrance.


Sensitive-skinned beauties – worry not about skin irritation because Veet has a variant for you too, specially developed for such delicate skin type.
Working time for this is 5 minutes.
Enriched with soothing Aloe Vera and the natural antioxidant Vitamin E, this gives silky, smooth and glowing skin while not causing the skin undue trouble.


Veet brings us something new keeping in mind the convenience and needs of its users.
The Veet EasyGrip Ready-to-Use Wax Strips simplify the entire process of waxing by letting you achieve hair-free, smooth and beautiful skin at the comfort of your home. There's no heating and no messiness involved. Just follow the easy steps mentioned in the directions and you are good to go!
These veet wax strips come in 3 variants as well for different skin types:
Normal Skin : with Shea Butter and Berry
Dry Skin : with Aloe Vera
Sensitive skin : with Vitamin E and Almond Oil
These are specially meant to grab and remove even short hair which is why one does not have to wait for the hair to grow back before removal. The Veet EasyGrip Ready-to-Use Wax Strips makes hair removal really easy and a relatively painless experience.


[ Also Try – Veet Instant Waxing Kit ]
*Subject to Availability
So, have you used any of these Veet products and how was your Veet experience? Feel free to share your thoughts with us.
Recommended Articles: