13 Best Vegan Bags That Are Worth Buying In 2023
You'll love the timeless style of these guilt-free bags that are perfect for taking on the go.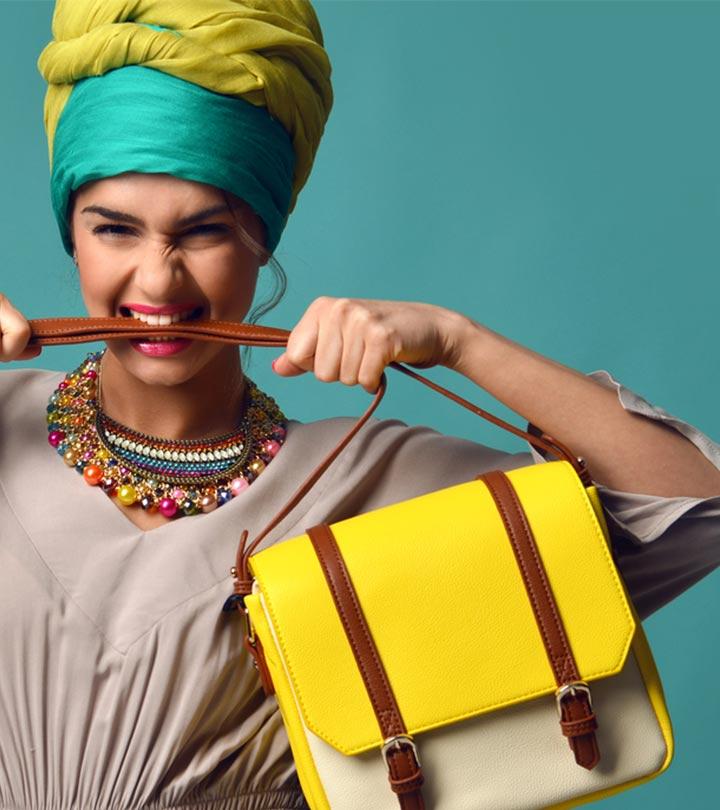 It is time you stop feeling guilty for your endless love for leather bags! How? Well, we are here to harp about the best vegan bags that look like the real deal but without the burden of animal cruelty. A genuine leather bag is an all-time classic, but can you use it guilt-free after learning how the leather is acquired? Obviously not. The other fallback option is faux leather bags made of PVC material. Unfortunately, PVC or polyvinyl chloride is non-biodegradable. So, as you can see, both these options are not eco-friendly.
On the other hand, vegan bags are made of recycled plastics, fruit skins, the bark of trees, and other such environment-friendly products. No living or dead animals are harmed in their manufacturing process. They are easily biodegradable and do not harm the planet. These bags are available in various styles and at different price points to cater to different consumer groups. More and more celebrities and fashion influencers are advocating for these bags. Several brands have come up and filled the demand for clean fashion items. So, if you want to make clean and sustainable choices that are also fashionable, check out the best vegan bags available on the market right now. Scroll down to find out more!
What Are Vegan Leather Bags?
Polyurethane is a polymer that is often used in making vegan leather. However, it is a plastic material that is used in the field of fashion. Since it poses a threat to unsuspecting animals and the environment at large, vegan leather producers are now making plant-based leather that is made from sustainable materials such as pineapple leaves, cork, apple peels, and other fruit waste. Recycled or upcycled plastic too, is used to create a safe alternative to demolish the need to harm animals for leather.
13 Best Vegan Leather Bags That Let You Shop Guilt-Free
Pros
Durable straps
Ample side pockets
Large capacity
Versatile
Lightweight
Sturdy design
Cons
Price at the time of publication: $39.99
Pros
Features strong magnetic snaps
Detachable shoulder
Fits laptop up to 15.6-inch laptop/device
Multipurpose as a briefcase, hand, shoulder or crossbody bag
Padded laptop sleeve
Cons
Some may find the bag too heavy.
Price at the time of publication: $56.99
Cons
Price at the time of publication: $69.99
Pros
Easy access pockets
Available in 2 sizes
Soft fabric
Water-resistant
Multiple compartments
Available in multiple colors
Cons
None
Price at the time of publication: $9.99
Pros
Multiple pockets
Large capacity
High-quality fabric
Anti-theft pocket
Value for money
Durable
Cons
None
Price at the time of publication: $37.99
Pros
Made from recycled plastic
Commemorates 90's aesthetic
High quality canvas that is anti-scratch
Tear and water-resistant
Cons
May not be able to fit too many things
Price at the time of publication: $58.99
Pros
Bright interior
Quick-access pockets
Water-resistant
Cruelty-free
Handy access back pocket
Functional design
Cons
Price at the time of publication: $84
Pros
Spacious
Lightweight and durable
Luxurious design
High-grade hardware
Smooth luxe vegan leather
Cons
The material might seem stiff to some.
Price at the time of publication: $44.99
Pros
Faux leather bag
Anti-theft RFID installed
Fits up to 15.6 inch laptop
Dual-sided beverage holster pockets
Cons
Size may seem small to some
Price at the time of publication: $59.99
Pros
Multi-functional
Adjustable straps
Zipper closure
Lightweight
Durable
Available in multiple shades
Travel-friendly
Cons
Price at the time of publication: $39.99
Pros
Spacious
Multipurpose use
Zippered pockets
Free of heavy metals
No toxic foams
Cons
None
Price at the time of publication: $134.82
Pros
Curated with durable vegan leather
Printed guitar strap that is adjustable as well as removable
Deep front pocket
Fits laptop up to 13 inches
Cons
The bag lacks interior pockets.
Price at the time of publication: $59.95
Pros
Stylish and edgy
Clear PVC see-through bag with vegan leather lining
Durable
Spacious
Sturdy vegan leather base
Cons
Price at the time of publication: $25.9
Vegan leather bags can be just as fun and stylish as animal-derived leather, especially when you know you're consciously making a good decision to eliminate animal-abused products. Vegan leather bags add versatility and variety in their textures, design, and colors because different vegan handbags brands incorporate different materials to procure vegan leather. This gives you more reason to buy these bags and makes less room in your storage. But,we do have a few suggestions on how you can choose your vegan leather bag so you don't fall into the trap of using plastic infused items.
How To Choose Vegan Leather Bags?
Many companies claim to promote themselves and their products as vegan, however in those cases, you'd see that they use similar "fabric"; that being polyurethane. As stated initially, polyurethane, however vegan, is harmful to the environment and humans.
Vegan leather can be composed of various items, therefore it is important to be aware of the materials that go into the making of vegan leather. In short, there are coated canvas, faux leather, artificial leather, synthetic leather, upper material PU or bicast leather, and vegetable tanned leather.
Number of compartments and pockets
No bag should ever be excused with one main compartment. That applies to vegan leather bags too! Look for a bag that comes with multiple compartments and of course, is made with proper vegan leather.
Like any handbag or backpack that you'd choose, you should always select a bag that will serve your purpose. Most vegan bags come in various sizes and colors and often provide a wide range of selection.
"Real" leather often ends up in the brown tone spectrum, however, vegan leather is a more fashion-forward choice since vegan leather bags come in an array of colors and shades.
Vegan bags are hyped up and there's a reason why. Keeping sustainability, environmental development, and animal ill-treatment in mind, vegan leather bags are created to end the debilitating guilt in buying products made from harming unsuspecting animals. The best part about vegan leather bags is that they can be made with ample materials present in our surroundings, from the thrown away plastics to plant-based leather, the means are endless. Using vegan leather also instills in us a feeling of awareness and confidence that what we do makes an impact in the world around us. Thus, we hope with our selected 13 vegan leather bags above, you too feel proud when choosing your next or the first one.
Why Trust StyleCraze?
The author, Priyam Gupta, is a fashion enthusiast and loves experimenting with new and trending styles. She handpicked the best vegan bags on the market for this article after thorough research into the products and numerous reviews and feedback on trusted online forums and brand websites. The products listed in this post are made of recycled plastic, fruit skin, tree bark, and other environment-friendly materials.
Frequently Asked Questions
How long do vegan leather bags last?
Vegan leather is a much lighter and thinner material than original leather which kind of defeats the longevity of the bags, however, a good vegan bag could last you a good 2 to 5 years.
Are vegan leather bags durable?
Yes, if taken care of properly, vegan leather bags do have a strong durability power.
How to clean vegan leather bags?
Vegan leather is usually waterproof, however, in case of a stain or dirt, you can always use a soft wet cloth and wipe it over the surface
Is vegan leather the same as faux leather?
Faux leather is a type of vegan leather, however it isn't the vice versa. It is made of PVC and is then glazed on with wax to give a leathery finish.
Does vegan leather crack?
Yes and no. Vegan leather may tend to crack over the years of continuous use however there is a solution to prevent further cracking of your favorite vegan leather bag. A PVC moisturizer can control and prevent any cracking or crinkle.
Recommended Articles