13 Best Vegan Blushes To One-Up Your Makeup Game With Buying Guide – 2023
Time to go all ancient and let the goodness of vegan products give you the blush you love.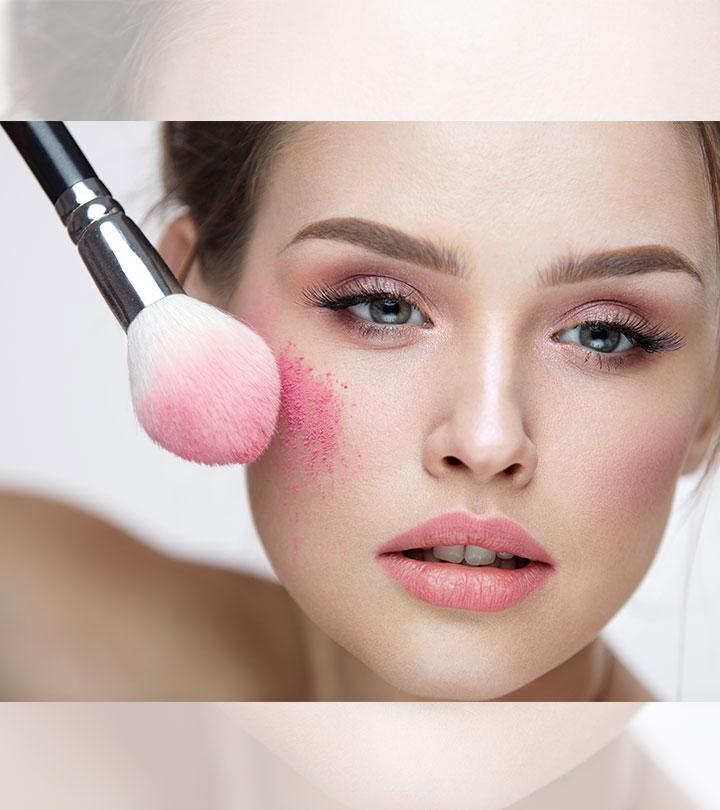 Imagine this: it is a brisk winter morning, and you have to step out for a formal meeting or hang out, but your skin is all cold and blue. To get rid of the paleness, you should use some of the best vegan blushes out there. Why? It is simple; as the world becomes more aware of its choices, everyone finds different ways to sustain the environment. One of the ways is to be kind to our fellow beings.
Today, many brands have come up with vegan blushes made of fruit pigments that suit every skin tone and are available in a wide range of shades. Just applying a hint of blush can bring your face to life and give you that beautiful, flushed look. With so many choices out there, we have done you a solid of compiling a list of vegan blushes you can use. Keep scrolling!
13 Best Vegan Blushes In 2023
Create a stunning look with the help of Milani Baked Blush. You can shape, highlight, and contour the best aspects of your face and create a healthy and glowing complexion. Every matte and shimmery shade of this Milani Baked Blush series is made to match all skin tones. This peach and rose blush shade will give you a striking, bold look. It is sunbaked on Italian terracotta tiles to give your skin a warm finish and to radiate a natural look.
Pros
Highly-pigmented
Easy-to-build
Cruelty-free
The kit includes a mirror and a brush.
There are 12 other vegan shades that you can choose from.
Cons
The shade might be a little darker than shown in the image.
Price at the time of publication: $16.02
This easy-to-apply blush from Palladio is sure to become your favorite. Palladio is known for its range of cosmetics that are made from herbs and vitamins to protect your skin from the signs of aging. The soft, cushiony formula easily glides on your skin for a hassle-free application. This could be your go-to blush when your skin is feeling dull and you need some shine instantly. If you are trying to create an unique look, this is sure to get the job done.
Pros
Cruelty-free
It is suitable for all skin types.
It is a multipurpose cream that can be used on cheeks and lips.
Cons
It might not last a long time
Price at the time of publication: $9.99
Mineral Fusion Makeup Blush has a luminous, buildable mineral pigment that will match every skin tone. This shade has a matte rose hue for instant radiance with a blend of skin-defenders to enhance the natural blush of your cheeks. This long-lasting and vibrant color is made from rich natural antioxidants like pomegranate, white tea, and red tea. The hypoallergenic and paraben-free formula will keep your skin safe from any harm.
Pros
Gluten-free.
It has no artificial fragrance.
The product is never tested on animals
Cons
You receive less quantity.
Price at the time of publication: $15.49
Honest Beauty has a saying— you shouldn't have to choose between what works and what's good for you. And this 2-in-1 pearl-infused, blush and highlighter is the outcome of that passion. It offers a bold, blendable high-payoff pigment that will last from dawn to dusk. The key ingredient is Mica Pearl that gives your skin a silky, velvety finish with a luminous golden glow that won't settle in or blur out. You can achieve the perfect shade with just a few strokes for a natural look.
Pros
Paraben-free
Dermatologist and physician-tested
No animal by-products are used.
Cons
It could be too shimmery on some skin tones.
Price at the time of publication: $12.99
This pressed powder blush is made from natural colors and micro-slip formula that is easy to apply on your cheeks for a healthy glow. It features a warm, peach bronze shade that is best suited for medium to dark skin tones. It is made from certified organic botanicals that possess antioxidant and moisturizing properties to save your skin from signs of aging. The natural pigments offer colors that help you contour the structure of the cheekbone with a silky powder finish. It is considered as one of the best organic vegan blushes by its users.
Pros
Long-lasting
Talc- and gluten-free
It is made from non-toxic ingredients.
Certified by Leaping Bunny as a cruelty-free product.
Cons
You might have to compromise on the quantity.
Price at the time of publication: $21.95
Look your best no matter what time of the day! This long-wearing Matte blush is mixed with lock-on primer powder that gives you a flawless blush with a rosy glow that will last an entire day. It offers easy application and holds onto your cheeks without any fallouts, it acts almost like a second skin. All you need to do is dab a brush in the pan and sweep it across your cheeks. For a more dramatic look, you can use it along with a bronzer and highlighter.
Pros
Very affordable
Paraben and cruelty-free
Easy-to-blend
Ultra-pigmented for easy application
Cons
It might have a poor texture.
Price at the time of publication: $7.0
Give your skin a natural treatment with this high-performing, natural pressed blush that is made without any synthetic or harmful ingredients. Formulated, oil-absorbing rice powder is combined with vitamin E. It also comprises enhanced antioxidant ingredients in the form of açaí oil and fruity extracts to keep your skin nourished. It is a peachy-beige with subtle shimmer for a healthy glow. You get all the nourishment and color from 100% vegan and natural sources that are used in this product.
Pros
Gluten, parabens, and cruelty-free
It offers even consistency.
It can also be worn as an eyeshadow.
No artificial colors or other toxic chemicals are used in this product.
It also includes skincare ingredients like organic shea butter and organic argan oil.
Cons
You might have to apply it multiple times to get the desired shade.
Price at the time of publication: $18.0
If you are a sucker for cute packaging, you are going to love this one. Too Faced Sweetheart Perfect Flush Blush is a baked, vegan blush palette that has 3 different color swatches that blend flawlessly. It creates a multi-dimensional look making you look brighter, younger, healthier skin. It is developed to be a "no-fail color palette" that is easy to use and helps create a natural flush. You can either use one color at a time or mix all three of them for a customized flush of color. Take a look at this video to get more information on the product.
Pros
Paraben-free
It provides an elegant blendable finish
It works on any type of skin tone
Cons
It might be too shimmery.
Top off your perfected complexion with a pop of color with the help of this skin-friendly mineral makeup blush. This high-pigmented formula is an expert when it comes to color, shading, and highlighting for a subtle daytime glow. You will get choice of highly-pigmented blush options to enhance your cheekbones with matte and shimmery finishes. This non-acnegenic and antioxidant formula promotes natural and healthier skin. Pro tip: do not place the blush too low on the cheeks or too close to the ear and hairline.
Pros
Talc-free
It offers medium coverage.
It works great on all skin tones.
Cons
Quantity provided might not be sufficient.
Price at the time of publication: $32.0
People adore this highly-pigmented blush for its formula that is botanically-infused with ginger and chamomile extracts that keep the skin smooth and hydrated. It is formulated using micronized luminizing pigments that add color and a subtle luminosity. This mineral oil-free, versatile blush is combined with micro gold frosting for shimmer coating. It is designed to match all skin tones with a balance of color and light.
Pros
Paraben, phthalates, and gluten-free
Hypoallergenic
Non-comedogenic
It is 100% PETA-certified cruelty-free.
You can wear it by itself for a glow or over matte blush for an added pop of light.
Cons
It might be too shimmery on some skin tones.
Price at the time of publication: $16.99
Do you like to keep it subtle or go full out with bold statements? This Everyday Blush Powder from P/Y/T Beauty meets all your makeup prerequisites. It has a soft pink hue with matte-finish that alleviates the skin by giving it a natural-looking glow. You receive the right amount of color radiance owing to a rich blend of jojoba seed oil and vitamin E extracts that provide lightweight and smooth consistency. Creating the au natural look has never been this simple.
Pros
Talc-, paraben-, and cruelty-free
It has a built-in mirror in the case
It is ideal for any skin tone, type, or makeup style.
Cons
It might create a powdery look.
Price at the time of publication: $20.0
Garner compliments wherever you go by creating an eye-catching look with Zuzu Luxe Blush. This statement-making rich color palette with a silky smooth formula provides excellent blending capabilities. It creates long-lasting color and a radiant glow. They are made from natural ingredients such as herbs, botanicals, spring water, and vitamins with exciting and fun shades. From a beginner to a veteran, if you are someone who prefers a natural look, then this is your best bet!
Pros
Parabens and gluten-free
Leaping Bunny certified it as a cruelty-free product.
It does not contain any mineral oil, lanolin, or talc.
Cons
It might take you some time to find the right tone.
Price at the time of publication: $22.6
Add some color to your cheeks and lips in a single stroke with Milk Makeup Lip & Cheek. It is formulated with hydrating ingredients to retain the healthy texture of your skin. It features a blend of mango butter, peach nectar, and avocado oil to intensify its richness making it beneficial to your skin. Its creamy texture just glides on your skin. It comes in a compact, stick form which makes it convenient to stow it away in your purse. This one of the best vegan cream blushes that you could get your hands on. Check this video to learn more about the product.
Pros
Easy-to-apply
Cruelty-free
Gluten and soy-free
It is an extremely buildable and blendable blush.
Cons
It might not last a long time.
Price at the time of publication: $27.95
That was our list of the best 13 vegan blushes that will fit right in with your other makeup collection. But there is more to blushes than just knowing pros and cons. Let us give you a few pointers that you need to keep in mind while buying a vegan blush.
Best Vegan Blushes – A Buying Guide
Things To Consider While Buying A Vegan Blush
Vegan: We know, this might be superfluous for this list but it is of utmost importance that you should check whether your product is vegan or not. If a product is vegan, then no animal products were used in it. Make sure you opt for a vegan product every chance you get.
Cruelty-free: Although it is usually confused with vegan, they are not the same thing. When you choose a cruelty-free blush, we are a step closer for the industry to stop testing these products on animals. Sometimes it could prove to be fatal to animals. We definitely would not want animals to be harmed for our satisfaction.
Shade: The whole point of a blush is to imitate your natural blush. If the applied shade is not right, the makeup will look off. You have to choose a shade that will complement your undertones. One of the common mistakes that people make is that they choose a shade that is either too dark or too light for their skin. To help you make the right decision, look for the color guide on the product pages. Few brands explain on which skin tone the selected shade works best.
Talc-free: During the early cosmetic days, talc was regularly used. But it is a harmful chemical that could cause respiratory toxicity which can lead further to cancer. So, make sure your product is talc-free.
Paraben-free: Parabens are a chemical compound that is added to cosmetics to prevent the product from decaying. Just like talc, parabens can cause a lot of health issues. When you use a product that has paraben, it could enter your body and affect the immune and reproductive systems. A lot of users might be aware of parabens, so some companies use phenoxyethanol as a substitution. Make sure to avoid these and look for plant-based cosmetics.
Long-lasting: If you are buying a makeup product, it is only natural that you would like it to last a long time. Some products fail to do so and might have fall-offs quite early. So look for products that can last at least through the majority of the day.
How to Apply a Blush?
For the best results, apply a layer of a base before you apply blush.
Pick a color that will go well with your skin tone. It could be matte, glossy, or metallic, as long as the color is right, it should not make a difference.
If your blush is highly-pigmented, then just a little dab with a fluffy brush should suffice. Tap the brush to get rid of the excess.
If you are using a cream-based blush product, apply a small amount on the tip of your finger and dab it on the cheeks.
Apply the blush on your cheeks. Make sure you are not going beyond the cheek area.
Use a clean/stippling brush to blend it well with your skin. For cream-based, you can use your finger or a makeup sponge to blend it.
There you go! Now you have perfect the simple art of applying blush.
Frequently Asked Questions
Is it possible to make a vegan blush at home?
Yes, you can create your own vegan blush at home. There are plenty of guides online that will help you make your own blush.
What type of blush is best for older skin?
The best type of blush for a matured skin would be a vegan cream blush with a hint of powder.
Which is better: powdered blush or cream blush?
Powder blush works on all skin types, but it is highly recommended for people with oily skin. Cream blush is the perfect option for dry and aging skins.
What color blush makes you look younger?
Using a peach-toned blush is the best way to achieve youthful-looking skin.
Is vegan blush good for sensitive skin?
Yes, vegan blush is perfect for people with sensitive skin. Their gentle formula will not irritate the skin and let you wear your makeup look worry-free.
Does vegan blush help with acne?
Yes, vegan blushes also help prevent acne. They don't contain harmful chemicals which can clog pores and cause acne. Vegan blushes are often rich in vitamins A, E, and C which help prevent breakouts.
Does vegan blush help with dark sports?
Yes, vegan blushes usually have a high concentration of antioxidants and vitamins which can help correct age spots.
How long does vegan blush last?
Vegan blushes can last for 2-3 years. But it is best to use them within 6 months of opening the package.
Recommended Articles