10 Best Vegan Body Scrubs For Soft And Smooth Skin – 2022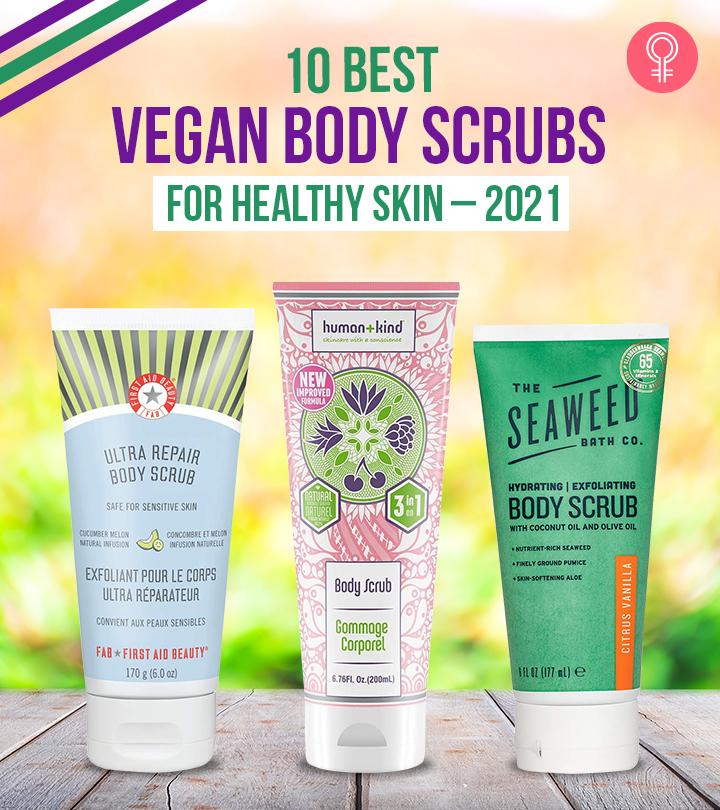 Weather changes can make your skin feel parched and dehydrated, and that's why you need the best body scrubs to exfoliate the dead skin cells and enjoy soft and smooth skin. They will remove dead skin cells, accumulated dirt, impurities from clogged pores. If you are vegan, you might want to pick vegan body scrubs that might be challenging to find. Vegan products aren't just great for the environment but also for the skin. We have listed the 10 best vegan scrubs for you to get clean, healthy, and supple skin. Have a look!
10 Best Vegan Body Scrubs For Healthy Skin – 2022
The Citrus Vanilla body scrub from The Seaweed Bath Co. is an excellent cleanser for those who enjoy a luxurious bath. The nutrient-rich formula is enriched with organic bladderwrack seaweed and over 65 minerals and vitamins, which offer natural detoxification and increases skin elasticity.
The finely ground pumice and the hydrating oils, like Hawaiian kukui oil, coconut oil, and olive oil, exfoliate the skin and nourish it. Spirulina and chlorella seaweeds, which are rich in antioxidants, cleanse and purify the skin. Aloe vera soothes, softens, and keeps dry skin hydrated. This gentle body scrub nourishes and softens the skin and has an invigorating citrus and vanilla fragrance.
Key Ingredients: Bladderwrack seaweed, Pumice, Aloe vera, and Essential oils
Pros
Great scent
A little goes a long way
Cruelty-free (Leaping Bunny Certified)
Sulfate-free
Gluten-free
Paraben-free
Cons
The Rose & Ivy Body Scrub by Bella and Bear leaves you smelling like a rose garden. The industrial-strength scrub exfoliates the skin and removes dry, rough patches.
This skin-smoothing formula is perfect for skin conditions like keratosis and scaly knees and reduces cellulite appearance. It hydrates the skin and prevents ingrown hair. This vegan body scrub is infused with plant-based glycerin that tightens and brightens the skin, bringing out its inner glow. It is safe for sensitive skin as well.
Key ingredients: Rose, Ivy, Glycerin
Pros
Soft floral fragrance
Easy to apply
Sulfate-free
Paraben-free
No harmful chemicals
Cons
The GIOVANNI Hot Chocolate Sugar Scrub is infused with natural ingredients and essential oils like vitamin E, shea butter, safflower seed oil, kukui nut oil, honey, and aloe vera. This vegan body scrub is powered with a unique Giovanni Eco Chic Technology blend. It warms up on contact with the skin and gets easily absorbed into the pores. The sugar granules, along with the crushed cocoa beans, gently exfoliate the skin, remove cellular debris, and buff and polish the skin's surface. This body scrub nourishes the skin from within with deluxe conditioners and leaves it feeling smooth and soft. Here's a review video to help you get a better understanding of the product.
Key Ingredients: Cocoa beans, Shea butter, Aloe vera, and Essential oils
Pros
Rich decadent scent
Easy to spread
USDA certified organic
Sulfate-free
Paraben-free
No harsh chemicals
Cruelty-free (Leaping Bunny Certified)
Cons
The Human+Kind Body Scrub is specially formulated to exfoliate dead skin cells. It is infused with bamboo beads, which soften and revitalize the skin. The vegan body scrub has a delicate fragrance, which gives a spa-like feel. The mild formula is enriched with the goodness of bamboo stem extracts that restore the skin's elasticity. It is suitable for dry and sensitive skin as it moisturizes the skin and leaves it supple, smooth, and soft.
Key Ingredients: Bambusa (Bamboo) arundinacea stem extract
Pros
Delicate fragrance
A little goes a long way
No harmful chemicals
Paraben-free
Petrochemical-free
SLS-free
Cons
The First Aid Beauty Ultra Repair Body Scrub is a reparative formula made with coconut oil and colloidal oatmeal. Coconut provides hydration to the skin, improving the strength of its natural barrier. Colloidal oatmeal soothes distressed and dry skin.
These natural ingredients are infused with pumice buffing beads and glycolic acid that exfoliate the skin by removing dead cells from its surface. This process reveals brighter and smoother skin. Shea butter is an emollient rich in minerals, vitamins, and fatty acids that moisturize the skin. This nourishing and moisturizing vegan body scrub has a fresh, light fragrance of cucumber and melon.
Key Ingredients: Colloidal oatmeal, Coconut oil, Shea butter, and Pumice beads
Pros
Light, refreshing scent
Gentle
Allergy-tested
Gluten-free
Alcohol-free
Petrolatum-free
Phthalate-free
Propylene glycol-free
Sulfate-free
Mineral oil-free
Nut-free
Soy-free
Nano-free
Cons
None
This vegan body scrub from Basd is rich in natural oils and vitamins, which give the skin a smooth texture. The caffeine content creates microcirculation to target acne, stretch marks, cellulite, and scarring.
Fine-ground coffee (an excellent exfoliator) is blended with sea salt and coconut sugar to wash away dead skin cells and minimize puffiness. Sweet almond oil hydrates the skin, reduces scars, fights free radicals, and makes the skin healthy and glowing. The peppermint essential oil in this scrub invigorates the skin and imparts a refreshing fragrance that relaxes the nerves and eases stress.
Key Ingredients: Coffee, Mint, Sea salt, and Coconut sugar
Pros
Hypoallergenic
Organic
Paraben-free
Toxin-free
Non-GMO
Cruelty-free (Leaping Bunny certified)
Cons
This Scented Accents body scrub is infused with lavender and bergamot essential oils, which offer soothing aromatherapy to the skin. Natural earth and ocean salts are blended with organic coconut oil and sustainable palm oil to exfoliate dead skin cells and provide a refreshing feel to the skin.
The non-irritating organic formula is self-balancing and contains no artificial preservatives that could be harmful to the skin. This product is therapeutic and can be used as a body scrub or a hand wash. It is suitable for both men and women and makes your skin look fresh, bright, and luminous.
Key Ingredients: Lavender, Bergamot, Sea and Earth salts, and Organic coconut oil
Pros
100% natural
Paraben-free
Formaldehyde-free
Lanolin-free
Beeswax-free
No synthetic preservatives
Cons
May cause burning or cuts on sensitive skin.
The Savvy Naturals Mango Papaya Body Scrub is a natural and organic formula that cleanses the skin and provides nourishment. The formula contains 100% pure cane sugar to gently exfoliate the skin.
This body scrub hydrates the skin layers with sweet almond oil, moringa oil, golden jojoba oil, and kukui nut oil. It is creamy, thick, non-comedogenic, and light on the skin. The organic scrub is an intensive treatment for chapped, dry, and sensitive skin and restores the skin's health. The plant extracts, essential oils, and butter infused in this scrub work in tandem to provide soft, luscious, and glowing skin.
Key Ingredients: Mango, Papaya, and Cane sugar
Pros
100% natural
Organic
Gluten-free
Soy-free
Sulfate-free
Phthalate-free
PEG-free
Phenoxyethanol-free
Propylene glycol-free
No artificial colors or scents
Cons
None
The Petal Fresh Body Scrub provides relaxing aromatherapy. It is infused with essential oils and sea minerals that soothe and nourish the skin. This vegan body scrub gently exfoliates the skin by removing dead cells and dry skin.
This luxurious blend contains sage, chamomile, organic arnica, shea butter, argan oil, jojoba, and vitamin E. Argan oil and shea butter are rich in fatty acids that help reduce inflammation. Vitamin E and antioxidants repair skin damage and provide moisturization. Lavender oil minimizes stress and helps promote deep sleep. Camphor oil energizes the skin, making it feel healthy and hydrated. This reparative scrub leaves the skin silky, soft, and rejuvenated.
Key Ingredients: Argan oil, Shea, Jojoba, Vitamin E, and Chamomile
Pros
Gentle
Smells good
Paraben-free
GMO-free
Cruelty-free
No harsh preservatives
Cons
Scrub beads are too fine.
The Level Naturals Body Polish is an exfoliating scrub infused with essential oils. It contains frankincense and myrrh that have healing, toning, and firming properties. The raw sugar granules scrub away dead or dry skin cells.
The blend of jojoba, coconut, sunflower, and rosehip seed oils nourishes the skin and keeps it hydrated. This exfoliator is created with no water, making the ingredients self-preserving and keeping them in higher concentration and stronger potency. It makes your skin soft, smooth, and radiant.
Key ingredients: Sugar, Coconut, Jojoba, Rosehip, and Sunflower seed oils
Pros
No synthetic fragrance
Phthalate-free
No artificial dyes
Gluten-free
Talc-free
Paraben-free
Glitter-free
Cons
Vegan body scrubs are free of harmful chemicals and dairy products. If you live an environmentally conscious life, our list of vegan body scrubs is just perfect for you. Pick any of the products from the above list and take care of your skin without causing any harm to the planet.

Recommended Articles