12 Best Vegan Conditioners For Soft And Healthy Hair – Top Picks Of 2023
Take care of your tresses with haircare products made from natural ingredients.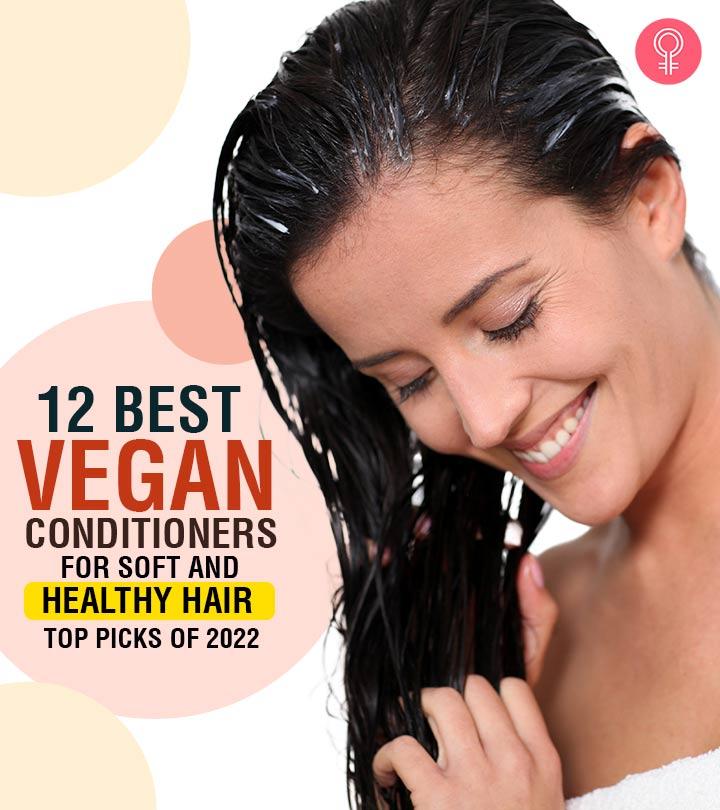 Have you ever wondered why your hair keeps getting drier and duller no matter how many times you wash it? It is probably because your hair is not getting conditioned enough. Vegan conditioners are the best products to soften and protect your hair and are a necessary step in most hair care routines. Instead of using chemical-laden products, pick a gentle vegan hair conditioner to caress your tresses.
Nowadays, there are several conditioner brands that produce all-natural, vegan products that contain only the good stuff. They will protect your hair against damage and help it bounce back to its natural best. Jennie Roberts, a celebrity hairstylist, and textured hair educator says, "Aside from the fact you're not harming or exploiting an animal, and you're helping the environment – is that quite often they contain higher-quality natural and more beneficial ingredients that feed your hair. More science has gone into vegan hair products to achieve results without the usual harmful chemical ingredients, so quite often, it's a better quality product."
In this article, we have compiled a list of the 12 best vegan conditioners for soft and healthy hair that you can try. So let's take a look at them!
Top Picks
What Is A Vegan Conditioner?
Most conditioners that you find at the store contain common and recognizable ingredients such as keratin. Many of these familiar products are derived from animals. There are nearly 20 different animal-derived ingredients you could find in conditioners and other hair products.
For example, keratin is derived from hooves, animal hair, horns, scales, and other keratinized animal parts. Chemicals lurk in many conditioner brands and can lead to scalp damage, diminishing hair health and dramatically affecting hair regrowth. Ingredients such as parabens are linked to breast cancer and cause irritation of the skin and affect your hormone balance. Silicones are another nasty chemical in many conditioners and coat the hair shaft to give the illusion of health and shine. Other harmful ingredients like silicones also coat the scalp and could clog pores and cause your hair to dry out. You also need to remain wary of other toxins such as dyes, synthetic fragrances, mineral oil, and sulfates.
To avoid all of that, your safest bet is to use vegan conditioners. Vegan hair products have many benefits that are often lacking in more mainstream hair product brands. But what are these benefits? Let's have a look!
Important Benefits Of A Vegan Conditioner You Should Know
 Vegan conditioners usually contain more natural ingredients, which are more biodegradable and environmentally friendly than their synthetic alternatives. These products also come in recycled packaging. Using vegan conditioners not only means that you get healthier hair without harming animals in the process, but you also get the satisfaction of knowing you're reducing your carbon footprint and helping to save the planet.
 Cruelty-free usually goes hand in hand with a product being vegan. If a brand doesn't use animal-derived ingredients, it most likely does not condone animal testing. However, always double-check the packaging to check that this is the case, as vegan doesn't necessarily mean cruelty-free and vice versa.
 A mainstream brand of shampoo will contain many ingredients which you probably can't pronounce. This is because these shampoos are full of synthetic chemicals and ingredients, which are not environmentally friendly and can damage your skin, hair, eyes, and lungs. Sodium lauryl sulfate (SLS) or sodium Laureth sulfate (SLES) are a couple of examples of these harmful ingredients. Sulfates can be quite drying for your hair if used regularly. Vegan conditioners are also usually free from parabens and silicones.
 If you want your hair to grow and be healthy, you must keep it moisturized. Vegan hair products contain natural oils, vitamins, and minerals which maintain hair moisture. Vegan conditioners promote and stimulate the hair follicles, making way for new growth.
 Any product you put into your hair will provide a lingering fragrance wherever you go. If you wish to not smell like a chemical factory, try vegan products. Because vegan hair products are full of natural ingredients, you get all those yummy smells.
Now, let's dive straight into the list of the 12 best vegan conditioners for soft and healthy hair.
12 Best Cruelty-Free And Vegan Conditioners For Soft And Healthy Hair (2023 Picks)
Pros
 Color-protecting formula
 Low pH level
 Paraben-free
 Has a gentle formula
Cons
None
Price at the time of publication: $21.0
Pros
 Suitable for all hair types
 Color-safe formula
 Paraben-free
 Gluten-free
Cons
Price at the time of publication: $18.0
Pros
 Gentle enough for everyday use
 Contains natural ingredients
 Paraben-free
 Cruelty-free
Cons
Price at the time of publication: $7.97
If you have color-treated, medium to thick hair, the Pureology Hydrate Conditioner will suit you the best. It deeply moisturizes your tresses with the goodness of green tea, jojoba oil, sage, and a signature mix of menthol, greens, and mint. The original anti-fade complex of this conditioner retains hair color vibrancy and offers enduring color pay-off. The formula of this conditioner is enriched with vitamin E, sunflower seed, and UV filters to fight environmental effects like pollution that may fade the hair color out. It also promotes long-lasting hair shine. It has a lightweight formula that untangles knotty hair and leaves it soft and smooth. This lightweight conditioner works best on thick, dry, colored, bleached, permed, and curly hair types. This conditioner is super-concentrated with a pleasant and rejuvenating fragrance.
Key ingredients: Green tea, Jojoba oil, Sage, Menthol, Greens, And Mint
Pros
 Suitable for many hair types
 Safe for colored hair
 Highly concentrated
 Does not weigh your hair down
 Gentle on scalp and hair
 Paraben-free
 Sulfate-free
 Mineral oil-free
 Cruelty-free
Cons
 No pump dispenser
 Not suitable for oily hair
 Expensive
Price at the time of publication: $74
Pros
 Plant-based
 Paraben-free
 Silicone-free
 Cruelty-free
 Dye-free
 Silicone-free
 Phthalate-free
Cons
None
Price at the time of publication: $15.42
Pros
 100% naturally derived
 Prevents premature graying
 Non-toxic
 Cruelty-free
 Chlorine-free
 Dye-free
 Formaldehyde-free
 No phosphates
 SLES-free
Cons
None
Price at the time of publication: $9.99
Pros
 Color-safe formula
 Soothes flaking scalp
 Sulfate-free
 Cruelty-free
 Paraben-free
Cons
None
Price at the time of publication: $18.99
Pros
 Lightweight
 Contains 100% natural ingredients
 Suitable for all hair types
 Gentle enough for everyday use
 Offers heat protection
 Sulfate-free
 Paraben-free
 Gluten-free
 Cruelty-free
 Silicone-free
Cons
None
Price at the time of publication: $14.99
Pros
 Enriched with natural ingredients
 Sulfate-free
 Paraben-free
 Not tested on animals
Cons
None
Price at the time of publication: $15.95
Pros
 Hypoallergenic formula
 No allergens
 Sulfate-free
 Paraben-free
 Gluten-free
 Alcohol-free
 No synthetic dyes
 Fragrance-free
 Phthalate-free
Cons
None
Price at the time of publication: $19.99
Now you can easily restore the shine and vitality of your hair with the Orange Tangerine Invigorating Conditioner by Natural Escapes. The conditioner is an organic blend of botanicals, proteins, and moisturizers that build strong hair and a healthy scalp. The conditioner has a gentle formula that helps to gently detangle your hair while controlling frizz and making it incredibly soft. It provides vitamins, nutrients, and antioxidants that increase hair manageability and offers heat protection. The formula is infused with vitamin A, B12, and C that delay the aging process while moisturizing and conditioning your tresses. In addition, it combats external aggressors and boosts collagen production. Orange & Tangerine oils treat hair loss by dilating blood capillaries and stimulating blood circulation to the scalp. It provides nourishment and boosts hair growth. It also helps to relieve anxiety and stress.
Key ingredients: Vitamin A, B12, and C
Pros
 Suitable for all hair types
 Has antiseptic and anti-inflammatory properties
 Paraben-free
 Phthalate-free
 Sulfate-free
 No animal by-products
 No synthetic colors
 Fragrance-free
Cons
None
Price at the time of publication: $29.95
Pros
 Suitable for color-treated hair
 Paraben-free
 Silicone-free
 Cruelty-free
 No microplastic
 Mineral oil-free
Cons
Price at the time of publication: $29.95
Choosing the right conditioner based on your hair type can reduce tangles, increase shine, decrease static and make your hair more manageable; without weighing it down. Here's how you can pick the right conditioner for your hair type.
How To Choose The Right Conditioner For Your Hair Type
If you have fine and flat hair, choose a volumizing conditioner. If you have straight, silky hair without frizzing problems, you need a conditioner that will add some much-needed texture to hair that might otherwise seem to just hang from your head. If you have wavy hair, look for a lightweight and moisturizing conditioner. Thick and curly hair needs deeply hydrating conditioners. If your hair type is African-American, look for deeply hydrating conditioners or oil-based products.
Use a color-safe or color-depositing conditioner if you dye your hair. With time you'll notice that the dye in your hair will get washed away as you showers. To keep the hair color vibrant for as long as possible, choose an appropriate conditioner. If your hair is limp and oily, avoid using conditioners and other volumizing hair products. If your hair isn't severely brittle or damaged, but feels dry, switch to a product labeled as "hydrating," "moisturizing," or "balancing." Those who have extremely dry and frizzy hair should use a "damage repair" conditioner..
 Check The Ingredients List
Irrespective of your hair type and hair health, you should always check the ingredients of the conditioner you use. Look for products that mostly contain natural ingredients and are free from silicone, sulfates, parabens, and other harmful chemicals that can potentially cause damage to your hair and scalp. Also, check if you are allergic to any ingredients, like gluten or soy.
Certain factors differentiate these vegan conditioners from the other ones. Let's take a look at those factors.
Things To Look For That Differentiate These Vegan Conditioners
 The vegan conditioner brands do not contain animal by-products and have naturally-derived ingredients from plants and the Earth.
 These products are cruelty-free which means that they are not tested on animals.
 If you are looking for a conditioner to assist in preventing hair loss and building volume, you'll find a product specializing in this.
 There are also a few vegan conditioners exclusively meant for sensitive skin and everyone in the family. There is aromatherapy and hydration in one, and another is formulated with green vegetable extracts.
Using a good and hydrating vegan conditioner can bring you one step closer to achieving your dream hair goals. If you want to give your tresses the right amount of shine and softness, you can opt for any of these conditioners reviewed in the curated list. These products are free from any harsh chemicals and help restore the shine and vitality of your tresses. While choosing the best vegan conditioner, determine your hair texture, hair health, and thoroughly go through the ingredients list.
Why Trust StyleCraze?
The author of this article, Oyendrila Kanjilal, is a certified skin care coach who strictly uses vegan and cruelty-free products for her skin and hair. She believes that switching to vegan products can be beneficial for you in many ways. The products on this list are thoroughly researched and have been put together after considering many online reviews by users. They are safe on your hair and effective in preserving your hair color.
Frequently Asked Questions
Are vegan products better for your hair?
Yes, vegan products are better for your hair because they are formulated with natural components, not tested on animals, and are free from harmful chemicals.
Is vegan conditioner good for your hair?
Yes, a vegan conditioner is usually made up of natural ingredients or gentle and beneficial chemicals. They can be more beneficial than many non-vegan alternatives
Does vegan conditioner test on animals?
Vegan formulas are made without the use of any animal-derived ingredients. But that doesn't automatically mean that they are cruelty-free.
Do you use conditioner before or after shampooing?
Shampooing first will help you get all the dirt and grease out of your hair before conditioning. So, it is best to use conditioner after shower. However, some people with very dry hair choose to condition their hair before and after shampooing.
How often should I use vegan conditioner in my hair?
Use your vegan conditioner on wash days. You can also use these gentle formulas every day. They will replenish and re-hydrate your hair with nutrients.
Does a vegan conditioner work as well as a conventional conditioner?
Yes, vegan conditioner, if not better, works as well as a conventional conditioner in hydrating and providing your hair with ample nutrients.