13 Best Vegan Deodorants Of 2022 (Cruelty-Free & Toxin-Free)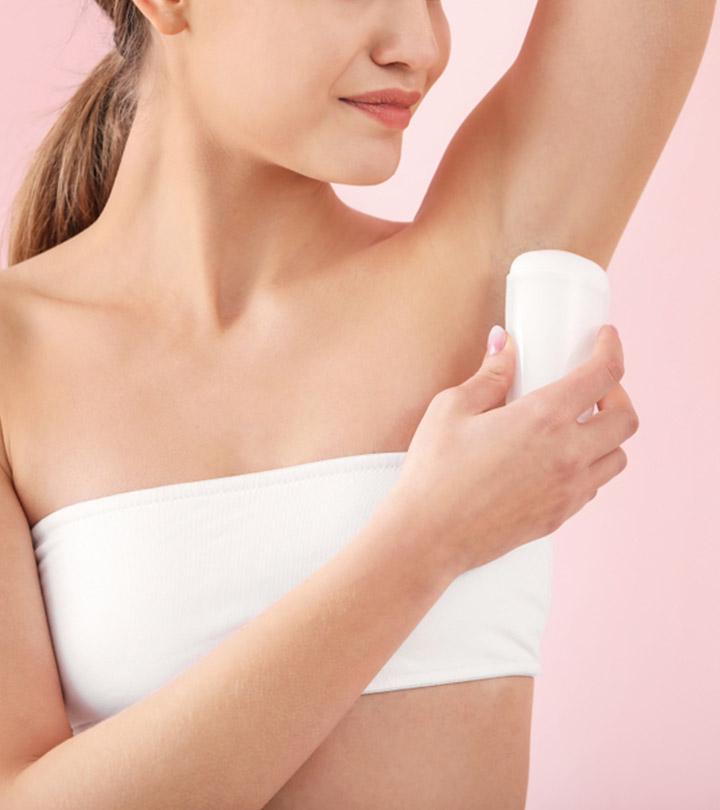 With growing awareness of harmful products, people are ditching their old chemical-laden deodorants and searching for natural options. That is why they are opting for the best vegan deodorants that are free of harmful chemicals. These natural vegan deodorants leave you smelling fresh all day long. These deodorants are gaining the attention and praise of many as they are not only safe for humans but are also eco-friendly.
Vegan deos are majorly made with natural extracts of coconut oil, lavender, and aloe vera. They not only keep you refreshed the whole day but also effectively mask the unpleasant body odor by keeping your skin dry. Regardless of your skin type, there is a suitable vegan deodorant that you can try. In this article, we have listed the 13 best deodorant options that are vegan and toxin-free. This will help you out in choosing the best one suitable for your skin. Scroll down to check them out!
13 Best Vegan Deodorants That Won't Fail You (Reviews With Buying Guide)
Are you on the hunt for a vegan deodorant that works? Try this one by Native. It contains naturally-derived ingredients such as probiotics, baking soda, and tapioca starch to neutralize odor-causing bacteria, leaving your skin feeling dry and refreshed. This vegan and aluminum-free deodorants also includes other hydrating ingredients like coconut oil, vanilla, and shea butter to moisturize the skin and provide a pleasant scent. Free from aluminum, phthalates, and parabens, its lightweight, sensitive skin formula offers 16-hour active odor protection. Watch this video to get a detailed review of the product.
Pros
Cruelty-free
Gluten-free
Free of synthetic fragrances
Free of aluminium, phthalates, and parabens
Cons
The formula may stain your clothes.
Free from synthetic preservatives, this organic and vegan deodorant is a blend of floral, zesty, and fresh tones that will keep you smelling fresh all day long. Made from natural mineral salts and seaweed extracts, it eliminates bacteria and sweat for refreshed, healthy skin. Infused with other ingredients like aloe vera, coconut oil, rose, lavender, and mint, it nourishes the skin, leaving it soft, supple, and smooth.
Pros
Long-lasting formula
GMO-free
Cruelty-free
Free of baking soda, parabens, triclosan, phthalates, aluminium chlorohydrates, and zirconium
Cons
May not be best suited for dry skin
This cruelty-free vegan deodorant rejuvenates and refreshes your skin with its soothing scent of lavender extracts, orange vanilla, and floral spice. Formulated using baking soda, tapioca starch, coconut oil, and shea butter, it has antibacterial properties, which absorb sweat and fight bacteria. It also contains magnesium oil and candelilla wax to moisturize and nourish the skin, making this a great vegan alternative to traditional deodorants.
Pros
Gluten-free
Cruelty-free
Offers 48-hour protection
No artificial fragrances or synthetic ingredients
Free from aluminium, parabens, sulfates, mineral salts, and petroleum
Cons
It may clog your pores as it contains non-comedogenic ingredients.
Ditch those antiperspirants loaded with chemicals, and bring home this Oars + Alps Natural Deodorant that provides long-lasting protection from unpleasant scents. The cornstarch in the formula absorbs body odor while organic ingredients such as aloe vera and glycerine nourish the skin and shield it from bacteria. Its non-sticky, fast-absorbing formula is free of harmful chemicals, making it suitable for all skin types.
Pros
Cruelty-free
Dermatologist-tested
Suitable for all skin types
Non-sticky and non-staining formula
Free from aluminium, alcohol, parabens, sulfates, phthalates, and talc
Cons
Some may find the formula to dry out the skin.
Are regular deodorants leaving your skin irritated and dry? Give this eco-friendly deodorant made with naturally-derived ingredients a shot. Infused with mineral salts that are gentle on the skin, this cruelty-free, vegan deodorant protects your skin from odor-causing bacteria for up to 24 hours. It is enriched with soothing lavender and white tea extracts that lend your skin a pleasant and refreshing scent. Its non-sticky, non-staining, and non-oily formula dries instantly, making it suitable for all skin types.
Pros
Cruelty-free
Hypoallergenic
Does not stain clothes
Offers 24-hour protection
Free of parabens, sulfates, phthalates, and artificial fragrances
Cons
It may contain aluminium.
If you haven't found a vegan deodorant to combat sweat and unwanted odors from your heavy workouts, don't worry because we have some good news for you! Lavanila, The Healthy Deodorant with sweat and odor protection, is here to rescue you from the shackles of underarm sweat and smell. Powered with anti-bacterial ingredients such as aloe vera, lemon extracts and tea tree oil, this product fights odor-causing bacteria for skin that feels soft, moisturized, and refreshed. It minimizes sweat molecules with its beta-glucan technology and is free from aluminum and parabens.
Pros
Long-lasting formula
Breezy, fresh scent
Does not stain clothes
Free from aluminium, parabens, and baking soda
Cons
Some may find the texture of this product a bit too sticky.
Freshen up with the inviting scent of deep citrus made from natural essential oils. Formulated with odor-fighting magnesium and other moisturizing ingredients like shea butter, coconut oil, bergamot oil, and lime oil, this roll-on deodorant fights body odor with only 2-3 strokes. It is free of synthetic ingredients and fragrances like parabens and aluminum, making this a must-have, clear vegan deodorant on every beauty shelf. Here's a video to help you know more about this product.
Pros
Does not dry the skin out
24-hour odor protection
Plant-based ingredients
No artificial fragrances, parabens, propylene glycol, phthalates, or filler ingredients
Cons
Is there a better way to fight body odor than using powerful natural ingredients? No, there isn't! This strong vegan deodorant enriched with natural and hydrating ingredients like bergamot fruit oil, activated charcoal, arrowroot powder, and peppermint oil leaves your skin feeling soft and nourished. It includes hemp seed oil in its composition to fight odor-causing bacteria and inflammation. Unlike other deodorants, this one does not contain baking soda to maintain and balance your skin's natural pH levels.
Pros
Toxin-free
Gentle formula
100% organic
Free of aluminium
Cons
Regular deodorants doing you no good? Try this chemical-free vegan deodorant powered with charcoal powder, geranium flower oil, and coconut oil. Charcoal, being highly porous, absorbs toxins and bacteria while neutralizing body odor. The coconut oil in the formula fights bacteria formation, and the geranium flower oil offers a light, fresh, floral scent. If you're wondering if this aluminum-free vegan deodorant is safe for sensitive skin, the answer is yes! This chemical-free vegan deodorant does not contain any ingredients that would irritate your sensitive skin.
Pros
Cruelty-free
Absorbs quickly
Suitable for sensitive skin
No baking soda, aluminium, paraben, sulfates, mineral oil, petroleum, silicone
Cons
The scent may not be long-lasting.
Smell fresh all day long with this vegan deodorant that works! Made using a blend of plant and mineral-based ingredients, this Breathe Naturals cooling deodorant leaves skin rejuvenated and refreshed all day long. Formulated with antibacterial properties, it effectively minimizes unwanted scents and offers hydration and moisture protection. It is enriched with the goodness of arrowroot powder to absorb bacteria and reduce odors to a minimum, while the shea butter provides moisture and reduces inflammation. This vegan-friendly deodorant also contains jojoba oil to ensure your underarms are odor-free.
Pros
Gluten-free
Cruelty-free
Nourishing formula
No paraben, aluminium, or propylene glycol
Cons
Some may feel the texture of this product is a little sticky.
Infused with the goodness of plants and minerals, this Zaffre Natural Deodorant lends a fresh and lovely scent. Made with sage extract, tea tree oil, grape seed oil, jojoba oil, and bamboo powder, this natural deodorant glides effortlessly and offers long-lasting hydration. The bamboo powder absorbs sweat while the jojoba oil works as an emollient and moisturizes the skin. This vegan, cruelty-free deodorant also contains grape seed oil that effectively shuts down odor-causing bacteria and tea tree oil to control perspiration.
Pros
Cruelty-free
Organic formula
Texture does not stain clothes
Free of parabens, aluminium, alcohol, and propylene glycol
Cons
May not be best suited for sensitive skin
The Love Beauty And Planet Deodorant is a plant-based deodorizer that provides you 24 hours of protection. The deodorant is infused with coconut oil and ylang ylang that keeps you odor-free. It has uplifting jasmine floral notes. This deodorant offers long-lasting freshness and keeps you fresh day long. It has canisters packaging.
Pros
 Vegan
 Cruelty-free
 Paraben-free
 Aluminium-free
 Alcohol-free
Cons
Made with naturally derived ingredients, this gluten-free, vegan deodorant will ensure you smell your best all day long! It is made with a blend of minerals and essential oils such as peppermint oil, coconut oil, sage oil, and arrowroot powder for dry and fresh underarms. The arrowroot powder absorbs sweat, while the coconut oil acts as an antimicrobial agent to kill the odor-generating bacteria. The peppermint and sage oil offer a refreshing scent, making this one stand tall as one of the most popular vegan deodorants in the market.
Pros
Non-GMO
Gluten-free
Hypoallergenic
Organic formula
No paraben, baking soda, or aluminium
Cons
Now that you are caught up with some of the best vegan deodorants in the market, here's a look at how you can pick the best one for your skin.
How To Choose A Vegan Deodorant For Your Skin?
Here are a few things you can keep in mind while picking a vegan deodorant for yourself.
Regardless of your skin type, you may want to opt for vegan deodorant brands that don't irritate your skin. Choose deodorants with hypoallergenic formulas, which are relatively unlikely to cause allergic reactions. The Crystal Mineral Deodorant Roll-On and Honestly pHresh Sugar Mint Prebiotic Deodorant are both great options.
If you are making your switch to vegan deodorants to spare your skin of irreversible skin damage, it is worth it to take a minute and ensure that they are free of parabens and sulfates, too. These chemicals can irritate your skin and leave them feeling dry and itchy. Crystal Mineral Deodorant Roll-On, Lavanila The Healthy Deodorant, and Schmidt's Bergamot + Lime Natural Deodorant, are all free of harsh toxins.
And, of course, the scent! Depending on your likes and preferences, there are many vegan deodorant options to choose from — including floral, woody scents, and fruity scents. If you are looking for a fresh, cool, and crisp fragrance, try either the Oars + Alps Deodorant or the Honestly pHresh Sugar Mint Prebiotic Deodorant. If you'd much rather prefer a floral flurry, you can give the Acure Charcoal Geranium Deodorant, a shot!
If you've already made the switch to a vegan lifestyle, it's only reasonable that you create that switch in your skin care regime too! While it is not only safe for your skin and body, you're also saving the planet by reducing your carbon footprints. Whatever may be your reason to opt for a safe and natural vegan deodorant, remember to steer clear of harmful chemicals so you can enjoy sweat-free odorless underarms without irritating your skin. Let our list of the 13 best vegan deodorants be your guiding light in your journey towards a fresher and more fragrant you.
Why Trust Stylecraze
Kirtana Divakar is a seasoned writer who has a keen interest in all things skin and hair care. She considers her readers' requirements before curating lists that include the best beauty products in the market. Her article on the best vegan deodorants is no different as she compiles top-rated products after considering ingredients, formula, and scent. She uses extensive research to handpick each product and compares them to help her readers make an informed choice.
Frequently Asked Questions
Do vegan deodorants work?
Yes, of course vegan deodorants work as well as any other deodorants! Made from natural ingredients such as coconut oil, arrowroot powder they are excellent in absorbing sweat and killing odor-inducing bacteria.
Is a vegan deodorant good for you?
Yes, they are. They are infused with the goodness of nature and plant-based ingredients, making them gentle on the skin.
Recommended Articles